by G. Rockmael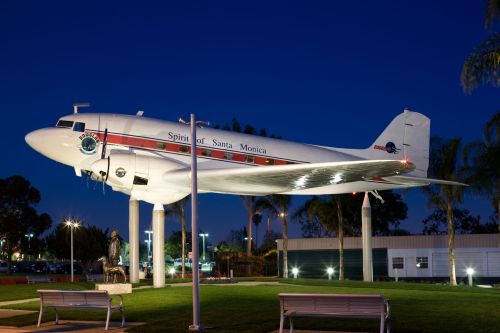 Cleared for takeoff after being grounded for 10 years, the Museum of Flying, with its engines roaring at full throttle, goes airborne at Santa Monica Airport. The new and improved aviation themed museum designed by Rick Solberg, features many educational, interactive and innovative displays. The main gallery which concentrates on the contributions of the Wright brothers includes a replica of the Wright flyer.
Being in close proximity to Hollywood, movie studios have frequently used the Santa Monica Airport and aircraft based there in their productions. With its connection to Hollywood, it seems apropos to have a Hollywood in Aviation presentation, with its BD-5 Micro-jet that was famously featured in the James Bond movie Octopussy.
Children are at the focus of the Air Adventure exhibit designed to delight and inspire young, future pilots, engineers and educators with interactive displays and a computerized flight simulator.
Museum patrons who visited the previous iteration of the Museum of Flying will notice that it is less than two-thirds the size of its predecessor. However, like the BD-5 Micro-jet, great things come in small packages. What the Museum of Flying lacks in size and quantity it makes up for with an updated, upgraded and inventive approach to its exhibits and interior design. All of the presentations are concentrated into a more manageable space which will benefit everyone.
Other features of special interest include a theater that screens rare and historical footage of early aviation documentaries and aviation themed Hollywood movies. A re-creation of the Douglas Boardroom has been incorporated into the mezzanine which will accommodate small gatherings. Whether an aviation historian or aviation buff, museum patrons will have access to an aviation themed library. For an up-close and personal experience with aviation there is a collection of about 20 aircraft on display, including rotating and visiting examples, chronicling the world's fascination with flight.
If all that exploring has worked up an appetite fit for a pilot, there are a couple of restaurants within an easy stroll from the museum. If casual dining is what suits you, grab a bite at the Spitfire Grill. If a more sophisticated dining experience is what you desire, saunter over to Typhoon.
"Pilots" and "passengers" will be able to board the Museum of Flying in the first quarter of this year. Have your boarding pass ready and enjoy the flight!