By Valerie Summers
One of Southern California's most popular destinations, Laguna Beach shines as an art mecca, home to Pageant of the Masters and miles of gorgeous beaches.  On past visits to this idyllic seaside town, I have crammed as much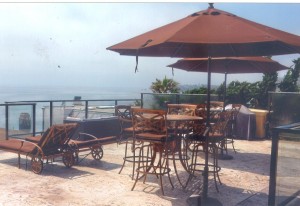 time into visiting its fine museum and as many galleries as possible.  My most recent visit provided an entirely different experience for me.  I planned a rejuvenating escape and found the perfect hideaway at The Retreat in Laguna.
Overlooking the Pacific Ocean and miles of uncrowded beaches, this charming enclave of eight Tuscan-style villas offered the setting for a peaceful, private respite.
My ocean-front villa featured the works of Laguna artists,  a comfortable living room with a pull-out sofa overlooking a wall of glass sliding doors leading to a spacious balcony.  The roar of the surf offered the only audible sound.  A full, compact kitchen and eating area, full bathroom and cozy bedroom completed my home away from home for three lovely days.  Although I had come for peace and quiet, The Retreat also offers the perfect setting for a romantic escape, a girls' getaway or a family outing.
Upon my arrival I discovered a welcome basket filled with a bag of organic ground coffee, fresh fruit, nuts, organic chocolate
and green tea.  Two large bottles of Kagen water chilled in the refrigerator.  I was off to a healthy start for mind and body.  The Retreat provides concierge services and at my request they had set me up with Dava Schatz, a yoga, meditation, martial arts instructor, wise beyond his young years.  I met with him four times, twice in my villa and twice at the beautiful newly opened Ritual Yoga Arts studio for one private yoga lesson and one group lesson.  I accessed the yoga studio via a pleasant barefoot walk along the beach, occasionally dipping my feet into the surf and stopping to watch groups of surfers.

Ritual Yoga Arts offers a beautiful space for yoga practitioners with two large studios, one private and secluded, the other bright with a huge picture window looking out toward the ocean.  The building, formerly an art gallery, continues as such with a stunning array of the works of local artists enjoyed by all visitors and practitioners.
Most of my time was spent in and around my ocean front villa catching up on my reading and meditating either on my private balcony or on the large Piazza deck complete with a comfortable sofa, lounge chairs and umbrellas and oh that view.  One late afternoon I was thrilled and amazed to see a small group of straggling whales making their way north surprisingly close to the shoreline and surprisingly late in the season.
On the path leading down to the beach The Retreat invites guests to help themselves to the items stored inside the several lockers which house boogie boards, beach chairs, weights, umbrellas and other items to enhance the experience of their guests.
The Retreat concierge provides a multitude of services from making dinner reservations to conjuring up a special occasion ambiance in the guests' villa including candles, balloons, flowers, wine, desserts, breakfast and many other options.  They also book appointments for in-house massage, facials, blow dry, grocery stocking and can provide discounted dining options at a variety of restaurants and just about anything to make their guests comfortable.  The Retreat in Laguna offers a romantic, very special getaway for an anniversary, engagement or birthday celebration, family fun or a tranquil oceanfront respite from the stresses of everyday life.
The  Retreat in Laguna
729 Gaviota Drive
Laguna Beach
877/999-2928
929/376-7170
www.TheRetreatinLaguna.com
Ritual Yoga Arts
1390 S. Coast Highway
Laguna Beach
949/715-7005
www.RitualYogaArts.com