PLEASE CHECK THAT EVENTS ARE OPEN AND DO NOT REQUIRE ADVANCE RESERVATIONS BEFORE GOING. CHECK FOR COVID PROTECTION REQUIREMENTS.
 Academy Presentations: Academy Museum, 6067 Wilshire Bl, Los Angeles www.academymuseum@oscars.org  (323/930-3000) This unique museum, dedicated to the moving picture industry, brings us back in time to the beginning of the film industry through never to be forgotten films and into the present.  Fabulous costumes and even more fabulous and memorable creatures, Academy Award acceptance speeches, art, a look into the production work, movies and politics, documentaries, musicals.
Every Saturday films for families of all ages are screened, all rated G or PG unless otherwise noted.The final Family Matinee of every month is an accomodative screening where open captioning, keep the theater dimly lit and maintain a lower volume for neurodivergent viewers.
Social Series starts June 16 from 6-9 pm. Explore the museum after hours and enjoy music, food and cocktails out on the Dolby Family Terrace under the twilight sky. Tickets are $45 general admission and $25 for members.Check for dates.
The Academy Museum Store features merchandise designed and produced exclusively for the store including Oscars memorabilia and other film related items.
————————————————————————–
Annenberg Community Beach House:  Santa Monica (310/458-4934) beachhouseevents@santamonica.gov  Open daily 7 a.m. to 9 p.m..  Grounds include playground, volleyball courts, sandy area, splash pad, courtyard, view deck, gallery. Special events. Back on the Beach, an indoor, outdoor restaurant overlooking the beach – (310/393-8282.)
Angkor: The Lost Empire of Cambodia:  California Science Center, 700 Exposition Park Drive, Los Angeles (323/724 3623) An international touring exhibition  featuring over 120 ancient artifacts, half of which are on tour for the first time. Start the visit with Angkor 3D, an immersive IMAX adventure where science and mystery intersect. See one of the archaeological wonders of the world on a 7-story screen.  After IMAX enter the exhibition and journey back 900 years to discover engineering and cultural marvels and daily life in the Khmer empire.
Art Festivals: Community Arts Resources (CARS) (213/365-0605)  In celebration of Getty Center's 25th anniversary, festivals will feature community workshops art festivals this summer in celebration of the 25th anniversary of the Getty Center  Kicking off May 14 and running through August 28, these two-day festivals will feature curated experiences reflective of each community including interactive workshops, live music and performances, an artisan marketplace, food trucks, giveaways and more.   Festival materials will be available in multiple languages.
At the Hammer: Hammer Museum, 10899 Wilshire Bl.,  Westwood (310/443-7000) hammer.ucla.edu  Newly opened, Lulu, the Hammer's new restaurant led by acclaimed writer and cookbook author, David Tanis and conceived with legendary  chef and food activist Alice Waters is now open for lunch.
Autry Museum of the American West  Reopens:  4700 Western Heritage Way, Los Angeles (323/495-4370) TheAutry.org/visit 
Barbara Kruger: Thinking of -You-. I Mean -Me-. I Mean You.  Los Angeles County Museum of Art (LACMA): 5905 Wilshire Bl. Los Angeles, www.lacma.org (323/857-6010) The exhibition spans four decades and features 33 works including Kruger's single-channel videos from the 1980s, digital productions of the last two decades, large scale vinyl room wraps and more.  Taking cues from our image-saturated culture, Kruger interrogates the hierarchies of power and control in works that often combine visual and written language. She grapples with the accelerated way pictures and words instantaneously flow through the media. Her immersive pictures and  widely  circulated pictures are imbued with  humor, vigilance and empathy — inviting us to reconsider how we relate to one another.  March 20-July 17.
Black and White: Contemporary Art from Frederick R. Weisman Art Foundation: Laguna Art Museum,  307 Cliff Drive, Laguna Beach www.Lagunaartmuseum.org  Each of the 30 artworks featured demonstrate a diverse array of artistic approaches, materials and techniques used by Southern California based artists over the past half century. July 2-Oct. 9.
Bob Baker Marionette Theater: www.bobbakermarionettetheater.com/summer2021 A rollicking trip through the calendar to all things celebratory throughout the year.
Broad Museum Exhibitions: 221 S. Grand Ave., Los Angeles thebroad.org  ticketing.thebroad.org  Two new upcoming exhibitions feature Takashi Murakami: Stepping on the Tail of a Rainbow and This is Not America's Flag both running May 21-Sept. 25.
---
Catalina Adventure Activities: www.catalinachamber.com/ A new ropes and planks course weaves through a grove of towering eucalyptus trees deep within Descanso Canyon.  Other adventurous activities nearby include Zip line Eco Tour and Catalina Climbing Wall and there is always hiking, camping and an adventure expedition.
Cinelounge Sunset: 6464 Sunset Bl, Hollywood.  (323/924-1644)  http://cineloungehollywood.com Cinelounge Sunset re-opened in Hollywood with strict guidelines.  Comedy/drama, Most Guys Are Losers takes place over Thanksgiving weekend in Chicago, where a college kid from California seeks approval from his girlfriend's father, a bar owner and author of a dating book called Most Guys Are Losers.  July 1-7.
Community Art Festivals:  In celebration of the 25th anniversary of the Getty Center, a 10 part series of free outdoor art festivals will be held in neighborhoods across Los Angeles County, produced by Community Arts Resources (CARS) from May 14-Aug. 28.  Each festival, produced by Community Arts Resources will be a unique reflection of the community in which is takes place.  The first, at Inglewood City Hall kicks off May 14-15 featuring artists, music dance performances, workshops plus food and drink  available for purchase.  Followed by Lincoln Heights, May 21-22, Long Beach June 4-5, Koreatown June 11-12,  Pacoima, June 25-26, Reseda, July 9-10, San Gabriel Valley, July 16-17, Wilmington, July 30-31; Crenshaw Aug. 13-14, Watts, Aug. 27-28.
Conversing in Clay: Los Angeles County Museum of Art (LACMA): 5905 Wilshire Bl. Los Angeles, www.lacma.org (323/857-6010)  This exhibition places historical works in dialogue with contemporary examples to illuminate resources in the creative e use of the medium across time and space.  Aug. 7-May 21.
Dress Codes: Autry Museum of the American West,  4700 Western Heritage Way, Los Angeles (323/667-2000)  This exhibition is about what we wear, how we wear it and why. Explore how the clothing in out closets have long and often surprisingly histories.  Organized around six enduring icons of western style.  May 22-Dec. 31.
Family Amphitheater Performances:  Skirball Cultural Center, 2701 N.   Sepulveda Bl., Los Angeles (310/440-4500) happenings@skirball.org  The series spotlights a dazzling lineup of artists who use music, dance and storytelling to keep their cultural traditions and family histories alive.. On the outdoor stage, performances encourage audiences to sing, dance and interact with performers. July 10, 17, 24, 31.  Each artist will perform at 11 a.m. and 2 p.m. Advance reservations required to visit Noah's Ark.
Fan Favorite Dance Series:  Los Angeles Music Center, 135 N. Grand Ave., Los Angeles. www.musiccenter.org/dancedtla presents a full season of free dancing under the stars on Jerry Moss Plaza, Fridays, June 3-Sept. 2 from 7-11:00 pm  Top dance instructors will provide dance lessons and  following the lessons guests can hit the floor to practice their new moves while the more experienced can make their moves to boogie the night away.
Fantasy of the Middle Ages:  Getty  Center, 1200 Getty Center Drive, West Los Angeles (310/440-7300)  www.visitorservices@getty.edu     From fairy-tales to theme parks and Harry Potter to Game of Thrones, the Middle Ages have been mythologized, dramatized and re-envisioned time and time again,proving an irresistible point  of inspiration for creative reinterpretations.  Spanning two galleries and divided into five sections, The Fantasy of the Middle Ages looks closely at medieval inspiration in the storytelling and art of many creators including the Brothers Grimm, J.R.R Toikien, Howard Pyle, Arthur Rackham and Disney Studios artists.  June 21-Sept. 11.
Fourth of July at the Tramway:  1 Tram Way, Palm Springs  (888/515-TRAM)  wwwmpstramway.com  Extended hours and guided walks through the cool Alpine forests at the top of the Tram.
Fowler Museum at UCLA: 308 Charles E. Young Dr., N. Los Angeles (310/825-4361)  fowler.ucla.edu Public programs celebrating world arts and culture online and in person.  All programs are free. Must RSVP.
Hammer Projects: Ho Tzu Nyen:  10899 Wilshire Bl.,  Westwood (310/443-7000)   hammer.ucla.edu   This artist's video installation, complemented by a soundtrack developed with collaborators, explores the construction of cultural memory and political narrative surrounding the history of the Korean peninsula.  Now open.
Historic Downtown in-person & Virtual Tours:  Los Angeles Conservancy (213/623-2489) info@laconservancy.org  Award winning docent led tours include the L.As most beloved landmarks including the Los Angeles Central Library, the Million Dollar Theatre and the Bradbury Building. Visit Pershing Square and learn about the founding of this great city and its architecture. In person Walking tours, Saturdays at 10 a.m.. general public sales begin Thursday at noon. Live virtual tours held Wednesdays at 6 p.m.
I'll Have What She's Having: The Jewish Deli:   Skirball Cultural Center, 2701 N.   Sepulveda Bl., Los Angeles (310/440-4500) happenings@skirball.org  This exhibition explores how American Jews imported traditions, adapted culture and built community through the experience of food.  In addition to showing how Jewish deli forged an entirely new, quintessentially American cuisine by combining Central and Eastern European dishes with ingredients abundantly available in the United States, the exhibition traces the larger arc of the Jewish experience in the U.S. during the 20th century.  On view will be neon signs, menus, advertisements, fixtures, historical footage, film and TV clips and artifacts that illuminate how delicatessens evolved from specialty  catering to immigrant populations into the beloved national institutions they are today.  April 14-Sept. 4.
Judy Baca Mural: Getty  Center, 1200 Getty Center Drive, West Los Angeles (310/440-7300)  www.visitorservices@getty.edu      Commissioned by the Getty Museum, visual artist and muralist Judy Baca has completed a new mural now on view titled La Saisa (The Salsa Dancer) . IN conjunction  with the new mural, Getty ha opened the exhibition Judy Baca Hitting the Wall which runs through Sept. 4.
Kidspace Campout: Kidspace Childrens Museum,  480 N. Arroyo Bl., Pasadena (626/449-9144) www.kidspacemuseum.org  A nine week celebration of 150 years of national parks, nature exploration and wild family adventure on a child-size scale. Opens June 30.Laguna Aart
Late 19th Century Pastels: www.visitorservices@getty.edu   Getty Center, 1200 Getty Center Drive, West Los Angeles (310/440-7300)  Powder and Light, an exhibition tracing the evolution of pastels from impressionism to Symbolism, featuring works include Edgar Degas, Odion Redon, Camille Pissaro, Henri Toulouse Lautrec and more.  March 15-Aug. 15.
Laemmle  Theaters Reopen: Movies are back on the big screen with limited seating (310/478-3836).
Lee Alexander McQueen: Mind, Mythos, Muse:  Los Angeles County Museum of Art (LACMA): 5905 Wilshire Bl. Los Angeles, www.lacma.org (323/857-6010)   LACMA  This exhibition  contextualizes the work of this English artist 1969-2010 within art history and examines the interdisciplinary impulse that defined the designer's career.  More than 200 objects will be on display with examples of costume and textiles, including decorative arts, paintings, sculptures, prints and photography by 35 other artists. Onsite ticket purchase is not available. April 24-Oct. 9.
---
Marionette Theater:  Bob Baker Marionette Theater, 4949 York Bl., Highland Park www.bobbakermarionettetheater.com   After 55 years this theater for children has moved to a new location.  The new location will continue its mission to educate, celebrate and rejuvenate puppetry and the allied arts.
Mindful Awareness Meditation:  presented by the Hammer Museum Thursdays 12:30-1:00 via zoom.  Reserve in advance. Free. www.hammer.ucla.edu/programs-events
Natural History Museum Exhibitions: 900 Exposition Bl., Los Angeles  www.NHM.ORG    Butterfly Pavilion allows visitors to walk among the butterflies, Thru Sept. 5.   Dinosaur Encounters, an all new immersive  show.  Opens April 8. 

Noah's Ark Reopens: Skirball  Museum, 2701 N. Sepulveda Bl., Los Angeles (310/440-4500)  www.skirball.org    A uniquely wonderful experience for young children and their parents.  Reserve in advance.
           Pageant of the Masters Wonderful World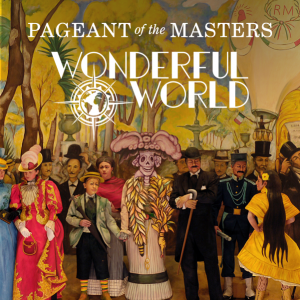 Irvine Bowl, 650 Laguna Canyon Road, Laguna Beach   A kaleidoscope of international art becomes your passport to distant lands, cultural celebrations and fascinating history in Wonderful World.  Transported through the theatrical art of living pictures, the Pageant sets sail in pursuit of seasonal festivities, ancient and modern, promising new surprises at every turn.  Be amazed by the intoxicating blend of original music, storytelling and stage illusions!  July 7-Sept, 2.
 Palm Springs Ariel Tramway:  www.pstramway.com (888-515-TRAM) The world's largest rotating tram car.
Park Dae Sung: Virtuous Ink and Contemporary Brush:    Los Angeles County Museum of Art (LACMA): 5905 Wilshire Bl. Los Angeles, www.lacma.org (323/857-6010)   LACMA  This exhibition spotlights the artist's large scale ink paintings that portray contemporary subjects with calligraphic lines, effortlessly fusing the aesthetics of East and West.  July 17-Dec. 11
Persia: Ancient Iran and the Classical World:  Getty Villa Museum, 17985 Pacific Coast Hwy (310/440-7300)     VisitorServices@Getty.edu     Ancient Iran, known as Persia,  was the dominant nation of western Asia for over a millennium, controlling empires of unprecedented size and complexity.   Their principal military rivals throughout this period were the ancient Greeks and Romans with whom they nevertheless enjoyed an active  exchange in many aspects of architecture, religion and court cultures is demonstrated in the artworks they  produced.  April 6-Aug. 8.
Photography at The Getty: www.visitorservices@getty.edu    The Getty Center, 1200 Getty Center Drive, West Los Angeles (310/440-7300) The museum has recently acquired works by Japanese American artists of the 1920s and 30s, members of the Kamoinge Workshop, contemporary women photographers and Southern California  artists, all to shape a more inclusive canon of photography for current and future generations.
Picasso Ingres: Face to Face:  Norton Simon Museum,  411 W. Colorado Bl., Pasadena  www.NortonSimon.org  This exhibition brings together  two extraordinary interrelated paintings for the first time.  Pablo Picasso's Woman With a Book and Jean-Augus-Dominique Ingres's Madame Moitessier.  A partnersip between the Norton Simon Museum and the National Gallery, London, this exhibition explores Picasso's long-standing fascination with Ingress and the generative process that resulted from his confrontation with a celebrated work of art.  Oct. 21-Jan. 30, 2023.
Public Gardens of Santa Barbara: Tour these spectacular gardens but check websites in advance. Casa del Herrero www.casadelherrero.com; Ganna Walska Lotusland www.lotusland.org; Alice Keck Park Memorial Garden  www.santabarbaraca.gov/Parks/parks_passive_main.html; Santa Barbara Botanic Garden www.sbbg.org 
Public Programs and Exhibitions at The Huntington: The Huntington Library, Art Collections and Botanical Gardens, 1151 Oxford Rd.,  www.huntington.org    An assortment of fascinating topics and displays with talks and book signings, garden tips, music, film, lectures, exhibitions and tours.
Rubicon Goes Retro!:  This theatre company is the first non-profit professional regional theatre in the nation to announce a Safe-Distance Drive-In Theatre Concert Series!
Revered Residences:  Los Angeles Conservancy Virtual Program https://www.laconservancy.org/events/2021-benefit-revered-residences-virtual-program   Historic walking tour adventures are offered on Saturdays. Register in advance.
Santa Barbara Museum of Art: 1130 State St., Santa Barbara (805/963-4364) www.sbma.net    Renovation of the original 1812 building has improved the exhibition space, making it possible to show more of the 27,000-object permanent collection and will enhance visitor experience through improved flow through the museum, newly created galleries dedicated to contemporary art, photography and new media. Advanced tickets are encouraged for admission and can be purchased  at  tickets.sbma.net
Skirball Happenings:  Skirball Cultural Center:2701 N Sepulveda Bl., Los Angeles (310/440-4500) info@skirball.org   Protest Banner Workshops.  Free with admission to Talking Back to Power, June 25, July 24, August 18, Sept. 3,  Learn a skill to amplify your voice for the good during an inter-generational workshop.  Plus enjoy a curator spotlight talk.    Make a no-sew fabric fabric protest banner. In person Spring classes including Culinary Inspirations in Art and (Almost) Everything You Wanted to Know About Jewish Music.

Summer Nights:  Hammer Museum, 10899 Wilshire Bl, Los Angeles.  Dance the evening away from 6:30-11 P.M.  featuring live music book ended by KCRW DJs, July 7, 14, 21, & 28. Free.  Held in the museum's courtyard.  On view  will be the Andrea Bowers, the first retrospective surveying more than two decades of the Los Angeles based artist's work, Happy hour starts at 6:30
Super Nintendo World: Universal Studios  www.UniversalStudiosHollywood.com The highly anticipated opening of Super Nintendo World will debut in the United States, designed to transport guests  and Nintendo fans into the world of Mario, Luigi and Princess Peach to be part of the Mushroom Kingdom. Guests will be propelled into a multi-dimensional experience that recreates iconic environments from the Mario Kart games  and where no two races are alike. Opening in early 2023.
The Medium is the Message:  Flags and Banners:   Wende Museum, 10808 Culver Bl., Culver City   The exhibit combines Cold War-era political flags from Eastern Bloc countries alongside contemporary artworks that reflect critically on the here and now.  Also Martin Roemers: Rellics of the Cold War presenting works by the Dutch photographer from 1898 -2009. Opens April 10.
This Is Not America's Flag: The Broad, 211 S. Grand, Los Angeles  www.thebroad.org   Titled after Alfredo Jaar's iconic 1987 work, the exhibition provides a critical discourse on the the U.S. flag's meaning, the complexity and contradictions of contemporary national identity, and artists as active citizens.  The exhibition presents works from over twenty prominent artists.  May 21-Sept. 25.
UCLA Public Arts Program:  UCLA Westwood campus (310/825-2101)  www.arts.ucla.edu/calendars and www.tickets.ucla.edu  Ongoing programs include distinguished lectures by luminaries such as Pritzker Prize-winning architect Thom Mayne and Phillipe Vergne, student exhibitions showing work from UCLA's top ranked fine arts programs, student performances directed by renowned faculty and the rich offerings of the Fowler Museum, the Hammer Museum and the Center for the Art of Performance at UCLA.  Many of the events are free and all are open to the public.
World Arts, Local Lives: Fowler Museum  www.fowler.ucla.edu/at-home/november-2020 Celebrating world arts and cultures.  Free.