---
Ahmanson Theatre: Los Angeles Music Center, 135 N. Grand, Los Angeles (213/972-4400) www.CenterTheatreGroup.org    The Play That Goes Wrong, the hilarious Tony Award winning hit Broadway comedy makes its Los Angeles debut.  The play introduces The Cornley University Drama Society who are attempting to put on a 1920s murder mystery, but as the title suggests, everything that can go wrong…does, as the accident-prone thespians battle on against all odds to get to their final curtain call.  July 9-Aug. 11.
Upcoming:  Latin History for Morons written by and starring John Leguizamo.  Inspired by the near total absence of Latinos from his son's American history books, Leguizamo embarks on an outrageously funny, frenzied search to find a Latin hero for his son's school project.  From a mad recap of the Aztec empire to stories of unknown Latin patriots of the Revolutionary Way and beyond, he breaks down the 3,000 years between the Mayans and Pitbull into 110 irreverent and uncensored minutes above and beyond his unique style.   Sept. 5-Oct. 20.
Hadestown, winner of eight 2019 Tony Awards will be part of Center Theater Group's 2020-2021 season at the Ahmanson. Following two intertwining love stories — that of young dreamers Orpheus and Eurydice and that of King Hades and his wife Persephone, Hadestown invites audiences on a hell raising journey to the underworld and back. The acclaimed musical was written by celebrated singer-songwriter and Tony Award winner Anais Mitchell and developed with innovative director and Tony Award winner Rachel Chavkin.
---
A Noise Within:  3352 East Foothill Bl., Pasadena (626/356-3100) www.anoisewithin.org   All 2018-19 offerings feature characters who are outliers — people who have blazed their own trail but nevertheless struggle for acknowledgement and acceptance.  Let Me In is not about physical space but about the deeply human passion to be understood for who we are.  These include Othello, The Glass Menagerie and Argonautika.

Actor's Company – The Other Space: 916 A N. Formosa, Hollywood www.afterhours15y.evenbrite.com 
Atwater Village Theatre: 3269 Casitas Ave., Atwater Village (323/882-6912) www.estlosangeles.org/2019-one-acts    Dancing at Lughnasa, set in the beautiful, rolling hills of Ireland holds many stories and secrets.  Set in the summer of 1936 during the Celtic harvest festival of Lughnasa, Brian Friel's Tony Award winning play, loosely based on the lives of his mother and aunts, is a rich and deeply moving portrait of the everyday lives of five sisters just as everything is on the brink of change.  July 6-  Aug. 18.  Echo Theater Company presents the West Coast Premiere of Pass Over, a rare piece of politically charged theater by a bold new American voice, Antoinette Nwandu. The show exposes the questionable human spirit of young black men who dream about a promised land they have yet to find.   July 10-Aug. 19. Early Birds, a heartwarming, irreverent comedy about two senior women, each at a crossroads, both escaping their past on a high-seas cruise.  Together they realize their strengths and celebrate their weaknesses, and understand that it's never too late for a new friend or a new adventure. Aug. 16-Sept. 7. When a gay writer hires a man to work as a "shirtless cleaner," homophobia, racism and issues of consent bubble to the surface in the world premiere of Handjob, a dark comedy exploring the deepest sensitivities in our culture with unexpected and hilarious consequences, Sept. 7-Oct. 20.
Barnum Hall:  Santa Monica High School, 600 Olympic Bl., Santa Monica  www.smsymphony.org/concerts Santa Monica Symphony Orchestra free concerts:
Bob Baker Marionette Theater: 1345 W. 1st Street, Los Angeles (213/250-9995) www.bobbakermarionettes.com Marionettes from all over the globe entertain in an in-the-round performance of waltzing rag dolls and madcap musical instruments, also special holiday shows.  Tuesdays thru Fridays 10:30 AM, Saturdays and Sundays 2:30 PM.  Presenting Hooray L.A. along with a series of evening programs celebrating the hidden histories of Los Angeles.
Broad Stage: 1310 11th St., Santa Monica (310/434-3200) www.thebroadstage.com

Carrie Hamilton Theatre: 39 El Molina Ave., Pasadena (323/380-8843) www.iamatheatre.com A Kid Like Jake, a story of a mother and father trying  to do right by their young son, a study of intimacy and parenthood and the fantasies that accompany both. Oct. 3-Nov. 3.
 Celebration Theatre @Lex Theatre: 6760 Lexington Ave., Los Angeles (323/957-1884) www.celebrationtheatre.com 
Colony Theatre:  555 N. 3rd St., Burbank  (866/811-4111) www.colonytheatre.org It's Showtime!, a three show series with entertainment featuring music, comedy and more.  The series is designed to provide something for arts lovers of all ages.  First up is Living a Why Not Life where the Lion King's Tonoccus McClain takes the audience on a self-reflecting journey through his influences of musical theatre, jazz, pop, gospel and other surprises.  Sept. 26-29.  Next is Talking to Myself in which renowned voice actor James Arnold Taylor combines state of the art multimedia images and sound in a live theatre setting, recreating scenes from some of Hollywood's biggest films along with the voices of his many animated characters.  Oct. 10-13. The series concludes with Chico's Angels: Chicas in Space, a live comedy production that parodies the 1976-1981 TV series Charlie's Angels.  Nov. 21-24.
Chance Theatre:  5522 E La Palma Ave., Anaheim (888/455-4212)  www.ChanceTheater.com   Famous historical characters and a rich score propel Ragtime through a spectacular recreation of turn of the 20th century New York.  This 13-time Tony nominated musical paints a nostalgic and powerful portrait of three people whose fates become unexpectedly entwined.Thru August 11.
Doheny Mansion:  Pompeian Room, 10 Chester Place, Los Angeles (213/477-2929)  www.DaCamera.org    Check website for concerts in this splendid setting.
Descanso Gardens:  (818/949-4200)  www.descansogardens.org . Ensemble Shakespeare Theater  presents a fully immersive theater production of A Midsummer Night's Dream. Follow the cast through the Gardens as fighting lovers, dancing fairies and a bewildered donkey lead you on a adventure filled with laughter and love.  7-8:30p.m., Aug. 16-17 & 23-24. Bring a picnic.  Advance registration required.
Dorothy Chandler Pavilion: Los Angeles Music Center, 135 North Grand Ave., Los Angeles.  The Los Angeles  opera headed by Placido Domingo and conducted by James Conlon .
Eclectic Company Theatre:  5312 Laurel Canyon Bl., Valley Village (818/508-3003)  www.eclecticcompanytheatre.org    Shakespeare Salons held the last Tuesday of every month. Participants perform their favorite Shakespearean piece or alternatively, a piece inspired by Shakespeare.  Shakespearean monologues, scenes, poems, songs, remembrances and personal interpretations of all kinds are welcome.  To perform, fill out the form on the Eclectic Company Theatre website.
Edgemar Center for the Arts: 2437 Main St., Santa Monica,(310/392-7327) www.edgemarcenter,org  Miss America's Ugly Daughter: Bess Myerson & Me, a darkly hilarious mother-daughter story, the true inside tale of Barra Grant's seismic relationship with her mother, Bess Myerson, a beauty queen best known as the first and only Jewish Miss America, she was an accomplished pianist, television personality, New York City's first Commissioner of Consumer Affairs, a close advisor to Mayor Ed Koch, and a national spokesperson against antisemitism.  Then she infamously went down in flames — with her Mafia boyfriend –in a judge-bribing scandal known as the Bess Mess. June 14-Aug. 4.
Fountain Theatre:  5060 Fountain Ave., Los Angeles (323/663-1525)  www.fountaintheatre.com  Hannah and the Dread Gazebo, a strange and wonderful play that is a mix of unexpect6ed whimsy, delightful comedy, profound despair and more than a little bit of magic.   Hannah is two weeks away from becoming a board certified neurologist when she receives a strange package from her grandmother who may or may not have ended her life on a surreal, funny heartbreaking adventure back to their roots in South and North Korea and the Demilitarized Zone.  The show twists together creation myths and family histories to explore what it means to walk on the edge between two cultures,  Aug. 14-Sept. 22..  In this darkly comic Pulitzer Prize winning drama, Between Riverside and Crazy, an ex-cop and recent widower has made a home for his newly paroled son but the NYPD is demanding his signature to close an outstanding lawsuit, the landlord wants him out, the liquor store is closed and the church is on his back leaving Pops somewhere between Riverside…and crazy.  Oct. 12-Dec. 15.
Freud Playhouse: UCLA campus, Macgowan Hall, 245 Charles E. Young Dr., East, Westwood (866-811-4111) www.reprise2.org
Greenway Court Theatre:  544 N. Fairfax Ave., Los Angeles (323/380-8843)  www.iamatheatre.com LA's Pay What You Want theatre company presents Dylan Thomas's Under Milk Wood returning to the little Welsh village that never was for Thomas's poetic masterpiece. Aug. 2-24.
Hudson Theatre: 6539 Santa Monica Bl., Hollywood (323/960-7773) www.onstage411.com/asmallgroup In Dope Queens, three female friends move to San Francisco after meeting in protective custody at a men's California state penitentiary where they were just serving time.  Two are transgender women of color.  One is a drug addict who continues to have rehab relapses. As they try to change their lives for the better, the trio settle in an SRO Hotel and support each other as their chosen family.  Despite true love and friendship, desperate times sometimes lead to desperate measures in this world premiere play.  Thru Sept. 22.
James Bridges Theater: UCLA Campus, Melnitz  Hall, 235 Charles E. Young Drive,  Westwood (310/827-0889)  www.LATW.org  "The Play's the Thing" radio theater series: Upcoming : In The Hard Problem a young psychology researcher works at the Krohl Institute for Brain Science where psychology and biology meet. If there is nothing but matter what is consciousness?  This is "the hard problem" facing science and for the young researcher the possibility of genuine altruism without a hidden Darwinian seal-interest depends of the answer.  Meanwhile she is nursing a private sorry and needs a miracle and is prepared to pray for one.  Nov. 15-17.
Kiki & David Gindler Performing Arts Center: 110 East Broadway, Glendale (818/506-1983) www.Antaeus.org   The Caucasian Chalk Circle, Bertolt Brecht's satiric comedy of war, love and justice.  In the mountains of Georgia, a humble kitchen maid risks her life to rescue an abandoned baby from civil war, but when the child's aristocratic mother returns to claim him, the entire social order of a corrupt and violent world is put on trial.  July 5-Aug. 26. A surprise visit from two strangers exposes a devastating secret in The Abuelas, a visceral look at the repercussions of Argentina's so-called "Dirty War."  Oct. 11-Nov. 25.  Eight Nights, the heartfelt, lyrical portrait of a German Jewish refugee haunted by her past but resiliently moving toward the future, witnessed over the course of generations of the same family that inhabits a single apartment from 1946 to 2016.  Set during the eight nights of Hanukah and spanning eight decades of the protagonist's life. Nov. 8-Dec. 16.

Kings Road Park:  1000 N Kings Road, West Hollywood (323/960-5691) www.classicaltheatrelab@gmail.com  The Last Days of Don Juan, the earliest known dramatic appearance of literature's most famous — or infamous — romantic rogue.  The libertine lord of lust funds his fortunes begin to change after he slays the angry father of one of his conquests.  Not long after, Don Juan finds himself opposed by supernatural forces that seek to punish him for his wicked ways. Don't be deterred by the title…Outdoor venue.  Be advised…some content is naughty.   Aug. 4, 10, 11.
Kirk Douglas Theatre: 9820 Washington Bl. Culver City (213/628-2772) www.centertheatregroup.com 
---
Laguna Playhouse: 606606 Laguna Canyon Dr., Laguna Beach (949/497-27870) www.lagunaplayhouse.com   Four extraordinary musical experiences that celebrate the songs and music of four legendary musical icons:  Buddy Holly, Huey Lewis & the News, Earth Wind & Fire and The Carpenters with Sounds of Summer, Aug. 7-Sept. 1.  Upcoming:  Peter Pan and Tinker Bell:  A Pirates Christmas, a singing, swashbuckling adventure performed in the high flying style of a British holiday Panto.  Take off on a wild quest with Tinker Bell, Wendy and Peter Pan as they try to put a stop to the plot of some dastardly pirates who plan to kidnap Peter as a present to Captain Hook.   Dec. 4-29.
La Jolla Playhouse: 2910 La Jolla Village Dr., La Jolla (858/550-1010)  www.LaJollaPlayhouse.org  www.secondcity.com    World premieres upcoming:  Escape to Margaritaville, At the Old Place.
La Mirada Theatre: 14900 La Mirada Bl., La Mirada (562/994-9801) www.lamiradatheatre.com   Grumpy Old Men: The Musical stars Hal Linden, Cathy Rigby and Ken Page in this new musical comedy based on the classic 1993 film.  Two aging neighbors have been feuding for more than 50 years until the lovely Ariel moves in across the street raising the rivalry to new heights.  A laugh out loud story of family, friendship, love and romance.  Sept. 21-Oct. 13.
Lankershim Arts Center: 5108 Lankershim Bl., North Hollywood (323/944-2165) www.coeurage.org/slaughtercity  Coeurage Theatre Company, L.A's Pay What You Want theatre company.

Leo S. Bing Theater: Los Angeles Museum of Art, 5905 Wilshire Bl., Los Angeles. (213/485-6873). Free chamber music series. Sundays at 4 p.m.
Lex Theatre:(Celebration Theatre)  6760 Lexington Ave., Hollywood (323/957-1884)  www.celebrationtheatre.com Courage Theatre Company, LA's Pay What You Want theatre company. Director Michael Matthews take on The Producers. When a down on his luck Broadway producer and his mild mannered accountant come up with a scheme to produce the most notorious flop in history, things go awry when the show is a hit.  The Producers skewers Broadway traditions and takes no prisoners as it proudly proclaims itself an  "equal opportunity offender!"  Thru Aug. 26.
Loft Ensemble: 11031 Camarillo Street, North Hollywood ((818/452-3153) www.loftensemble.org   In Our Lady of 121st Street a diverse group of people return to New York to mourn and celebrate the life of their mentor only to find that her body is missing.  Aug. 10-Sept. 15.
Long Beach Performing Arts Center – International City Theatre  & Terrace Theatre: 300 East Ocean Bl., Long Beach  (562/436-4610)  www.internationalcitytheatre.org  Beast on the Moon, a haunting and poetic play about two immigrants who escape the Armenian genocide in Turkey to seek refuge in America.  In 1921, an Armenian mail-order bride is shipped to Milwaukee to begin a new life with her photographer husband.  As they struggle to define family amidst their grief and displacement, these kindred strangers find hope, healing, redemption and love,  Sept. 21-Sept. 8. Upcoming: The audience is treated to one last performance by the legendary Billie Holiday in Lady Day at Emerson's Bar & Grill. In 1959 in a seedy Philadelphia bar, just four months before her death at age 44, the iconic singer takes us on a journey through the highs and lows of her tumultuous life, interspersed with stunning renditions of her beloved repertoire.  Oct. 18-Nov. 3.

Los Angeles Arboretum: 301 N. Baldwin Ave., Arcadia  (626/793-7172) PasadenaSymphony-Pops.org   The sounds of summer are in the air as Michael Feinstein and the Pasadena POPS open the Sierra Summer Concert series with The Great American Songbook!  The season opener will cover the gamut of American popular songs from the songbook of the 20s and 30s and the Big Band era to Broadway, Hollywood and vintage charts that can't be heard anywhere else.  Picnic dining…bring your own or on-site options.
Los Angeles Theatre Center: 514 S. Spring St., Los Angeles (866-811-4111) www.thelatc.org   Paul Robson Theatre Festival presents Awakening the Past, Present and Future: A retrospective presented by Los Angeles's most awarded African American theatre company celebrating the inspiration, of actor singer activist humanitarian Paul Robeson, Aug. 23-25. LA Theater Festival Weekend, September 6-9 includes concert reading of Hydra by Leviticus Jelks, readings of plays by Ashley Rose Wellman, Jami Brandii and featured honoree Melanie Marnich. Readings of plays by Mariana Carreno King and Gina Young. All readings and colloquies are a continuation of the PLAY LA program and are free but reservations are required. http://playlaworkshop.eventbrite.com
Magicopolis: Abracadabra Theatre, 1418 4th St., Santa Monica (310/451-2241). Fast paced, colorful, magic and illusion shows for the whole family in a theater setting. Ongoing.
Luckman Fine Arts Complex:  California State University Los Angeles, 5151 State University Drive, Los Angeles www.luckmanarats.org
---
Mark Taper Forum: Los Angeles Music Center, 135 N. Grand Ave., downtown Los Angeles (213/628-2772) www.taperahmanson.com  If the audience laughs, it was a comedy.  If the audience nods with new understanding it was a drama.  If the audience both laughs and nods but can't say why it's funny or what they've understood, it might be A Play Is a Poem, the new collection of one-acts by celebrated playwright and filmmaker Ethan Coen.  The hillbilly hollows of Appalachia, the executive  suites of Hollywood, a New York tenement apartment, a magnolia-scented gazebo in Natchez, Mississippi — each holds a different story.  Together they make for an eccentric look at life across American as only Ethan Coen (or perhaps Sam Shepard or Mark Twain) could deliver.  Sept. 11-Oct 13.
Center theatre group offers free tickets for theatergoers 25 years old and younger, available for the First Review of all Center Theatre Group Productions at the Mark Taper Forum and Kirk Douglas Theatre.  Tickets  free at the box office.  A $5 ticket handling fee for phone or online reservations.
————————————————————————————-
Matrix Theatre: 7657 Melrose Ave., Los Angeles, (323/960-7711)  www.matrixtheatre.com  Scraps, a highly theatrical, frequently funny mash up of poetry, realism and expressionism that chronicles the effects of the death of a black teenager by a white police officer on his family and friends.  July 27-Sept. 15.
McCadden Theatre:  1157  McCadden Place, Hollywood (800/838-3006) www.brownpapertickets.com/event/419014 
Microsolft Theatre: 777 Chick Hearn Court, Los Angeles (213/763-6030) www.microsofttheater.com  Bronco, Aug. 17.  Megaton Summer Concert Series night 2, Aug. 31st.  Check their website for information on upcoming events.
Miles Memorial Playhouse:   1130 Lincoln B., Santa Monica  (323/821-2449) www.wcjt.org
Morgan Wixson Theatre: 2627 Pico Bl., Santa Monica (310/828-7519) www.morganwixson.org  The Wedding Singer sets the stage in 1985 where rock star wannabe Robbie Hart is New Jersey's favorite
wedding singer.  He is the life of the party until his own fiancee leaves him at the alter.  Robbie vows then to make every wedding as disastrous as his own.  Enter a winsome waitress who wins his affection but as luck would have it she is about to be married to a Wall Street shark and unless he can pull off the performance of the decade the firl of his dreams will be gone forever.  With an electrifying pop score that pays loving homage  to the 1980s, The Wedding Singer takes us back to a time when hair was big, greed was good, collars were up and a wedding singer was the coolest guy in the room.   June 29-Aug. 3.
Musco Center for the Arts:  Chapman University, 415 North Glassell, Orange (844/626-8726)   www.muscocenter.org 
Nate Holden Performing Arts Center: 4718 W Washington Bl, Los Angeles (323/964-9766) www.ebonyrep.org  
New Vic:  33 W Victoria St., Santa Barbara (805/965-5400) www.etcsb.org      Upcoming season:  Shakespeare's Measure for Measure, It's a Wonderful Life, a musical adaptation of Jane Austen's Emma, American Son and pop and jazz musical about the legendary Rosemary Clooney.
Odyssey Theatre:  2055 S. Sepulveda Bl., West Los Angeles (310/477-2055) www.OdysseyTheatre.com    Two young friends rob a bank next to a funeral parlor…and what safer place to hide the money than in the coffin of a recently deceased person.  But with the coffin full up, there is no room for the corpse which keeps reappearing  at the most inopportune times– especially when the police inspector comes calling.  Nothing is safe from Orton's savage wit, whose targets include religion, social attitudes towards death, police brutality, corruption and everything in between.  June 8-Aug. 10. In Circles, a landmark in the over the top gay scene in New York in the late '60s, the play was described by the Burns Mantle Yearbook as "a complete arrangement of words and song and dance effects, each one conceived as if describing its own circle, without convention, story or subject line. Sept. 14-Nov. 10. Before, a new play with music by Irish writer/performer Pat Kinevane. Pontius is inside Clery's of Dublin trying to choose a gift for his estranged daughter on the very day this iconic department store shuts its doors — for good.  The father's journey is both beautiful and strange from the isolation of his home to the madness of O'Connell Street.  Some folk are impossible to buy for…Nov. 14-Dec. 8.
Pantages Theatre: 6233 Hollywood Bl., Hollywood (800/982-2787)  www.HollywoodPantages.com   Phantom of the Opera.

Renberg Theatre: 1125 N. McCadden Place, Hollywood (323/860-7300)  http://www.lagbtcenter.org/theatre
Renee &  Henry Segerstrom Concert Hall and Samueli Theater: 600 Town Center Dr., Costa Mesa (714/740-2000 or 714/556-2787 or 714/755-5799) www.scfta.org or www.pacificsymphony.org  Home of Pacific  Symphony.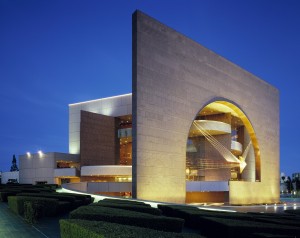 Free public tours of the center Wednesdays and Saturdays at 10:30 a.m. Telephone first.
———————————————————————————-
Road on Lankershim:  5108 Lankershim Bl., North Hollywood   (818/761-8838) www.RoadTheatre.org    Road on Magnolia: 10747 Magnolia Bl., North Hollywood (818/761-8838) www.RoadTheatre.org  The Summer Playwrights Festival opens July 28 and runs through Aug. 4 and includes all new works to Los Angeles by international play-writes.
Road on Magnolia: 10747 Magnolia Bl., North Hollywood (818/761-8838) www.RoadTheatre.org  Moral dilemma, historical mystery and matters of the heart converge when a committed atheist inherits a collection of rare and hauntingly beautiful illustrated Hebrew manuscripts including a prayer book from fourteenth-century Spain, and discovers that the books, which bear witness to overlapping Jewish and Islamic traditions, were stolen some 600 years after their creation from a library in 1940s Berlin.  Inspired by true events and a late 20th century court case and using projected images of the books themselves, The Spanish Prayer Book explores the allure of sacred objects, the ethical issues generated by cultural treasures displaced during wartime and the power of art to forge human connections.  Sept. 17-Nov. 23.

Rosenthal Theater Inner-City Arts: 720 Kohler St., Los Angeles (818/762-29980) www.deafwest.org The American premiere of The Solid Life of Sugar Water tells the story of how a deaf couple's relationship is revealed through their lovemaking in this startling intimate portrait of a marriage made even more intense by Deaf West Theatre's signature performance style combining American Sign Language with spoken English.  Forthright and delicate. Candid, uninhibited and visceral, this new play premiered at the Edinburgh Fringe Festival prior to an acclaimed run at England's National Theatre.  For mature audience. Sept. 12-Oct. 13.
Rubicon Theatre: 1006 E. Main St., Ventura (805/667-2900) www.rubicontheatre.org    Valerie Perri and her twin sons Jack and Benny Lipson bring their unique musical show All in the Family to the Rubicon in this special personal evening of music.  The family trio interprets selection from the playlist of their unconventional artistic ho0mw spanning Broadway classics, 60s pop hits and original compositions..  A colorful evening showcasing three voices that blend with ease.  Aug. 24-25.
---
Santa Monica Playhouse:  1211 4th St., Santa Monica (310/394-9779 ext. 1)  www.santamonicaplayhouse.org     .
Son of  Semele Theater:  3301 Beverly Bl., Los Angeles (213/351-3507)  www.artful.ly/son-of-semele-ensemble
Skirball Cultura Center: 2701 N, Sepulveda Bl., (310/440-4500) www.info@skirball.org Under the stars, free cultural traditions and new, vibrant sounds at Sunset Concerts, music and stories from near and far.  An eclectic lineup of acts that pay tribute to cultural traditions while creating new, vibrant sounds all their own.  Arrive early to dine, shop and view the exhibitions.  Schedule:  Gaby Moreno, July 18;  Rio Mira with a DJ set by Reyes, July 25; The Klezmatics, Aug. 1; Cha Wa, Aug. 8; Tamar Ilana & Ventanas, Aug. 15; Josef Leimberg, Aug. 22.
Skylight Theatre:  1816 1/2 N. Vermont Ave., Los Angeles (213/761-7061) www.BoxOffice@SkylightTix.com  What happens when people from diverse backgrounds experience the ffirsthand accounts of 120 survivors who were labeled "undesirable" and thrust into Hitler's systematic genocide in Never is Now.  The play links then and now so we may understand what breaks us apart and embrace what bonds us together.  Sept. 14-Oct. 27.
Staples Center: 1111 S. Figueroa, Los Angeles (213/ 742-7100) www.staplescenter.com/events  KCON 2019 LA, Aug. 17-18.
The Actors Gang Theatre: 9070 Venice Bl., Culver City (310/838-4264) www.TheActorsGang.com
The Autry: Griffith Park, 4700 Western Heritage Way (323/667-2000) www.TheAutry.org  Native Voices at the Autry is the only Equity theatre company devoted exclusively to developing  and producing new works for the stage by Native American, Alaska Native and First Nations playwrights.
The Soraya:  18111 Nordhoff St., Northridge  (818/677-3000) www.thesoraya@csun.edu  Itzhak Perlman  launches Violins of Hope, a Los Angeles County-wide collaboration celebrating a collection of more than 60 stringed instruments rescued from The Holocaust, Sept. 19.
---
Theatre 40: Reuben Cordova Theatre, Beverly Hills High school campus, 241 S. Moreno Drive, Beverly Hills (310/364-0535) www.theatre40.org     In the hilarious Renovations for Six, a young couple, new in town, decide to host a dinner party so they can make friends and promote their business. They invite a couple who have abandoned their song and dance act and show business to raise their daughter and a haughty psychiatrist and her engineer husband who has given up his high paying job to write a novel.  All three couples are stressed, undergoing house renovations and could use a little fix-up in their relationship department as well.  All hell breaks loose at the dinner party in this fast-paced comedy where couples, designs and cultures clash. Written by Canadian Norm Foster, often likened to the American Neil Simon, not only is Renovations a laugh out loud comedy, it also paints a clear picture of various personality types and how they cope.  July 18-Aug. 18.
Upcoming: In The Surveillance Trilogy, a couple returns home to discover they are being spied upon by government informants.  2017 Havana…a doctor and his patient grapple with the debilitating effects of espionage that have nearly shuttered the U. S, Embassy.  2019 Encino…A screenwriter discovers her artificial intelligence assistant is listening in with an agenda all its own.  The show reveals the past and present ways our relationships, our electronic devices and our very lives can be spied on and turned against us.  Sept. 19-Oct. 13.  Fifteen Men In A Smoke-Filled Room is set in Chicago, June 1920 with the Republication Convention in full swing. This play explores the extent to which fate controls our lives.  Is there a higher power that determines our destinies or are we the aggregate results of the idiosyncrasies of flawed humanity?  Nov. 14-Dec. 15.
---
Theatre of Note:  1517 N. Cahuenga Bl., Hollywood.  (323/856-8611) www.theatreofnote.com  www.theatrewest.org  Driving Wilde is Jacqueline Wright's very free, very contemporary, shockingly frank and surreal adaptation of Oscar Wilde's classic novel The Picture of Dorian Gray. Wright transforms the Gothic horror story into a present day meditation on the pursuit of beauty.  A trip hop fantasy with existential themes.   Aug. 16-Sept. 21.

Thousand Oaks Civic Arts Plaza Kavli Theatre: 2100 Thousand Oaks Boulevard,  Thousand Oaks (800/745-3000) www.startheatricals.com One of the legendary love stories of the musical theatre, West Side Story, set on the streets of 1950s New York City is a gripping modern rendition of Shakespeare's classic Romeo and Juliet.  Young lovers in a forbidden relationship are caught in a web of intolerance and vengeance that threatens to tear them apart.   July 26-Aug. 4.  Upcoming:  The beloved Meredith Willson musical, The Music Man, stars Broadway's Adam Pascal as a fast talking traveling salesman.  The hit show won five Tony Awards in 1957 including for Best Musical. Oct. 18-27.
Vs Theatre: 5453 W Pico Bl., Los Angeles www.vstheatre.org Sam Shepard's masterpiece True West is the story of Lee and Austin, two estranged brothers who reunite at their mother's empty house in suburban California.  Sparks fly and passions rage in this American classic.  July 26- Aug. 31.
Waco Theater Center: 5144 Lankershim Bl., North Hollywood  https://www.eventbrite.com/e/billie-holiday-front-and-center-tickets-63407808462  Billie Holiday: Front and Center tells the story of this trail-blazing musical artist known as perhaps the first female vocalist to use her voice in the style of jazz improvisation.  Recording first with Benny Goodman, she became the first Black female vocalist to front a white band, that of Artie Shaw. July 26-Aug. 18.
Wallis Annenberg Center for the Performing Arts (The Wallis): 9390 N. Santa Monica Bl., Beverly Hills (310/746-4000)  www.thewallis.org  Jazz vocalist Magos Herrera joins the genre-defying string quartet Brooklyn Rider for an unforgettable musical journey reinterpreting Latin classics from their 2018 recording, Dreamers, Oct. 10. The West coast premiere of Sisters In Law starring Tovah Feldshuh as Ruth Bader Ginsburg and Stephanie Faracy as Sandra Day O'Connor. This production celebrates the friendship and conflict between two modern day legends who become the United States Supreme Court's first female justices.  The show transcends party, religion and culture with a tale of Democrat Ginsburg and Republican O'Connor, two polar opposites, as they grapple with matters of the law and personal belief.  It is a story of two remarkable women,  Sept. 18-Oct. 13.  Body Traffic launches its highly anticipated residency with a three night run featuring the world premiere of Michaela Taylor's Snap, inspired by James Brown, the Godfather of Soul, Sept. 26-28.

---
Walt Disney Concert Hall: 151 S. Grand Ave., Los Angeles (213/972-7288) www.wdch.com The Frank Gehry designed home to the Los Angeles Philharmonic embodies the unique energy and creative spirit of both the City of Angels and its world-class orchestra under the direction of  maestro Gustavo Dudamel and features the works of the world's musical greats featuring Classical, World Music, Jazz, Songbook and the Master Chorale. The Philharmonic is also committed to the presentation of music of our time as well as offering its exhilarating Green Umbrella concerts which presents the Los Angeles Philharmonic New Music Group devoted exclusively to compositions on the cutting edge of the repertoire and attract leading composers and performers of contemporary music. Chamber music is another integral part of this world-class orchestra's repertoire.
Los Angeles Master Chorale presents Great Opera and Film Choruses. 
Guided and self-guided tours of the concert hall are available to the public (213/972-4399).
---
Wells Fargo Theatre:  Autry Museum of the American West, 4700 Western Heritage Way, Los Angeles (323/667-2000)  www.NativeVoicesattheAutry.org    Native Voices at the Autry continues its vital role as the country's only equity theatre company dedicated exclusively to developing the work of Native American playwrights.
Wende Museum of the Cold War:10808 Culver Bl., Culver City  info@wendemuseum.org   Free concerts but RSVP at their website. Long Beach Opera presents Hollywood Elegies, Oct. 4; Polyphony presents Polyphonic Conversations, Nov. 15; Music/Words presents In The Footsteps of the Master and Margarita, Dec. 6.
Will Geer's Theatricum Botanicum: 1419 N. Topanga Canyon Blvd, Topanga (310/455–3723)  www.theatricum.com  Something for every taste in theatre!  Theatricum brings back its signature production in  the magical outdoor setting which is transformed into an enchanted forest inhabited by lovers both fairy and human in Shakespeare's A Midsummer Night's Dream,  June 2-Sept. 2. Mischief, madness and romance are in the air with Shakespeare's rollicking comedy Twelfth Night  in its magical outdoor setting.  Shipwrecked on the coast of Illyria and fearing that her brother has drowned, Viola must disguise herself as a man.  She falls in love with the neighboring Duke Orsino who loves the Lady Olivia — who loves the disguised Viola.  But false appearances are the norm on this island of Misrule, June 1-Sept. 28.  Henrik Ibsen's An Enemy of the People, is reset in a small town in South  Carolina in the 1980s. Powerful people have difficult choices to make in Ellen Geer's free adaptation of this classic — and extraordinarily timely — struggle between the interests of the individual and the welfare of society.   June 22-Sept. 28.  Thornton Wilder's Pulitzer Prize winning The Skin of Our Teeth, the story of humankind told through the lives of the Antrobus family.  Set in 20th century New Jersey and the Ice Age, the play is a whirlwind of modernity and antiquity.  As relevant today as its original production in 1942, this inspiring piece of Americana uses humor, history and mythology to highlight humanity's drive to carry on.  July 13-Sept. 29.  In Moby Dick — Rehearsed, Orson Welles's ingenious adaptation of the famous novel by Herman Melville find a Shakespearean acting troup working between performances of King Lear to create a play about Moby Dick. Thru Sept. 29.
In the S. Mark Taper Foundation Pavillion, Theatricum alumni gather to share personal stories from the theater's more than 40 year history, Sept. 13; McDaniel Brothers in Concert — Multi-instrumentalist composers and performers Kellen and Marshall McDaniel perform their musical creations, Sept. 20; Crazy Ladies readers Catherine Griffith playing 17 different "crazy ladies"  in a world gone mad, Sept. 27; One Act Marathon...readings of one acts by Shaw Chekhov, Oates, Ionesco and more.
Zipper Hall – Colburn School: 200 South Grand Ave., Los Angeles www.PittanceChamberMusic.org