CHECK VACCINATION/MASKING POLICIES BEFORE GOING
Ahmanson Theatre:  Los Angeles Music Center, 135 N. Grand Ave., downtown Los Angeles (213/628-2772) www.taperahmanson.com    The Secret Garden blossoms again  for a new generation by the original creators, Tony Award and  Pulitzer Prize winner Marsha Norman and Grammy Award winning composer Lucy Simon.  Following young, orphaned Mary Lennox as she's sent from her home in India to live with her reclusive uncle on his haunted English County estate.  Guided by an exceptionally beautiful score, Mary's unapologetic curiosity and the help of unlikely companions send her on a thrilling quest to untangle the pieces of her family's past and, most importantly, discover herself.  Feb. 19-March 26.
BARGAIN TUESDAYS:  This new initiative  enables patrons to purchase up to four tickets at a flat rate of $20 for the Ahmanson, Taper and  and Kirk Douglas theaters on a first come first serve basis beginning at 12 p.m. PST every Tuesday by visiting CenterTheatreGroup.org/Promo.
Upcoming: The Broadway revival of 1776; the Pulitzer- winning classic A Soldier's Play,   and  a magical production of The Secret Garden, re-imagined for a new generation by the original creators. Feb. 19-March 26 2023
———————————————————————–
A Noise Within:  3352 E Foothill Bl., Pasadena (626/353-3100)  www.anoisewithin.org 
Ambassador Auditorium: 131  S. St. John Ave., Pasadena (626/793-7172) boxoffice@pasadenasymphony-pops.org   Pasadena Symphony season.  Classics Series will feature  the music of Holiday Candlelight, Dec. 17-Mendelssohn & Mozart, Jan 21, 2023; Scheherazade, Feb. 11; Beethoven & Rachmaninoff, March 18; An American in Paris, April 29.
Atwater Village Theatre: 3269 Casitas Ave., Los Angeles (310/307-3753) www.EchoTheaterCompany.com        This Week This Week, the sketch show. Open Fist's Theatre Company's  comic newscast features a revolving  cast of actors and special guest stars at every performance.  Jan. 5-March 30.
Big Tent Podcast & Live: Under the big tent at St. Andrews church parking lot, 830  W.Bonita Ave, Claremont (909/734-6565)   http://opheliasjump.org 
Bob Baker Marionette Theater:  4949 York Bl,  Los Angeles (213/250-9995) www.bobbakermarionettetheater.com 
Broadwater Black Box:  6322 Santa Monica Bl.,  Hollywood http://hollywoodfringe.org.projects/6450
Chance Theatre: 5522 E La Palma Ave., Anaheim  (888/455-4212) www.ChanceTheater.com   
Coeurage Ensemble: Shakespeare Center of Los Angeles, 1238 W. 1st St., Los Angeles  www.coeurage.org  Rent, loosely based on Puccini's La Boheme, Jonathan Larson's Rent follows a year in the life of a group of impoverished young artists and musicians struggling to survive and create in New York's lower east side under the shadow of HIV/AIDS. This is  LA's Pay What You Want performance company.  Dates to be announced.
Colony Theatre:  555 N. 3rd St.,  Burbank  Loosely based on the story of Cyrano de Bergerac, the musical Calvin Berger is the contemporary and hilarious story of unrequited feelings, love notes, and physical insecurity among high school seniors. Opens Feb. 18, 2023
Crypto.com Arena: (formerly the Staples Center) 1111 S. Figueroa, Los Angeles (213/ 742-7100)  www.cryptoarena.com  Check for all upcoming concerts, family shows and special events.  Tickets on sale now.
Davidson/Valentini Theatre:  Los Angeles LGBT Center,  1125 N. McCadden Place, Hollywood  (323/455-4585)  www.hollywoodfringe.org/projects/7408 

Dorothy Chandler Pavilion: Los Angeles Music Center, 135 North Grand Ave., Los Angeles. (213/972-8001)
The Los Angeles  opera presents   March 31-April 2;  In Our Daughter's Eyes, April 13-17; The Brightness of Light, June 18. The audience will be required to show proof of vaccination and must wear masks during the entire performance.  The 20th season of Glorya Kaufman Presents Dance at the Music Center showcasing contemporary works  by the Paul Taylor Dance Company,  Complexions Contemporary, MOMIX and Dutch National
Ballet. Begins April 2023
Dugan's Backyard Playhouse: dbtickets@gmail.com Woodland Hills. (address provided when reservations are made).
Fountain Theatre:   5060 Fountain Ave., Los Angeles. (323/663-1525)  www.fountaintheatre.com    Marking the 50th anniversary of Roe v. Wade, the Fountain Theatre and the Los Angeles LGBT Center present a screening of the hyper staged reading of Roe at the Renberg Theatre, 1125 N McCadden Place,  Los Angeles  (310/746-4000)   Jan. 21.  The Lifespan of a Fact is based on the nonfiction book named Best of the Year, this highly entertaining, very funny new play follows a young intern whose first assignment at an elite New York Magazine is to fact check an essay written by a highly celebrated and cantankerous author.  What he discovers turns his world upside down.   Feb. 15-April 2.
————————–
Geffen Playhouse: 10886 Le Conte Ave., Los Angeles  310/208-2028 www.geffenplayhouse.org  The theatre announced six productions that will make up the 2022-2023 season including  Matthew Lopez's Tony award winning The Inheritance to Katori Hall's The Mountaintop.
Glorya Kaufman Dance Theater:  UCLA, 150 Kaufman Hall (310//825-2101)  cap.ucla.edu 
Greystone Mansion:  905 Loma Vista Drive, Beverly Hills, (310/364-3606) http://theatre40.org  Theatre 40's  production of Guess Who's Coming to Dinner moves to the Mansion for a limited engagement Jan. 13-22, 2023.  A progressive white couple's proud liberal sensibilities which are put to the test when their daughter brings her Black fiance home to meet them in this relevant stage adaptation of the iconic film. Blindsided by their daughter's whirlwind romance and fearful for her future the parents quickly come to realize the difference between supporting a mixed race couple in your newspaper and welcoming one into your family—especially in 1967.
Hudson Backstage Theatre:  6539 Santa Monica Bl., Hollywood  www.onstage411.com/southerngirls  Set in a small town  in Alabama, Southern Girls  follows the lives of six women from childhood in 1952 through middle age in 1992.  Three of the women are white, two are Black and one is biracial. Race impacts the trajectory of their lives to a significant degree but they also confront class snobbery,sexism, rape and the need to establish autonomy over their own bodies.  There are friendships, betrayals, romances and careers.  Some will remain in their small town.  Others will get away.  Some will encounter defeat while others will live their lives in hope.  Jan. 20-Feb. 26.
International City Theatre:  330 East Seaside Way, Long Beach (562/436-4610)  www.internationalcitytheatre.org      Embracing the future season  with tick tick…BOOM! a pop/rock musical about the courage it takes to follow one's dreams Funny and moving, this autobiography is about an aspiring composer trying to write the great American musical before time and life pass him by offers a a revealing look at the an who would go on to posthumously  receive three Tony awards and a Pulitzer Prize  for Drama for his revolutionary rock musical,. Rent.    Feb. 15-March 5.
James Bridges Theatre: UCLA campus,Los Angeles Theatre Works (LATW) (323/538-3142) Boxoffice@latw.org 
Kirk Douglas Theatre: 9820 Washington Bl. Culver City (213/628-2772) www.centertheatregroup.com      A 2022 Pulitzer Finalist, Kristin Wong, returns from February 12 to March 15, 2023 in a co-production with East West Players in Kristina Wong, Sweatshop Overlord.
---
Laguna Playhouse: 606 Laguna Canyon Dr., Laguna Beach (949/497-27870) www.lagunaplayhouse.com   lagunaplayhouse.com or 949/497-2787.
 Long Beach Performing Arts Center – International City Theatre  & Terrace Theatre: 300 East Ocean Bl., Long Beach  (562/436-4610)  www.internationalcitytheatre.org 

Loft Ensemble: 11031 Camarillo St., North Hollywood  (818/452 3153) www.loftensemble.org  Admission:  Donate what you want.
Los Angeles Theatre Center:  514 Spring St., Los Angeles (213/489-74020)  http://therobeytheatrecompany.org

James Bridges Theatre: UCLA campus, 235 Charles E. Young Dr. E.,   Los Angeles Theatre Works (LATW) (323/538-3142)  boxoffice@latw.org

Mark Taper Forum: Los Angeles Music Center, 135 N. Grand Ave., downtown Los Angeles (213/628-2772) www.taperahmanson.com   Live at the Music Center Concert Celebrating Jerry Moss, co-founder of A&M Records. Incredible roster of  scheduled performances by  major talents.  Jan. 14, 2023.
Three decades after its 1993 World premiere at the Taper, Anna Deavere  Smith's "Twilight: Los Angeles, 1992" returns to L.A. Originally performed solo by Smith, the show has been re-imagined for a cast of five performers.  The show offers us another opportunity to reflect on what is still required to meet our  Commitments to Change that were devised and agreed to as a response to the 1992 protests.  March 8-April 9.
---
Morgan Wixson Theatre: 2627 Pico Bl., Santa Monica (310/828-7519) www.morganwixson.org,

Odyssey Theatre:  2055 S. Sepulveda Bl., West Los Angeles (310/477-2055) odysseytheatre.com  Thresholds of  Invention, performance series curated by Tony Abatemarco.  A new series of first looks at pieces in progress by prominent LA visionaries working in pop-up form.   Jan. 14 -15.  Dance at the Odyssey, a six week celebration of contemporary dance featuring new work by cutting edge companies and choreographers.   Jan. 13-15, 20-22,  27-29, Feb. 3-4, 10-11, 17-19.  Music at the  Odyssey series celebrates Stephen Sondheim and musical theater,  Jan. 21 & Feb. 4.
………………………………………………………………………………..
Royce Hall:  UCLA campus, 10745 Dickson Court, Westwood (310/825-2101)  www.cap.ucla.edu    Israel MGalvan & Nino de Eiche, perform perform Mellisa Doble, a blending of passion and technique, Jan. 21 2023; Cecile McLorin Salvant, three time Grammy award winner is a composer, singer and visual artist who unearths the connections between vaudeville, blues, global folk traditions, theater, jazz and baroque music. Jan. 26.  MVF Band, moving across genres the quartet is known for cross-pollinating folk idioms with progressive arrangements and original compositions, Feb. 23.
Santa Monica Playhouse:  1211 4th St., Santa Monica (310/394-9779 ext 1) theatre@santamonicaplayhouse.com   World premiere comedy Why Be An Up[tight Anti-Semite? Jews  R 2 Much Fun.  A deeply in love Catholic woman and Jewish man want to get married but there is a big problem between the fathers of the young couple.  In order to prevent the hate from derailing their happiness, they devise a plan with a very special education program.  Hilarity ensues.  Opening date postponed.
……………………………………………………………………………………………..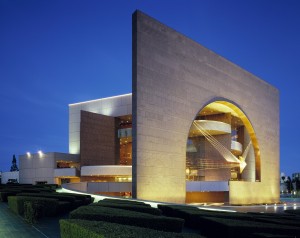 Segerstrom Center for the Arts: 600 Town Center Drive, Costa Mesa, www.SCFTA.org  (714/556-2787)
Harper Lee's To Kill a Mockingbird, Dec 27-Jan. 8,2023, has partnered with Children's Hospital of Orange County Foundation to host a book drive for their Family Resource Center.  Both new reading and coloring books for all ages will be accepted.
Upcoming:   Moulin Rouge! Disney's Frozen, Hairspray, SIX, and Tina — The Tina Turner Musical. Additionally, the return of classics featured in the Curtain Call series include: Chicago and The Book of Mormon. 
"""""""""""""""""""""""""""""""""""""""""""""""""""""""""""""""
Sherry Theater:  11052 Magnolia Bl., North Hollywood (323/860-6569) howilearnedtodrive.brownpapertickets.com  Pulitzer Prize winning story, How I Learned To Drive, the story of Li'l  Bit one of the richest and most appealing female protagonists in contemporary literature.  The play focuses on her  progress between the ages of 11 and 18.   Her intellectual and physical development are both accelerated and she is on her way to becoming a young woman of considerable potential.  Th story explores the complex relationship of a younger woman and an older man.  Feb. 17-March 19.
Skylight Theatre:  1816 1/2 N. Vermont Ave., Los Angeles (213/761-7061) www.BoxOffice@SkylightTix.com  
The Braid: the-braid.org/remembrance All of us live in the shadow of the Holocaust.  It forever shaped the generations that came after it, both within the Jewish world and throughout the whole of humanity. The stories of the descendants of survivors, once kept a secret, are now brought to life in a world of searing but ultimately inspirational theatre.  Remembrance of Things Present, the latest Salon production.   Performed on Zoom worldwide, Jan. 22-Feb. 6.
The Soraya: 18111 Nordhoff St., Northridge  (818/677-3000) www.thesoraya.org

---
Theatre 40: Reuben Cordova Theatre, 241 S. Moreno Dr., Beverly Hills  (310/364-0535) www.theatre40.org  The Los Angeles Premiere of Incident At Our Lady of Perpetual Help, tells the story of the O'Shea family, a cash challenged Irish-Catholic family just trying to get through 1973.  The 19 year old narrator is attempting to re-enact the most turbulent day of her life but her family keeps interrupting, insisting on telling their side of the story.   The 1970s was a time of old school living but when the mother leaves it to her older daughter to tell her younger daughter about the birds and bees, she is overheard by the parish priest who sets out to confront the family about the corruption of their eldest daughter's soul.  Jan 19-Feb. 19, 2023
—————————————————————————–
Theatre West:  3333 Cahuenga Bl. West, Los Angeles (818/761-2203)  www.theatrewest.org  Storybook Theatre's Little Red Riding Hood's retelling of the famous fairy tale.  There is Granny, a funny wolf, and an adorable Little Red Riding Hood.  Plenty of opportunities for audience participation as the adorable little girl goes through the woods to her grandmother's house.  Fun for the whole family.  Oct 29- Jan. 28, 2023
Thousand Oaks Civic Arts Plaza Kavli Theatre: 2100 Thousand Oaks Boulevard,  Thousand Oaks (800/745-3000) www.startheatricals.com 
Wallis Annenberg Center for the Performing Arts (The Wallis): 9390 N. Santa Monica Bl., Beverly Hills (310/746-4000)  www.thewallis.org       A glorious stage adaptation of Emily Bronte's novel, an intoxicating story of revenge for our time shot through with music, dance, passion and hope.  Rescued from the Liverpool docks as a child, Heathcliff is taken to live at Wuthering Heights where he finds a kindred spirit in Catherine, and a fierce love ignites.  When they are forced apart, a brutal chain of events is unleashed.  Jan 11-22.
Upcoming: Ballet Hispanico, Broadway aficionado Stephanie J. Block with Seth Rudetsky, Shanghai Sonatas, My Lord What a Night, Havana Nights featuring the Mambo Kings and more. Luminario Ballet of Los Angeles presents Heroes, Sheroes, and Eros featuring a collective of choreographers and special guests and The Last Supper, a rollicking tale about a visit by Jesus, Judas, and Mary Magdalene to the Coachella Musical Festival. Feb 17-18.
---
Walt Disney Concert Hall: 151 S. Grand Ave., Los Angeles (213/972-7288) www.wdch.com
Los Angeles Master Chorale presents Choose Something Like a Star, with conductor Grant Gershon and 62 singers, piano and percussion. Features two world premieres  along with extraordinary pieces from classic Brahms to contemporary Jake Runestad.  Feb. 12. The Frank Gehry designed home to the Los Angeles Philharmonic embodies the unique energy and creative spirit of both the City of Angels and its world-class orchestra under the direction of  maestro Gustavo Dudamel and features the works of the world's musical greats featuring Classical, World Music, Jazz, Songbook and the Master Chorale.   The season features programs that reflect on the profundity of our cultural moments by examining themes of life, death and transcendence in music. Throughout the season Dudamel conducts a dozen wide-ranging programs.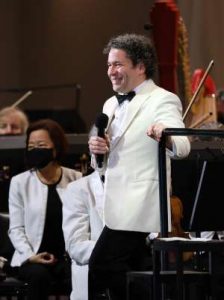 photo: Gustavo Dudamel

---
Wende Museum: 10808 Culver Bl., Culver City  info@wendemuseum.org    Returning for its third season, Music at the Wende is a free concert series in which esteemed musical organizations present programs inspired by the Wende's collection. Programs will take place the first Friday of the month through June. All concerts are free.  RSVPs open four weeks prior to each event.  Limit 2 tickets per RSVP.
Whitefire Theatre:  13500 Ventura Bl., Sherman Oaks   www.whitefire.stagey.net/projects7577  World premiere of Twelve O'clock Tales with Ava Gardner Hollywood, California…1974. The siren is focused on her first big budget starring role in over a decade.  Tucked away  the queen of scandal sheets does battle with her past.   Jan. 15-March 5, 2023.   Jenny Lind Presents P.T. Barnum  world premiere with music.  P.T. Barnum, that Greatest Showman, has put Jenny Lund, the Swedish Nightingale, on an exhausting tour that made Barnum wealthy and provided Lund with the funds that she sought to found a music school in Sweden.  She wishes to take control of her own career.  She calls Barnum out for exploiting her and for his other sins.    Despite her own shortcomings, she fails to speak out against slavery.  Opens Feb. 3.

Will Geer's Theatricum Botanicum: 1419 N. Topanga Canyon Blvd, Topanga (310/455–3723)  www.theatricum.com