—————————————————————————–
The Los Angeles Music Center:  135 N. Grand, Los Angeles (213/972-4400) www.musiccenter.org   Center Theatre Group's 54th season at the Ahmanson Theatre to begin November 30 with Matthew Warchus directed A Christmas Carol.  Following shows will include: the West End hit musical Everybody's Talking About Jamie and Tony-Winning Come From Away.  Also The Lehman Trilogy, The Prom and Tony-winning best musicals Hadestown and Dear Evan Hansen.  The Tony award winning revival of Rodgers and Hammerstein's Oklahoma will be presented later in the season.  Lots to  look forward to!
Annual Spotlight Program grand finale showcases finalists performances in seven categories hosted by Josh Groban May 22, 7:00 pm PT musiccenter.org.
The Stratford Festival's  Antony and Cleopatra on demand through May 12.  The lavish film is free to Center Theatre Group subscribers and supports and $10 to all others at www.ctgla.org/StratfordAntonyAndCleopatra.
Black Feminist Video Game where tech expertise and artistic innovation come together for a groundbreaking theatrical experience featuring an original video game.  Six live performances will stream at 5 PM from April 27 thru May 2, 8:59 PM. On demand.  at 9 PM through May 9 at 8:59 PM. Tickets $10, CTGLA.org/BlackFeministVideoGame.
Glorya Kaufman presents Dance at the Music Center, a new dance at dusk outdoor series on Jerry Moss Plaza and in Grand Park celebrating first return of live audiences. Series begins with the debut of The Super Villainz: A Top Dance Act for the Modern Age. Four paid ticket presentations following  Public Health guidelines May 26-30.  On May 25  Jerry Moss Plaza will be transformed into The Super Villainz Tap Dance Park; free advanced reservations will be required for limited public entry.  The Dance at Dusk continues with American Ballet Theatre, June 2-6 followed by the return of Paul Taylor Dance Company, June16-20.
CenterTheatreGroup.org/DigitalStage  Center Theatre Group is launching the Digital Stage. Inaugural episode of Not a Moment, but a Movement features Angelica Cheri's play Crowndation; I Will Not Lie to David paired with the visual art of Kenyatta A.C. Hinkle and the music of Jessica La Real in a unique event that amplified all three artists available on demand beginning Jan. 21.   A special sneak peek of Not a Moment but a Movement launches with a panel "The Forum: Amplifying the Roots of the Movement". The second episode, Black Nourishment features spoken word, murals and music premiering April 15 thru June 15.  A new multi-media digital platform to tell important stories in new and innovative ways is being launched.  From streamed performances on demand to interactive shared experiences and educational workshop series. The collection of curated offerings includes staged readings and production filmed live from the Kirk Douglas Theatre, new commissions from renowned theatre artists, events from our Broadway partners, beautifully live-captured productions from Matthew Bourne/NewAdventures and The Stratford Festival, and much more.  Includes staged readings, scenes from the vault, special events and more. Friends Members enjoy Free access.

---
Antaeus Theatre Company:  www.antaeus.org  The company is gearing up for Season Two of The Zip Code Plays: Los Angeles with six original audio plays, each set in a different  Southland zip code.  The new season will feature original short plays set in Echo Park, West Hollywood, Inglewood, Pacoima, North Hollywood and Monterey Park.  The shows will be artistically as well as geographically diverse.  Season 2 will be available beginning May 20.
Arboretum: info@pasadenasymphony-pops.org  Pasadena Pops 2021's Sierra Summer Concert Series features Road to Motown, July 10; Fleetwood Mac: A Tribute, July 24; Michael Feinstein Sings Sinatra's Songbook, Aug. 14; Classical Mystery Tour: A Tribute to the Beatles, Aug. 28. Ticketed events.
Blank Theatre Living Room Series: www.theblank.com/livingroomseries  A new play development program, Feb. 22-May 17. Mondays, 8:00 pm.  Suggested donation $15.00
Bob Baker Marionette Theater: 1345 W. 1st Street, Los Angeles (213/250-9995) www.bobbakermarionettes.com Marionettes from all over the globe entertain in an in-the-round performance of waltzing rag dolls and madcap musical instruments, also special holiday shows.  Tuesdays thru Fridays 10:30 AM, Saturdays and Sundays 2:30 PM.  Presenting Hooray L.A. along with a series of evening programs celebrating the hidden histories of Los Angeles.  Closed.
Dorothy Chandler Pavilion: Los Angeles Music Center, 135 North Grand Ave., Los Angeles.  The Los Angeles  opera conducted by James Conlon.
Dugan's Backyard Playhouse: dbtickets@gmail.com Woodland Hills. (address provided when reservations are made). The Ghosts of Mary Lincoln provides an evening of blood, madness and murder.  There are tales of White House seances, presidential grave robbers, warnings from the undead and that fateful night at Ford's Theatre. April 2, 3, 16, 17, 23, 24, 30 & May 1. Tell Him It's Jackie concerns Jackie Kennedy on the date of her brother in law Robert's assassination.  Jackie invites us inside her life, her growing up, college, courtship with the future President, the birth of her children, her own becoming a beloved icon, her husband's death and much more. With her world crumbling around her, she takes a course of action which will change her and here children's future. Ticketed event, admission $20,  May 7, 8, 14, 15, 28 and 29. Reserve early.
Echo Theater Company: www.EchoTheaterCompany.com    Monthly online storytelling series, Bold Faced Secret series presents The Skin of Your Teeth in which storytellers were invited to submit stories about near misses, close calls, narrow escapes, being perilously close to the edge, falling off, clawing your way back to the top.  Free via Zoom . Underneath The Freeways of Los Angeles, a virtual interactive experience, April 2-26. This is a live streamed, interactive murder mystery experience inspired by historical events. In 1960 two bodies have been discovered in the lake at Hollenbeck Park, right below the newly build section of the Golden State Freeway.  Each virtual performance is live and each performance is different with audience participation. www.EchoTheaterCompany.com/underneath

Geffen Playhouse: 310/208-2028 www/geffenplayhouse.org. World Premiere of live, virtual and interactive theatrical experience, Someone Else's House, a true-life haunting story written and performed by Obie award winning multimedia artist Jared Mezzocchi.  April 30-June 5. Tickets priced at $65-$75 per household.
Global Brain Health Institute: www.UnRavelledPlay.com Art, music and science intersect in UnRavelled, a new drama by Jake Broder.  Based on true events and incorporating research and interviews conducted by Broder as a Hellman visiting artists, the play explores the fascinating connection between the work of Canadian painter Anne Adams and French composer Maurice Ravel, both of whom suffered from the same rare brain disease.  Feb. 25 at 4:00 p.m. extended through April 30. Free.
International City Theatre: www.InternationalCityTheatre.org  A virtual presentation of tender, uproarious Slow Food by Wendy MacLeod streaming on demand April 29-May 16.  Ticket price $30.

Kiki & David Gindler Performing Arts Center: 110 East Broadway, Glendale (818/506-1983) www.Antaeus.org   

Kirk Douglas Theatre: 9820 Washington Bl. Culver City (213/628-2772) www.centertheatregroup.com   ALL PERFORMANCES HAVE BEEN CANCELLED DUE TO THE CORONAVIRUS.  See listing information at Center Theatre Group.
---
LA Theater Works: www.latw.org Digital Season state of the art audio recordings of nine plays:  A Weekend with Pablo Picasso, written and performed by Herbert Siguenza, April 26; For Us All by Jeane Sakata and No-NoBoy by Ken Narasaki, May 5: A Good Day at Auschwitz by Stephen Tobolowsky, June 2; The Murder on the Links adapted from the Agatha Christie novel by Kate McAll, June 30. Digital season per household $150.0o.
Laguna Playhouse: 606606 Laguna Canyon Dr., Laguna Beach (949/497-27870) www.lagunaplayhouse.com   lagunaplayhouse.com or 949/497-2787.
La Jolla Playhouse: 2910 La Jolla Village Dr., La Jolla (858/550-1010)  www.LaJollaPlayhouse.org  www.secondcity.com   
Lankershim Arts Center: 5108 Lankershim Bl., North Hollywood (323/944-2165) www.coeurage.org/slaughtercity  Coeurage Theatre Company, L.A's Pay What You Want theatre company.

Lex Theatre:(Celebration Theatre)  6760 Lexington Ave., Hollywood (323/957-1884)  www.celebrationtheatre.com Courage Theatre Company, LA's Pay What You Want theatre company.
Lily Tomlin/Jane Wagner Cultural Arts Center:  1125 N McCadden Place, Hollywood (323/860-73000) www.lalgbtcenter.org/theatre
 Long Beach Performing Arts Center – International City Theatre  & Terrace Theatre: 300 East Ocean Bl., Long Beach  (562/436-4610)  www.internationalcitytheatre.org 

Los Angeles Theatre Center:  514 Spring St., Los Angeles www.thelatc.org 
Los Angeles Theatre Works (LATW):  (323/538-3142) Boxoffice@latw.org   LATW and UK's National Theatre presents War Horse with full productions in HD video.  At the outbreak of WWI Albert's beloved horse is sold to the Calvary and shipped to France.  Though still not old enough to enlist he embarks on a treacherous mission to find him and bring him home.This drama is a show of phenomenal inventiveness. At its heart are astonishing life-size puppets who bring breathing, galloping, charging horses to thrilling life onstage. Four shows daily March 31 through April 6.  Tickets are $15.  A Weekend With Pablo Picasso, a one man tour de force based on Picasso's writings, available April 26.  No-No Boy concerns a WWII resister who returns home after his release from prison to find a different world than when he left.  Available May 1.   A Good Day At Auschwitz, the extraordinary true story of Abe who not only survived three years at Auschwitz but fell in love there.  Available June 1.  The Murder on the Links, the Agatha Christie classic whodunit in which Hercule Poirot arrives in the south of France to find his client dead on the golf course… and a house full of suspects.  Available July 1.
Los Angeles Women's Theatre Festival: (818/760-0408)  www.lawtf.org The longest running Annual Solo Festival for women in Los Angeles runs March 25-30.  Virtual Champagne GALA and Awards Ceremony takes place March 25 honoring five women of exceptional achievement and contribution to the world of theatre.  Admission cost.
Magicopolis: Abracadabra Theatre, 1418 4th St., Santa Monica (310/451-2241). Fast paced, colorful, magic and illusion shows for the whole family in a theater setting. Ongoing.
Mark Taper Forum: Los Angeles Music Center, 135 N. Grand Ave., downtown Los Angeles (213/628-2772) www.taperahmanson.com  ALL PERFORMANCES HAVE BEEN CANCELLED DUE TO THE CORONAVIRUS. See Center Theatre Group listing.
Center theatre group offers free tickets for theatergoers 25 years old and younger, available for the First Review of all Center Theatre Group Productions at the Mark Taper Forum and Kirk Douglas Theatre.  Tickets  free at the box office.  A $5 ticket handling fee for phone or online reservations.
---
Microsolft Theatre: 777 Chick Hearn Court, Los Angeles (213/763-6030) www.microsofttheater.com   Check their website for information on upcoming events.
Morgan Wixson Theatre: 2627 Pico Bl., Santa Monica (310/828-7519) www.morganwixson.org,   
A vietual series of one-woman shows include The Last Goodbye, in June.
Musco Center for the Arts:  Chapman University, 415 North Glassell, Orange (844/626-8726)   www.muscocenter.org 
New Vic:  33 W. Victoria St., Santa Barbara (805/965-5400) www.etcsb.org   
Odyssey Theatre:  2055 S. Sepulveda Bl., West Los Angeles (310/477-2055) www.OdysseyTheatre.com 
Pantages Theatre: 6233 Hollywood Bl., Hollywood (800/982-2787)  www.HollywoodPantages.com 

Pasadena Playhouse:  39 South El Molino Ave., Pasadena (626/356-7529)  www.pasadenaplayhouse.org 

Pico Playhouse: www.iamatheatre.com  Two fiercely funny Latinx-American women, two compelling solo comedies about female identity. Set during the 500th day of quarantine, The Oxy Complex is a dark comedy exploring love, sex, loneliness, trauma and the hormone that affects it all–Oxytocin, also knows as the love hormone. Extended thru April25. . Ticketed event.

Renberg Theatre: 1125 N. McCadden Place, Hollywood (323/860-7300)  http://www.lagbtcenter.org/theatre
Robey Theatre Company:  www.theRobeytheatrecompany.org/our-events 
Royce Hall:  UCLA campus, 10745 Dickson Court, Westwood (310/825-2101)  www.cap.ucla.edu
…………………………………………………………………………………………………………………………….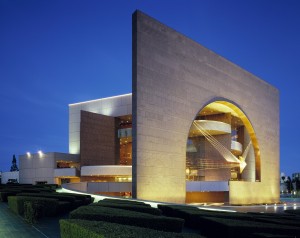 Free public tours of the center Wednesdays and Saturdays at 10:30 a.m. Telephone first.
Segerstrom Center for the Arts: 600 Town Center Drive, Costa Mesa, www.SCFTA.org  (714/556-2787)

At the Julianne and George Argyros Plaza, Tuesday Night Dance: Broadway, March 9, 16. 23 & 30.
Segerstrom Center for the Arts has announced that Broadway shows will be back on the Segertrom Hall stage starting in the fall of 2021.  The Broadway series will include new productions of My Fair Lady, Mean Girls, Tootsie, Pretty Woman: The Musical and Hadestown.
"""""""""""""""""""""""""""""""""""""""""""""""""""""""""""""""""""""""""""""""'
Skirball Cultural Center:  skirball.org/skirball-stages  Featuring boundary-pushing artists in genres ranging from American roots music to the sights and sounds of Appalachia, from Latin jazz to Haitian-infused jazz, reggae and hip-hop. May 1, 8:00 p.m. Concert film takes viewers behind the scenes for a look at the artist's musical processes, aspirations and hopes for the future.  RSVP recommended.
Skylight Theatre:  1816 1/2 N. Vermont Ave., Los Angeles (213/761-7061) www.BoxOffice@SkylightTix.com  Stories that tackle the world we're in and with Skylight Live (new short plays are performed online every Thursday.) All plays deal with our unprecedented times.  Free
Staples Center and Microsoft Theater: 1111 S. Figueroa, Los Angeles (213/ 742-7100) www.staplescenter.com/events  www.microsofttheater.com  Check for all upcoming concerts, family shows and special events.

---
Theatre 40: Reuben Cordova Theatre, Beverly Hills High school campus, 241 S. Moreno Drive, Beverly Hills (310/364-0535) .   www.theatre40.org   Presenting Adult Education Theatre Appreciation Spring Seminar Series.   Includes readings and discussions of contemporary plays.  To receive the Zoom link and attend, e-mail www.macqueenm1@aol.com or leave message at 213-385-5515.  The theme of this series is The Truth Will Set You Free, plays that examine lies, misunderstandings and revelations. 7:00  PDT April 26, May 10, May 24, June 7. Free. Donations appreciated – http://theatre-40.org
Thousand Oaks Civic Arts Plaza Kavli Theatre: 2100 Thousand Oaks Boulevard,  Thousand Oaks (800/745-3000) www.startheatricals.com 
UCLA Center for the Art of Performance: www.cap_ucla Dorothea is the latest project from composer, singer, bandleader and two-time Grammy-nominated recording artist Ted Hearne.  The video premiere of Dorothea will be a kaleidoscopic, post-pop song cycle embodying  the viscerally tender, pathos riddled darkly explosive post-pop song cycle. Free.  May 15, 7:00 pm.
Wallis Annenberg Center for the Performing Arts (The Wallis): 9390 N. Santa Monica Bl., Beverly Hills (310/746-4000)  www.thewallis.org   The Wallis presents  TicketsattheWallis.org ALL PRODUCTIONS, PRESENTATIONS, PUBLIC GATHERINGS AND EDUCATIONAL PROGRAMS HAVE BEEN CANCELLED .  Sleep Squad is a family friendly, interactive, virtual theater experience  that turns your home into a rocket ship to launch kids into their dreams..  This world premiere on-demand production creates a anew kind of bedtime ritual for kids age 4-12. On-Demand Family Passes can include a Dreamtime Travel Kit delivered to your home address.  Get tickets.  Every Monday through May 3, a new short dance film will premiere in addition to in depth Pop Up Talks with the artists, the first features Jacob Jonas. Films.Dance has created a quarantined collaboration among dancers, cinematographers, choreographers, composers, and fashion houses from across the globe to create stunning short films for dance showing every Monday now through May 3 via Vimeo, Instagram and Facebook. Free.  On Demand May 16-23, the  brilliant Hershey Felder returns as Sergei Rachmaninoff in Anna & Sergi, the story of the very strange meeting meeting between Rachmaninoff and Anna Anderson, the woman who claimed to be the sole surviving member of the Romanov Dynasty, the Princess Anastasia.  Featuring Rachmaninoff's most beloved music.

---
Walt Disney Concert Hall: 151 S. Grand Ave., Los Angeles (213/972-7288) www.wdch.com The Frank Gehry designed home to the Los Angeles Philharmonic embodies the unique energy and creative spirit of both the City of Angels and its world-class orchestra under the direction of  maestro Gustavo Dudamel and features the works of the world's musical greats featuring Classical, World Music, Jazz, Songbook and the Master Chorale. The Philharmonic is also committed to the presentation of music of our time as well as offering its exhilarating Green Umbrella concerts which presents the Los Angeles Philharmonic New Music Group devoted exclusively to compositions on the cutting edge of the repertoire and attract leading composers and performers of contemporary music. Chamber music is another integral part of this world-class orchestra's repertoire.  ALL PRODUCTIONS HAVE BEEN CANCELLED.
---
Whitefire Theatre:  www.tickettailor.com/events/whitefiretheaatre/493310   Valentine, a virtual show that deals with romance (sometimes in the wrong places). Tracy Ann Chapel wrote, directed and stars in the show.  April 9. 7:00 PDT. $15.99.
Will Geer's Theatricum Botanicum: 1419 N. Topanga Canyon Blvd, Topanga (310/455–3723)  www.theatricum.com  Something for every taste in theatre!  Closed for now.