---
Ahmanson Theatre: Los Angeles Music Center, 135 N. Grand, Los Angeles (213/972-4400) www.CenterTheatreGroup.org
 Sting stars in The Last Ship, inspired by Sting's 1991 album "The Soul Cages" and his own childhood experiences, tells the story of a community amid the demise of the shipbuilding industry in Tyne and Wear, with the closure of the Swan Hunter shipyard.  When a sailor named Gideon Fletcher returns home after 17 years at sea, tensions between past and future flare in both his family and his town.  The local shipyard, around which the community has always revolved is closing and no one knows what will come next, only that a half-built ship towers over the terraces.  With the engine fired and pistons in motion, picket lines are drawn as foreman Jackie White (Sting) and his wife Peggy fight to hold their community together in the face of the gathering storm. Jan. 14 -Feb. 16.
Upcoming: Hadestown, winner of eight 2019 Tony Awards will be part of Center Theater Group's 2020-2021 season at the Ahmanson. Following two intertwining love stories — that of young dreamers Orpheus and Eurydice and that of King Hades and his wife Persephone, Hadestown invites audiences on a hell raising journey to the underworld and back. The acclaimed musical was written by celebrated singer-songwriter and Tony Award winner Anais Mitchell and developed with innovative director and Tony Award winner Rachel Chavkin.
Center Theatre Group invites schools and community organizations serving youth from the greater Los Angeles area to apply to the 2019-2020 Student Matinee Program, a comprehensive arts education experience which brings students and educators to the theatre each season. To apply visit www.CenterTheatreGroup.org/Student-Matinees.
Free library play reading series includes six plays on select dates from January to June at the Benjamin Franklin Library on Tuesdays, Malabar Library on Wednesdays, Robert Louis Stevenson Library on Thursdays.  All readings begin in 6:00 p.m. (213/972-80280).
---
A Noise Within:  3352 East Foothill Bl., Pasadena (626/356-3100) www.anoisewithin.org  

Actor's Company – The Other Space: 916 A N. Formosa, Hollywood www.afterhours15y.evenbrite.com 
Atwater Village Theatre: 3269 Casitas Ave., Atwater Village (323/882-6912) www.openfist.org Open Fist Theatre presents three evenings of short works performed in rotating repertory: Rorschach Fest,  features  Inkblot A, B & C. Feb. 14-April 5.
Blank Theatre:  6500 Santa Monica Bl., Hollywood (323/661-9827) www.theblank.com/livingroomseries   The Living Room Series is a new play development program that embodies The Blank's commitment to developing new works by diverse voices from both established and emerging writers.   The performances are minimally staged with actors carrying scripts.  Jan. 13-May 4.
Bob Baker Marionette Theater: 1345 W. 1st Street, Los Angeles (213/250-9995) www.bobbakermarionettes.com Marionettes from all over the globe entertain in an in-the-round performance of waltzing rag dolls and madcap musical instruments, also special holiday shows.  Tuesdays thru Fridays 10:30 AM, Saturdays and Sundays 2:30 PM.  Presenting Hooray L.A. along with a series of evening programs celebrating the hidden histories of Los Angeles.
Broad Stage: 1310 11th St., Santa Monica (310/434-3200) www.thebroadstage.com

Celebration Theatre @Lex Theatre: 6760 Lexington Ave., Los Angeles (323/957-1884) www.celebrationtheatre.com 
Colony Theatre:  555 N. 3rd St., Burbank  (866/811-4111) www.colonytheatre.org
Chance Theatre:  5522 E La Palma Ave., Anaheim (888/455-4212)  www.ChanceTheater.com

Doheny Mansion:  Pompeian Room, 10 Chester Place, Los Angeles (213/477-2929)  www.DaCamera.org    Check website for concerts in this splendid setting.
Dorothy Chandler Pavilion: Los Angeles Music Center, 135 North Grand Ave., Los Angeles.  The Los Angeles  opera conducted by James Conlon.
Eclectic Company Theatre:  5312 Laurel Canyon Bl., Valley Village (818/508-3003)  www.eclecticcompanytheatre.org    Shakespeare Salons held the last Tuesday of every month. Participants perform their favorite Shakespearean piece or alternatively, a piece inspired by Shakespeare.  Shakespearean monologues, scenes, poems, songs, remembrances and personal interpretations of all kinds are welcome.  To perform, fill out the form on the Eclectic Company Theatre website.
El Portal Mainstage: 5269 Lankershim Bl., North Hollywood 8/508-4200) www.elportaltheatre.com On March 7 at 3 PM and 8 PM only, Hot August Night, a tribute to Neil Diamond, stars Dean Colley.
Fountain Theatre:  5060 Fountain Ave., Los Angeles (323/663-1525)  www.fountaintheatre.com  World premiere of Human Interest Story, a timely drama about homelessness, celebrity worship and the assault on American journalism, Feb. 15 -April 5.
Fremont Centre Theatre: 1000 Fremont Ave., South Pasadena www.youngstarstheatre.org/tickets Sweeney Todd: The Demon Barber of Fleet Street, is Broadway's hit musical based on London's urban legend with several stage adaptations dating as far back of 1847.  The play  concerns a man determined to seek vengeance.  Framed and imprisoned by a corrupt judge whom he believes responsible for the death of his beloved wife, Todd returns to London after being rescued by a sailor.  Things get even more complicated when Todd's daughter gets involved.  Jan 17-Feb. 2, 2020.
Greenway Court Theatre:  544 N. Fairfax Ave., Los Angeles (323/380-8843)  www.iamatheatre.com LA's Pay What You Want theatre company .
Greystone Manor:  Greystone Park;, 905 Loma Vista Drive, Beverly Hills (310/364-3606) www.theatre-40.org The Manor – Murder and Madness at Greystone returns for its 18th year…a Los Angeles/Beverly Hills institution, depicting momentous changes in the fortunes of the fabulously wealthy MacAlister family (fictional surrogates of the oil-rich Doheny Family.)  The show is a fictionalization based on real events with the actual historical characters given new names.  The show is presented in the grand and glorious architectural landmark in which the events of 90 years ago actually took place.  Audience members are led from room to room in the lovingly restored marvelous Greystone Mansion as different scenes of the narrative are portrayed, leading up to a shocking and apparent murderer and suicide.  Feb. 6-March 1, 2020.
Hudson Theatre: 6539 Santa Monica Bl., Hollywood (323/960-7773) www.onstage411.com/asmallgroup
James Bridges Theater: UCLA Campus, Melnitz  Hall, 235 Charles E. Young Drive,  Westwood (310/827-0889)  www.LATW.org  "The Play's the Thing" radio theater series: Vietgone, by Qui Nguyen,,,Saigon has fallen and two Vietnamese refugees meet in an Arkansas relocation camp before setting out on a rip roaring, hip, hop inflected road trip across American.  Nguyen tells the hilarious and only slightly not-true version of how his parents met and built a life for themselves in a new land.  Jan 24-26.  The world premiere of Frankenstein, Mary Shelley's Gothic masterpiece adapted for LA Theatre Works, Feb. 28-March 1.
Kiki & David Gindler Performing Arts Center: 110 East Broadway, Glendale (818/506-1983) www.Antaeus.org    Sex and hypocrisy abound in Shakespeare's dark comdy about the corruption of power and authority and the true nature of mercy and justice in Measure for Measure,  Feb. 13-April 6.  Sex and hypocrisy abound in Shakespeare's dark comedy about the corruption of power and authority and the true nature of love and justice in Measure for Measure, Feb. 21-April 20.

Kirk Douglas Theatre: 9820 Washington Bl. Culver City (213/628-2772) www.centertheatregroup.com  Upcoming: Until the Flood, Jan. 24- Feb. 15, 2020. Fourth Annual Block Party, March 18-April 19, 2020 will remount Sacred Fools Theater Company's The Art Couple and IAMA Theatre Company's Canyon.  Block Party offers an opportunity  for the Center Theatre Group to connect with other members of the Los Angeles theatre community and celebrate the art and artists that help make this city such a vibrant theatre place.
---
Laguna Playhouse: 606606 Laguna Canyon Dr., Laguna Beach (949/497-27870) www.lagunaplayhouse.com  In The Perfect Dog, The Musical, a 12 year old perfectionist is searching for a flawless dog to enter the town's dog contest.  Unable to find a canine that measures up he must resort to training the family dog who is less than eager to obey commands.  This delightfully charming and Seuss-like book answers the question …with all the wonderful kinds of dogs in the world, is there really just one kind that is better than all the rest?  Jan. 17-19.  A Rockin" New Decade! celebrating the music of The Eagles, Jan. 9-12; The Beach Boys, Jan 23-26; Johnny Cash, Jan 29-Feb. 1;  Tina Turner, Feb. 6-9;  & The Rat Pack, Feb. 13-16.
La Jolla Playhouse: 2910 La Jolla Village Dr., La Jolla (858/550-1010)  www.LaJollaPlayhouse.org  www.secondcity.com     Upcoming:  Escape to Margaritaville, At the Old Place.
La Mirada Theatre: 14900 La Mirada Bl., La Mirada (562/944-9801 or 714/994-6310)  www.lamiradatheatre.com Arsenic and Old Lace combines murder and mayhem with zany humor, an uproarious black comedy that gives hospitality a bad name.  Meet Abby and Martha Brewster, two spinster sisters known for their acts of charity… which lately includes poisoning lonely old men with arsenic laced elderberry wine.  When their nephew find out about the corpses in the cellar, he is in a frantic race to deal with his aunts, his fincee and two  crazy brothers. A spiffy new production that will slay you with laughter.  Jan. 24-Feb. 16
Lankershim Arts Center: 5108 Lankershim Bl., North Hollywood (323/944-2165) www.coeurage.org/slaughtercity  Coeurage Theatre Company, L.A's Pay What You Want theatre company.

Leo S. Bing Theater: Los Angeles Museum of Art, 5905 Wilshire Bl., Los Angeles. (213/485-6873). Free chamber music series. Sundays at 4 p.m.
Lex Theatre:(Celebration Theatre)  6760 Lexington Ave., Hollywood (323/957-1884)  www.celebrationtheatre.com Courage Theatre Company, LA's Pay What You Want theatre company.
 Long Beach Performing Arts Center – International City
Theatre  & Terrace Theatre: 300 East Ocean Bl., Long Beach  (562/436-4610)  www.internationalcitytheatre.org   A madcap musical  salute to the swinging 40's, The Andrews Brothers.   A USO show is threatened with cancellation when a certain famous trio of singing sisters fails to show and its up to three earnest and deterined stagehands to go on with the show.  Features more than 25 songs made famous by the Andrews Sisters, Feb. 21-March 8.

Los Angeles Theatre Center:  514 Spring St., Los Angeles www.lamatheatre.com  Moritz von Stuelpnagel  directs Found, an original musical based on scores of surprising and eccentric discarded notes and letters that have been found in the real world by every day people.  Inspired by actual events.   A raucous and insightful new new musical tells the story of ambition, betrayal and loyalty while celebrating the weirdness in all of us.  Feb. 20-March 23.
Magicopolis: Abracadabra Theatre, 1418 4th St., Santa Monica (310/451-2241). Fast paced, colorful, magic and illusion shows for the whole family in a theater setting. Ongoing.
Mark Taper Forum: Los Angeles Music Center, 135 N. Grand Ave., downtown Los Angeles (213/628-2772) www.taperahmanson.com   At a time when the Constitution is being assailed by those who have sworn an oath to defend it, this buoyant and often stirring civics lesson is the theatrical curriculum Americans desperately need now.  Maria Dizzia brings to life the maddening, mournful history of how women's bodies have been abused by laws and the male dominated courts imperiously interpreting them in What The Constitution Means to Me.  Thru Feb. 28.
Center theatre group offers free tickets for theatergoers 25 years old and younger, available for the First Review of all Center Theatre Group Productions at the Mark Taper Forum and Kirk Douglas Theatre.  Tickets  free at the box office.  A $5 ticket handling fee for phone or online reservations.
—————————————————————————–Microsolft Theatre: 777 Chick Hearn Court, Los Angeles (213/763-6030) www.microsofttheater.com   Check their website for information on upcoming events.
Morgan Wixson Theatre: 2627 Pico Bl., Santa Monica (310/828-7519) www.morganwixson.org   It's Only a Play by Terence McNally….it's opening night of a new Broadway play, The Golden Egg, as the play-write anxiously awaits to see if its a hit.  With his career on the line, he shares his big First Night with his "best" friend, a television star, his novice producer, his doped up diva, his genius director, a lethal drama critic, and a fresh off the bus coat check attendant on his first night in Manhattan.    Alternately raucous, ridiculous and tender —and proves that sometimes the biggest lights happen offstage!  Jan. 18-Feb. 9, 2020. The first Y.E.S. show of 2020, The Emperor's New Clothes, the hilarious musical retelling of the beloved Hans Christian Andersen tale.   Feb. 1-16.
Musco Center for the Arts:  Chapman University, 415 North Glassell, Orange (844/626-8726)   www.muscocenter.org 
New Vic:  33 W. Victoria St., Santa Barbara (805/965-5400) www.etcsb.org     A musical adaptation of the gloriously romantic comedy, Jane Austen's Emma in which a beautiful, witty and determined young woman plays matchmaker in disastrous ways, leading to a whirlwind of complications and eventually her own self discovery.  A charming and clever musical adaptation of this beloved novel from the Tony Award nominated composer of Daddy Long Legs and Jane Eyre. Feb. 6-23. Upcoming season: American Son and pop and jazz musical about the legendary Rosemary Clooney.
Odyssey Theatre:  2055 S. Sepulveda Bl., West Los Angeles (310/477-2055) www.OdysseyTheatre.com     Sam Shepard double bill: The Unseen Hand and Killer Head next up in Odyssey's 50th Anniversary Circa '69 season.  What happens when 1880 Western bandits are brought back to life in Azusa, CA by a space alien?  E.T. meets the Old West in San Shepard's The Unseen Hand, a hilarious yet foreboding sci-fi Western about a trio of legendary cowboys resurrected to help a mut6ant extraterrestrial free his people from slavery.  Called a six-pack of vintage Shepard by the New York Times.  The evening also includes Shepard's gritty and audacious  Killer's Head, a murderer's monologue delivered as he awaits electrocution.  Jan. 25-March 8.
Pantages Theatre: 6233 Hollywood Bl., Hollywood (800/982-2787)  www.HollywoodPantages.com 

Pasadena Playhouse:  39 South El Molino Ave., Pasadena (626/356-7529)  www.pasadenaplayhouse.org 

Renberg Theatre: 1125 N. McCadden Place, Hollywood (323/860-7300)  http://www.lagbtcenter.org/theatre
Renee &  Henry Segerstrom Concert Hall and Samueli Theater: 600 Town Center Dr., Costa Mesa (714/740-556 -2121 or 714/556-2787 or 714/755-5799) www.scfta.org or www.pacificsymphony.org  Home of Pacific  Symphony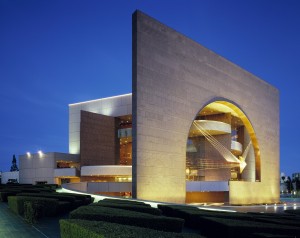 Free public tours of the center Wednesdays and Saturdays at 10:30 a.m. Telephone first.
—————————————————————————–
Road on Lankershim:  5108 Lankershim Bl., North Hollywood   (818/761-8838) www.RoadTheatre.org   
Road on Magnolia: 10747 Magnolia Bl., North Hollywood (818/761-8838) www.RoadTheatre.org  A newly revised and re-written production of Nowhere on the Border tells the story of a border watch volunteer who confronts a Mexican man who claims to be looking for his missing daughter.  Set in a hostile wasteland between nations, the play reveals the personal dramas that drive people to cross borders both physical and emotional.  Jan. 14- March 8.

Royce Hall:  UCLA campus, 10745 Dickson Court, Westwood (310/825-2101)  www.cap.ucla.edu  Lady Black Mambazo, created in South Africa in the early 1960s The group sings from a traditional music style claeed isicathamiya which developed in the mines of South Africa. The five time Grammy Award winning group accompanied Nelson Mandela to when he received his Nobel Peace Prize.  After the group sang at his inauguration and several special appearances, Mandela proclaimed the group South Africa's Cultural Ambassadors to the World  Feb. 20. Two time Grammy award winner for Best Jazz  Vocal Album, Gregory Porter,  Feb. 7.
Rubicon Theatre: 1006 E. Main St., Ventura (805/667-2900) www.rubicontheatre.org

Ruskin Group Theatre:  3000 Airport Ave., Santa Monica   reservationspack@gmail.com  Each month The Pack  Drama Desk Award winner and Emmy nominated writer Eugene Pack brings together an outstanding group of actors who perform staged readings of his  new original short comedies in a variety of venues throughout Los Angeles. Usually a sell out.
---
Santa Monica Playhouse:  1211 4th St., Santa Monica (310/394-9779 ext. 1)  www.santamonicaplayhouse.com    Mistakes Were Made — coulda, woulda, shoulda reunites playwright Jerry Mayer with director Chris DeCarlo.  It's schadenfreude at its finest.  Saturdays and Sundays thru March.
Segerstrom Center for the Arts: 600 Town Center Drive, Costa Mesa (714/556-2787)  www.scfta.org  Tony Award winner Lillias White at the Samueli Theater, Jan. 23-26; Jimmy Buffett's  Escape to Margaritaville where people come to get away from it all and stay to find something they never expected…a hilarious and heartwarming musical with the most unforgettable songs from one of music's greatest storytellers Feb. 4-9;     Doric String Quartet joined by piano virtuoso Marc Andre Hamelin, Feb. 13 at the Samueli Theater.
Skylight Theatre:  1816 1/2 N. Vermont Ave., Los Angeles (213/761-7061) www.BoxOffice@SkylightTix.com   Front yard inflatables.  A hostile takeover of a neighborhood block party.  Altruistic dreams of gentrification.  Perhaps reshaping a newly adopted neighborhood in your image isn't as lofty as one might think in West Adams.  Jan. 30-March 8.
Staples Center and Microsoft Theater: 1111 S. Figueroa, Los Angeles (213/ 742-7100) www.staplescenter.com/events  www.microsofttheater.com  Check for all upcoming concerts, family shows and special events.

The Autry: Griffith Park, 4700 Western Heritage Way (323/667-2000) www.TheAutry.org  Native Voices at the Autry is the only Equity theatre company devoted exclusively to developing  and producing new works for the stage by Native American, Alaska Native and First Nations playwrights.
---
Theatre 40: Reuben Cordova Theatre, Beverly Hills High school campus, 241 S. Moreno Drive, Beverly Hills (310/364-0535) www.theatre40.org   Sunday Dinner brings the Matera clan together at the family home for Sunday dinner after their grandfather dies.   While at home Michael Matera, a young priest is confronted by his working class father who confesses a very serious sin which could have serious consequences for other members of the family.  To the dismay of the father, his son refuses to grant him absolution.  Other family members have secrets of their own and things get complicated.  Jan. 16-Feb. 16, 2020.
Ninety minutes of musical theatre heaven as the vocal talents of the performing artists of Theatre 40 sing the great songs of musical theatre.  If you love musical theatre, this Musical Matinee is for you. Feb. 23, 2:00 pm.
---
Theatre 68:  5112 Lankershim Bl., North Hollywood (818/760-0408) www.lawtf.org  Los Angeles Women's Theatre Festival marks 27 years of producing over 500 multicultural and multidisciplinary solo performers from around the globe.  The overall theme will be 2020 Vision.   Champagne Gala and Awards Ceremony, March 26. Event will honor five women of exceptional achievement and contribution to the world of theatre plus performances. Performances March 27-29.
Theatre of Note:  1517 N. Cahuenga Bl., Hollywood.  (323/856-8611) www.theatreofnote.com 25th annual Hollywood Performance Marathon , an all day all night extravaganza of eclectic performances including comedy, juggling, poetry, puppets, performance of art, dance, mucis monologues and more.  Starting January 18 at 3:00 pm until 2:00 am on January 19.
Thousand Oaks Civic Arts Plaza Kavli Theatre: 2100 Thousand Oaks Boulevard,  Thousand Oaks (800/745-3000) www.startheatricals.com 
Wallis Annenberg Center for the Performing Arts (The Wallis): 9390 N. Santa Monica Bl., Beverly Hills (310/746-4000)  www.thewallis.org  Megan Hilty & Cheyenne Jackson highlight Broadway showstoppers, American songbook classics and rare musical gems, Jan 25., 2020. Lulu Washington Dance Theatre features world premieres by Christopher Huggins and Tommie Waheed Evans, a West Coast Premiere by Esie Mensah; a favorite by world renown hip hop artist Rennie Harris; plus new premiere works by Tamica Washington-Miller and Lula Washington, Jan. 30-Feb. 1, 2020.   World premiere production of Frankenstein, created by Four Larks after Mary Shelley's classic novel, an exuberant amalgamation of dynamic physical theatre, live music and experimental design  that brings the tale to life in modern take that spotlights the dangers of unregulated technolo9gy.  The production awakens new questions about moral responsibility for each generation.  Feb. 12-March 1.  An Evening with Tony award Winning star Christine Ebersole, Feb. 28.

---
Walt Disney Concert Hall: 151 S. Grand Ave., Los Angeles (213/972-7288) www.wdch.com The Frank Gehry designed home to the Los Angeles Philharmonic embodies the unique energy and creative spirit of both the City of Angels and its world-class orchestra under the direction of  maestro Gustavo Dudamel and features the works of the world's musical greats featuring Classical, World Music, Jazz, Songbook and the Master Chorale. The Philharmonic is also committed to the presentation of music of our time as well as offering its exhilarating Green Umbrella concerts which presents the Los Angeles Philharmonic New Music Group devoted exclusively to compositions on the cutting edge of the repertoire and attract leading composers and performers of contemporary music. Chamber music is another integral part of this world-class orchestra's repertoire.
Los Angeles Master Chorale
Guided and self-guided tours of the concert hall are available to the public (213/972-4399).
---
Wells Fargo Theatre:  Autry Museum of the American West, 4700 Western Heritage Way, Los Angeles (323/667-2000)  www.NativeVoicesattheAutry.org    Native Voices at the Autry continues its vital role as the country's only equity theatre company dedicated exclusively to developing the work of Native American playwrights.
Wende Museum of the Cold War: 10808 Culver Bl., Culver City  info@wendemuseum.org   Free concerts but RSVP at their website.
Will Geer's Theatricum Botanicum: 1419 N. Topanga Canyon Blvd, Topanga (310/455–3723)  www.theatricum.com  Something for every taste in theatre!