Ahmanson Theatre:  Los Angeles Music Center, 135 N. Grand Ave., downtown Los Angeles (213/628-2772) www.taperahmanson.com  Just in time for the holidays, A Christmas Story, The Musical, a new  holiday tradition featuring a holiday themed score that brings the classic 1983 movie to hilarious life on stage,  Dec. 5-31.  Set  in 1940s Indiana, the show chronicles the young and bespectacled Ralphie Parker as he schemes his way toward the holiday gift of his dreams, an official Red Ryder toy BB gun.  Chock full of delightful songs and splashy production numbers.
Matthew Bourne's Romeo and Juliet, gives Shakespeare's timeless story of forbidden love a scintillating injection of raw passion and youthful vitality.  Confined against their will by a society that seeks to divide, our young lovers must follow their hearts as they risk everything to be together.  A masterful re-telling  of an ageless tale of teenage discovery and the madness of first love.  Jan. 28-Feb. 25, 2024
A series of special events and programming at the Mark Taper Forum, the Kirk Douglas Theatre and throughout greater Los Angeles.   CTG:FWD.   The events provide greater opportunities for community gatherings and conversations, can't miss special events  and ways to help center Los Angeles based artists and the arts community.  It also provides an opportunity to open the doors of the Mark Taper Forum during this pause in traditional season programming .  The initial slate of programming includes Alex Edelman's Just for Us, Feinstein's at the Taper,  Amal Walks Across America.
2023-2024 Upcoming Season: six productions including two Tony Award winning Best Musicals, A Strange Loop, winner of the Pulitzer Prize; Also the Broadway revival of Funny Girl, Romeo and Juliet & Clue.   
A number of services  to accommodate persons requiring mobility, vision and hearing access.   American Sign language interpretation is offered.  Contact  CenterTheatreGroup.org/Access
---
A Noise Within:  3352 E. Foothill Bl., Pasadena  (626-356-3100)  www.anoisewithin.org   Charles Dickens' A Christmas Carol, a Los Angeles tradition with innovative  staging, whimsical costumes, original music and boundless good cheer.    Audiences are invited to arrive early to enjoy special snacks, crafts and photo opportunities in the decorated lobby. Dec. 1-24.  IAMA Theatre Company explores family fault lines and isolation with world premiere play, Radical. What do you do when the people you call family are the ones who hurt you the most?  Nov. 11-Dec. 11.
Atwater Village Theatre: 3269 Casitas Ave., Los Angeles  ((310/307–3753) www.EchoTheaterCompany.com

BroadStage at Santa Monica College Performing Arts Center:  1310 11th St., Santa Monica (310/434-32000)  broadstage.org 
Chance Theater:  5522 E. La Palma Ave, Anaheim  (888/455-4212)  www.chancetheater.com  The Secret Garden, the Musical,  is an adaptation of the timeless novel that is perfect for the entire family.   Nov. 24-Dec. 23.
Cole Theatre:  905 N. Cole Ave.,  Hollywood  In Love, Sex and Misery  eight distinct stories are told in a collection of eight short theatre pieces packed into a compact eighty-five minute.  The stories are also somehow interconnected.   Oct 21-Dec. 10.
Crypto.com Arena: (formerly the Staples Center) 1111 S. Figueroa, Los Angeles (213/ 742-7100)  www.cryptoarena.com  Check for all upcoming concerts, family shows and special events.  Tickets on sale now.
Dorothy Chandler Pavilion: Los Angeles Music Center, 135 North Grand Ave., Los Angeles. (213/972-8001) The English Concert presents  a concert performance of Handel's Rodelinda on Nov. 21.    Season includes:  Don Giovanni, The Barber of Seville, El Ultimo Sueno de Frida & Diego, Highway 1. USA/The Dwarf…2 one-ct plays, La Traviata, & Turandot  includes two free recitals as well as behind the scenes talks. Concerts and recitals  and off Grand operas feature   Audra McDonald (Dec. 2 only) , The Book of Mountains and Seas. Patti Lupone, Fire and Blue Sky and Renee Fleming.

Fountain Theatre:   5060 Fountain Ave., Los Angeles. (323/663-1525)  www.fountaintheatre.com     Freight:  The Five Incarnations of Abel Green.  J. Alphonse Nicholson reprises his off Broadway tour-de-force star turn  as five versions of an African American every-man who travels through time in different incarnations.   Nov. 9-Dec. 11.
Grand Central Arts Center:  125 N. Broadway, Santa Ana  (657/205-6273) www.thewaywardartist.org/
Greystone Park:  Greystone Mansion,  905 Loma Vista Drive, Beverly Hills (310/285-6830)  http://beverlyhills.org/greystonetheatre   The hit  return engagement of Manor-Murder and Madness at Greystone, an immersive crime scandal drama, Jan. 18-Feb. 3, 2024.
International City Theatre:  330 East Seaside Way, Long Beach (562/436-4610)  www.internationalcitytheate.org  
Kirk Douglas Theatre: 9820 Washington Bl. Culver City (213/628-2772) www.centertheatregroup.com   Dog Man: The Musical, a hilarious and heartwarming new show based on the worldwide bestselling book series by Dav Pikey.  As the title implies, the main character has the head of a dog and the body of a policeman who loves to fight crime and chew on the furniture.  But while trying his best to be a good boy, can he save the city from Flippy the cyborg fish ad his army of Beasty Buildings? Can he catch the world's mos evil cat who has cloned himself  to exact revenge on the doggy do-gooder? An epic musical adventure featuring the hilarity and heart of beloved characters .  Recommended for ages 6-10.  Nov. 21-Jan. 7.
---
Los Angeles Theatre Center:   514 S. Spring St., Los Angeles  (213/489-0994)  www,latinotheaterco.org

Mark Taper Forum: Los Angeles Music Center, 135 N. Grand Ave., downtown Los Angeles (213/628-2772) CenterTheatereGroup.org       Alex Edelman's Just For Us, a CTG Special Event, Nov. 10-26.  Following acclaimed runs in London, Edinburgh, Melbourne, Boston and Washington D.C. having played a six time extended off Broadway engagement  Expertly crafted by one of comedy's most distinctive voices, this singular theatrical experience written and performed by Edelman is an exploration of identity and our collective capacity of empathy — and it is also very funny.  Michael Feinstein  in Coming Home: The Holiday Celebration  featuring a holliday show for the ages featuring some very special guests to be announced, Dec. 3.  He will return again  on Feb.. 10 and April 13 with two more specials created just for Center Theatre Group audiences.
---
Morgan Wixson Youth Theatre: 2627 Pico Bl., Santa Monica (310/828-7519) www.morganwixson.org,    
Musco Center for the Arts:   Chapman University,  (714/997-6812) Ticketing@chapman.edu    Chamber Music Society of Lincoln Center, March 3, The Wailin Jennys,March 9,  Jazzy Steam,  March 14,  Orange County Master Chorale & Southern California Children's Chorus,  March 17, Lawrence Brownlee, March27, Kishi Bashi, April 27.
Odyssey Theatre:  2055 S. Sepulveda Bl., West Los Angeles (310/477-2055) odysseytheatre.com   
Robey Theatre:   514 S. Spring St.,  at Los Angeles Theatre Center (213/489-7402)  info@therobeytheatrecompany.org  The Talented Tenth  is a classic of Black American dramatic literature.   The play borrows its title from a 1903 article by scholar, activist and social reformer W.E.B. DuBois in which he described the likelihood of one in ten Black men becoming leaders of Black people by continuing their education, writing bonks or or becoming directly involved in social change.  Nov. 9-Dec. 10.
Royce Hall:  UCLA campus, 10745 Dickson Court, Westwood (310/825-2101)  www.cap.ucla.edu

Santa Monica Playhouse:  1211 4th St., Santa Monica (310/394-9779 ext 1) theatre@santamonicaplayhouse.com    .  In Jews R 2 Much Fun, Stanley and Kathy are in love and want to marry.   Her dad, however, is a hater.  What can the two lovebirds do?  They have a plan…and its hilarious. .  Opens Oct. 7.
……………………………………………………………………………………………..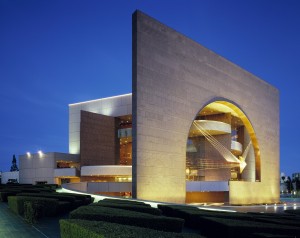 Segerstrom Center for the Arts: 600 Town Center Drive, Costa Mesa, www.SCFTA.org  (714/556-2787) Tony Award winning musical Les Miserables will play for two weeks, Sept. 19-Oct. 1,  packed with breathtaking set designs, inspirational acting and incredible music.   Dr. Seuss's How The Grinch Stole Christmas!,  the musical, Dec. 19-24.    Upcoming Dance Headliners and in conversation series for the 2023-2024 season includes Complexions Contemporary Ballet, Turn It Out with Tiler Peck, American Ballet Theater's The Nutcracker, Alonzo King LINES Ballet, Les Ballets de Monte Carlo's Coppel-o/A,  American Ballet Theater Mixed Repertory.   Headliner Series features Get Happy: Jessica Vost, Mandy Patinkin in Concert: Being Alive, A Broadway Birthday, Sondheim, Lloyd Webber and Friends.
American Ballet Theatre presents the North American Premiere of Wayne McGregor's  Woolf Works inspired by the writings of 20th century modernist author Virginia Woolf, marking American Ballet Theatre's first full-length production by McGregor whose multi-award winning ballet Triptych is inspired by three of Woolf's seminal novels. April 11-14, 2024,
---
Theatre 40: Reuben Cordova Theatre, 241 S. Moreno Dr., Beverly Hills  (310/364-0535) www.theatre40.org  The Half-Light, a drama with warmth and humor.  After an intriguing encounter with a psychic, a college secretary asks herself if certain people can be trained to see the dead?   Her pursuit of an answer leads to a more earthbound challenge when her beloved college is suddenly felled by grief.  Armed with her own intuition and the enthusiasm of her friend, she attempts to coax Andrew back to the land of the living.   Meanwhile she faced off with her daughter who believes her house is haunted.   These four characters entwined journeys  all tilt toward the same goals:  to be fully seen in the light and the half-light by another living being.  Nov. 16-Dec. 17.
Opening January 18, Strangers on a Train, the story of two young men who meet on a train, one an ambitious architect, the other a playboy with a taste for danger.  As the train takes them tot their destinations, the two travelers speculate on wheat would it be like to commit the perfect murder.   With a Private Investigator on their case, little do the know that their lives will soon become fatally linked forever.   Jan. 18-Feb. 18. 2024.
---
Theate of Note:  1517 N. Cahuenga Bl., Hollywood  theatreofnote.com
Theatre West:  3333 Cahuenga Bl. West, Los Angeles (818/761-2203)  www.theatrewest.org   Storybook Theatre presents Aladdin, The Princess, and The Magic Lamp, a musical for children and their families.  Oct 7-Jan. 13, 2024.  Millennium Magic 2023, a program o magic and illusion  Nov. 17, 18 and 19.  So Many Stars–a musical event for the season with music and songs, Dec. 2-10.
Thousand Oaks Civic Arts Plaza Kavli Theatre: 2100 Thousand Oaks Boulevard,  Thousand Oaks (800/745-3000) www.startheatricals.com 
UCLA Nimoy Theater:  1262 Westwood Bl., Los Angeles (310/825-2101)  tickets@cap.ucla.edu A new addition to UCLA, the theater presents Grammy Award winning poet, spoken word artist, actor and songwriter J. Ivy with his singular style  of performance poetry.  Singer Tarrey Torae and musicians join him as part of the first installment of Poetry Uncut, a four part series of curated poetry evenings and music hosted by Ivy and featuring guest artists.  Feb. 3 & 17, 2024 culminating in a final poetry jam, April 6. Upcoming highlights for the 2023-24 season include:   Rapper Omaer Offedum's The Little Syria Show, Ethiopian ensemble Ethioand Cabaret sensation Meow Meow, Acclaimed playwright Daniel Alexander Junes, Choreographer-dancer Calib Teicher and pianist-composer Conrad Tao. 
Wallis Annenberg Center for the Performing Arts (The Wallis): 9390 N. Santa Monica Bl., Beverly Hills (310/746-4000)  www.thewallis    The  Yonatan Esterkin production of The Jewish Dog, Nov. 9-19.  This production offers a view of the Holocaust, the darkest period of modern Jewish history through the eyes of a canine unusually fascinated by human affairs.  When events separate Cyrus from his Jewish owners, he is adopted by a Nazi family and employed  and employed by the SS as a military dog, witnessing first hand the rise of Nazism.   The story is based on the novel by Asher Kravitz and features Roy Abramsohn as the beloved dog, this performance explores loyalty and the fine line that separates humanity from animals.  Recommended for adults and children ages 10+.   Love Actually Live brings together friends and loved ones in an awe-inspiring winter wonderland.  Set within a picturesque London cityscape, iconic scenes from the film are displayed on screens alongside all-star singers and live orchestra  Nov. 22-Dec. 30. The Wallis continues to offer free events for families and young audiences.
Upcoming at the Wallis:Camille A. Brown & Dancers: ink, explore the depth of Black identity, resilience and cultural heritage, Jan. 12-13, 2024.

Walt Disney Concert Hall: 151 S. Grand Ave., Los Angeles (213/972-7288) www.wdch.com
The Frank Gehry designed home to the Los Angeles Philharmonic embodies the unique energy and creative spirit of both the City of Angels and its world-class orchestra under the direction of  maestro Gustavo Dudamel and features the works of the world's musical greats featuring Classical, World Music, Jazz, Songbook and the Master Chorale.   The season features programs that reflect on the profundity of our cultural moments by examining themes of life, death and transcendence in music.  The Los Angeles Master Chorale, one of the world's greatest chorale ensembles  presents a holidays season of signing music that captures the spirit of this joyous time of year.  The Festival of Carols.  Dec. 2,  10, 17 & 18.
---
Whitefire Theatre:  13500 Ventura Bl., Sherman Oaks   www.whitefire.stagey.net/projects7577
Will Geer's Theatricum Botanicum: 1419 N. Topanga Canyon Blvd, Topanga (310/455–3723)  www.theatricum.com