---
Latin History For Morons written by and starring John  Leguizamo.
Photo:  Matthew Murphy
Ahmanson Theatre: Los Angeles Music Center, 135 N. Grand, Los Angeles (213/972-4400) www.CenterTheatreGroup.org     Latin History for Morons written by and starring John Leguizamo.  Inspired by the near total absence of Latinos from his son's American history books, Leguizamo embarks on an outrageously funny, frenzied search to find a Latin hero for his son's school project.  From a mad recap of the Aztec empire to stories of unknown Latin patriots of the Revolutionary Way and beyond, he breaks down the 3,000 years between the Mayans and Pitbull into 110 irreverent and uncensored minutes above and beyond his unique style. On October 18 at 8 p.m. the show will be performed in English with Spanish translations running simultaneously on an open caption screen. Audience members wishing to view the open captions can request seating when purchasing tickets. www.CenterTheatreGroup.org/promo code LHFMSL  Sept. 5-Oct. 20.
The New One tells the hilarious story of Mike Birbiglia's reluctance to become a father and the revelations he experienced on the other side of parenthood.  Full of heart and humor and coming direct from Broadway, The New One is a laugh a minute.  Mike Birbiglia is the creator and star of Sleepwalk with Me. Opens Oct. 25.
Upcoming: Hadestown, winner of eight 2019 Tony Awards will be part of Center Theater Group's 2020-2021 season at the Ahmanson. Following two intertwining love stories — that of young dreamers Orpheus and Eurydice and that of King Hades and his wife Persephone, Hadestown invites audiences on a hell raising journey to the underworld and back. The acclaimed musical was written by celebrated singer-songwriter and Tony Award winner Anais Mitchell and developed with innovative director and Tony Award winner Rachel Chavkin.
Center Theatre Group invites schools and community organizations serving youth from the greater Los Angeles area to apply to the 2019-2020 Student Matinee Program, a comprehensive arts education experience which brings students and educators to the theatre each season. To apply visit www.CenterTheatreGroup.org/Student-Matinees.
---
A Noise Within:  3352 East Foothill Bl., Pasadena (626/356-3100) www.anoisewithin.org   All 2018-19 offerings feature characters who are outliers — people who have blazed their own trail but nevertheless struggle for acknowledgement and acceptance.  Let Me In is not about physical space but about the deeply human passion to be understood for who we are.  These include Othello, The Glass Menagerie and Argonautika.

Actor's Company – The Other Space: 916 A N. Formosa, Hollywood www.afterhours15y.evenbrite.com 
Atwater Village Theatre: 3269 Casitas Ave., Atwater Village (323/882-6912) www.estlosangeles.org/2019-one-acts   When a gay writer hires a man to work as a "shirtless cleaner," homophobia, racism and issues of consent bubble to the surface in the world premiere of Handjob, a dark comedy exploring the deepest sensitivities in our culture with unexpected and hilarious consequences, Sept. 7-Oct. 20. The world premiere of Neil Simon's Musical Fools, a hilarious musical adaptation of his play, Fools.  In 1893 Ukraine, a young tutor arrives in Kulyenchikov after a harrowing journey — only to find that the village is cursed, rendering every resident as dumb as a bag of rocks.  Will he fall victim to the curse or cache save himself and the village too? Oct. 4-Nov. 17.
Barnum Hall:  Santa Monica High School, 600 Olympic Bl., Santa Monica  www.smsymphony.org/concerts Santa Monica Symphony Orchestra free concerts:
Beverly Hills Playhouse:  254 S. Robertson, Beverly Hills (323/348-4979)   www.bhplayhouse.com Crimson Square Theatre Company presents Cock, first performed at the Royal Court Theatre in London in 2011, Cock is the tale of a gay man torn after meeting and falling in love with a woman.  Visceral and funny, the play attacks thorny issues rarely seen onstage.  Its honest and straightforward exp0loation of bisexuality suggests that gay or not people fall in love with those who can give us happiness.  Oct. 18-Nov. 17.
Bob Baker Marionette Theater: 1345 W. 1st Street, Los Angeles (213/250-9995) www.bobbakermarionettes.com Marionettes from all over the globe entertain in an in-the-round performance of waltzing rag dolls and madcap musical instruments, also special holiday shows.  Tuesdays thru Fridays 10:30 AM, Saturdays and Sundays 2:30 PM.  Presenting Hooray L.A. along with a series of evening programs celebrating the hidden histories of Los Angeles.
Broad Stage: 1310 11th St., Santa Monica (310/434-3200) www.thebroadstage.com

Carrie Hamilton Theatre: 39 El Molina Ave., Pasadena (323/380-8843) www.iamatheatre.com A Kid Like Jake, a story of a mother and father trying  to do right by their young son, a study of intimacy and parenthood and the fantasies that accompany both. Oct. 3-Nov. 3.
 Celebration Theatre @Lex Theatre: 6760 Lexington Ave., Los Angeles (323/957-1884) www.celebrationtheatre.com 
Colony Theatre:  555 N. 3rd St., Burbank  (866/811-4111) www.colonytheatre.org  Next is Talking to Myself in which renowned voice actor James Arnold Taylor combines state of the art multimedia images and sound in a live theatre setting, recreating scenes from some of Hollywood's biggest films along with the voices of his many animated characters.  Oct. 10-13. The series concludes with Chico's Angels: Chicas in Space, a live comedy production that parodies the 1976-1981 TV series Charlie's Angels.  Nov. 21-24. The world premiere of The Tale of Turandot, presented by L.A.s only Equity Theatre Company dedicated exclusively to young audiences.   This family friendly production geared towards children ages 4-12, incorporates puppetry and video projections with many other creative elements.  The company is dedicated to telling stories that spotlight a diverse array of female heroes.  Nov. 8-17.
Chance Theatre:  5522 E La Palma Ave., Anaheim (888/455-4212)  www.ChanceTheater.com

Doheny Mansion:  Pompeian Room, 10 Chester Place, Los Angeles (213/477-2929)  www.DaCamera.org    Check website for concerts in this splendid setting.
Dorothy Chandler Pavilion: Los Angeles Music Center, 135 North Grand Ave., Los Angeles.  The Los Angeles  opera headed by Placido Domingo and conducted by James Conlon .
Eclectic Company Theatre:  5312 Laurel Canyon Bl., Valley Village (818/508-3003)  www.eclecticcompanytheatre.org    Shakespeare Salons held the last Tuesday of every month. Participants perform their favorite Shakespearean piece or alternatively, a piece inspired by Shakespeare.  Shakespearean monologues, scenes, poems, songs, remembrances and personal interpretations of all kinds are welcome.  To perform, fill out the form on the Eclectic Company Theatre website.
Edgemar Center for the Arts: 2437 Main St., Santa Monica,(310/392-7327) www.edgemarcenter,org 
Fountain Theatre:  5060 Fountain Ave., Los Angeles (323/663-1525)  www.fountaintheatre.com    In this darkly comic Pulitzer Prize winning drama, Between Riverside and Crazy, an ex-cop and recent widower has made a home for his newly paroled son but the NYPD is demanding his signature to close an outstanding lawsuit, the landlord wants him out, the liquor store is closed and the church is on his back leaving Pops somewhere between Riverside…and crazy.  Oct. 12-Dec. 15.
Freud Playhouse: UCLA campus, Macgowan Hall, 245 Charles E. Young Dr., East, Westwood (866-811-4111) www.reprise2.org
Geffen Playhouse, Audrey Skirball Kenis Theater: 10886 Le Conte Ave., Los Angeles (310/208-5454)  www.geffenplayhouse.org  How does one celebrate Thanksgiving and Native American Heritage Month at the same time?  In this biting satire, The Thanksgiving Play, this is the question facing three "woke" white thespians tasked with devising an elementary school pageant about the first Thanksgiving while avoiding any culturally appropriate missteps.  A roast of the politics of entertainment and well meaning political correctness alike.   The Thanksgiving Play puts the American origin story itself in the comedy-cross hairs.  Oct. 22-Dec. 1.
Greenway Court Theatre:  544 N. Fairfax Ave., Los Angeles (323/380-8843)  www.iamatheatre.com LA's Pay What You Want theatre company .
Hudson Theatre: 6539 Santa Monica Bl., Hollywood (323/960-7773) www.onstage411.com/asmallgroup
James Bridges Theater: UCLA Campus, Melnitz  Hall, 235 Charles E. Young Drive,  Westwood (310/827-0889)  www.LATW.org  "The Play's the Thing" radio theater series:  A Scottish meteorologist locks horns with his American counterpart as both men try to convince General Dwight D. Eisenhower that they can accurately predict the atmospheric conditions needed to launch the greatest amphibious assault in the history of mankind — the D- Day invasion in Pressure, opening Oct. 4 for four performances.  Upcoming : In The Hard Problem a young psychology researcher works at the Krohl Institute for Brain Science where psychology and biology meet. If there is nothing but matter what is consciousness?  This is "the hard problem" facing science and for the young researcher the possibility of genuine altruism without a hidden Darwinian seal-interest depends of the answer.  Meanwhile she is nursing a private sorry and needs a miracle and is prepared to pray for one.  Nov. 15-17.
Kiki & David Gindler Performing Arts Center: 110 East Broadway, Glendale (818/506-1983) www.Antaeus.org    A surprise visit from two strangers exposes a devastating secret in The Abuelas, a visceral look at the repercussions of Argentina's so-called "Dirty War."  Oct. 11-Nov. 25.  Eight Nights, the heartfelt, lyrical portrait of a German Jewish refugee haunted by her past but resiliently moving toward the future, witnessed over the course of generations of the same family that inhabits a single apartment from 1946 to 2016.  Set during the eight nights of Hanukah and spanning eight decades of the protagonist's life. Nov. 8-Dec. 16.

Kirk Douglas Theatre: 9820 Washington Bl. Culver City (213/628-2772) www.centertheatregroup.com Tony Award-winning actor Bill Irwin combines his renowned skills as a master clown and dramatic actor to explore a performers relationship to works of Samuel Beckett.  His physical approach to the comic and tragic sides of Beckett's writing allows audiences to experience his language in surprising new ways in On Beckett, Sept. 13-Oct. 27.
---
Laguna Playhouse: 606606 Laguna Canyon Dr., Laguna Beach (949/497-27870) www.lagunaplayhouse.com   At the top of their game, yoga apparel giant Jojomon is hit with a terrible scandal that sends them into free-fall.  Desperate to recover their earnings and reputation, the newly hired CEO stakes everything on an unlikely plan.  Yoga Play lovingly and hysterically highlights the intersection between spirituality, commerce and comedy.  Sept. 29-Oct. 13.  Over 15,000 Jewish children passed through Terezin and only about 100 were still alive when it was liberated at the end of the war.  One of the survivors, having lived through it all, teaching the children when there was nothing to teach with, helping to give them hope when there was little enough reason for hope, creating a little world of laughter, of flowers and butterflies behind the barbed wire in I Never Saw Another Butterfly, Oct. 19-27. Upcoming: It's Christmas 1183, and King Henry II is planning to announce his successor to the throne.  The jockeying for the crown, through , is complex.  Henry has three sons and his boy, Prince John, to take over.  Henry's wife, Queen Eleanor, has other ideas.  She believes their son Prince Richard should be king.  As the family and various schemers gather for the holiday, each tries to make the indecisive  king choose there option in The Lion in Winter, Nov. 6-24.  Peter Pan and Tinker Bell:  A Pirates Christmas, a singing, swashbuckling adventure performed in the high flying style of a British holiday Panto.  Take off on a wild quest with Tinker Bell, Wendy and Peter Pan as they try to put a stop to the plot of some dastardly pirates who plan to kidnap Peter as a present to Captain Hook.   Dec. 4-29.
La Jolla Playhouse: 2910 La Jolla Village Dr., La Jolla (858/550-1010)  www.LaJollaPlayhouse.org  www.secondcity.com     Without Walls Festival world premieres featuring more than 20 unique productions, several of which are free, , Oct. 17-20. Upcoming:  Escape to Margaritaville, At the Old Place.
La Mirada Theatre: 14900 La Mirada Bl., La Mirada (562/994-9801) www.lamiradatheatre.com   Grumpy Old Men: The Musical stars Hal Linden, Cathy Rigby and Ken Page in this new musical comedy based on the classic 1993 film.  Two aging neighbors have been feuding for more than 50 years until the lovely Ariel moves in across the street raising the rivalry to new heights.  A laugh out loud story of family, friendship, love and romance.  Sept. 21-Oct. 13.  Ronald Dahl's  Tony Award winning Matilda The Musical, the story of an extraordinary girl who..armed with a vivid imagination, a sharp mind and a love for books dares to take a stand against the tyranny of adults who seek to crush her imagination.  Watch how she and her classmates save  the day.  Packed with high energy dance numbers, catchy songs and featuring a gifted young actress, this is a joyous girl-power romp!  Oct. 25-Nov. 17.
Lankershim Arts Center: 5108 Lankershim Bl., North Hollywood (323/944-2165) www.coeurage.org/slaughtercity  Coeurage Theatre Company, L.A's Pay What You Want theatre company.

Lee Strasberg Theatre:  7936 Santa Monica Bl., West Hollywood (855/326-9945)  www.Gentleman-George.com You are invited to the funeral of three time Oscar winner and Hollywood legend, costume designer Orry-Kelly.  Don't expect a little thing like death to stop the whip tongue and quick wit of the unapologetic gay Australian rascal who dressed and heard the secrets of stars like Marilyn Monroe, Bette Davis, Merle Oberon, Ingrid Bergman and Mae West to name a few.  Anyone who loves classic movies, fashion, gossip and Cary Grant will love Orry.  Nov. 1-11.
Leo S. Bing Theater: Los Angeles Museum of Art, 5905 Wilshire Bl., Los Angeles. (213/485-6873). Free chamber music series. Sundays at 4 p.m.
Lex Theatre:(Celebration Theatre)  6760 Lexington Ave., Hollywood (323/957-1884)  www.celebrationtheatre.com Courage Theatre Company, LA's Pay What You Want theatre company.
Loft Ensemble: 11031 Camarillo Street, North Hollywood ((818/452-3153) www.loftensemble.org   In Our Lady of 121st Street a diverse group of people return to New York to mourn and celebrate the life of their mentor only to find that her body is missing.  Aug. 10-Sept. 15.
Long Beach Performing Arts Center – International City Theatre  & Terrace Theatre: 300 East Ocean Bl., Long Beach  (562/436-4610)  www.internationalcitytheatre.org  Beast on the Moon, a haunting and poetic play about two immigrants who escape the Armenian genocide in Turkey to seek refuge in America.  In 1921, an Armenian mail-order bride is shipped to Milwaukee to begin a new life with her photographer husband.  As they struggle to define family amidst their grief and displacement, these kindred strangers find hope, healing, redemption and love,  Sept. 21-Oct. 8. Upcoming: The audience is treated to one last performance by the legendary Billie Holiday in Lady Day at Emerson's Bar & Grill. In 1959 in a seedy Philadelphia bar, just four months before her death at age 44, the iconic singer takes us on a journey through the highs and lows of her tumultuous life, interspersed with stunning renditions of her beloved repertoire.  Oct. 18-Nov. 3.

Magicopolis: Abracadabra Theatre, 1418 4th St., Santa Monica (310/451-2241). Fast paced, colorful, magic and illusion shows for the whole family in a theater setting. Ongoing.
Marilyn Monroe Theatre: Lee Strasberg Creative Center, 7936 Santa Monica Bl., West Hollywood www.sweet-Tix.com   Short+Sweet  Festival, the world's largest performing arts festival dedicated to original short form Theater, Music and Dance.  Begins Sept. 24. Festival finals Oct 22-28 feature the Best of the Fest and Gala Finale.
---
Mark Taper Forum: Los Angeles Music Center, 135 N. Grand Ave., downtown Los Angeles (213/628-2772) www.taperahmanson.com  If the audience laughs, it was a comedy.  If the audience nods with new understanding it was a drama.  If the audience both laughs and nods but can't say why it's funny or what they've understood, it might be A Play Is a Poem, the new collection of one-acts by celebrated playwright and filmmaker Ethan Coen.  The hillbilly hollows of Appalachia, the executive  suites of Hollywood, a New York tenement apartment, a magnolia-scented gazebo in Natchez, Mississippi — each holds a different story.  Together they make for an eccentric look at life across American as only Ethan Coen (or perhaps Sam Shepard or Mark Twain) could deliver.  Sept. 11-Oct 13.                                                                                                                                                                                                    Photo:  Sam Vartholomeos, Micala Diamond in A Play is a Poem.  Photographer: Craig Schwartz

Center theatre group offers free tickets for theatergoers 25 years old and younger, available for the First Review of all Center Theatre Group Productions at the Mark Taper Forum and Kirk Douglas Theatre.  Tickets  free at the box office.  A $5 ticket handling fee for phone or online reservations.
————————————————————————————————————————————————————
Matrix Theatre: 7657 Melrose Ave., Los Angeles, (323/960-7711)  www.matrixtheatre.com  Scraps, a highly theatrical, frequently funny mash up of poetry, realism and expressionism that chronicles the effects of the death of a black teenager by a white police officer on his family and friends.  July 27-Sept. 15.
McCadden Theatre:  1157  McCadden Place, Hollywood (800/838-3006) www.brownpapertickets.com/event/419014 
Microsolft Theatre: 777 Chick Hearn Court, Los Angeles (213/763-6030) www.microsofttheater.com   Check their website for information on upcoming events.
Miles Memorial Playhouse:   1130 Lincoln B., Santa Monica  (323/821-2449) www.wcjt.org
Morgan Wixson Theatre: 2627 Pico Bl., Santa Monica (310/828-7519) www.morganwixson.org  Regarded as a musical within a comedy, The Drowsy Chaperone begins when a modern day, die-hard musical theater fan plays his favorite cast album on his turntable.  As the overture starts the musical bursts to life in his studio apartment, telling the rambunctious tale of a brazen Broadway starlet giving up her life on the stage to marry her true love and her producer so desperate  to keep his showgirl that he will go to great lengths to stop the nuptials. Sept. 21-Oct. 6.
Musco Center for the Arts:  Chapman University, 415 North Glassell, Orange (844/626-8726)   www.muscocenter.org  Academy of St. Martin in the Fields Chamber Ensemble, an octet drawn from the musician leaders of one of the finest chamber orchestras in the world featuring works by Brahms, Korngold and Mendelssohn plus a new piece by composer in residence Sally Beamish.  Oct. 15.  The legendary Count Basie Orchestra fronted by vocalist Carmen Bradford, the Big Band continues to win Grammy Awards, top jazz polls and deliver the most danceable swing rhythms.  Oct. 17.
Nate Holden Performing Arts Center: 4718 W Washington Bl, Los Angeles (323/964-9766) www.ebonyrep.org  
New Vic:  33 W. Victoria St., Santa Barbara (805/965-5400) www.etcsb.org   
Shakespeare's Measure for Measure dramatizes one of his more infamous bargains:  a young woman's virginity in exchange for her brother's life.  This story of tyrannical authority, sexual power and gender politics is especially resonant in today's #MeToo culture.  Set in a contemporary landscape, this production examines Shakespeare's enduring question of why "some rise by sin, and some by virtue fall." Opens Oct. 5.  Upcoming season: It's a Wonderful Life, a musical adaptation of Jane Austen's Emma, American Son and pop and jazz musical about the legendary Rosemary Clooney.
Odyssey Theatre:  2055 S. Sepulveda Bl., West Los Angeles (310/477-2055) www.OdysseyTheatre.com     In Circles, a landmark in the over the top gay scene in New York in the late '60s, the play was described by the Burns Mantle Yearbook as "a complete arrangement of words and song and dance effects, each one conceived as if describing its own circle, without convention, story or subject line. Sept. 14-Nov. 10. Mono/Poly tells the tell of two monogamous couples who encounter a polyamorous triad at a costume party.  The triad becomes entwined in their business and personal lives of the first two couples forcing them to examine their long held beliefs about love and marriage.  Although sexually free, the members of the triad adhere to their own fairly rigid ethical code.  Who's moral now? Will the couples and the triad live happily ever after?   This play is suggested for audiences 18 and over.  Oct. 5 -Nov. 10.  Before, a new play with music by Irish writer/performer Pat Kinevane. Pontius is inside Clery's of Dublin trying to choose a gift for his estranged daughter on the very day this iconic department store shuts its doors — for good.  The father's journey is both beautiful and strange from the isolation of his home to the madness of O'Connell Street.  Some folk are impossible to buy for…Nov. 14-Dec. 8.
Pantages Theatre: 6233 Hollywood Bl., Hollywood (800/982-2787)  www.HollywoodPantages.com   Phantom of the Opera.

Renberg Theatre: 1125 N. McCadden Place, Hollywood (323/860-7300)  http://www.lagbtcenter.org/theatre
Renee &  Henry Segerstrom Concert Hall and Samueli Theater: 600 Town Center Dr., Costa Mesa (714/740-556 -2121 or 714/556-2787 or 714/755-5799) www.scfta.org or www.pacificsymphony.org  Home of Pacific  Symphony. A double evening of jazz featuring two time Grammy Award winning vocalist Lisa Fischer and celebrated SF Jazz Collective putting a fresh spin on rock anthems and blues standards, fusing them to African, Middle Eastern and Caribbean rhythms. Also  celebrating 50th anniversaries of two influential albums, In A Silent Way and Stand.  Oct. 25. Mannheim Steamroller Christmas, Dec. 1.  American Ballet Theatre presents The Nutcracker, Dec. 13-22. Spanish Harlem Orchestra: Salsa Navidad, Dec. 21.  Salute to Vienna New Year's Concert features Strauss Waltzes, beloved operettas, champion ballroom dancers, the National Ballet of Hungary and the Strauss Symphony of America, Dec. 28.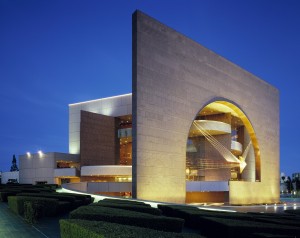 Free public tours of the center Wednesdays and Saturdays at 10:30 a.m. Telephone first.
———————————————————————————
Road on Lankershim:  5108 Lankershim Bl., North Hollywood   (818/761-8838) www.RoadTheatre.org   
Road on Magnolia: 10747 Magnolia Bl., North Hollywood (818/761-8838) www.RoadTheatre.org  Moral dilemma, historical mystery and matters of the heart converge when a committed atheist inherits a collection of rare and hauntingly beautiful illustrated Hebrew manuscripts including a prayer book from fourteenth-century Spain, and discovers that the books, which bear witness to overlapping Jewish and Islamic traditions, were stolen some 600 years after their creation from a library in 1940s Berlin.  Inspired by true events and a late 20th century court case and using projected images of the books themselves, The Spanish Prayer Book explores the allure of sacred objects, the ethical issues generated by cultural treasures displaced during wartime and the power of art to forge human connections.  Sept. 17-Nov. 23.

Rosenthal Theater Inner-City Arts: 720 Kohler St., Los Angeles (818/762-29980) www.deafwest.org The American premiere of The Solid Life of Sugar Water tells the story of how a deaf couple's relationship is revealed through their lovemaking in this startling intimate portrait of a marriage made even more intense by Deaf West Theatre's signature performance style combining American Sign Language with spoken English.  Forthright and delicate. Candid, uninhibited and visceral, this new play premiered at the Edinburgh Fringe Festival prior to an acclaimed run at England's National Theatre.  For mature audience. Sept. 12-Oct. 13.
Royce Hall:  UCLA campus, 10745 Dickson Court, Westwood (310/825-2101)  www.cap.ucla.edu  Samin Nosrat in Conversation with Lindy West. Nosrat is most commonly known for her New York Times bestselling James Beard Award-winning cookbook Salt, Far, Acid, Heat: Mastering the Elements of Good Cooking that was turned into a limited documentary series.  She is a food columnist for the New York Times Magazine. West is currently an opinion writer for the New York Times.  Oct. 13.  Swan Lake/Loch na hEala by Irish writer, director and choreographer Michael Keegan-Dolan is a unique and transcending interpretation of one of the most famous classical ballets.  This contemporary collision of dance, theatre and live music is known to infuse its viewers with a raw, majestic and empowering energy rooted in the meeting of ancient folklore an the modern world.  Nov. 9.
Rubicon Theatre: 1006 E. Main St., Ventura (805/667-2900) www.rubicontheatre.org

Ruskin Group Theatre:  3000 Airport Ave., Santa Monica   reservationspack@gmail.com  Each month The Pack  Drama Desk Award winner and Emmy nominated writer Eugene Pack brings together an outstanding group of actors who perform staged readings of his  new original short comedies in a variety of venues throughout Los Angeles. Usually a sell out.
---
Santa Monica Playhouse:  1211 4th St., Santa Monica (310/394-9779 ext. 1)  www.santamonicaplayhouse.org     .
Segerstrom Center for the Arts: 600 Town Center Drive, Costa Mesa (714/556-2787)  www.scfta.org  The legendary Miss Saigon playing October 1-13. The American Ballet Theatre's captivating production of The Nutcracker, Dec. 13-22, starring Hee Seo as Clara the Princess and Cory Stearns as the Nutcracker Prince on opening night.  The beloved holiday story  is set to a magical score by Peter Ilyitch Tchaikovsky.
Sierra Madre Playhouse:  87 W. Sierra Madre Bl., Sierra Madre ( 626/355-4318)  www.sierramadreplayhouse.org Little Women tells the story of a family of spirited, loving and artistically or intellectually gifted sisters…writer, actress, musician.  Author Louisa May Alcott based the story on herself and her siblings.   The independent author of the group who won't compromise her dreams has become a feminist icon in the last few decades.   Oct. 17-Nov. 3.
Son of  Semele Theater:  3301 Beverly Bl., Los Angeles (213/351-3507)  www.artful.ly/son-of-semele-ensemble
Skylight Theatre:  1816 1/2 N. Vermont Ave., Los Angeles (213/761-7061) www.BoxOffice@SkylightTix.com  What happens when people from diverse backgrounds experience the firsthand accounts of 120 survivors who were labeled "undesirable" and thrust into Hitler's systematic genocide in Never is Now.  The play links then and now so we may understand what breaks us apart and embrace what bonds us together.  Sept. 14-Oct. 27.
Staples Center and Microsoft Theater: 1111 S. Figueroa, Los Angeles (213/ 742-7100) www.staplescenter.com/events  www.microsofttheater.com  Check for all upcoming concerts, family shows and special events.

Stages LA:  12420 Santa Monica Bl., Los Angeles (800/838-3006)  www.waiter.brrownpapertickets.com  The Dumb Waiter, by Harold Pinter,  a tragicomic tale of two hit men hiding out in the basement of a derelict building waiting for the delivery of their next victim. Oct. 4-13.
The Actors Gang Theatre: 9070 Venice Bl., Culver City (310/838-4264) www.TheActorsGang.com
The Autry: Griffith Park, 4700 Western Heritage Way (323/667-2000) www.TheAutry.org  Native Voices at the Autry is the only Equity theatre company devoted exclusively to developing  and producing new works for the stage by Native American, Alaska Native and First Nations playwrights.
The Soraya:  18111 Nordhoff St., Northridge  (818/677-3000) www.thesoraya@csun.edu

---
Theatre 40: Reuben Cordova Theatre, Beverly Hills High school campus, 241 S. Moreno Drive, Beverly Hills (310/364-0535) www.theatre40.org    In The Surveillance Trilogy, a couple returns home to discover they are being spied upon by government informants.  2017 Havana…a doctor and his patient grapple with the debilitating effects of espionage that have nearly shuttered the U. S, Embassy.  2019 Encino…A screenwriter discovers her artificial intelligence assistant is listening in with an agenda all its own.  The show reveals the past and present ways our relationships, our electronic devices and our very lives can be spied on and turned against us.  Sept. 19-Oct. 13.  Fifteen Men In A Smoke-Filled Room is set in Chicago, June 1920 with the Republication Convention in full swing. This play explores the extent to which fate controls our lives.  Is there a higher power that determines our destinies or are we the aggregate results of the idiosyncrasies of flawed humanity?  Nov. 14-Dec. 15.
---
Theatre of Note:  1517 N. Cahuenga Bl., Hollywood.  (323/856-8611) www.theatreofnote.com In a lawless near future, decades of unchecked greed, bigotry and fear have led to the collapse of governments and society as we know it.  Seeking shelter in an abandoned warehouse, four strangers with no reason to trust each other must decide if they can work together to survive the deadly storm outside while they face the threats they pose to one another in Fruition.  Nov 1-Dec. 7.

Thousand Oaks Civic Arts Plaza Kavli Theatre: 2100 Thousand Oaks Boulevard,  Thousand Oaks (800/745-3000) www.startheatricals.com   The beloved Meredith Willson musical, The Music Man, stars Broadway's Adam Pascal as a fast talking traveling salesman.  The hit show won five Tony Awards in 1957 including for Best Musical. Oct. 18-27.
Vs Theatre:  5453 W. Pico Bl.,Los Angeles   www.vstruewest.brownpapertickets.com or www.vstheatre.org    Two estranged brothers reunite at their mother's empty house in suburban California. Sparks fly and passions rage in True West, an American classic from one of our great playwrights, Sam Shepard.   Extended thru Nov. 2.
Wallis Annenberg Center for the Performing Arts (The Wallis): 9390 N. Santa Monica Bl., Beverly Hills (310/746-4000)  www.thewallis.org  Body Traffic launches its highly anticipated residency with a three night run featuring the world premiere of Michaela Taylor's Snap, inspired by James Brown, the Godfather of Soul, Sept. 26-28.  Jazz vocalist Magos Herrera joins the genre-defying string quartet Brooklyn Rider for an unforgettable musical journey reinterpreting Latin classics from their 2018 recording, Dreamers, Oct. 10. The West coast premiere of Sisters In Law starring Tovah Feldshuh as Ruth Bader Ginsburg and Stephanie Faracy as Sandra Day O'Connor. This production celebrates the friendship and conflict between two modern day legends who become the United States Supreme Court's first female justices.  The show transcends party, religion and culture with a tale of Democrat Ginsburg and Republican O'Connor, two polar opposites, as they grapple with matters of the law and personal belief.  It is a story of two remarkable women,  Sept. 18-Oct. 13.  Clarinetist David Orlowsky and Italy's Quartetto de Cremona in a spellbinding Klezmer journey, Oct. 12. Internationally acclaimed Australian company makes its debut as The Wallis's first foray into contemporary circus with Circa: Humans,  a thrilling performance where 10 acrobats from the award winning contemporary circus ensemble push the boundaries of circus to take audiences on a stirring journey of what it means to be fiercely human, Nov. 1 & 2.   Love Actually Live, a multimedia concert celebration of one of the most beloved holiday films of all time and the biggest, record-breaking hit in The Wallis's history, is back as a not to be missed Los Angeles tradition with performances beginning the day before Thanksgiving, November 27, and running through the December 29. Love Actually Live uniquely brings together friends and family alike to experience the unforgettable holiday classic in a three dimensional world where the film and live action seamlessly intertwine though the London setting. Iconic scenes displayed on screens that travel throughout the set share the stage with an all star cast of singers and 15 piece orchestra as they reimagine the film's hit soundtrack.

---
Walt Disney Concert Hall: 151 S. Grand Ave., Los Angeles (213/972-7288) www.wdch.com The Frank Gehry designed home to the Los Angeles Philharmonic embodies the unique energy and creative spirit of both the City of Angels and its world-class orchestra under the direction of  maestro Gustavo Dudamel and features the works of the world's musical greats featuring Classical, World Music, Jazz, Songbook and the Master Chorale. The Philharmonic is also committed to the presentation of music of our time as well as offering its exhilarating Green Umbrella concerts which presents the Los Angeles Philharmonic New Music Group devoted exclusively to compositions on the cutting edge of the repertoire and attract leading composers and performers of contemporary music. Chamber music is another integral part of this world-class orchestra's repertoire.
Los Angeles Master Chorale presents Master Chorale's  opening night celebration, Oct. 20 featuring Bruckiner's Mass No. 3 and Osvaldo Golijov's Oceana followed by cocktails and buffet, live music. Partly tax deductible. The season continues with a special 25th anniversary performance of Morten Lauridsen's  O Magnum Mysterium, masterworks from Rachmaninoff and Faure, new works from Caroline Shaw, Dale Trumbore, Gabriel Kahane and many more.
Guided and self-guided tours of the concert hall are available to the public (213/972-4399).
---
Wells Fargo Theatre:  Autry Museum of the American West, 4700 Western Heritage Way, Los Angeles (323/667-2000)  www.NativeVoicesattheAutry.org    Native Voices at the Autry continues its vital role as the country's only equity theatre company dedicated exclusively to developing the work of Native American playwrights.
Wende Museum of the Cold War:10808 Culver Bl., Culver City  info@wendemuseum.org   Free concerts but RSVP at their website. Long Beach Opera presents Hollywood Elegies, Oct. 4; Polyphony presents Polyphonic Conversations, Nov. 15; Music/Words presents In The Footsteps of the Master and Margarita, Dec. 6.
Will Geer's Theatricum Botanicum: 1419 N. Topanga Canyon Blvd, Topanga (310/455–3723)  www.theatricum.com  Something for every taste in theatre!
Zepher Theatre:  7456  Melrose Ave., Los Angeles (800/838-3006)  www.douspart.brownpapertickets.com  An acrimoniously divorcing couple run int o each another  at their former home while packing up their respective belongings the day before their divorce is to become final. Sniping begins.  Claws come out. Fangs are barred.  Then they make an odd discovery.  Despite the anger, bitterness, various emotional cruelties, they still love each other.  Oct. 3-24.
Zipper Hall – Colburn School: 200 South Grand Ave., Los Angeles www.PittanceChamberMusic.org