Ahmanson Theatre:  Los Angeles Music Center, 135 N. Grand Ave., downtown Los Angeles (213/628-2772) www.taperahmanson.com    A Soldier's Play premieres …In 1944, on a Louisiana Army base, two shots ring out.  A Black sergeant is murdered.  And a series of interrogations triggers a gripping barrage of questions about sacrifices, service, and identity in America.  Charles Fuller's  Pulitzer Prize winning masterpiece opened on Broadway for the first time on January, 2020, nearly 40 years after it was written.  The acclaimed production was nominated for seven Tony Awards and three Drama Desk Awards, winning Best Revival for both.  May 23-June 25.
Community Events to Celebrate A Soldier's Play  include FreePlay – 8 p.m. May 23-24  & 30-June 1..  Audience members 25 years old and under are invited to attend the preview performances for free.  Center Theatre Group offers free tickets to the first few performances of all productions at the Mark Taper Forum and Kirk Douglas Theatre as well as selected Ahmanson Theatre  shows.  CenterTheatreGroup.org/FreePlay
American Express Card Members Performance on June 1 are invited to attend a post show discussion with the cast of A Soldier's Play.
Hadestown is the most honored show of the 2018–2019 Broadway season and  won eight Tony Awards, six Outer Critics Circle Awards including Outstanding New Broadway Music al and the Drama League Award tor Outstanding Production of a Musical.   This is a beautiful story of hope, faith and rebirth The show has been transformed into a genre-defying musical that blends modern American folk music with New Orleans inspired jazz to re-imagine a sweeping and ancient tale.   following two enter twinging love stories  — that of young dreamers, Orpheus and Eurydice, and that of King Hades and his wife Persephone.  The show invites audiences on a hell-raising journey to the underworld and back. Oct. 3-15.
A number of services  to accommodate persons requiring mobility, vision and hearing access.   American Sign language interpretation is offered.  Contact  CenterTheatreGroup.org/Access
BARGAIN TUESDAYS:  This new initiative  enables patrons to purchase up to four tickets at a flat rate of $20 for the Ahmanson, Taper and  and Kirk Douglas theaters on a first come first serve basis beginning at 12 p.m. PST every Tuesday by visiting CenterTheatreGroup.org/Promo.
———————————————————————–
A Noise Within:  3352 E Foothill Bl., Pasadena (626/353-3100)  www.anoisewithin.org 
Ambassador Auditorium: 131  S. St. John Ave., Pasadena (626/793-7172) boxoffice@pasadenasymphony-pops.org   Pasadena Symphony season.
Atwater Village Theatre: 3269 Casitas Ave., Los Angeles (310/307-3753) www.EchoTheaterCompany.com        
Coeurage Ensemble: Shakespeare Center of Los Angeles, 1238 W. 1st St., Los Angeles  www.coeurage.org  Rent, loosely based on Puccini's La Boheme, Jonathan Larson's Rent follows a year in the life of a group of impoverished young artists and musicians struggling to survive and create in New York's lower east side under the shadow of HIV/AIDS. This is  LA's Pay What You Want performance company.  Dates to be announced.
Colony Theatre:  555 N. 3rd St.,  Burbank
Crypto.com Arena: (formerly the Staples Center) 1111 S. Figueroa, Los Angeles (213/ 742-7100)  www.cryptoarena.com  Check for all upcoming concerts, family shows and special events.  Tickets on sale now.
Davidson/Valentini Theatre:  Los Angeles LGBT Center,  1125 N. McCadden Place, Hollywood  (323/455-4585)  www.hollywoodfringe.org/projects/7408 

Dorothy Chandler Pavilion: Los Angeles Music Center, 135 North Grand Ave., Los Angeles. (213/972-8001)   The pinnacle of Italian opera where opera meets Shakespeare in Othello, a hero to his people, a leader to his soldiers and a loving husband to his wife — until jealousy sends him down a self-destructive spiral of fury and murder.  May 13-June 4.  Playing at L A  opera at the Redcat.  The Brightness of Light, June 18. The audience will be required to show proof of vaccination and must wear masks during the entire performance.Off Grand series takes opera into new musical directions, new audiences and new venues.  The premieres of TRADE and Mary Motorhead   The 20th season of Glorya Kaufman Presents Dance at the Music Center showcasing contemporary works  by the Paul Taylor Dance Company,  Complexions Contemporary, MOMIX and Dutch National Ballet. Begins April 2023.  Complexions Contemporary Ballet for performances fromJune 16-18 as partof te 20th dance season of Glorya Kaufman Presents Dance atht eh Music Center.
Dugan's Backyard Playhouse:  Woodland Hills ( attendees receive exact address when reservation is made)   dbptickets@gmail.com  Tevye In New York, based on Sholom Aleichem's beloved characters, immortalized in Fiddler on the Roof.  The story follows Tevye  and his daughters make their way through Ellis Island and into the gritty melting pot of the Lower East Side of Manhattan.  Hear  how family ties are strained over women's rights and the terrible Triangle Shirtwaist Factory fire.  Enjoy Tevya's humorous take on high tech advances.   July 13, 15, , 16, 21, 22, 23, 28, 29, 30, Aug. 4, 5, 6,   Suggested donation $20.00.
Fountain Theatre:   5060 Fountain Ave., Los Angeles. (323/663-1525)  www.fountaintheatre.com     Welcome to Bluefish Cove set on the theater's outdoor stage to create an oceanfront experience for its 40th anniversary production of the groundbreaking drama, Last Summer at Bluefish Cove.  Set i n 1974, a group of queer women spend their summers together in a remote oceanfront town on Long Island.  The lesbian enclave is disrupted when a naive straight woman stumbles unaware into their circle and falls for the  charming, tough talking Lil.  Friendship, laughter, love and hope brings the friendship, laughter, love and hope to the characters  June 14-Aug. 17.
Geffen Playhouse: 10886 Le Conte Ave., Los Angeles  310/208-2028 www.geffenplayhouse.org  The theatre announced six productions that will make up the 2022-2023 season including  Matthew Lopez's Tony award winning The Inheritance to Katori Hall's The Mountaintop.
Getty Center:  1200 Getty Center Drive., Los Angeles (310/440-7300)   Free Outdoor Summer Concert Series "Off the 405." An energetic slate of artists take the stage amid stunning architecture and sunset views.  Concerts take place 6-9 p.m. May 20-Aug. 26. Charge for parking.  Reserve in advance.  May 20, June 24, July 22, July 29, Aug. 26,
Hudson Backstage Theatre:  6539 Santa Monica Bl., Hollywood  www.onstage411.com/southerngirl    Getting There!  A Hollywood  Fringe Festival selection,  written, produced and performed by Rebecca O'Brien. This funny, heartwarming show celebrates the miracles of traveling with strangers  as Rebecca commutes to and from the clinic for treatments for a life-threatening illness. She takes the bus with her little service dog.  These travel stories, mental and physical, have an edge but are also charming, intriguing and will fill your heart.  June  2, 4,  11, 15, 18 & 24.
International City Theatre:  330 East Seaside Way, Long Beach (562/436-4610)  www.internationalcitytheate.org
Unpredictable comedy Under the Skin asks what does it mean to give a part of yourself to someone else.  A surprising new comedy with a very odd theme. Lou needs a kidney transplant.  His daughter has one to spare but she has also got issues.  Secrets get aired and truths revealed in this lively, unpredictable  comedy that asks just how much parents and children really owe each other.  April 26-May 14.
Kirk Douglas Theatre: 9820 Washington Bl. Culver City (213/628-2772) www.centertheatregroup.com  Center Theater Group and the Springhill Company team up to bring Fetch Clay, Make Man, June 18-July 16.  This tells the story about two cultural icons, Muhammad Ali and Stepin' Fetchit.  In the days  leading up to one of his most anticipated fights, heavyweight champion Muhammad Ali forms an unlikely friendship with the controversial Hollywood star Stepin' Fetchet.   The play explores the improbable bond that forms between two drastically different and immensely influential cultural icons.  Our Dear Dead Drug Lord plays Aug. 20-Sept. 17.  The play starts off with a hoot and winds up a primal scream.  Four high school girts in 2008 Miami gather in an abandoned tree-house to summon the ghost of Pablo Escobar.   This dard and quick-witted comedy explores  the need to connect and is a  reminder of what it means to be human through the lens of the deep and dangerous minds of teenage girls.
---
James Bridges Theatre: UCLA campus, 235 Charles E. Young Dr. E.,   Los Angeles Theatre Works (LATW) (323/538-3142)  boxoffice@latw.org   L.A. Theatre Works presents the world premiere of Exodus:  The Shanghai Jews, an original, commissioned audio drama in which eight Jewish refugees recount their true stories of escaping Nazi persecution to settle in the last place they could ever have imagined — Shanghai, China where some 20,000 Jews fleeing Europe established synagogues and businesses, living side by side with their new Chinese neighbors in harsh conditions under Japanese occupation.  June 23, 24, 25.
Los Angeles Theatre Center:   514 S. Spring St., Los Angeles  (213/489-0994)  www,latinotheaterco.org   A Heated Discussion Revisited, a revision and re-statement of the earlier work, incorporating national and world events that have impacted us in the succeeding year.  These events impact the narrative of the show as well.  May 18-June 18.
Mark Taper Forum: Los Angeles Music Center, 135 N. Grand Ave., downtown Los Angeles (213/628-2772) CenterTheatereGroup.org  The world premiere of A Transparent Musical where the audience follows  a family's  youngest child as they navigate the ups and downs of self-discovery.  A Los Angeles Jewish family is filled with secrets, but when their parent  transitions to the transgender matriarch she always knew she was, the family is forced to confront their own identities and navigate their relationships with each other.  Through a revelatory story of acceptance and self-expression the play ex0plores the intersection of Jewish and queer history while celebrating the imperfectly human and startingly familiar aspects of a universally relatable family  May 20-June 25.
---
Morgan Wixson Theatre: 2627 Pico Bl., Santa Monica (310/828-7519) www.morganwixson.org,

Noise Within:  3352 E. Foothill Bl., Pasadena   (626/356-3100)  www.anoisewithin.org 
Odyssey Theatre:  2055 S. Sepulveda Bl., West Los Angeles (310/477-2055) odysseytheatre.com 
………………………………………………………………………………..
Renberg Theatre:  1125 McCadden Place, Los Angeles LGBT Center, iamatheatre.com (323/380-8843)  The world premiere of The Bottoming Process,  a dark comedy about two writers who meet at a shared co-working space and fall in love — or something like it.  One is a famed novelist and the other is a fledgling writer who mostly is funny on Twitter.  One is nearing middle age and the other is flailing through the mid 20s.  One is white and the is definiteness not.  As they mate, date and  cohabitation they grapple with issues of face, sex, power and the model minority myth, all to find out who is really on top.   May 13-June 12.
Royce Hall:  UCLA campus, 10745 Dickson Court, Westwood (310/825-2101)  www.cap.ucla.edu   
Santa Monica Playhouse:  1211 4th St., Santa Monica (310/394-9779 ext 1) theatre@santamonicaplayhouse.com   World premiere comedy Why Be An Uptight Anti-Semite? Jews  R 2 Much Fun.  A deeply in love Catholic woman and Jewish man want to get married but there is a big problem between the fathers of the young couple.  In order to prevent the hate from derailing their happiness, they devise a plan with a very special education program.  Hilarity ensues.  Opening date postponed.  April 30-June 25.
Sawyer's Playhouse:   Loft Ensemble, 11031  Camarillo St., N.  North Hollywood ( 818/452-3153)  www.loftensemble.org 
……………………………………………………………………………………………..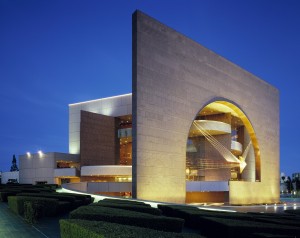 Segerstrom Center for the Arts: 600 Town Center Drive, Costa Mesa, www.SCFTA.org  (714/556-2787)  Upcoming Dance Headliners and in conversation series for the 2023-2024 season includes Complexions Contemporary Ballet, Turn It Out with Tiler Peck, American Ballet Theater's The Nutcracker, Alonzo King LINES Ballet, Les Ballets de Monte Carlo's Coppel-o/A,  American Ballet Theater Mixed Repertory.   Headliner Series features Get Happy: Jessica Vost, Mandy Patinkin in Concert: Being Alive, A Broadway Birthday, Sondheim, Lloyd Webber and Friends.
"""""""""""""""""""""""""""""""""""""""""""""""""""""""""""""""
Skylight Theatre:  1816 1/2 N. Vermont Ave., Los Angeles (213/761-7061) www.BoxOffice@SkylightTix.com    A new comedy  titled American Whore Story, written and performed by Naomi Grossman. presents a raucous, irreverent love letter to AHS (American Horror Story)  fans and the dubious art of self-compromise in this limited theatrical run of her new solo show, June 1, 8, 15, & 22.
---
Theatre 40: Reuben Cordova Theatre, 241 S. Moreno Dr., Beverly Hills  (310/364-0535) www.theatre40.org    The Revolutionists tells the story of four beautiful badass women who lose their heads in this irreverent, girl-powered comedy set during the French Revolution's Reign of Terror.  This grand and dream-tweaked comedy is about violence and legacy, art and activism, feminism and terrorism, compatriots and chosen sisters and how we actually go about changing the world.  It is a true story.  Or total fiction.  Or a play about a play.  Or a raucous resurrection that ends in a song and a scaffold.  May 18-June 18.
Upcoming:   The new season opens with Doris & Ivy in the Home concerning a retired prison guard who has just moved to Paradise Village, a retirement home.  She quickly befriends, a former world champion skier who is taken aback by her new friend's brash cheerfulness.  Rounding out the trio is a dapper gentleman who has designs on the skier.  Love, gossip and sex behind the compost heap, this is hilarious.  July 27-Augu. 23.  Running in repertory with One Moment of Freedom , the little known story of a courageous enslaved woman who sued her enslaver in court in 1780 for the basic human right to be free, ultimately leading to the abolition of slavery in Massachusetts.  July 27-Aug. 27.
—————————————————————————–
Theatre West:  3333 Cahuenga Bl. West, Los Angeles (818/761-2203)  www.theatrewest.org Garden of Alla, the Alla Nazimova story,  takes place in the  1920s, the time of flappers, flamboyance and the face of Alla, a Jewish immigrant from Tsarisst Russia, Broadway and silent superstar  via sing immersive video and original music to invoke the  Roaring Twenties and create a panoramic, live silent film bringing to life and times of this groundbreaking iconoclast to vivid life,  July 7-23

Thousand Oaks Civic Arts Plaza Kavli Theatre: 2100 Thousand Oaks Boulevard,  Thousand Oaks (800/745-3000) www.startheatricals.com 
Victory Theatre Center:  3326 W, Victory Bl., Burbank  (818/533-1611)  onstage.com/BackPorch  Back Porch, a new comedy by Eric Anderson.  Life imitates art when Hollywood descends upon a small Kansas town in 12955 to shoot scenes for the classic film, Picnic.  Sparks fly in more ways than one in this delightful homage to both movie-making and the play that inspired the Columbia film.  June 2-July 19.
Wallis Annenberg Center for the Performing Arts (The Wallis): 9390 N. Santa Monica Bl., Beverly Hills (310/746-4000)  www.thewallis.org       \
---
Walt Disney Concert Hall: 151 S. Grand Ave., Los Angeles (213/972-7288) www.wdch.com
Los Angeles Master Chorale presents Ellington/Williams with an exciting line-up of guest artists joining the voices of the Los Angeles Master Chorale to perform the chloral masterworks of jazz giants Duke Ellington and Mary Lou Williams along with a world premiere piece by John Clayton.   June 10-11.   The Frank Gehry designed home to the Los Angeles Philharmonic embodies the unique energy and creative spirit of both the City of Angels and its world-class orchestra under the direction of  maestro Gustavo Dudamel and features the works of the world's musical greats featuring Classical, World Music, Jazz, Songbook and the Master Chorale.   The season features programs that reflect on the profundity of our cultural moments by examining themes of life, death and transcendence in music. Throughout the season Dudamel conducts a dozen wide-ranging programs.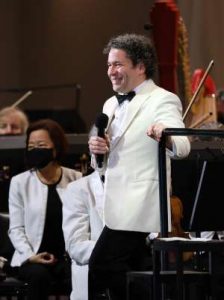 photo: Gustavo Dudamel

---
Wende Museum: 10808 Culver Bl., Culver City  info@wendemuseum.org    Returning for its third season, Music at the Wende is a free concert series in which esteemed musical organizations present programs inspired by the Wende's collection. Programs will take place the first Friday of the month through June. All concerts are free.  RSVPs open four weeks prior to each event.  Limit 2 tickets per RSVP.
Whitefire Theatre:  13500 Ventura Bl., Sherman Oaks   www.whitefire.stagey.net/projects7577 

Will Geer's Theatricum Botanicum: 1419 N. Topanga Canyon Blvd, Topanga (310/455–3723)  www.theatricum.com Upcoming season features Macbeth and A Midsummer Night's Dream kicking off Theatricum's magical 50th anniversary season.  Queen Margaret's Version of Shakespeare's War of the Roses, a new edit of Shakespeare's best known history plays focusing on the women in court to draw an unspoken parallel between the in-fighting of rival dynasties that led to England's bloody civil wars and modern day American politics.   June 24-Oct. 1.