---
Ahmanson Theatre: Los Angeles Music Center, 135 N. Grand, Los Angeles (213/972-4400) www.CenterTheatreGroup.org  Falsettos revolves around the life of a charming, intelligent, neurotic gay man, his wife, lover, about to be Bar-Mitzvahed son, their psychiatrist, and the lesbians next door.  It is a hilarious and achingly poignant look at the infinite possibilities that make up a modern family…a a beautiful reminder that love can tell a million stories.  Nominated for five 2017 Tony Awards. April 16-May 19.
---
A Noise Within:  3352 East Foothill Bl., Pasadena (626/356-3100) www.anoisewithin.org   All 2018-19 offerings feature characters who are outliers — people who have blazed their own trail but nevertheless struggle for acknowledgement and acceptance.  Let Me In is not about physical space but about the deeply human passion to be understood for who we are.  These include Othello, The Glass Menagerie and Argonautika.

Atwater Village Theatre: 3269 Casitas Ave., Atwater Village (323/882-6912) www.openfirst.org
Barnum Hall:  Santa Monica High School, 600 Olympic Bl., Santa Monica  www.smsymphony.org/concerts Santa Monica Symphony Orchestra free concerts:
Bob Baker Marionette Theater: 1345 W. 1st Street, Los Angeles (213/250-9995) www.bobbakermarionettes.com Marionettes from all over the globe entertain in an in-the-round performance of waltzing rag dolls and madcap musical instruments, also special holiday shows.  Tuesdays thru Fridays 10:30 AM, Saturdays and Sundays 2:30 PM.  Presenting Hooray L.A. along with a series of evening programs celebrating the hidden histories of Los Angeles.
Boston Court Pasadena:  70 N. Mentor Ave., Pasadena (626/683-6801)  www.BostonCourtPasadena.org The Judas Kiss, a story of the larger than life Oscar Wilde.  His masterpiece The Importance of Being Ernest was a hit in the West End and he was the toast of London.  Yet by the summer he was serving two years in prison for gross indecency, punished for "the love that dare not speak its name," Lord Alfred "Bosie" Douglas.  Feb. 15-March 24.
Broad Stage: 1310 11th St., Santa Monica (310/434-3200) www.thebroadstage.com  The Reduced Shakespeare Company weaves all of the Bard's famous characters, greatest lines and speeches into a brand new Shakespearean smorgasbord.  William Shakespeare's Long Lost First Play (abridged) is a comic misadventure that will feel strangely familiar yet excitingly new, April 5-6.
 Cabrillo Music Theatre: Thousand Oaks Civic Arts Plaza, 2100 Thousand Oaks Bl., Thousand Oaks (805/449-2787)  www.cabrillomusictheatre.com 

Celebration Theatre @Lex Theatre: 6760 Lexington Ave., Los Angeles (323/957-1884) www.celebrationtheatre.com  Pinky Coningfield has always dreamed of her daughter winning the Supreme Queen contest, so when a newcomer to the child pageant circuit shows up with her daughter and starts grabbing all the glory, Pinky will stop at nothing to get the crown.   Feb. 15-March 31.
Chance Theatre:  5522 E La Palma Ave., Anaheim (888/455-4212)  www.ChanceTheater.com    Skylight...on a bitterly cold London evening a schoolteacher receives an unexpected visit from her former lover whose wife recently died. As the evening progresses, the two attempt to rekindle their once passionate relationship only to find themselves locked in a dangerous battle of opposing ideologies and mutual desires, April 19-May 19. Upcoming: Tigers Be Still, this ferociously funny play centers around a woman who recently earned a degree in art therapy only to find herself moving back in with her family where she has plenty to deal with, May 3-June 2.
Doheny Mansion:  Pompeian Room, 10 Chester Place, Los Angeles (213/477-2929)  www.DaCamera.org    Check website for concerts in this splendid setting.
Dorothy Chandler Pavilion: Los Angeles Music Center, 135 North Grand Ave., Los Angeles.  The opera season, headed by Placido Domingo and conducted by James Conlon continues with the company premiere of Mozart's La Clemenza de Tito (The Clemency of Titus), March 2-24, 2019.  A production of Penella's El Gato Montes: The Wildcat, March 27-May 4.  The final presentation is a revival of La Traviata June 1-22.
Eclectic Company Theatre:  5312 Laurel Canyon Bl., Valley Village (818/508-3003)  www.eclecticcompanytheatre.org    Shakespeare Salons held the last Tuesday of every month. Participants perform their favorite Shakespearean piece or alternatively, a piece inspired by Shakespeare.  Shakespearean monologues, scenes, poems, songs, remembrances and personal interpretations of all kinds are welcome.  To perform, fill out the form on the Eclectic Company Theatre website.
Edgemar Center for the Arts: 2437 Main St., Santa Monica,(310/392-7327) www.edgemarcenter,org
Fountain Theatre:  5060 Fountain Ave., Los Angeles (323/663-1525)  www.fountaintheatre.com 
Freud Playhouse: UCLA campus, Macgowan Hall, 245 Charles E. Young Dr., East, Westwood (866-811-4111) www.reprise2.org
Geffen Playhouse & Audrey Skirball Theatre:  10886  Le Conte Ave., Westwood,  (310/208-5454)  www.geffenplayhouse.org   Both heartbreaking and highly inventive, the world premiere production of Black Super Hero Magic Mama gives us the hero we have been waiting for.  When a woman loses her 14 year old son to a police shooting, she is unable to face the ensuing flurry of media attention.  She retreats into a fantasy world of superheroes and arch villains that inhabit the comic book created by her son before his death. Assuming the role of the Maasal Angel rather than the expected part of grieving mother, she battled her enemies along the way to peace.   March 5-April 14.
Hudson Theatre: 6539 Santa Monica Bl., Hollywood (323/481-6890) www.italiancomedyclub.com/mbgiw In  My Big Gay Italian Wedding, one Catholic mother insists the couple have a religious ceremony followed by a reception in the city's fanciest Italian wedding and that the mother of the other partner fly in from Florida to attend the wedding who still refuses to talk to her gay son.   The biggest challenge may come from a spurned ex-lover who threatens to scuttled the proceedings by revealing a nasty secret about her ex-partner.  Will love conquer all and celebrate the marriage of two men deeply in love?  March 8-31.
James Bridges Theater: UCLA Campus, Melnitz  Hall, 235 Charles E. Young Drive,  Westwood (310/827-0889)  www.LATW.org  "The Play's the Thing" radio theater series:
Kiki & David Gindler Performing Arts Center: 110 East Broadway, Glendale (818/506-1983) www.Antaeus.org  

Kirk Douglas Theatre: 9820 Washington Bl. Culver City (213/628-2772) www.centertheatregroup.com Three local productions have been chosen for the third annual Block Party: Celebrating Los Angeles Theatre remounting Theatre of Note's For the Love Of (or the roller derby play), Skylight Theatre Company's Rotterdam and Antaeus Theatre Company's Native Son.  Each production will have a two week run with 12 performances.  March 7-April 28.
---
Laguna Playhouse: 606606 Laguna Canyon Dr., Laguna Beach (949/497-27870) www.lagunaplayhouse.com    The soul of the blues wails out full and strong in Blues In The Night, the scorching Tony and Oliver Award-nominated musical.  The 26 hot and torchy numbers tells of the sweet, sexy and sorrowful experiences that three women have with the lying, cheating snake of a man who represents the men who do them wrong.  Feb. 24-March 10. Be transported back to the sound and vibe of a 1970's concert experience with  Tapestry, The Carol King Songbook.  This show not only performs songs from the record breaking Grammy winning album of the same name but also Carole's follow up hits that continued throughout the 70s.  April 17-21.
La Jolla Playhouse: 2910 La Jolla Village Dr., La Jolla (858/550-1010)  www.LaJollaPlayhouse.org  www.secondcity.com    Diana, a world premiere musical about the legendary princess, Feb. 19-April 7. World premieres upcoming:  Escape to Margaritaville, At the Old Place.
Lake Street Community Center:   1227  N. Lake St., Los Angeles (800/838-3006) www.rabbithole2cents.bpt.me A family that has everything one could want has a life shattering accident which turns their world upside down and leaves the couple drifting perilously apart.  A stunning journey though grief, the search for comfort and the rebirth of hope.  Feb. 8-March 10.
Lankershim Arts Center: 5108 Lankershim Bl., North Hollywood (323/944-2165) www.coeurage.org/slaughtercity  Coeurage Theatre Company, L.A's Pay What You Want theatre company.

Leo S. Bing Theater: Los Angeles Museum of Art, 5905 Wilshire Bl., Los Angeles. (213/485-6873). Free chamber music series. Sundays at 4 p.m.
Lex Theatre:(Celebration Theatre)  6760 Lexington Ave., Hollywood (323/957-1884)  www.celebrationtheatre.com  Courage Theatre Company, LA's Pay What You Want theatre company.
Long Beach Performing Arts Center – International City Theatre  & Terrace Theatre: 300 East Ocean Bl., Long Beach  (562/436-4610)  www.internationalcitytheatre.org 

Los Angeles Theatre Center: 514 S. Spring St., Los Angeles (866-811-4111) www.thelatc.org  At Broadway and 52nd St., in New York City, the nightclub Birdland was the legendary center of the jazz world where the glitterati of Broadway, Hollywood and the sports world regularly fill its 500 seats.  In August, 1959, the biggest star in jazz was Miles Davis, who earlier that year recorded Kind of Blue, regarded then and now as the most innovative and best jazz album of all time.  The Miles Davis Sextet, as constituted that summer, was regarded as the most outstanding jazz combo ever.  Birdland Blue is a behind the scenes look at Miles and the major issues surrounding him on one evening  that August.  Birdland Blues is the first show in The Robey Theatre Company's 25th Anniversary season. April 4-May 12.
Lounge Theatre: 6201 Santa Monica Bl., Hollywood (800/838-3006) www.iamatheatre.com
Magicopolis: Abracadabra Theatre, 1418 4th St., Santa Monica (310/451-2241). Fast paced, colorful, magic and illusion shows for the whole family in a theater setting. Ongoing.
---
Mark Taper Forum: Los Angeles Music Center, 135 N. Grand
Chris Thomas King on the guitar and Ruben Santiago-Hudson in Lackawanna Blues.                                   Photo: Craig Schwartz
Ave., downtown Los Angeles (213/628-2772) www.taperahmanson.com   The Golden Anniversary season continues five decades of extraordinary theatre bursting with award wining new plays, musicals, beloved classics.  A magical, musical, and deeply personal work written and performed by Tony Award winner Ruben Santiago-Hudson, Lackawanna Blues is a reminiscence of his 1950s childhood in a small town on the banks of Lake Erie.  Santiago-Hudson takes on more than 20 colorful characters — from would be philosophers and petty hustlers to lost souls and abandoned lovers — in a brilliant celebration of the eccentric boardinghouse he grew up in.  He returns to his roots in this tour de force performance with live blues music by composer Bill Sims Jr., performed by Grammy Award winning blues guitarist, composer and actor Chris Thomas King. March 5-April 21.
Center theatre group offers free tickets for theatergoers 25 years old and younger, available for the First Review of all Center Theatre Group Productions at the Mark Taper Forum and Kirk Douglas Theatre.  Tickets  free at the box office.  A $5 ticket handling fee for phone or online reservations.
————————————————————————————-
Microsolft Theatre: 777 Chick Hearn Court, Los Angeles (213/763-6030) www.microsofttheater.com     Check their website for information on upcoming events.
Miles Memorial Playhouse:   1130 Lincoln B., Santa Monica  (323/821-2449) www.wcjt.org A Jewish divorce lawyer in his 60s has never had a Bar Mitzvah ceremony. He feel the need to get one now before his grandson has his bar mitzvah.   He  must now reconnect with the faith of his ancestors.  The rabbi finds her faith challenged at the same time that he is rediscovering his spiritual roots in Bar Mitzvah Boy.  March 21-May 12.
Morgan Wixson Theatre: 2627 Pico Bl., Santa Monica (310/828-7519) www.morganwixson.org For the misfits of Skid Row, life is full of broken dreams and dead ends.  A meek and dejected assistant at a floral shop who happens upon a strange plant which he affectionately names "Audrey II" after his crush at the shop.  Little does he know that this strange and usual plant will develop and soulful R&B voice, a potty mouth and an unquenchable thirst for human blood.  Features an electrifying early 1960s style score.   Little Shop of Horrors is one of the longest running Off-Broadway shows and cult films of all time.  March 16-April 13.  Upcoming:  Agatha Christie's And Then There Were None, an infamous mystery that brings ten strangers together under a growing sense of dread and unfaltering tension.  A deeply suspenseful thriller that will keep you guessing to the very end.  May 4-24.
Musco Center for the Arts:  Chapman University, 415 North Glassell, Orange (844/626-8726)   www.muscocenter.org  Heartbeat of Mexico, May 23-26; Jesse & Joy, May 23; Alicia Villarreal, May 25; Lupillo Rivera with Mariachi, May 26.  Free events: Heartbeat of Mexico, Ballet Folklorico celebration, May 25 and Outdoor Festival, May 26.
Nate Holden Performing Arts Center: 4718 W Washington Bl, Los Angeles (323/964-9766) www.ebonyrep.org  
New Vic:  33 W Victoria St., Santa Barbara (805/965-5400) www.etcsb.org     In Everything is Illuminated, a young Jewish-American writer, travels to Ukraine to seek out the woman who saved his grandfather from the Nazis. He hires a randy young Ukrainian tour guide who takes him on a hilarious road trip in search of the woman's village as they confront haunting memories along the way, April 11-28. A socially awkward young man asks his neighbor, a sidelined Broadway dancer, to teach him enough dance moves so he can survive an appearance at an awards dinner in Dancing Lessons, a touching romantic comedy, June 13-30.
Odyssey Theatre:  2055 S. Sepulveda Bl., West Los Angeles (310/477-2055) www.OdysseyTheatre.com
Pantages Theatre: 6233 Hollywood Bl., Hollywood (800/982-2787)  www.HollywoodPantages.com  

—————————————————————————
Renee &  Henry Segerstrom Concert Hall and Samueli Theater: 600 Town Center Dr., Costa Mesa (714/740-2000 or 714/556-2787 or 714/755-5799) www.scfta.org or www.pacificsymphony.org  Home of Pacific  Symphony.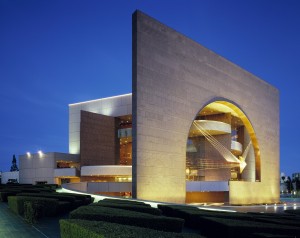 Free public tours of the center Wednesdays and Saturdays at 10:30 a.m. Telephone first.
———————————————————————————-
Road on Lankershim:  5108 Lankershim Bl., North Hollywood   (818/761-8838) www.RoadTheatre.org   Death House, a startling piece of theatre that explores justice, redemption and the power of human connection. On the night of a death-house chaplain must hand over the reigns to the confident young pastor set to replace him, the men encounter an enigmatic inmate who challenges their convictions and changes their lives forever,  January 15-March 10.  At the Table is a comedy that begs the question: what happens when those with privilege are pushed to the periphery and a marginalized minority suddenly finds its voice amplified,  May 2019.

Road on Magnolia: 10747 Magnolia Bl., North Hollywood (818/761-8838) www.RoadTheatre.org  Friends with Guns asks can instant kinship between two liberal married couples survive a closet full of guns?  This new dark comedy explores the complicated issue of gun proliferation when two young liberal couples are forced to confront their assumptions about who should own a gun and why. This play explores the question of what we can compartmentalize…and what we can't.  It examines what happens when guns enter the conversation and pulls the curtain back on liberals with guns. March 15-May 5.

Rubicon Theatre: 1006 E. Main St., Ventura (805/667-2900) www.rubicontheatre.org . Timely revival of David Lindsay-Abaire's  Fuddy Meers, a hilarious and harrowing, politically incorrect comedy about an amnesiac who wakes up each day having forgotten the details of her life.  Each morning her husband and son must imprint the facts of her life.  However, one morning she is abducted by a man who claims her husband wants to kill her.  The play culminates in a cacophony of revelations proving that everything is not as it appears to be. March 14-31.   Lady Macbeth Sings the Blues starring Amanda McBroom, a potpourri of favorite songs from various productions, June 8-9.
---
Santa Monica Playhouse:  1211 4th St., Santa Monica (310/394-9779 ext. 1)  www.santamonicaplayhouse.org     A story of three couples…one is young, one is middle aged and the other is mature…yet their destinies seemed to be strangely linked.  As they get to chatting they begin to marvel at just how much they have in common…way too much, in fact in The Marriage Zone, extended through April 14.
Staples Center: 1111 S. Figueroa, Los Angeles (213/ 742-7100) www.staplescenter.com/events 
The Actors Gang Theatre: 9070 Venice Bl., Culver City (310/838-4264) www.TheActorsGang.com  In Accidental Death of an Anarchist, a madman invades a police station interrogation room where an anarchist accused of bombing a bank has recently "accidentally" fallen out of a window.  Donning various disguises and voices, the madman manipulates policemen into a truth-inducing hysteria.  This world- renowned farce is produced in honor of one of the group's inspirations and mentors, Dario Fo.  Accompanying the play is an exhibition featuring  the artworks of Ralph Steadman and Dario Fo.  Thru March 9.
The Autry: Griffith Park, 4700 Western Heritage Way (323/667-2000) www.TheAutry.org  Native Voices at the Autry is the only Equity theatre company devoted exclusively to developing  and producing new works for the stage by Native American, Alaska Native and First Nations playwrights.
The Road on Magnolia: 10747 Magnolia Bl., North Hollywood (818-761-8838) www.roadtheatre.org
The Soraya:  18111 Nordhoff St., Northridge  (818/677-3000) www.thesoraya@csun.edu 
---
Theatre 40: Reuben Cordova Theatre, Beverly Hills High school campus, 241 S. Moreno Drive, Beverly Hills (310/364-0535) www.theatre40.org    The Sound of Murder includes an illicit affair and a plan for murder.  A wildly successful author of children's books actually hates children and pretty much anyone else.  He is petty, cruel, vindictive and treats his unloved wife life a slave.  He also refuses to have children with her.  The wife, however has found some solace in the arms of her lover but her husband won't grant a divorce which would damage his professionally with the parents of his juvenile fans.  March 14-April 14.  Upcoming:  A Bad Year for Tomatoes, an uproarious comedy about the best laid plans, May 16-June 16.
---
Theatre 68: 5112 Lankershim Bl., North Hollywood (818/760-0408)  http://www.lawtf.org  The 26th annual Los Angeles Women's Theatre Festival.  The overall theme is I, Woman.  The event will honor five women of exceptional achievement and contribution to the world of theatre. March 22-24.
Theatre of Note:  1517 N. Cahuenga Bl., Hollywood.  (323/856-8611) www.theatreofnote.com  www.theatrewest.org  

Thousand Oaks Civic Arts Plaza Kavli Theatre: 2100 Thousand Oaks Boulevard,  Thousand Oaks (800/745-3000) www.5startheatricals.com 
Wallis Annenberg Center for the Performing Arts (The Wallis): 9390 N. Santa Monica Bl., Beverly Hills (310/746-4000)  www.thewallis.org     The Old Man and the Old Moon, a new musical folktale, and fantastical song-filled fable for all ages. This one of a kind theatrical experience is the touching tale of a man charged with the task of keeping the moon shining bright.   A mysterious disappearance sends him on  an epic adventure over land, sea and sky and ultimately reminds him…and us…of the unwavering pow4r of love, March 2-17.  Iyamoto is Black Enough, a contemporary band performs a riveting piece of the mixed race winner of Miss Universe Japan 2015; March 14-15; Music at the Wallis includes  Los Angeles Master Chorale's presents Judy Collins in A Love Letter to Stephen Sondheim, March 22, 2019. Triple Grammy Award winning jazz legend Dee Dee Bridgewater and the Memphis Soulphony,  March 23;  Malpaso Dance Company, Cuba's hottest contemporary dance company, March 28-30. The Los Angeles premiere of Renee Taylor's My Life On A Diet, the Academy Award Nominated and Emmy Award winning Writer/Actress looks back on a life full of memorable roles in Hollywood and on Broadway…and just as many fad diets, April 5-14;  The Tetzlaff Trio performs Schumann and Dvorak, April 26.   Hershey Felder returns with A Paris Love Story, featuring Jacob Jonas The Company, mixes  contemporary ballet, breakdance and acrobatic movement, an intimate studio show comprised entirely of world premiere works, May 10-11, 2019; the music of Claude Debussy,  May 24-June 9.
---
Walt Disney Concert Hall: 151 S. Grand Ave., Los Angeles (213/972-7288) www.wdch.com The Frank Gehry designed home to the Los Angeles Philharmonic embodies the unique energy and creative spirit of both the City of Angels and its world-class orchestra under the direction of  maestro Gustavo Dudamel and features the works of the world's musical greats featuring Classical, World Music, Jazz, Songbook and the Master Chorale. The Philharmonic is also committed to the presentation of music of our time as well as offering its exhilarating Green Umbrella concerts which presents the Los Angeles Philharmonic New Music Group devoted exclusively to compositions on the cutting edge of the repertoire and attract leading composers and performers of contemporary music. Chamber music is another integral part of this world-class orchestra's repertoire.
Guided and self-guided tours of the concert hall are available to the public (213/972-4399).
---
Wells Fargo Theatre:  Autry Museum of the American West, 4700 Western Heritage Way, Los Angeles (323/667-2000)  www.NativeVoicesattheAutry.org    Native Voices at the Autry continues its vital role as the country's only equity theatre company dedicated exclusively to developing the work of Native American playwrights.
Wende Museum of the Cold War:10808 Culver Bl., Culver City  info@wendemuseum.org   Free concerts but RSVP at their website.