—————————————————————————–
CHECK VACCINATION/MASKING POLICIES BEFORE GOING
Ahmanson Theatre:  Los Angeles Music Center, 135 N. Grand Ave., downtown Los Angeles (213/628-2772) www.taperahmanson.com    Multi Tony Award winning  musical Dear Evan Hansen returns to the Ahmanson after a sold out record breaking run in 2018.  A letter that was never meant to be seen, a lie that was never meant to be told and a life he never dreamed he could have.  Evan Hansen is about to get the one thing he's always wanted:  a chance to finally fit in.  This is the deeply personal and profoundly contemporary musical about life and the way we live it. June 29-July 31.
Upcoming:   U.S premiere of West End Hit 2:22 — A Ghost Story; the Broadway revival of 1776; the Pulitzer- winning classic A Soldier's Play and the return of the Tony Award winning Ain't too Proud.
———————————————————————–
Actors Company LA: 916 N. Formosa Ave., Los Angeles www.iamatheatre.com   I
Ambassador Auditorium: 131  S. St. John Ave., Pasadena (626/793-7172) boxoffice@pasadenasymphony-pops.org   Pasadena Symphony season.  All concert goers must fully vaccinated to keep everyone safe.  Classics Series will feature  the music of Mozart, Ngwenyama, Saint-Sans, & Rossini, Oct. 22;  Tchaikovsky, Sibelius, Lina Gonzales, Alexandra Conunova, Nov. 12; Holiday Candlelight, Dec. 17.
Atwater Village Theatre: 3269 Casitas Ave., Los Angeles (310/307-3753) www.EchoTheaterCompany.com         Open Fist Theatre Company presents Shakespeare's A Midsummer Night's Dream set in the Antebellum South,  with Shakespeare's text unchanged, we enter a world where the magic of an enslaved people plays out in the lives of those to whom they remain invisible.  July 2-Aug. 13.
Big Tent Podcast & Live: Under the big tent at St. Andrews church parking lot, 830  W.Bonita Ave, Claremont (909/734-6565)   http://opheliasjump.org 
Bob Baker Marionette Theater:  4949 York Bl,  Los Angeles (213/250-9995) www.bobbakermarionettetheater.com 
BroadStage: 1310 11th St., Santa Monica (310/434-3200)  www.broadstage.org  Indian Ink Theatre Company presents Mrs. Krishnan's Party, where the audience is invited to step into the back room of a convenience store where Mrs. K is throwing a party like no other. Laughter abounds and strangers become friends in this joyous celebration of life,  July 7-10. In Acrobuffos Air Play, an acclaimed circus style adventure, creates beauty and inspires laughter across cultures and continents. Umbrellas fly, fabrics soar over the audience, balloons  swallow people and snow swirls.  It's part comedy, part sculpture, part circus and part theater.  Good for all ages.  July  21-24.    Upcoming:  Mark Morris Dance Group performs The Look of Love to the music of Burt Bacharach Oct 20-23; Being Future Being by Emily Johnson /Catalyst, Sept. 8-10, Herb Alpert & Lani Hall perform A Christmas Wish, Dec. 17.
Broadwater Black Box:  6322 Santa Monica Bl.,  Hollywood http://hollywoodfringe.org.projects/6450
Chance Theatre: 5522 E La Palma Ave., Anaheim  (888/455-4212) www.ChanceTheater.com   Green Days American Idiot, a searing 2009 rock musical that captured the zeitgeist of a generation. July 23-Aug. 14.
Crypto.com Arena: (formerly the Staples Center) 1111 S. Figueroa, Los Angeles (213/ 742-7100)  www.cryptoarena.com  Check for all upcoming concerts, family shows and special events.  Tickets on sale now.
Dorothy Chandler Pavilion: Los Angeles Music Center, 135 North Grand Ave., Los Angeles. (213/972-8001)
The Los Angeles  opera presents:  Get Out, Oct. 29-31; Alcina, Nov. 2-5; Javier Camarena, March 31-April 2;  In Our Daughter's Eyes, April 13-17; The Brightness of Light, June 18. The audience will be required to show proof of vaccination and must wear masks during the entire performance.. See special  free Christmas Holiday special event  under  Los Angeles Music Center. Check to see all special requirements because of COVID-19.
Dugan's Backyard Playhouse: dbtickets@gmail.com Woodland Hills. (address provided when reservations are made).
Five Point Amphitheatre:  14800  Chinon, Irvine (714/755 5799) www.pacificsymphony.org/summerfest   Pacific Symphony Summerfest presents  The music of Queen, a July 4 spectacular; Star Wars- The Empire Strikes
Back in Concert, Aug. 20; Tchaikovsky Spectacular capped by fireworks, Sept. 4.
Fountain Theatre: Outdoor stage.  5060 Fountain Ave., Los Angeles. (323/663-1525) www.Fountain Theatre.com   The theatre responds to looming Supreme Court decision with 'hyper-staged' reading of Lisa Loomer's Roe on outdoor stage.   This powerful, poignant and often humorous play by Lisa Loomer cuts through the headlines to reveal real-life women–Normal McCorvey, known as "Jane Roe" and Sarah Weddington, the lawyer who argued the case behind Rove v Wade, the landmark 1973 Supreme Court case that gave women the right to safe, legal abortion. Part call to action, part guerilla theater, Row is a fast moving, fair minded look at these two complicated human beings, the challenging years following the court's fateful decision  and the polarization around the issue in America today.  June 23-July 10.                                                                            Upcoming: If I Forget by  Tony Award winning playwright Steven Levenson (Dear Evan Hansen) a powerful, funny and complex tale that explores the lasting impact of the Holocaust on a Jewish family at the beginning of the 21st century.  July 20-Sept. 10.
Fremont Centre Theatre:  1000 Fremont Ave., South Pasadena http://youngstarstheatre.org/tickets
Geffen Playhouse: 10886 Le Conte Ave., Los Angeles  310/208-2028 www/geffenplayhouse.org
Greystone Estate and Gardens:  905  Loma Dr., Beverly Hills (310/364-3606) http://theatre40.org
Greenway Court Theatre: 544  N. Fairfax Ave., Los Angeles (323/673- 0544)  bit.ly/NightMusic2022
Hollywood Bowl: www.hollywoodbowl.com The Los Angeles Philharmonic Association 2022 summer season  begins its second century.  Two of the funniest, most influential and acclaimed talents of the past century, Steve Martin & Martin Short, are set for the annual July 4th Fireworks Spectacular, July 2, 3, and 4 at 7:30 p.m. Award winning Kinky Boots, inspired by a true story, this fully staged Broadway musical is a huge hearted story of two people with nothing in common — or so they think, July 8-10.   Other popular scheduled dates include: The Hollywood Bowl Jazz Festival (formerly the Playboy Jazz Festival) on  June 25-26. Initial lineup includes The Roots, Gregory Porter, Tower of Power, Terri Lyne Carrington, Femi Kuti, Cory Wong, Christian Scott, Tunde Adjuah, Jose James, Gerald Clayton, Azar Lawrence, Gordon Goodwin and more. including Smooth Summer Jazz, Aug. 28, Movie Night Sept. 4 and Sing A Long Sound of Music, Sept. 17.
Hudson Guild Theatre: 6539 Santa Monica Bl., Hollywood www.deathdefyingescape.com
International City Theatre:  330 East Seaside Way, Long Beach (562/436-4610)  www.internationalcitytheatre.org   
James Bridges Theatre: UCLA campus,Los Angeles Theatre Works (LATW) (323/538-3142) Boxoffice@latw.org    
Jerry Moss Plaza:  Los Angeles Music Center, 135 N. Grand Ave., downtown Los Angeles (213/972-0711)  www.musiccenter.org  Summer SoundWaves presents some of L.A.s most popular Latin music artists for three concerts perfect for the whole family: La Marisoul y Son California and Jackie Mendez, July 9; Arturo O'Farrill and the Afro Latin Jazz Ensemble featuring Telmary, July 30; Janney Marin, better known as Chiquis, Aug. 20.
Kirk Douglas Theatre: 9820 Washington Bl. Culver City (213/628-2772) www.centertheatregroup.com 
---
LA Theater Works: www.latw.org
Laguna Playhouse: 606606 Laguna Canyon Dr., Laguna Beach (949/497-27870) www.lagunaplayhouse.com   lagunaplayhouse.com or 949/497-2787.
La Jolla Playhouse: 2910 La Jolla Village Dr., La Jolla (858/550-1010)  www.LaJollaPlayhouse.org  www.secondcity.com   2.
Lankershim Arts Center: 5108 Lankershim Bl., North Hollywood (323/944-2165) www.coeurage.org/slaughtercity  Coeurage Theatre Company, L.A's Pay What You Want theatre company.

Latinx Theater Company:  www.apch.org/elcentrodelsur 

Lex Theatre:(Celebration Theatre)  6760 Lexington Ave., Hollywood (323/957-1884)  www.celebrationtheatre.com Courage Theatre Company, LA's Pay What You Want theatre company.
Loft Ensemble: 11031 Camarillo St., North Hollywood, (818/452-3153) www.loftensemble.org   
 Long Beach Performing Arts Center – International City Theatre  & Terrace Theatre: 300 East Ocean Bl., Long Beach  (562/436-4610)  www.internationalcitytheatre.org 

Los Angeles County Arboretum:  301 N. Baldwin Ave., Arcadia  (626/821-3222)  The Rusnak Summer POPS series has arrived with Michael Feinstein, Principal POPS Conductor. L.A. based singer and guitarist Sam Marsey  will open for Sara Evans Live in the beautiful outdoor setting.  July 2.  Latin Rhythm & Swing, June 26; Michael Feinstein Sings Gershwin, July 9; Aretha: A Tribute, July 23;  American icons: Judy Garland & Friends, Aug. 13; Michael Cavanaugh Sings Billy Joel & Elton John,  Aug. 27; Broadway on Film, Sept. 10.
Los Angeles Theatre Center:  514 Spring St., Los Angeles (213/489-74020)  http://therobeytheatrecompany.org   Spain's celebrated Kulunka Teatro returns to L.A. with magical Andre & Dorine the company's poignant depiction of love and aging disrupted by Alzheimer's. This  Los Angeles Drama Critics Circle award winning production tells the story of an elderly couple — Andre with his typewriter.  Dorine with her cello– and how they relive and reinvent their love together as the disease becomes a permanent part of their relationship.  No spoken language.  June 8-19.   The Latino Theater Company presents the world premiere of SHE by Los Angeles Based playwright Marlow Wyatt.   Growing up in a small town filled with poverty and neglect SHE escapes by re-imagining her realty through poetry.  Her dreams take flight when she is presented with t he opportunity to attend the prestigious Vanguard Academy.  Forced to make her own way SHE discovers that dreams cost…and you don't always pay with money.   April 28-June 5.  Latino Theater Company's Sleep With the Angels presents the world premiere of a poignant new comedy injecting a dollop of magical realism into the everyday lives of two working women.  May 19-June 26.  Latino Theater Company features Spanish performance artist Marta Carrasco in Perra de Nadie (Nobody's Bitch).   The highly original creations are characterized by an expressionist and grotesque aesthetic and performed without dialogue.  The topic dealt with illuminate the darkness and imperfection of humanity,  June 15-26
James Bridges Theatre: UCLA campus, 235 Charles E. Young Dr. E.,   Los Angeles Theatre Works (LATW) (323/538-3142) Boxoffice@latw.org     
Los Angeles Women's Theatre : (818/670-0408)  http://lawtf.org T
Magicopolis: Abracadabra Theatre, 1418 4th St., Santa Monica (310/451-2241). Fast paced, colorful, magic and illusion shows for the whole family in a theater setting. Ongoing.
Mark Taper Forum: Los Angeles Music Center, 135 N. Grand Ave., downtown Los Angeles (213/628-2772) www.taperahmanson.com   World premiere of Rajiv Joseph's new work, King James.  Basketball great "King" LeBron James reign in Cleveland brings promise, prosperity and renewal to a city in desperate need of all three.  His legacy brings together two friends who communicate best when they are  talking and arguing about sports. King James is an intimate exploration of the place that sports and athletes occupy in our emotional lives and relationships.    In the show, LeBron James serves as a symbol for the hopes, desires and fears that these two characters have bottled up since childhood. June 1-July 3.  Covid protection is in force for Vaccine, id and masks.
Upcoming:  Three decades after its 1993 World premiere at the Taper, Anna Deavere  Smith's "Twilight: Los Angeles, 1992" returns to L.A. as part of Center Theatre Group's 2022-2023 season.  Originally performed solo by Smith, the show has been re-imagined for a cast of five performers.  The show offers us another opportunity to reflect on what is still required to meet our  Commitments to Change that were devised and agreed to as a response to the 1992 protests. Also: The Search for Signs of Intelligent Life in the Universe, Clyde's, A Transparent Musical and Fake It Until You Make It.
---
Matrix Theater:  7657 Melrose Ave., Los Angeles www.brownpapertickets.com/event/5219775 
Microsolft Theatre: 777 Chick Hearn Court, Los Angeles (213/763-6030) www.microsofttheater.com   Check their website for information on upcoming events.
Morgan Wixson Theatre: 2627 Pico Bl., Santa Monica (310/828-7519) www.morganwixson.org,     Frozen Jr. features a cast of junior performers, thru June 5.  Upcoming:  Rogers + Hammerstein's Cinderella, July 1-24.
Musco Center for the Arts:  Chapman University, 415 North Glassell, Orange (844/626-8726)   www.muscocenter.org    Film Coco with the Chapman Orchestra, Sept. 30; George Takei, actor, author and activist, Nov.2; Dakha Brakha, direct from Ukraine, Oct. 5 Naturallly, a band without a band, Sept. 29.
Odyssey Theatre:  2055 S. Sepulveda Bl., West Los Angeles (310/477-2055) www.OdysseyTheatre.com
John Snow returns to curate music direct and emcee Odyssey Theatre Ensemble's  live Music at the Odyssey series this summer with celebrations honoring Joni Mitchell, Stephen Sondheim and Nina Simone plus two performances of the original cabaret event Wide Eyed in Wonder — Escapades and Serenades along Love's Trail of Longing.  The series kicks off June 25.
………………………………………………………………………………..
Ojai New Works Festival: Matilija Auditorium www.ojaiplays.org  Return to in person workshops and performances, Aug. 7-14.  The Sensational Sea Mink-Ettes, Aug. 13; God Spies, Aug. 14;  Running While Black, Aug. 14;  To Red Tendons, Aug. 14;  Dog Day Afternoon, Aug. 11; "a home what howls (or the house what was ravine)" Aug. 13; Avaaz, Aug. 12; Suburban Black Girl, Aug 12; The Janeiad, Aug. 13.
Ophelia's Jump Productions:  2009 Porterfield Way, Suite H, Upland  http://opheliasjump.org (909/734-6565).  Sondheim on Sondheim, a revue celebrating the master of the American musical theatre.  May 20-June 5.
Pacific Amphitheatre: OC Fair & Event Center, Costa Mesa, ocfair.com. Brett Eldredge, July 29th, and Frankie Valli & The Four Seasons, July 22,  headline this summer.
Pantages Theatre: 6233 Hollywood Bl., Hollywood (800/982-2787)  www.HollywoodPantages.com 

Pasadena City Hall Centennial Square: (626/793-7172) PasadenaSymphony.Pops.org  . 2nd St., Los Angeles  (213/972-8001) LAOpera.org 
Renberg Theatre: 1125 N. McCadden Place,Hollywood (323/860-7300) www.lalgbtcenter.org/theatre
Royce Hall:  UCLA campus, 10745 Dickson Court, Westwood (310/825-2101)  www.cap.ucla.edu   Upcoming:  600 Highwaymen presents A Thousand Ways (Part Three): An Assembly.  The story brings together an audience of 16 strangers to construct a uniquely intimate theatrical experience.  Using a shared script, it traces how we consider one another individually and collectively after so much time apart.  Oct. 1-2, 22-23; Branford Marsalis Quaratet, Oct. 17; Antonio Sanchez & Bad Hombre  and collaborators, Nov. 3;  Pianist Tigran Hamasyan, Nov. 12; Bill T. Jones/Arnie Zane Company presents What Problem? exploring the tension between belonging to a community and the isolation that many feel during divisive political times.  Nov. 19; Seth Parker Woods in Difficult Grace, Dec. 4.
Santa Monica Playhouse:  1211 4th St., Santa Monica (310/394-9779 ext 1) theatre@santamonicaplayhouse.com 
San Diego Dance Theater – Light Box Theater: 2590  Truxtun  Rd. Studio 205, Bldg. 176, San Diego  Belonging: A Place for Everyone , this celebratory concert features dances that span the life of the San Diego Dance Theater.  Repertory from 1988, 2004, 2010, and two 2022 premieres. Performances illuminate generations of dance and dancers to come. March 18-20.
……………………………………………………………………………………………..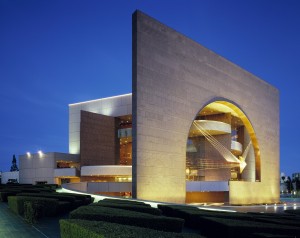 Segerstrom Center for the Arts: 600 Town Center Drive, Costa Mesa, www.SCFTA.org  (714/556-2787)  Pretty Woman: The Musical, a romantic fantasy based on the hit Hollywood movie,  July 5-17. Hadestown, the winner of eight 2019 Tony Awards, follows two intertwining love stories,that of young dreamers Orpheus and Eurydice and the of King Hades and his wife Persephone.  Hadestown invites audiences on a hell-raising journey to the underworld and back.  Anais Mitchell's beguiling melodies and Rachel  Chavkin's poetic imagination pit industry against  nature, doubt against faith and fear against love.  Aug. 9-21.
Nine Broadway shows are scheduled beginning in September 2022 including:  Moulin Rouge! The Musical, Harper Lee's To Kill a Mockingbird, Disney's Frozen, Hairspray, SIX, and Tina — The Tina Turner Musical. Additionally, the return of classics featured in the Curtain Call series include: Hamilton, Chicago and The Book of Mormon. 
"""""""""""""""""""""""""""""""""""""""""""""""""""""""""""""""
Skirball Cultural Center:  2701 N. Sepulveda Bl., Los Angeles (310/440-4500)  www.skirball.org      The 25th season  of free  Sunset concerts, July 21-Aug. 25.  Ticket reservations open June 9. Featuring: Iranian American singer, Mamak Khadem  July 21; Rocky Dawuni's reggae, July 28;  Nefesh Mountain shares klezmer melodies and Hebrew refrains. Aug. 4; Soul and R&B by Booker T. Jones, Aug. 11, South Korean based ensemble ADG7, Aug. 18;  Son Rompa Pera brings a punk rock edge to classic cumbia rhythms, Aug. 25.
Skylight Theatre:  1816 1/2 N. Vermont Ave., Los Angeles (213/761-7061) www.BoxOffice@SkylightTix.com   Apartment Living asks us "Do we like what we learn about the people we love when we see how behaviors change when living in forced captivity during the pandemic," March 12-April 24.   Lavender Men: An Emancipation play  set to open August 2022.  You'll enter a historical fantasia in the life of a self proclaimed fabulous creation of color as she invades the private world of Abraham Lincoln to confront issues of LGBTQ+ inclusion and visibility that still challenges us today.
The Soraya: 18111 Nordhoff St., Northridge  (818/677-3000) www.thesoraya.org

---
Theatre 40: Reuben Cordova Theatre, Beverly Hills High school campus, 241 S. Moreno Drive, Beverly Hills (310/364-0535) .   www.theatre40.org
The Los Angeles premiere engagements of  The Metromaniacs who are people who are crazy about poetry.  The story concerns a young would be poet with a serious case of verse-mania who falls for a mysterious poetess who turns out to be a wealthy gentleman looking to unload his sexy but dimwitted daughter. There is much to untangle before love plots are resolved and a happy ending is found.  July 21-Aug. 21.  Presenting a free reading of Mister Maestro, a comedy in two acts.. Guaranteed laughs!!!  7:00 p.m. July 10.
Upcoming:  The world premiere of Norm Foster, A Clean Brush tells the story of two house painters hired to paint the room where the widow's husband "accidentally" died.   When a nosy neighbor stops by she puts doubts into the minds of the painters as to the cause of the husbands death.  It's a comedy.  Sept. 22-Oct. 23.  Guess Who's Coming to Dinner? concerns a progressive white couple's proud liberal sensibilities which are put to the test when their daughter brings her black fiance home to meet them in this relevant stage adaptation of the iconic film.  Nov. 17-Dec. 18.
—————————————————————————–
Theatre West:  3333 Cahuenga Bl. West, Los Angeles (818/761-2203)  www.theatrewest.org   As Always, Jimmy Stewart is set at Christmas. His beloved wife has recently passed away.  This is his first Christmas without her and he begins to reminisce about his wonderful life on and off the screen…his triumphs, his biggest bombs, his youthful misadventures with lifelong pal Henry Fonda, his amorous exploits with some of movie-land's top leading ladies.  Learn about the man behind the legend.  July 9 & 10.
The Other Space @ Actors Company:  916 -A N. Formosa Ave., West Hollywood https://onstage411.com/ayano  Premiere of Ayano, the story of a woman who came to Los Angeles from Japan with a dream that she shared with many young women who come here from around the world…the dream of becoming a successful actress in Hollywood. With her charm and delicate beauty, she embodied a fantasy that many Western men project onto Asian women, that of an object of desire.  She starts off with a bang, gets married and just five years later everything has turned upside down. Can they pull through these times of intense challenge?  July 8-Aug. 7.
The Pico: 10508 W. Pico Bl., Los Angeles  http://onstage411.com/ganesh   

Thousand Oaks Civic Arts Plaza Kavli Theatre: 2100 Thousand Oaks Boulevard,  Thousand Oaks (800/745-3000) www.startheatricals.com 
Two Roads Theater:  4348  Tujunga Ave., Studio City http://divorcebrownpapertickets.com  The world premiere comedy A Funny Thing Happened to the Way to Divorce features three couples, each intent of getting divorced, find themselves sharing the same meeting room waiting for the same divorce mediator.  While waiting they share their stories of love that went wrong.  Their tales are by turns hilarious and heartbreaking.  What will happen when the mediator arrives?  July 9-Sept. 11.
UCLA Little Theater:  Macgowan Hall 245 Charles E. Young Drive, Los Angeles http://www/tft.ucla.edu/facilities/little-theater 
Wallis Annenberg Center for the Performing Arts (The Wallis): 9390 N. Santa Monica Bl., Beverly Hills (310/746-4000)  www.thewallis.org
The Wallis welcomes the audience back this all with great seats and savings.   Proof of vaccination and face masks for all indoor performances or proof of a negative COVID test 48 hours prior to attending a performance. Upcoming season includes Invincible: The Musical featuring songs of Pat Benetar and Neil Giraldo, Ballet Hispanico, Broadway aficionado Stephanie J. Block with Seth Rudetsky, Shanghai Sonatas, My Lord What a Night, Havana Nights featuring the Mambo Kings and more.
---
Walt Disney Concert Hall: 151 S. Grand Ave., Los Angeles (213/972-7288) www.wdch.com  Tristan und Isolde is an immense operatic poem by Richard Wagner, a tale of love and death.  Peter Sellars will direct the performances and Gustavo Dudamel will conduct the Los Angeles Philharmonic. The opera will be presented in its entirety  in two cycles of three performances each Dec. 9-11 and Dec. 15-17.                                   The Frank Gehry designed home to the Los Angeles Philharmonic embodies the unique energy and creative spirit of both the City of Angels and its world-class orchestra under the direction of  maestro Gustavo Dudamel and features the works of the world's musical greats featuring Classical, World Music, Jazz, Songbook and the Master Chorale.   The season features programs that reflect on the profundity of our cultural moments by examining themes of life, death and transcendence in music. Throughout the season Dudamel conducts a dozen wide-ranging programs.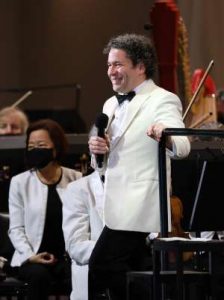 This season Dudamel will conduct 10 programs including opening the season with an evening of John Williams music for films, concerts that are part of the Pan American Music Initiative, world premieres of work Ellen Reid and Gabriella Smith, Mahler's Symphony No. 1 paired with Oritz, a 10-day Rachmaninoff marathon featuring Yuja Wang playing all four piano concertos and the Rhapsody on a Theme of Paganini, holiday performances of The Nutcracker, a concert hall presentation of Wagner's Tristan un Isolde and a Mozart program featuring Mitsujko Uchida. Recently added: Cafe Tacvba Un Segundo, Concierto Acustico, Oct. 21-22.          Above photo: Gustavo Dudamel

---
Wende Museum: 10808 Culver Bl., Culver City  info@wendemuseum.org    Returning for its third season, Music at the Wende is a free concert series in which esteemed musical organizations present programs inspired by the Wende's collection. Programs will take place the first Friday of the month through June. All concerts are free.  RSVPs open four weeks prior to each event.  Limit 2 tickets per RSVP.
Whitefire Theatre:  13500 Ventura Bl., Sherman Oaks   www.whitefire.stagey.net/projects7577 

Will Geer's Theatricum Botanicum: 1419 N. Topanga Canyon Blvd, Topanga (310/455–3723)  www.theatricum.com   Academy Award winning writer Ernest Thompson has deconstructed his script for The West Side Waltz in the world premiere of his new revised music and heart filled comedy set during the tumultuous '80s. The West Side Waltz features Theatricum artistic director Ellen Geer, her sister Melora Marshall and daughter Willow Geer who take on the roles of an aging concert pianist, her violin playing spinster neighbor and would be actress on New York's Upper West Side.  June 25-Oct. 1. Trouble the Water, was inspired by the little known larger than life true story of Robert Smalls, the first African American hero of the Civil War.  July 9-October 2.  Bring a picnic dinner to enjoy before the outdoor show.
Zephyr Theatre:  7456 Melrose Ave., Los Angeles onstage411.com/tables The Skeptic's Guide to the Afterlife, offering answers to the questions one may have about life and death.  Once you've seen the show, you will certainly feel less apprehensive about what lies ahead.  June 4, 19 & 21.