---
Ahmanson Theatre: Los Angeles Music Center, 135 N. Grand, Los Angeles (213/972-4400) www.CenterTheatreGroup.org    Indecent, by Pulitzer prize winning playwright Paula Vogel,  is a deeply moving play inspired by the true events surrounding the controversial 1923 Broadway debut of Sholem Asch's "God of Vengeance" — a play seen by some as a seminal work of Jewish culture and by others as an act of traitorous libel.  Indecent follows the history of an incendiary drama and the path of the artists who risked their careers and lives to perform it. This production features members of the original Broadway cast. Indecent is infused with klezmer music and was uniformly praised by critics when it debuted Off-Broadway and went on to Broadway where it was nominated for three Tony Awards.  June 5-July 7.
Upcoming: The Play That Goes Wrong, the hilarious Tony Award winning hit Broadway comedy makes its Los Angeles debut.  The play introduces The Cornley University Drama Society who are attempting to put on a 1920s murder mystery, but as the title suggests, everything that can go wrong…does, as the accident-prone thespians battle on against all odds to get to their final curtain call.  July 9-Aug. 11.
---
A Noise Within:  3352 East Foothill Bl., Pasadena (626/356-3100) www.anoisewithin.org   All 2018-19 offerings feature characters who are outliers — people who have blazed their own trail but nevertheless struggle for acknowledgement and acceptance.  Let Me In is not about physical space but about the deeply human passion to be understood for who we are.  These include Othello, The Glass Menagerie and Argonautika.

Actor's Company – The Other Space: 916 A N. Formosa, Hollywood www.afterhours15y.evenbrite.com  The Last Five Years, a multi-sensory, emotionally powerful musical about two New Yorkers in their twenties who fall in and out of love over the course of five years.  The show follows an aspiring actress and a budding novelist as their story is told both backwards and forwards.  This re-envisioned take on a classic production allows audiences to delve into Cathy and Jamie's complex relationship and experience their love and heartbreak while engaging all five senses. June 1-July 14.
Atwater Village Theatre: 3269 Casitas Ave., Atwater Village (323/882-6912) www.estlosangeles.org/2019-one-acts    Mama Metal, a joyfully irreverent black comedy entwining issues of identity with pop culture icons to tell a truly unique mother-daughter story.  The mother is dying and the daughter attempts to keep it together by rewriting the past with the help of two titans of the American theater and the world's greatest heavy metal band — but her mother refuses to follow the script.  A love letter to those who shape our lives, hold us together and break our hearts.   May 17-June 23. Dancing at Lughnasa, set in the beautiful, rolling hills of Ireland holds many stories and secrets.  Set in the summer of 1936 during the Celtic harvest festival of Lughnasa, Brian Friel's Tony Award winning play, loosely based on the lives of his mother and aunts, is a rich and deeply moving portrait of the everyday lives of five sisters just as everything is on the brink of change.  July 6-  Aug. 18.  Echo Theater Company presents the West Coast Premiere of Pass Over, a rare piece of politically charged theater by a bold new American voice, Antoinette Nwandu. The show exposes the questionable human spirit of young black men who dream about a promised land they have yet to find.   July 10-Aug. 19. Moving Arts presents Apple Season in which a woman returns to her family's land after many years.  A chance encounter with an old flame conjures memories she thought she escaped long ago.  This striking new play explores family, desire, and whether to confront the tangled past – or burn it to the ground.   July 11-Aug. 5.
Barnum Hall:  Santa Monica High School, 600 Olympic Bl., Santa Monica  www.smsymphony.org/concerts Santa Monica Symphony Orchestra free concerts:
Blue Door: 9617 Venice Bl., Culver City www.bluedoorculver.com/point-of-extinction   The  world premiere of Point of Extinction presented by CRE Outreach featuring sight-impaired actors from Theater by the Blind and musicians on the autism spectrum from Rex and Friends.  This awe-inspiring production featuring illusions creased by Magic Castle magician Dominik Krzanowski, challenges conventional expectations about the capabilities of individuals who live without sight, struggle with movement or have difficulty understanding the complexities of social interactions.  This play is a Science Fiction Political Thriller featuring original songs, takes place 100 years into the future after a super volcano has destroyed more than a third of Earth's population with the fallout rendering many of the survivors disabled. With resources running low for the United States, the president comes up with a devilish solution.  June 21-July 7.
Bob Baker Marionette Theater: 1345 W. 1st Street, Los Angeles (213/250-9995) www.bobbakermarionettes.com Marionettes from all over the globe entertain in an in-the-round performance of waltzing rag dolls and madcap musical instruments, also special holiday shows.  Tuesdays thru Fridays 10:30 AM, Saturdays and Sundays 2:30 PM.  Presenting Hooray L.A. along with a series of evening programs celebrating the hidden histories of Los Angeles.
Boston Court Pasadena:  70 N. Mentor Ave., Pasadena (626/683-6801)  www.BostonCourtPasadena.org
Broad Stage: 1310 11th St., Santa Monica (310/434-3200) www.thebroadstage.com

Broadwater Second Stage: 6320 Santa Monica Bl., Hollywood www.hollywoodfringe.org/projects/5881 A Hollywood Fringe Festival selection, Ride or Die: The Hip-Hop Musical, tells the story of two best friends.  One unfortunately dies in an accident but is allowed to come back to earth where he can o9nly be seen by his friend and is tasked with find a new best friend.  Only then will he earn his angel wings and be allowed to ascend into Heaven.   The unique cast of performers are differently-abled: Downs syndrome, autism and other neurotypical.disabilities.  June 9, 15, 16, 22, & 23.
 Cabrillo Music Theatre: Thousand Oaks Civic Arts Plaza, 2100 Thousand Oaks Bl., Thousand Oaks (805/449-2787)  www.cabrillomusictheatre.com 

Celebration Theatre @Lex Theatre: 6760 Lexington Ave., Los Angeles (323/957-1884) www.celebrationtheatre.com 
Colony Theatre:  555 N. 3rd St., Burbank  (866/811-4111) www.colonytheatre.org It's Showtime!, a three show series with entertainment featuring music, comedy and more.  The series is designed to provide something for arts lovers of all ages.  First up is Living a Why Not Life where the Lion King's Tonoccus McClain takes the audience on a self-reflecting journey through his influences of musical theatre, jazz, pop, gospel and other surprises.  Sept. 26-29.  Next is Talking to Myself in which renowned voice actor James Arnold Taylor combines state of the art multimedia images and sound in a live theatre setting, recreating scenes from some of Hollywood's biggest films along with the voices of his many animated characters.  Oct. 10-13. The series concludes with Chico's Angels: Chicas in Space, a live comedy production that parodies the 1976-1981 TV series Charlie's Angels.  Nov. 21-24.
Chance Theatre:  5522 E La Palma Ave., Anaheim (888/455-4212)  www.ChanceTheater.com   

Davidson/Valentini Theatre: 1125 N. McCadden Place, Hollywood (323/455-4585) http//hff19.org/54869  Writer/performer Moti Buchboot, grandson of a Holocaust survivor,  brings his world premiere solo show, Five Pieces of Paper: Stories My Hungarian Grandmother Refused to Tell Me and Other Family Tales, an emotional journey through his family's history. June 6, 18, 25 and 27. Fringe Festival show…The Ruffian on the Stair includes sex, murder and goldfish.  Set in 1964 London, this madcap gem by Joe Orton makes for a dangerous evening of naughty hilarity.   June 9, 13, 21 and 22.
Doheny Mansion:  Pompeian Room, 10 Chester Place, Los Angeles (213/477-2929)  www.DaCamera.org    Check website for concerts in this splendid setting.
Descanso Gardens:  (818/949-4200)  www.descansogardens.org Savor the best of the season on select evenings with some of the coolist jazz artists in the Southland.  Featuring both polished performers and a mix of jazz styles, Thursdays, June 6-July 25, 6-7:30. Ensemble Shakespeare Theater  presents a fully immersive theater production of A Midsummer Night's Dream. Follow the cast through the Gardens as fighting lovers, dancing fairies and a bewildered donkey lead you on a adventure filled with laughter and love.  7-8:30p.m., Aug. 16-17 & 23-24. Bring a picnic.  Advance registration required.
Dorie Theatre at The Complex:  6476 Santa Monica Bl, Hollywood (323/455-4585) www.hff19.org/6003   In What I Never Told You, a couple who haven been together for seven happy years, never married and have no children.  Arguing over things all couples can relate to, laughing at old memories, sharing secrets, insecurities and honest thoughts of how their life could be, they are ultimately reminded how deep their love is.  A knock on the door, however, brings the world crashing down around them. Fringe Festival.  June 7, 15, 20, 23 and 29.  The world premiere engagement of The Narcissist Next Door concerns Sebastian,  a rich, handsome, gay and unattached man who although independently wealthy, would really like to establish himself as a professional photographer.  He best friend, Kate is straight, single and would like to get her play produced.  When a new neighbor, Tony,  enters the picture, he introduces them to a Peruvian self help discipline and suddenly Sebastian lands a gig shooting photos of celebrities and Kate lands a new boyfriend. The three friends decide to go together to Mexico but  the neighbor invites himself There they are captured by kidnappers.  Can the quartet escape and will the three ever escape Tony? June 8, 15, 23, 26 and 29.
Dorothy Chandler Pavilion: Los Angeles Music Center, 135 North Grand Ave., Los Angeles.  The opera season, headed by Placido Domingo and conducted by James Conlon continues with a production of the final presentation is a revival of La Traviata June 1-22.
Eclectic Company Theatre:  5312 Laurel Canyon Bl., Valley Village (818/508-3003)  www.eclecticcompanytheatre.org    Shakespeare Salons held the last Tuesday of every month. Participants perform their favorite Shakespearean piece or alternatively, a piece inspired by Shakespeare.  Shakespearean monologues, scenes, poems, songs, remembrances and personal interpretations of all kinds are welcome.  To perform, fill out the form on the Eclectic Company Theatre website.
El Portal Theatre:  11206 Weddington St.,  North Hollywood www.troubie.com The Troubadour Theater Company is back and taking a stab at their latest hilarious world premiere musical comedy event with Julius Weezer.  The terrible tidings and twisted tale of corruption, betrayal, and the quest for absolute power — no, not Washington DC — it's Rome circa 44 B.C,, with Shakesp0eare's story of Caesar mashed up with the funk-rock riffs of the resurgent and ubiquitous band, Weezer.  May 10-May 19.
Edgemar Center for the Arts: 2437 Main St., Santa Monica,(310/392-7327) www.edgemarcenter,org  Miss America's Ugly Daughter: Bess Myerson & Me, a darkly hilarious mother-daughter story, the true inside tale of Barra Grant's seismic relationship with her mother, Bess Myerson, a beauty queen best known as the first and only Jewish Miss America, she was an accomplished pianist, television personality, New York City's first Commissioner of Consumer Affairs, a close advisor to Mayor Ed Koch, and a national spokesperson against antisemitism.  Then she infamously went down in flames — with her Mafia boyfriend –in a judge-bribing scandal known as the Bess Mess. June 14-Aug. 4.
Fountain Theatre:  5060 Fountain Ave., Los Angeles (323/663-1525)  www.fountaintheatre.com 
Freud Playhouse: UCLA campus, Macgowan Hall, 245 Charles E. Young Dr., East, Westwood (866-811-4111) www.reprise2.org
Greenway Court Theatre:  544 N. Fairfax Ave., Los Angeles (323/380-8843)  www.iamatheatre.com
Hudson Theatre: 6539 Santa Monica Bl., Hollywood (323/960-7773) www.onstage411.com/asmallgroup
James Bridges Theater: UCLA Campus, Melnitz  Hall, 235 Charles E. Young Drive,  Westwood (310/827-0889)  www.LATW.org  "The Play's the Thing" radio theater series: In Henrik Ibsen's Hedda Gabler, the heroine, played by Jocelyn Towne,  has just returned from her honeymoon with George, but she finds herself  ill-suited to the role of a housewife.  Her desperate dissatisfaction leads to dangerous choices in this exhilarating contemporary adaptation by Doug Hughes.  June 28-29.
Kiki & David Gindler Performing Arts Center: 110 East Broadway, Glendale (818/506-1983) www.Antaeus.org   The Caucasian Chalk Circle, Bertolt Brecht's satiric comedy of war, love and justice.  In the mountains of Georgia, a humble kitchen maid risks her life to rescue an abandoned baby from civil war, but when the child's aristocratic mother returns to claim him, the entire social order of a corrupt and violent world is put on trial.  July 5-Aug. 26.

Kings Road Park:  1000 N Kings Road, West Hollywood (323/960-5691) www.classicaltheatrelab@gmail.com  The Last Days of Don Juan, the earliest known dramatic appearance of literature's most famous — or infamous — romantic rogue.  The libertine lord of lust funds his fortunes begin to change after he slays the angry father of one of his conquests.  Not long after, Don Juan finds himself opposed by supernatural forces that seek to punish him for his wicked ways. Don't be deterred by the title…Outdoor venue.  Be advised…some content is naughty.   July 13, 14, 20, 27, 28, Aug. 4, 10, 11.
Kirk Douglas Theatre: 9820 Washington Bl. Culver City (213/628-2772) www.centertheatregroup.com   Dana H tells the real-life story of  the playwright Lucas Hnath's own mother.   A nondenominational hospice chaplain, Dana had stared death in the face on countless occasions but when she helped a mentally ill ex-convict turn his life around she suddenly found her own life hanging in the balance.  The story recounts the harrowing five month odyssey as she was help captive by  traveled with and eventually escaped her unstable captor.  May 26-June 23. The second annual L.A. Writers' Workshop Festival: New Plays Forged in L.A., a one day event celebrating some of the freshest and most thrilling voices in modern American theatre.  The festival takes place June 29, 1-9 p.m. with reading of three new plays by three L.A. Writers' Workshop participants.
---
Laguna Playhouse: 606606 Laguna Canyon Dr., Laguna Beach (949/497-27870) www.lagunaplayhouse.com  Gypsy, celebrating the music of Stevie Nicks and Fleetwood Mac, a production value that gives their audience a stellar experience second only to the real thing,  June 20-23.  Mamma Mia!, the first show of the Laguna Playhouse's 99th season, features infectious music, uplifting story and dazzling dance numbers.  As wedding festivities commence on an idyllic Greek island, a young bride to be schemes to discover the identity of her father among three men from her mother's past.  July 5-28.
La Jolla Playhouse: 2910 La Jolla Village Dr., La Jolla (858/550-1010)  www.LaJollaPlayhouse.org  www.secondcity.com    World premieres upcoming:  Escape to Margaritaville, At the Old Place.
La Mirada Theatre: 14900 La Mirada Bl., La Mirada (562/994-9801) www.lamiradatheatre.com   Upcoming:  Step into the enchanted world of Broadway's modern classic, Disney's Beauty and the Beast, an international sensation that continues to amaze and delight with its captivating story of soaring romance, bright humor an thrilling adventure.  Based on the Academy Award-winning animated feature, the stage version includes all of composer Alan Menken's  memorable songs from the film p0lus delightful new ones.  May 31-June 23.  You're A Grand Old Rag or What Patriotism Means to Me...Immigration and what it means to be an American as seen through the works of George M. Cohen.  June 30.
Lake Street Community Center:   1227  N. Lake St., Los Angeles (800/838-3006) www.rabbithole2cents.bpt.me
Lankershim Arts Center: 5108 Lankershim Bl., North Hollywood (323/944-2165) www.coeurage.org/slaughtercity  Coeurage Theatre Company, L.A's Pay What You Want theatre company.

Leo S. Bing Theater: Los Angeles Museum of Art, 5905 Wilshire Bl., Los Angeles. (213/485-6873). Free chamber music series. Sundays at 4 p.m.
Lex Theatre:(Celebration Theatre)  6760 Lexington Ave., Hollywood (323/957-1884)  www.celebrationtheatre.com Courage Theatre Company, LA's Pay What You Want theatre company. Director Michael Matthews take on The Producers. When a down on his luck Broadway producer and his mild mannered accountant come up with a scheme to produce the most notorious flop in history, things go awry when the show is a hit.  The Producers skewers Broadway traditions and takes no prisoners as it proudly proclaims itself an  "equal opportunity offender!"  Thru Aug. 12.
Long Beach Performing Arts Center – International City Theatre  & Terrace Theatre: 300 East Ocean Bl., Long Beach  (562/436-4610)  www.internationalcitytheatre.org  The world premiere of Bestseller, a zany comic romp by Peter Quilter, about writers, how they write, the stories they tell and the secrets they keep.  When three young novelists gather at an isolated cottage for a writer's retreat, their hilarious books jump off the page and onto the stage.  June 12-30.

Los Angeles Arboretum: 301 N. Baldwin Ave., Arcadia  (626/793-7172) PasadenaSymphony-Pops.org   The sounds of summer are in the air as Michael Feinstein and the Pasadena POPS open the Sierra Summer Concert series on June 22 with The Great American Songbook!  The season opener will cover the gamut of American popular songs from the songbook of the 20s and 30s and the Big Band era to Broadway, Hollywood and vintage charts that can't be heard anywhere else.  Picnic dining…bring your own or on-site options.
Los Angeles Theatre Center: 514 S. Spring St., Los Angeles (866-811-4111) www.thelatc.org 
Lounge Theatre: 6201 Santa Monica Bl., Hollywood (800/838-3006) www.iamatheatre.com
Magicopolis: Abracadabra Theatre, 1418 4th St., Santa Monica (310/451-2241). Fast paced, colorful, magic and illusion shows for the whole family in a theater setting. Ongoing.
Luckman Fine Arts Complex:  California State University Los Angeles, 5151 State University Drive, Los Angeles www.luckmanarats.org
---
Mark Taper Forum: Los Angeles Music Center, 135 N. Grand Ave., downtown Los Angeles
(213/628-2772) www.taperahmanson.com  Samuel Beckett's absurdist masterpiece Happy Days centers on Winnie (played by Dianne Wiest).  With her husband Willie (played by Michael Rudko) increasingly out of reach and the earth itself threatening to swallow her whole, Winnie's buoyant optimism shields her from the harsh glare of the inevitable in this absurdly funny and boundlessly compassionate portrait of the human spirit.  Winnie is considered modern drama's pinnacle female role.  She is an endlessly fascinating spirit of cheery resourcefulness and unassuming grace in the face of inevitable oblivion in a play Wiest refers to as "Hamlet" for women. Thru June 30.  Picture:  Dianne Wiest in Happy Days.    Photo:  Craig Schwartz
Center theatre group offers free tickets for theatergoers 25 years old and younger, available for the First Review of all Center Theatre Group Productions at the Mark Taper Forum and Kirk Douglas Theatre.  Tickets  free at the box office.  A $5 ticket handling fee for phone or online reservations.
————————————————————————————-
Matrix Theatre: 7657 Melrose Ave., Los Angeles, (323/960-7711)  www.matrixtheatre.com  Scraps, a highly theatrical, frequently funny mash up of poetry, realism and expressionism that chronicles the effects of the death of a black teenager by a white police officer on his family and friends.  July 27-Sept. 15.
McCadden Theatre:  1157  McCadden Place, Hollywood (800/838-3006) www.brownpapertickets.com/event/419014 
Microsolft Theatre: 777 Chick Hearn Court, Los Angeles (213/763-6030) www.microsofttheater.com     Check their website for information on upcoming events.
Miles Memorial Playhouse:   1130 Lincoln B., Santa Monica  (323/821-2449) www.wcjt.org
Morgan Wixson Theatre: 2627 Pico Bl., Santa Monica (310/828-7519) www.morganwixson.org  The Wedding Singer sets the stage in 1985 where rock star wannabe Robbie Hart is New Jersey's favorite wedding singer.  He is the life of the party until his own fiancee leaves him at the alter.  Robbie vows then to make every wedding as disastrous as his own.  Enter a winsome waitress who wins his affection but as luck would have it she is about to be married to a Wall Street shark and unless he can pull off the performance of the decade the firl of his dreams will be gone forever.  With an electrifying pop score that pays loving homage  to the 1980s, The Wedding Singer takes us back to a time when hair was big, greed was good, collars were up and a wedding singer was the coolest guy in the room.   June 29-Aug. 3.
Musco Center for the Arts:  Chapman University, 415 North Glassell, Orange (844/626-8726)   www.muscocenter.org 
Museum of Tolerance: 9786 W. Pico Bl., Los Angeles (310/772-2505)  www.museumoftolerance.com  The U.S. premiere of Anne, A New Play –In celebration of what would have been Anne Frank's 90th birthday, the Center presents a unique play by Dutch playwrights Jessica Duriacher and Leon de Winter that reframes Anne's story through an unconventional lens. In this new adaptation of the immortal Holocaust story, 13 year old Ann Frank imagines her life as a young woman, safe in a post war world.  When she meets a publisher who expresses interest in her story Anne looks back on the two years she spent hidden away with her family during the Nazi regime. June 16-July 22.
Nate Holden Performing Arts Center: 4718 W Washington Bl, Los Angeles (323/964-9766) www.ebonyrep.org  
New Vic:  33 W Victoria St., Santa Barbara (805/965-5400) www.etcsb.org      A socially awkward young man asks his neighbor, a sidelined Broadway dancer, to teach him enough dance moves so he can survive an appearance at an awards dinner in Dancing Lessons, a touching romantic comedy, June 13-30.  Special Birthday Cabaret concludes the season July 7.  Enjoy a trip down memory lane with special appearances of some favorite performers from past ETC productions. Upcoming season:  Shakespeare's Measure for Measure, It's a Wonderful Life, a musical adaptation of Jane Austen's Emma, American Son and pop and jazz musical about the legendary Rosemary Clooney.
Odyssey Theatre:  2055 S. Sepulveda Bl., West Los Angeles (310/477-2055) www.OdysseyTheatre.com  In the sultry streets of New Orleans, passions flare and cultures collide in Tennessee Williams's Pulitzer Prize winning masterpiece A Streetcar Named Desire.  Blanche DuBois, a fading relic of the Old South, searches for refuge at her sister's home, only to collide with reality in the form of Stanley Kowalski, her brutish brother in law. May 23-July 7. Young newlywed Melody has never been to a funeral — until her husband dies in a plane crash.  Expected to instantly assume proper widowhood, Melody is left to wonder what's the right way to grieve?  Fortunately her mother in law is a professional…widow, that is.   Under her guidance Melody must try her best to Be a Good Little Widow. An emotional comedy about loss and longing from Peabody Award-winning Writer/Producer of NBS's hit "This is Us." Limited engagement beginning May 18.  A bank heist, a corpse and a crazy cast of characters.  Joe Orton's darkly comic masterpiece, Loot, continues to shock and delight.  Two young friends rob a bank next to a funeral parlor…and what safer place to hide the money than in the coffin of a recently deceased person.  But with the coffin full up, there is no room for the corpse which keeps reappearing  at the most inopportune times– especially when the police inspector comes calling.  Nothing is safe from Orton's savage wit, whose targets include religion, social attitudes towards death, police brutality, corruption and everything in between.  June 8-Aug. 10.
Pantages Theatre: 6233 Hollywood Bl., Hollywood (800/982-2787)  www.HollywoodPantages.com  

Pasadena Playhouse:  39 South El Molina Ave.,  Pasadena (626/356-7529)  www.PasadenaPlayhouse.org
Renberg Theatre: 1125 N. McCadden Place, Hollywood (323/860-7300)  http://www.lagbtcenter.org/theatre
Renee &  Henry Segerstrom Concert Hall and Samueli Theater: 600 Town Center Dr., Costa Mesa (714/740-2000 or 714/556-2787 or 714/755-5799) www.scfta.org or www.pacificsymphony.org  Home of Pacific  Symphony.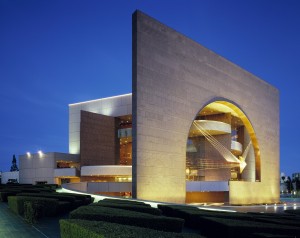 Free public tours of the center Wednesdays and Saturdays at 10:30 a.m. Telephone first.
———————————————————————————-
Road on Lankershim:  5108 Lankershim Bl., North Hollywood   (818/761-8838) www.RoadTheatre.org    At the Table is a comedy that begs the question: what happens when those with privilege are pushed to the periphery and a marginalized minority suddenly finds its voice amplified. Six friends head out of the city on their annual weekend retreat.  With no social media, no cell phones, no internet allowed, this leaves them  with the one option of taking to each other.   In these polarizing times, what does it mean to come to the table and at what cost?  Will it bring us together or reveal how far apart we really are.   Extended to July 20. 

Road on Magnolia: 10747 Magnolia Bl., North Hollywood (818/761-8838) www.RoadTheatre.org 

Rubicon Theatre: 1006 E. Main St., Ventura (805/667-2900) www.rubicontheatre.org Rubicon Theater continues the company's 21st "Coming of Age" season with Lady Macbeth Sings the Blues starring Amanda McBroom, a potpourri of favorite songs from various productions, June 8-9.
---
Santa Monica Playhouse:  1211 4th St., Santa Monica (310/394-9779 ext. 1)  www.santamonicaplayhouse.org     . This is the fourth in a series of comedies exploring the dynamics of the relationships between men and  women.  In  Mistakes Were Made — coulda-woulda-shoulda is schadenfreude at its finest and people's enjoyment of other people's mistakes. Mistakes can be fixed between husbands and wives, girlfriends and boyfriends, fathers and sons….letting a sexy woman threaten a marriage, turning down a dream job,  hiring the wrong money manager and having an affair for spite.  This premiere romantic comedy will have you laughing, crying and racing to fix that one mistake that's been gnawing at you for years.   May 5-June 30.
Son of  Semele Theater:  3301 Beverly Bl., Los Angeles (213/351-3507)  www.artful.ly/son-of-semele-ensemble 
Staples Center: 1111 S. Figueroa, Los Angeles (213/ 742-7100) www.staplescenter.com/events 
The Actors Gang Theatre: 9070 Venice Bl., Culver City (310/838-4264) www.TheActorsGang.com
The Autry: Griffith Park, 4700 Western Heritage Way (323/667-2000) www.TheAutry.org  Native Voices at the Autry is the only Equity theatre company devoted exclusively to developing  and producing new works for the stage by Native American, Alaska Native and First Nations playwrights.
The Soraya:  18111 Nordhoff St., Northridge  (818/677-3000) www.thesoraya@csun.edu T
---
Theatre 40: Reuben Cordova Theatre, Beverly Hills High school campus, 241 S. Moreno Drive, Beverly Hills (310/364-0535) www.theatre40.org     In Renovations for Six, a young couple, new in town, decide to host a dinner party so they can make friends and promote their business. They invite a couple who have abandoned their song and dance act and show business to raise their daughter and a haughty psychiatrist and her engineer husband who has given up his high paying job to write a novel.  All three couples are stressed, undergoing house renovations and could use a little fix-up in their relationship department as well.  All hell breaks loose at the dinner party in this fast-paced comedy where couples, designs and cultures clash.  July 18-Aug. 18.
---
Theatre of Note:  1517 N. Cahuenga Bl., Hollywood.  (323/856-8611) www.theatreofnote.com  www.theatrewest.org  Roots: An Evening of World Premiere Shorts is an evening of four wonderfully strange world premiere short plays written by four accomplished Theatre of Note-grown playwrights, which together usher audiences through the complexity of the human condition.  A dark comedy for dark times unfolds at a wedding…A one-night stand stakes a Kafka-esque turn …A story of pe9ople who probably definitely love each other as they encounter tectonic distress…Escaping Soviet Russia, a young woman goes on to found modern conservative philosophy before becoming the subject of her own musical theater production.  May 10-June 23.

Thousand Oaks Civic Arts Plaza Kavli Theatre: 2100 Thousand Oaks Boulevard,  Thousand Oaks (800/745-3000) www.5startheatricals.com 
Waco Theater Center:  5144 Lankershim Bl., North Hollywood : https://www.eventbrite.com/e/billie-holiday-front-and-center-tickets-63407808462  Billie Holiday: Front and Center tells the story of this trail-blazing musical artist known as perhaps the first female vocalist to use her voice in the style of jazz improvisation.  Recording first with Benny Goodman, she became the first Black female vocalist to front a white band, that of Artie Shaw. July 26-Aug. 18.
Wallis Annenberg Center for the Performing Arts (The Wallis): 9390 N. Santa Monica Bl., Beverly Hills (310/746-4000)  www.thewallis.org    Black Beauty gallops into the Annenberg with a story of hope, friendship and courage, April 26-May 5. This retelling blends storytelling, music and puppetry, offering fun and adventure for fans of the book, the UK's classic TV show and those brand new to the tale. This production is recommended for family with children ages 5 and older.  Hershey Felder returns with A Paris Love Story, featuring the music of Claude Debussy.   Doubling as a playwright and performer, Felder takes audiences on his own personal journey as he explores the life and music of this Impressionist composer bringing to life a visionary who proclaimed nature his religion and romance his milieu. Extended to June 15. Many performances sold out.   The Hitch-Hiker's Guide to the Galaxy, the Wallis Studio Ensemble's hilarious, fast paced, gender bending romp through the galaxy in search of the meaning of life, the universe and everything is back by popular demand, June 6-9.
---
Walt Disney Concert Hall: 151 S. Grand Ave., Los Angeles (213/972-7288) www.wdch.com The Frank Gehry designed home to the Los Angeles Philharmonic embodies the unique energy and creative spirit of both the City of Angels and its world-class orchestra under the direction of  maestro Gustavo Dudamel and features the works of the world's musical greats featuring Classical, World Music, Jazz, Songbook and the Master Chorale. The Philharmonic is also committed to the presentation of music of our time as well as offering its exhilarating Green Umbrella concerts which presents the Los Angeles Philharmonic New Music Group devoted exclusively to compositions on the cutting edge of the repertoire and attract leading composers and performers of contemporary music. Chamber music is another integral part of this world-class orchestra's repertoire.
Los Angeles Master Chorale presents Great Opera and Film Choruses. 
Guided and self-guided tours of the concert hall are available to the public (213/972-4399).
---
Wells Fargo Theatre:  Autry Museum of the American West, 4700 Western Heritage Way, Los Angeles (323/667-2000)  www.NativeVoicesattheAutry.org    Native Voices at the Autry continues its vital role as the country's only equity theatre company dedicated exclusively to developing the work of Native American playwrights.
Wende Museum of the Cold War:10808 Culver Bl., Culver City  info@wendemuseum.org   Free concerts but RSVP at their website.
Will Geer's Theatricum Botanicum: 1419 N. Topanga Canyon Blvd, Topanga (310/455–3723)  www.theatricum.com  Something for every taste in theatre!  Theatricum brings back its signature production in  the magical outdoor setting which is transformed into an enchanted forest inhabited by lovers both fairy and human in Shakespeare's A Midsummer Night's Dream,  June 2-Sept. 2. Mischief, madness and romance are in the air with Shakespeare's rollicking comedy Twelfth Night  in its magical outdoor setting.  Shipwrecked on the coast of Illyria and fearing that her brother has drowned, Viola must disguise herself as a man.  She falls in love with the neighboring Duke Orsino who loves the Lady Olivia — who loves the disguised Viola.  But false appearances are the norm on this island of Misrule, June 1-Sept. 28.  Henrik Ibsen's An Enemy of the People, is reset in a small town in South  Carolina in the 1980s. Powerful people have difficult choices to make in Ellen Geer's free adaptation of this classic — and extraordinarily timely — struggle between the interests of the individual and the welfare of society.   June 22-Sept. 28.  Thornton Wilder's Pulitzer Prize winning The Skin of Our Teeth, the story of humankind told through the lives of the Antrobus family.  Set in 20th century New Jersey and the Ice Age, the play is a whirlwind of modernity and antiquity.  As relevant today as its original production in 1942, this inspiring piece of Americana uses humor, history and mythology to highlight humanity's drive to carry on.  July 13-Sept. 29.  In Moby Dick — Rehearsed, Orson Welles's ingenious adaptation of the famous novel by Herman Melville find a Shakespearean acting troup working between performances of King Lear to create a play about Moby Dick. Thru Sept.e 29.
Zipper Hall – Colburn School: 200 South Grand Ave., Los Angeles www.PittanceChamberMusic.org Members of the Los Angeles Opera Orchestra led by Los Angeles Opera Music Director James Conlon curates and conducts a unique program that tells the tale of Jewish emigre composers Erich Wolfgang Korngold and Arnold Schoenberg who left their homelands and ultimately settled in Los Angeles as a result of the Nazis' rise to power.  Conlon is one of the world's most important and successful advocates for the music of composers suppressed during the Nazi regime. Tickets are $10.00.  June 15 at 3:00 p.m.