---
Ahmanson Theatre: Los Angeles Music Center, 135 N. Grand, Los Angeles (213/972-4400) www.CenterTheatreGroup.org     Over two decades after Matthew Bourne redefined Swan Lake for Los Angeles and much of the world, the production returns with a fresh look for the  21st century.  Retaining the iconic elements of the original production loved by millions around the world, Matthew Bourne and award-winning designer Lez Brotherston (set and costumes) create an exciting re-imagining of the classic production.  Acclaimed designer Paule Constable joins the creative team with a spectacular new lighting design.  Thrilling, audacious , witty and emotive, this Swan Lake is perhaps still best known for replacing the female corps-de-ballet with a menacing male ensemble, which shattered conventions, turned tradition upside down and took the dance world by storm.  Dec. 3-Jan. 5, 2020.
Upcoming: Hadestown, winner of eight 2019 Tony Awards will be part of Center Theater Group's 2020-2021 season at the Ahmanson. Following two intertwining love stories — that of young dreamers Orpheus and Eurydice and that of King Hades and his wife Persephone, Hadestown invites audiences on a hell raising journey to the underworld and back. The acclaimed musical was written by celebrated singer-songwriter and Tony Award winner Anais Mitchell and developed with innovative director and Tony Award winner Rachel Chavkin.
Center Theatre Group invites schools and community organizations serving youth from the greater Los Angeles area to apply to the 2019-2020 Student Matinee Program, a comprehensive arts education experience which brings students and educators to the theatre each season. To apply visit www.CenterTheatreGroup.org/Student-Matinees.
---
A Noise Within:  3352 East Foothill Bl., Pasadena (626/356-3100) www.anoisewithin.org  

Actor's Gang Theater at The Ivy Substation:  9070 Venice Bl., Culver City (310/838-426400)  www.theactorsgang.com  George Orwell's 1984 features Tim Robbins portraying the show's antagonist.  Winston Smith hates his job.  He works in the ministry of Information rewriting history to serve the interests of the powerful.  Winston's soul is stirring with rebellion and his heart alive with love.  Welcome to a world of no privacy where electronic screens create paranoia, divisiveness and hatred for the other where the state manufactures consent for perpetual war and where truth is manipulated and love itself is an act of rebellion.  Seventy-one years ago, in writing this visionary novel, Nineteen Eighty-Four, George Orwell eerily predicted the world we are currently living in.  Oct. 10-Dec. 7.
Actor's Company – The Other Space: 916 A N. Formosa, Hollywood www.afterhours15y.evenbrite.com 
Atwater Village Theatre: 3269 Casitas Ave., Atwater Village (323/882-6912) www.estlosangeles.org/2019-one-acts     Circle X Theatre Co. presents  punkplay, a theatrical love letter to loud music, irresponsible behavior and the beating heart of authenticity we all strive to preserve.. A coming of age story in the form of a mixtape.  Nov. 16 -Dec. 21.  Seven, a new adaptation of the documentary play in which seven acclaimed playwrights collaborated to created this compelling tapestry of stories, weaving together the works of seven remarkable women who faced life threatening obstacles to bring about major improvements in the lives of women and girls in their home countries.   Nov. 23- Dec. 16.
Blank Theatre:  6500 Santa Monica Bl., Hollywood (323/661-9827) www.theblank.com/livingroomseries   The Living Room Series is a new play development program that embodies The Blank's commitment to developing new works by diverse voices from both established and emerging writers.   The performances are minimally staged with actors carrying scripts.  Jan. 13-May 4.
Bob Baker Marionette Theater: 1345 W. 1st Street, Los Angeles (213/250-9995) www.bobbakermarionettes.com Marionettes from all over the globe entertain in an in-the-round performance of waltzing rag dolls and madcap musical instruments, also special holiday shows.  Tuesdays thru Fridays 10:30 AM, Saturdays and Sundays 2:30 PM.  Presenting Hooray L.A. along with a series of evening programs celebrating the hidden histories of Los Angeles.
Broad Stage: 1310 11th St., Santa Monica (310/434-3200) www.thebroadstage.com

Celebration Theatre @Lex Theatre: 6760 Lexington Ave., Los Angeles (323/957-1884) www.celebrationtheatre.com 
Colony Theatre:  555 N. 3rd St., Burbank  (866/811-4111) www.colonytheatre.org
Chance Theatre:  5522 E La Palma Ave., Anaheim (888/455-4212)  www.ChanceTheater.com   The musical adaptation of Anne of Green Gables.  The Cuthberts expect to adopt a boy but receive instead a orphan girl.  Though the clever young girl has a penchant for getting into trouble, she works her way into the hearts of her adoptive parents as well as the residents of rural Prince Edward Island…a heartwarming story for the whole family, Nov. 29-Dec. 29.
Doheny Mansion:  Pompeian Room, 10 Chester Place, Los Angeles (213/477-2929)  www.DaCamera.org    Check website for concerts in this splendid setting.
Dorothy Chandler Pavilion: Los Angeles Music Center, 135 North Grand Ave., Los Angeles.  The Los Angeles  opera conducted by James Conlon.
Eclectic Company Theatre:  5312 Laurel Canyon Bl., Valley Village (818/508-3003)  www.eclecticcompanytheatre.org    Shakespeare Salons held the last Tuesday of every month. Participants perform their favorite Shakespearean piece or alternatively, a piece inspired by Shakespeare.  Shakespearean monologues, scenes, poems, songs, remembrances and personal interpretations of all kinds are welcome.  To perform, fill out the form on the Eclectic Company Theatre website.
Edgemar Center for the Arts: 2437 Main St., Santa Monica,(310/392-7327) www.edgemarcenter,org 
El Portal Theatre:  5269 Lankershim Bl., North Hollywood
((818/508-4200) www.elportaltheatre.com  Troubadour Theater Company continues its 25th Silver anniversary season with their 18th annual holiday offering, A Christmas Carole King combining the soulful sounds of songstress Carole Kind with one of the most enduring stories of our time..Charles Dickens's "A Christmas Carol" — and the result is so far away from what you would expect. Dec. 7-22.
Fountain Theatre:  5060 Fountain Ave., Los Angeles (323/663-1525)  www.fountaintheatre.com    In this darkly comic Pulitzer Prize winning drama, Between Riverside and Crazy, an ex-cop and recent widower has made a home for his newly paroled son but the NYPD is demanding his signature to close an outstanding lawsuit, the landlord wants him out, the liquor store is closed and the church is on his back leaving Pops somewhere between Riverside…and crazy.  Oct. 12-Dec. 15.
Freud Playhouse: UCLA campus, Macgowan Hall, 245 Charles E. Young Dr., East, Westwood (866-811-4111) www.reprise2.org
Greenway Court Theatre:  544 N. Fairfax Ave., Los Angeles (323/380-8843)  www.iamatheatre.com LA's Pay What You Want theatre company .
Greystone Manor:  Greystone Park;, 905 Loma Vista Drive, Beverly Hills (310/364-3606) www.theatre-40.org The Manor – Murder and Madness at Greystone returns for its 18th year…a Los Angeles/Beverly Hills institution.  The show is a fictionalization based on real events with the actual historical characters given new names.  The show is presented in the grand and glorious architectural landmark in which the events of 90 years ago actually took place.  Audience members are led from room to room in the lovingly restored marvelous Greystone Mansion as different scenes of the narrative are portrayed, leading up to a shocking and apparent murderer and suicide.  Feb. 6-March 1, 2020.
Hudson Theatre: 6539 Santa Monica Bl., Hollywood (323/960-7773) www.onstage411.com/asmallgroup
James Bridges Theater: UCLA Campus, Melnitz  Hall, 235 Charles E. Young Drive,  Westwood (310/827-0889)  www.LATW.org  "The Play's the Thing" radio theater series:
Kiki & David Gindler Performing Arts Center: 110 East Broadway, Glendale (818/506-1983) www.Antaeus.org    Eight Nights, the heartfelt, lyrical portrait of a German Jewish refugee haunted by her past but resiliently moving toward the future, witnessed over the course of generations of the same family that inhabits a single apartment from 1946 to 2016.  Set during the eight nights of Hanukah and spanning eight decades of the protagonist's life. Nov. 8-Dec. 16.

Kirk Douglas Theatre: 9820 Washington Bl. Culver City (213/628-2772) www.centertheatregroup.com    Fourth Annual Block Party, March 18-April 19, 2020 will remount Sacred Fools Theater Company's The Art Couple and IAMA Theatre Company's Canyon.  Block Party offers an opportunity  for the Center Theatre Group to connect with other members of the Los Angeles theatre community and celebrate the art and artists that help make this city such a vibrant theatre place. Upcoming: Until the Flood, Jan. 24- Feb. 15, 2020.
---
Laguna Playhouse: 606606 Laguna Canyon Dr., Laguna Beach (949/497-27870) www.lagunaplayhouse.com   Peter Pan and Tinker Bell:  A Pirates Christmas, a singing, swashbuckling adventure performed in the high flying style of a British holiday Panto.  Take off on a wild quest with Tinker Bell, Wendy and Peter Pan as they try to put a stop to the plot of some dastardly pirates who plan to kidnap Peter as a present to Captain Hook.   Dec. 4-29.
La Jolla Playhouse: 2910 La Jolla Village Dr., La Jolla (858/550-1010)  www.LaJollaPlayhouse.org  www.secondcity.com     Upcoming:  Escape to Margaritaville, At the Old Place.
La Mirada Theatre: 14900 La Mirada Bl., La Mirada (562/994-9801) www.lamiradatheatre.com 
Lankershim Arts Center: 5108 Lankershim Bl., North Hollywood (323/944-2165) www.coeurage.org/slaughtercity  Coeurage Theatre Company, L.A's Pay What You Want theatre company.

Lee Strasberg Theatre:  7936 Santa Monica Bl., West Hollywood (855/326-9945)  www.Gentleman-George.com
Leo S. Bing Theater: Los Angeles Museum of Art, 5905 Wilshire Bl., Los Angeles. (213/485-6873). Free chamber music series. Sundays at 4 p.m.
Lex Theatre:(Celebration Theatre)  6760 Lexington Ave., Hollywood (323/957-1884)  www.celebrationtheatre.com Courage Theatre Company, LA's Pay What You Want theatre company.
Loft Ensemble: 11031 Camarillo Street, North Hollywood ((818/452-3153) www.loftensemble.org  
Long Beach Performing Arts Center – International City Theatre  & Terrace Theatre: 300 East Ocean Bl., Long Beach  (562/436-4610)  www.internationalcitytheatre.org   The beloved production of The Nutcracker bursts with special guest performances and additional surprise trea6ts the whole family will love.  Dec. 14-22.

Magicopolis: Abracadabra Theatre, 1418 4th St., Santa Monica (310/451-2241). Fast paced, colorful, magic and illusion shows for the whole family in a theater setting. Ongoing.
---
Mark Taper Forum: Los Angeles Music Center, 135 N. Grand Ave., downtown Los Angeles (213/628-2772) www.taperahmanson.com     August Wilson's Jitney, set in the early 1970s, is a richly textured play following a group of men trying to eke out a living by driving unlicensed cabs or jitneys. When the city of Pittsburgh threatens to board up the business and the boss's son returns from prison, tempers flare, potent secrets are revealed and the fragile threads binding these people together may come undone at last.  Jitney received six Tony nominations, wining Best Revival of a Play and winning the 2017 Drama League, Outer Critics Circle and Drama Desk Awards for Outstanding Revival of a Play.  Nov. 22-Dec. 29.                                                                                                                              Center theatre group offers free tickets for theatergoers 25 years old and younger, available for the First Review of all Center Theatre Group Productions at the Mark Taper Forum and Kirk Douglas Theatre.  Tickets  free at the box office.  A $5 ticket handling fee for phone or online reservations.
——————————————————————————————
McCadden Theatre:  1157  McCadden Place, Hollywood (800/838-3006) www.brownpapertickets.com/event/419014 
Microsolft Theatre: 777 Chick Hearn Court, Los Angeles (213/763-6030) www.microsofttheater.com   Check their website for information on upcoming events.
Morgan Wixson Theatre: 2627 Pico Bl., Santa Monica (310/828-7519) www.morganwixson.org   It's Only a Play by Terence McNally….it's opening night of a new Broadway play, The Golden Egg, as the play-write anxiously awaits to see if its a hit.  With his career on the line, he shares his big First Night with his "best" friend, a television star, his novice producer, his doped up diva, his genius director, a lethal drama critic, and a fresh off the bus coat check attendant on his first night in Manhattan.    Alternately raucous, ridiculous and tender —and proves that sometimes the biggest lights happen offstage!  Jan. 18-Feb. 9, 2020.
Musco Center for the Arts:  Chapman University, 415 North Glassell, Orange (844/626-8726)   www.muscocenter.org 
Nate Holden Performing Arts Center: 4718 W Washington Bl, Los Angeles (323/964-9766) www.ebonyrep.org  
New Vic:  33 W. Victoria St., Santa Barbara (805/965-5400) www.etcsb.org   It's a Wonderful Life, a live radio play set in Santa Barbara in 1947 and features mock radio commercials for local businesses from that time.  Inspired by the classic holiday film, the radio play tells the entire story of idealistic George Bailey, a man who gives up his dreams to help others, and whose life's decision on Christmas Eve bring about the intervention of his guardian angel. This timeless story comes to life with five talented actors performing dozens of characters as a live radio broadcast with live Foley sound effects right before your eyes.  This production will surely ignite the holiday spirit in audiences of all ages. Dec. 7-22. Upcoming season: a musical adaptation of Jane Austen's Emma, American Son and pop and jazz musical about the legendary Rosemary Clooney.
Odyssey Theatre:  2055 S. Sepulveda Bl., West Los Angeles (310/477-2055) www.OdysseyTheatre.com    Before, a new play with music by Irish writer/performer Pat Kinevane. Much of the play's music is influenced by the golden era of Hollywood musicals. The story begins with Pontius inside Clery's of Dublin trying to choose a gift for his estranged daughter on the very day this iconic department store shuts its doors — for good.  The father's journey is both beautiful and strange from the isolation of his home to the madness of O'Connell Street.  Some folk are impossible to buy for…Nov. 14-Dec. 8.
Pantages Theatre: 6233 Hollywood Bl., Hollywood (800/982-2787)  www.HollywoodPantages.com 

Pasadena Playhouse:  39 South El Molino Ave., Pasadena (626/356-7529)  www.pasadenaplayhouse.org  Bob Baker's Nutcracker Nov. 30-Dec. 29 in the Carrie Hamilton Theatre,  an adaptation of the ballet classic features more than 100 handcrafted puppets.
Renberg Theatre: 1125 N. McCadden Place, Hollywood (323/860-7300)  http://www.lagbtcenter.org/theatre
Renee &  Henry Segerstrom Concert Hall and Samueli Theater: 600 Town Center Dr., Costa Mesa (714/740-556 -2121 or 714/556-2787 or 714/755-5799) www.scfta.org or www.pacificsymphony.org  Home of Pacific  Symphony Mannheim Steamroller Christmas, Dec. 1.  American Ballet Theatre presents The Nutcracker, Dec. 13-22. Spanish Harlem Orchestra: Salsa Navidad, Dec. 21.  Salute to Vienna New Year's Concert features Strauss Waltzes, beloved operettas, champion ballroom dancers, the National Ballet of Hungary and the Strauss Symphony of America, Dec. 28.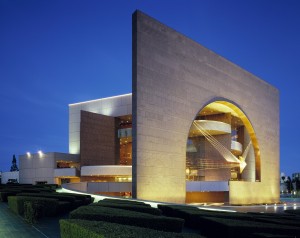 Free public tours of the center Wednesdays and Saturdays at 10:30 a.m. Telephone first.
———————————————————————————
Road on Lankershim:  5108 Lankershim Bl., North Hollywood   (818/761-8838) www.RoadTheatre.org   
Road on Magnolia: 10747 Magnolia Bl., North Hollywood (818/761-8838) www.RoadTheatre.org 

Rosenthal Theater Inner-City Arts: 720 Kohler St., Los Angeles (818/762-29980) www.deafwest.org
Royce Hall:  UCLA campus, 10745 Dickson Court, Westwood (310/825-2101)  www.cap.ucla.edu
Rubicon Theatre: 1006 E. Main St., Ventura (805/667-2900) www.rubicontheatre.org  Plaid Tidings tells the story of a lovable, nerdy "guy  goup" from the 50s and 60s (in the style of the Four Lads, The Four Freshman and The Crew Cuts) who were struck down in the prime of life and are now sent back to Earth to perform the big holiday concert they never got to perform in life.  The show includes holiday favorites, a funny speed-date version of "The Ed Sullivan Show" featuring the Rockettes, the Chipmunks and The Vienna Boys Choir and other memorable hits from the era.  Dec. 11-29.
Ruskin Group Theatre:  3000 Airport Ave., Santa Monica   reservationspack@gmail.com  Each month The Pack  Drama Desk Award winner and Emmy nominated writer Eugene Pack brings together an outstanding group of actors who perform staged readings of his  new original short comedies in a variety of venues throughout Los Angeles. Usually a sell out.
---
Santa Monica Playhouse:  1211 4th St., Santa Monica (310/394-9779 ext. 1)  www.santamonicaplayhouse.org   David Sedaris's modern holiday classic The SantaLand Diaries, the outrageously funny one-man play about the author's experiences as an unemployed writer taking a job as an elf at Macy's department store in New York City, taking a wry look at how the holiday season brings out the best…and the worst…in us all.Nov. 30-Dec. 20.
Segerstrom Center for the Arts: 600 Town Center Drive, Costa Mesa (714/556-2787)  www.scfta.org  Dixie's Tupperware Party, the hilarious show starring Dixie Longate, the fast talking, gum chewing ginger haired Alabama gal who is bringing your grandma's Tupperware party into the 21st century, Dec. 4-8. The American Ballet Theatre's captivating production of The Nutcracker, Dec. 13-22, starring Hee Seo as Clara the Princess and Cory Stearns as the Nutcracker Prince on opening night.  The beloved holiday story  is set to a magical score by Peter Ilyitch Tchaikovsky. Bundle up and head for the line-up of free performances and events this holiday season on the Julianne and George Aryros Plaza…live outdoor performances sprinkled through the month showcase some of the best and brightest local musical talent.  Holidays around the World festival will bring you home for the holidays as the Center turns the Plaza into an international celebration Dec. 14-15.  All are invited to experience beloved cultures and traditions while enjoying a winter wonderland fill with delightful performances, storytelling, arts and crafts train rides and even a special snowfall.  Other special festivities will take place throughout the month of December.  Tony Award winner Lillias White at the Samueli Theater, Jan. 23-26, 2020.
Sierra Madre Playhouse:  87 W. Sierra Madre Bl., Sierra Madre ( 626/355-4318)  www.sierramadreplayhouse.org
Son of  Semele Theater:  3301 Beverly Bl., Los Angeles (213/351-3507)  www.artful.ly/son-of-semele-ensemble
Skylight Theatre:  1816 1/2 N. Vermont Ave., Los Angeles (213/761-7061) www.BoxOffice@SkylightTix.com 
Staples Center and Microsoft Theater: 1111 S. Figueroa, Los Angeles (213/ 742-7100) www.staplescenter.com/events  www.microsofttheater.com  Check for all upcoming concerts, family shows and special events.

Stages LA:  12420 Santa Monica Bl., Los Angeles (800/838-3006)  www.waiter.brrownpapertickets.com 
The Actors Gang Theatre: 9070 Venice Bl., Culver City (310/838-4264) www.TheActorsGang.com
The Autry: Griffith Park, 4700 Western Heritage Way (323/667-2000) www.TheAutry.org  Native Voices at the Autry is the only Equity theatre company devoted exclusively to developing  and producing new works for the stage by Native American, Alaska Native and First Nations playwrights.
The Soraya:  18111 Nordhoff St., Northridge  (818/677-3000) www.thesoraya@csun.edu

The Theater at Ace Hotel:  929 S. Broadway, Los Angeles www.cap.ucla.edu/calendar/details/averysunshine  UCLA's Center for the Art of Performance presents
---
Theatre 40: Reuben Cordova Theatre, Beverly Hills High school campus, 241 S. Moreno Drive, Beverly Hills (310/364-0535) www.theatre40.org  Fifteen Men In A Smoke-Filled Room is set in Chicago, June 1920 with the Republication Convention in full swing.  Warren G. Harding  is overwhelmed by the prospect of being the nominee of the Republican Party for President.  Hounded by an ambitious campaign manager, a paralyzingly superstitious wife, a star struck young mistress and the frightening pull of inevitability, Harding seems destined to be President…or is he? This play explores the extent to which fate controls our lives.  Is there a higher power that determines our destinies or are we the aggregate results of the idiosyncrasies of flawed humanity?  Nov. 14-Dec. 15.
Upcoming:  Sunday Dinner brings the Matera clan together at the family home for Sunday dinner after their grandfather dies.   While at home Michael Matera, a young priest is confronted by his working class father who confesses a very serious sin which could have serious consequences for other members of the family.  To the dismay of the father, his son refuses to grant him absolution.  Other family members have secrets of their own and things get complicated.  Jan. 16-Feb. 16, 2020.
---
Theatre of Note:  1517 N. Cahuenga Bl., Hollywood.  (323/856-8611) www.theatreofnote.com In a lawless near future, decades of unchecked greed, bigotry and fear have led to the collapse of governments and society as we know it.  Seeking shelter in an abandoned warehouse, four strangers with no reason to trust each other must decide if they can work together to survive the deadly storm outside while they face the threats they pose to one another in Fruition.  Nov 1-Dec. 7.

Thousand Oaks Civic Arts Plaza Kavli Theatre: 2100 Thousand Oaks Boulevard,  Thousand Oaks (800/745-3000) www.startheatricals.com 
Vs Theatre:  5453 W. Pico Bl.,Los Angeles   www.vstruewest.brownpapertickets.com or www.vstheatre.org 
Wallis Annenberg Center for the Performing Arts (The Wallis): 9390 N. Santa Monica Bl., Beverly Hills (310/746-4000)  www.thewallis.org Love Actually Live, a multimedia concert celebration of one of the most beloved holiday films of all time and the biggest, record-breaking hit in The Wallis's history, is back as a not to be missed Los Angeles tradition with performances beginning the day before Thanksgiving, November 27, and running through the December 29. Love Actually Live uniquely brings together friends and family alike to experience the unforgettable holiday classic in a three dimensional world where the film and live action seamlessly intertwine though the London setting. Iconic scenes displayed on screens that travel throughout the set share the stage with an all star cast of singers and 15 piece orchestra as they re-imagine the film's hit soundtrack.  A different Christmas Carol...a one-man production performed by David Mynne, doused with extra humbug for adults and brave children ages 8+, Dec. 4-8. Megan Hilty & Cheyenne Jackson highlight Broadway showstoppers, American songbook classics and rare musical gems, Jan 25., 2020. Lulu Washington Dance Theatre features world premieres by Christopher Huggins and Tommie Waheed Evans, a West Coast Premiere by Esie Mensah; a favorite by world renown hip hop artist Rennie Harris; plus new premiere works by Tamica Washington-Miller and Lula Washington, Jan. 30-Feb. 1, 2020.

---
Walt Disney Concert Hall: 151 S. Grand Ave., Los Angeles (213/972-7288) www.wdch.com The Frank Gehry designed home to the Los Angeles Philharmonic embodies the unique energy and creative spirit of both the City of Angels and its world-class orchestra under the direction of  maestro Gustavo Dudamel and features the works of the world's musical greats featuring Classical, World Music, Jazz, Songbook and the Master Chorale. The Philharmonic is also committed to the presentation of music of our time as well as offering its exhilarating Green Umbrella concerts which presents the Los Angeles Philharmonic New Music Group devoted exclusively to compositions on the cutting edge of the repertoire and attract leading composers and performers of contemporary music. Chamber music is another integral part of this world-class orchestra's repertoire.
Los Angeles Master Chorale
Guided and self-guided tours of the concert hall are available to the public (213/972-4399).
---
Wells Fargo Theatre:  Autry Museum of the American West, 4700 Western Heritage Way, Los Angeles (323/667-2000)  www.NativeVoicesattheAutry.org    Native Voices at the Autry continues its vital role as the country's only equity theatre company dedicated exclusively to developing the work of Native American playwrights.
Wende Museum of the Cold War:10808 Culver Bl., Culver City  info@wendemuseum.org   Free concerts but RSVP at their website. Music/Words presents In The Footsteps of the Master and Margarita, Dec. 6.
Will Geer's Theatricum Botanicum: 1419 N. Topanga Canyon Blvd, Topanga (310/455–3723)  www.theatricum.com  Something for every taste in theatre!
Zepher Theatre:  7456  Melrose Ave., Los Angeles (800/838-3006)  www.douspart.brownpapertickets.com 
Zipper Hall – Colburn School: 200 South Grand Ave., Los Angeles www.PittanceChamberMusic.org