---
PLEASE CHECK THAT THE SHOWS ARE OPEN BEFORE GOING
Ahmanson Theatre: Los Angeles Music Center, 135 N. Grand, Los Angeles (213/972-4400) www.CenterTheatreGroup.org   ALL PERFORMANCES HAVE BEEN CANCELLED DUE TO THE CORONAVIRUS.  Winner of nine Tony Awards  The Book of Mormon The Musical, this outrageous musical comedy follows the misadventures of a mismatched pair of missionaries, sent halfway across the world to spread the Good Word. Now with standing room only productions in London, on Broadway and across North American the show has truly become an international sensation.  Contains explicit language. Thru March 29.
Upcoming: Tickets for "1776" now on sale. They knew they would make history but not what history would make of them.  Fed up with living under the tyranny of British rule, John Adams attempts to persuade his fellow members of the Continental Congress to vote in favor of American Independence and sign the Declaration.  But how much is he wiling to compromise in the pursuit of freedom?  And who does that freedom belong to.  May 22-June 28.  Hadestown, winner of eight 2019 Tony Awards will be part of Center Theater Group's 2020-2021 season at the Ahmanson. Following two intertwining love stories — that of young dreamers Orpheus and Eurydice and that of King Hades and his wife Persephone, Hadestown invites audiences on a hell raising journey to the underworld and back. The acclaimed musical was written by celebrated singer-songwriter and Tony Award winner Anais Mitchell and developed with innovative director and Tony Award winner Rachel Chavkin.
Center Theatre Group invites schools and community organizations serving youth from the greater Los Angeles area to apply to the 2019-2020 Student Matinee Program, a comprehensive arts education experience which brings students and educators to the theatre each season. To apply visit www.CenterTheatreGroup.org/Student-Matinees.
Free library play reading series includes six plays on select dates from January to June at the Benjamin Franklin Library on Tuesdays, Malabar Library on Wednesdays, Robert Louis Stevenson Library on Thursdays.  All readings begin in 6:00 p.m. (213/972-80280).
---
A Noise Within:  3352 East Foothill Bl., Pasadena (626/356-3100) www.anoisewithin.org  

Actor's Company – The Other Space: 916 A N. Formosa, Hollywood www.afterhours15y.evenbrite.com 
Atwater Village Theatre: 3269 Casitas Ave., Atwater Village (323/882-6912) www.openfist.org Open Fist Theatre presents three evenings of short works performed in rotating repertory: Rorschach Fest,  features  Inkblot A, B & C. Feb. 14-April 5.
Blank Theatre:  6500 Santa Monica Bl., Hollywood (323/661-9827) www.theblank.com/livingroomseries   The Living Room Series is a new play development program that embodies The Blank's commitment to developing new works by diverse voices from both established and emerging writers.   The performances are minimally staged with actors carrying scripts.  Jan. 13-May 4.
Bob Baker Marionette Theater: 1345 W. 1st Street, Los Angeles (213/250-9995) www.bobbakermarionettes.com Marionettes from all over the globe entertain in an in-the-round performance of waltzing rag dolls and madcap musical instruments, also special holiday shows.  Tuesdays thru Fridays 10:30 AM, Saturdays and Sundays 2:30 PM.  Presenting Hooray L.A. along with a series of evening programs celebrating the hidden histories of Los Angeles.
Broad Stage: 1310 11th St., Santa Monica (310/434-3200) www.thebroadstage.com

Celebration Theatre @Lex Theatre: 6760 Lexington Ave., Los Angeles (323/957-1884) www.celebrationtheatre.com 
Colony Theatre:  555 N. 3rd St., Burbank  (866/811-4111) www.colonytheatre.org  The Secret Comedy of Women created and performed by Barbara Gehring and Linda Klein, a laugh out loud immersive theatrical entertainment about the challenges of womanhood.  Born out of of the two authors earnest and sweetly absurd writings in their girlhood diaries the show is a mix of sketch, improv, audience participation and hilarious songs and videos April 29-June 21.
Chance Theatre:  5522 E La Palma Ave., Anaheim (888/455-4212)  www.ChanceTheater.com

Doheny Mansion:  Pompeian Room, 10 Chester Place, Los Angeles (213/477-2929)  www.DaCamera.org    Check website for concerts in this splendid setting.
Dorothy Chandler Pavilion: Los Angeles Music Center, 135 North Grand Ave., Los Angeles. (  The Los Angeles  opera conducted by James Conlon.
Dorie Theatre: 6476  Santa Monica Bl.,  Hollywood www.brownpapertickets.com  Wendy Wasserstein's Isn't It Romantic returns.  In her timeless comedy, Wasserstein sends two uncommon women (one Jew, one Shiksa) into the jungle of Manhattan circa 1983 to seek fulfillment, self respect, romance and take-out food.  "Sex and the City" before there was a Carrie Bradshaw.  May 15-31.
Eclectic Company Theatre:  5312 Laurel Canyon Bl., Valley Village (818/508-3003)  www.eclecticcompanytheatre.org    Shakespeare Salons held the last Tuesday of every month. Participants perform their favorite Shakespearean piece or alternatively, a piece inspired by Shakespeare.  Shakespearean monologues, scenes, poems, songs, remembrances and personal interpretations of all kinds are welcome.  To perform, fill out the form on the Eclectic Company Theatre website.
Edgemar Center for the Arts:  2437 Main St., #B, Santa Monica (310/392-7327) www.edgemarcenter.org The party game "Mafia" is the inspiration for this improvisational murder mystery comedy whee the audience is trying to find the murdered.  Ten suspects.  One of them is a member of the Murder Mafia.  Can you find the killer? This murder mystery comedy show has the audience trying to catch the killer…before its too late.  March 7, 14, 21, 28.  The Swords of Sorrow – Burai II, a tale of a samurai ghost and of loyalty, honor, injustice and vengeance among samurai families in 19th century Japan, opens April 10.
El Portal Mainstage: 5269 Lankershim Bl., North Hollywood 8/508-4200) www.elportaltheatre.com On March 7 at 3 PM and 8 PM only, Hot August Night, a tribute to Neil Diamond, stars Dean Colley.
Fountain Theatre:  5060 Fountain Ave., Los Angeles (323/663-1525)  www.fountaintheatre.com  World premiere of Human Interest Story, a timely drama about homelessness, celebrity worship and the assault on American journalism, Feb. 15 -April 5.
Fremont Centre Theatre: 1000 Fremont Ave., South Pasadena www.youngstarstheatre.org/tickets
Greenway Court Theatre:  544 N. Fairfax Ave., Los Angeles (323/380-8843)  www.iamatheatre.com LA's Pay What You Want theatre company .
Greystone Manor:  Greystone Park, 905 Loma Vista Drive,
Beverly Hills (310/364-3606) www.theatre-40.org The Manor – Murder and Madness at Greystone returns for its 18th year…a Los Angeles/Beverly Hills institution, depicting momentous changes in the fortunes of the fabulously wealthy MacAlister family (fictional surrogates of the oil-rich Doheny Family.)  The show is a fictionalization based on real events with the actual historical characters given new names.  The show is presented in the grand and glorious architectural landmark in which the events of 90 years ago actually took place.  Audience members are led from room to room in the lovingly restored marvelous Greystone Mansion as different scenes of the narrative are portrayed, leading up to a shocking and apparent murderer and suicide.  Feb. 6-March 1, 2020.
Hudson Theatre: 6539 Santa Monica Bl., Hollywood (323/960-7773) www.onstage411.com/asmallgroup   Afterglow, the international hit sensation, explores the emotional, intellectual and physical relationships between three men.  As Josh and Alex explore their open marriage, they invite free-spirited Darius to share their bed one night.  When an unexpected connection forms, all three men must come to terms with new definitions of love, trust and intimacy.   May 16-June 28.
James Bridges Theater: UCLA Campus, Melnitz  Hall, 235 Charles E. Young Drive,  Westwood (310/827-0889)  www.LATW.org  "The Play's the Thing" radio theater series: Flyin' West tells lthe story of three sisters, in 1898, who leave behind the past in Kansas, to start anew in a town established for African-American settlers.  But when their newfound independence is threatened they will have to go to any lengths to keep what is their.  April 17-19.
Kiki & David Gindler Performing Arts Center: 110 East Broadway, Glendale (818/506-1983) www.Antaeus.org    Sex and hypocrisy abound in Shakespeare's dark comdy about the corruption of power and authority and the true nature of mercy and justice in Measure for Measure,  Feb. 13-April 6.  Sex and hypocrisy abound in Shakespeare's dark comedy about the corruption of power and authority and the true nature of love and justice in Measure for Measure, Feb. 21-April 20.

Kirk Douglas Theatre: 9820 Washington Bl. Culver City (213/628-2772) www.centertheatregroup.com   ALL PERFORMANCES HAVE BEEN CANCELLED DUE TO THE CORONAVIRUS  Fourth Annual Block Party, March 18-April 19, offers an opportunity  for the Center Theatre Group to connect with other members of the Los Angeles theatre community and celebrate the art and artists that help make this city such a vibrant theatre place.  As part of the Block Party,  Sacred Fools Theater Company's The Art Couple, a dramedy about Neil Simon's struggle to break a terrible case of writer's block he is suffering after accepting a huge commission for his completely unwritten third play, "The Odd Couple." March 18-29.
---
LA Athletic Club: 646 South Olive St, Los Angeles www.TheJazzSalon.com  Thursday Night Jazz Salon features live jazz from 7:00-9:30 PM in an  elegant, intimate room with great food, good people and a lineup of top jazz artists.  Dress code.
Laguna Playhouse: 606606 Laguna Canyon Dr., Laguna Beach (949/497-27870) www.lagunaplayhouse.com   The hilarious Neil Simon comedy Barefoot in the Park starring  Rita Rudner and Paul Rodriguez, tells the story of a free spirited woman and her much less spirited husband, Feb. 26-March 22.  The Laguna Playhouse announces its historic centennial season celebrating 100 years of creating exceptional theatre. The Official Blues Brothers Revue featuring athe only due in North America canctioned by Aykroyd and Belushe to don the official  hat and suglasses and walk in the legendary footsteps of Jake and Elwood Blues. May 26-29. Upcoming:  Rocky Mountain High, April 2-5; Legally Blonde, The Musical, Kim's Convenience closing 2020 with The Last Night of Ballyhoo.
La Jolla Playhouse: 2910 La Jolla Village Dr., La Jolla (858/550-1010)  www.LaJollaPlayhouse.org  www.secondcity.com     Upcoming:  Escape to Margaritaville, At the Old Place.
La Mirada Theatre: 14900 La Mirada Bl., La Mirada (562/944-9801 or 714/994-6310)  www.lamiradatheatre.com  One night only…Ventriloquist, singer, comedian and celebrity impressionist Terry Fator, March 7…The Clairvoyants Experience a brand new interactive live show, March 14. The glorious Sound of Music by Rodgers and Hammerstein, April 17-May 10.
Lankershim Arts Center: 5108 Lankershim Bl., North Hollywood (323/944-2165) www.coeurage.org/slaughtercity  Coeurage Theatre Company, L.A's Pay What You Want theatre company.

Leo S. Bing Theater: Los Angeles Museum of Art, 5905 Wilshire Bl., Los Angeles. (213/485-6873). Free chamber music series. Sundays at 4 p.m.
Lex Theatre:(Celebration Theatre)  6760 Lexington Ave., Hollywood (323/957-1884)  www.celebrationtheatre.com Courage Theatre Company, LA's Pay What You Want theatre company.
Lily Tomlin/Jane Wagner Cultural Arts Center:  1125 N McCadden Place, Hollywood (323/860-73000) www.lalgbtcenter.org/theatre  Hair: The American Tribal Love-Rock Musical is back. March 25-April 26.
 Long Beach Performing Arts Center – International City
Theatre  & Terrace Theatre: 300 East Ocean Bl., Long Beach  (562/436-4610)  www.internationalcitytheatre.org   A madcap musical  salute to the swinging 40's, The Andrews Brothers.   A USO show is threatened with cancellation when a certain famous trio of singing sisters fails to show and its up to three earnest and determined stagehands to go on with the show.  Features more than 25 songs made famous by the Andrews Sisters, Feb. 21-March 8.

Los Angeles Theatre Center:  514 Spring St., Los Angeles www.lamatheatre.com   Found, a new musical comedy that hits all the right notes and is not just based on a true story, it is based on hundreds of them. When the lost and broke Davy happens to find a peculiar note meant for someone else on the windshield of his car, it sparks an outlandish idea to collect the hilarious and revealing notes and letters that surround us every day.   Moritz von Stuelpnagel  directs Found, an original musical based on scores of surprising and eccentric discarded notes and letters that have been found in the real world by every day people.  Inspired by actual events.   A raucous and insightful new new musical tells the story of ambition, betrayal and loyalty while celebrating the weirdness in all of us.  Feb. 20-March 23.
Magicopolis: Abracadabra Theatre, 1418 4th St., Santa Monica (310/451-2241). Fast paced, colorful, magic and illusion shows for the whole family in a theater setting. Ongoing.
Mark Taper Forum: Los Angeles Music Center, 135 N. Grand Ave., downtown Los Angeles (213/628-2772) www.taperahmanson.com  ALL PERFORMANCES HAVE BEEN CANCELLED DUE TO THE CORONAVIRUS Pulitzer-winning playwright Annie Baker's sharp new comedy The Antipodes, a play about people telling stories about telling stories, the show follows nine characters thrown together in an undefined writers room. Baker's other awards include the Obie, Drama Desk and Lucille Lortel nominations for best Play, UK Critics Circle Award for Best New Play, Drama Desk nomination, etc, etc, etc. March 25-April 26.
Center theatre group offers free tickets for theatergoers 25 years old and younger, available for the First Review of all Center Theatre Group Productions at the Mark Taper Forum and Kirk Douglas Theatre.  Tickets  free at the box office.  A $5 ticket handling fee for phone or online reservations.
---
Microsolft Theatre: 777 Chick Hearn Court, Los Angeles (213/763-6030) www.microsofttheater.com   Check their website for information on upcoming events.
Morgan Wixson Theatre: 2627 Pico Bl., Santa Monica (310/828-7519) www.morganwixson.org   Andrew Lippa's The Wild Party is the story of one tragic, decadent night in a New York apartment shared by Queenie and her menacing lover. The couple decides to throw a party to end all parties where Queenie meets a handsome stranger who wants to lure her away.  Lust, jealousy, deception, drugs, sex and violence all play out against the backdrop of Manhattan during the Roaring Twenties and Prohibition, just one year before the Crash of 1929.  March 14-April 11.
Musco Center for the Arts:  Chapman University, 415 North Glassell, Orange (844/626-8726)   www.muscocenter.org 
New Vic:  33 W. Victoria St., Santa Barbara (805/965-5400) www.etcsb.org   
Odyssey Theatre:  2055 S. Sepulveda Bl., West Los Angeles (310/477-2055) www.OdysseyTheatre.com     Sam Shepard double bill: The Unseen Hand and Killer Head next up in Odyssey's 50th Anniversary Circa '69 season.  What happens when 1880 Western bandits are brought back to life in Azusa, CA by a space alien?  E.T. meets the Old West in San Shepard's The Unseen Hand, a hilarious yet foreboding sci-fi Western about a trio of legendary cowboys resurrected to help a mutant extraterrestrial free his people from slavery.  Called a six-pack of vintage Shepard by the New York Times.  The evening also includes Shepard's gritty and audacious  Killer's Head, a murderer's monologue delivered as he awaits electrocution.  Jan. 25-March 8.  The Serpent re-envisions the celebration of life as seen through the Book of Genesis, winner of the 1969 Obie award and a prime example of the innovative nature of the period. March 4-May 3.  Orpheus, Eurydice, a trouble-making horse and Death herself converge in this very funny and irreverent re-imagining of the Greek myth  by surrealist poet, playwright and filmmaker, Jean Cocteau. Deaf West Theatre views Orphee, a whimsical, magical and highly visual French play through  unique lens translated from French into Spoken English and American Sign Language and is slated for a run at the True Colors Festival in Tokyo, Japan in April. March 8-April 5.
Pantages Theatre: 6233 Hollywood Bl., Hollywood (800/982-2787)  www.HollywoodPantages.com 

Pasadena Playhouse:  39 South El Molino Ave., Pasadena (626/356-7529)  www.pasadenaplayhouse.org 

Renberg Theatre: 1125 N. McCadden Place, Hollywood (323/860-7300)  http://www.lagbtcenter.org/theatre
Renee &  Henry Segerstrom Concert Hall and Samueli Theater: 600 Town Center Dr., Costa Mesa (714/740-556 -2121 or 714/556-2787 or 714/755-5799) www.scfta.org or www.pacificsymphony.org  Home of Pacific  Symphony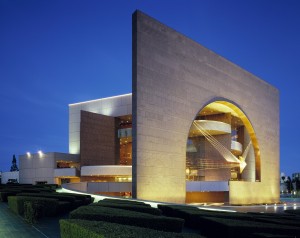 Broadway's new hit musical, A Bronx Tale is based on the one-man show that inspired the now classic film, this streetwise musical takes audiences to the stoops of the Bronx in the 19060s where a young man is caught between the father he loves and the mob boss he would love to be.  Features an original do-wop  score, this is a tale about respect, loyalty, love and above all else, family. March 10-22. Broadway Legends: An All-Star Tribute to Hal Prince, celebrating the legacy of the late producer and director  and the acclaimed shows and music that he shaped into many of the greatest hits in Broadway history, March 27th only. One of the most powerful voices in jazz, Cecile McLorin Salvant and the Aaron Diehl Trio,  March 28. The Clayton Brothers Quintet, April 18.
Free public tours of the center Wednesdays and Saturdays at 10:30 a.m. Telephone first.
———————————————————————————-                                                                                                                   Road on Lankershim:  5108 Lankershim Bl., North Hollywood   (818/761-8838) www.RoadTheatre.org  
Road on Magnolia: 10747 Magnolia Bl., North Hollywood (818/761-8838) www.RoadTheatre.org  A newly revised and re-written production of Nowhere on the Border tells the story of a border watch volunteer who confronts a Mexican man who claims to be looking for his missing daughter.  Set in a hostile wasteland between nations, the play reveals the personal dramas that drive people to cross borders both physical and emotional.  Jan. 14- March 8.

Royce Hall:  UCLA campus, 10745 Dickson Court, Westwood (310/825-2101)  www.cap.ucla.edu    Operatic version of Parable of the Sower,  a mesmerizing theatrical work of rare power and beauty that reveals deep insights into gender, race and the future of human civilization.  March 7. All performances taking place on the UCLA campus are being postponed through April 10.
 Seventh Street Bridge: East 7th St., Los Angeles www.arts.ca.gov   www.hdd_underway.eventbrite.com Los Angeles based dance company, Heidi Duckler Dance in conjunction with LA Opera's Eurydice Found Festival presents Underway , a dance opera,  Situated in the underbelly of LA's historic 7th Street Bridge, viewers will sit facing the train tracks.  This site has been repurposed into a multidisciplinary public art space.  7:00 p.m., March 14 & 15.
Skylight Theatre:  1816 1/2 N. Vermont Ave., Los Angeles (213/761-7061) www.BoxOffice@SkylightTix.com   A new dark comedy about race and class.  Front yard inflatables.  A hostile takeover of a neighborhood block party.  Altruistic dreams of gentrification.  Perhaps reshaping a newly adopted neighborhood in your image isn't as lofty as one might think in West Adams.  Jan. 30-March 8.  Upcoming:  Lavender Men, mid April.
Staples Center and Microsoft Theater: 1111 S. Figueroa, Los Angeles (213/ 742-7100) www.staplescenter.com/events  www.microsofttheater.com  Check for all upcoming concerts, family shows and special events.

The Autry: Griffith Park, 4700 Western Heritage Way (323/667-2000) www.TheAutry.org Lying with Badgers, a new comedy in a magically charged world is ignited by wise-cracking spirit animals brought to life by puppets as estranged brothers are pitted against one another in a fierce debate over the personal and economic issues Native people face today on their sovereign land.  Feb. 26-Marchy 15.   Native Voices at the Autry is the only Equity theatre company devoted exclusively to developing  and producing new works for the stage by Native American, Alaska Native and First Nations playwrights.
The Braid:  Santa Monica www.jewishwomenstheatre.org Sex, Addition & Love in the 21st Century and a complimentary photography exhibit will open The Braid Jewish Women's Theatre art and performance space on Saturday, March 14. All the stories were selected from hundreds of submissions from both new and established authors. The salon show will travel throughout the southland for two weeks.
---
Theatre 40: Reuben Cordova Theatre, Beverly Hills High school campus, 241 S. Moreno Drive, Beverly Hills (310/364-0535) www.theatre40.org    The world premiere of Taming the Lion,
suggested by true events, tells the story of William Haines who acted in 50 films between 1922 and 1934 and was the number one box office draw at the end of the silent era.   He was also the first openly gay movie star, a fact that the MGM studio attempted to conceal fearing his gayness would prove to be box-office poison.  Haines is given an ultimatum to marry a woman and continue to be a movie idol or turn his back on his movie career and lose everything so he can stay with his lover. March 12-April 12.
Upcoming:  Incident at Our Lady of Perpetual Help tells the story of the O'Sheas, a cash-challenged Irish-Catholic family just trying to get through 1973.  The 19 year old narrator is attempting to re-enact the most turbulent day of her life, but her family keeps interrupting, insisting on telling their side of the story. May 14–June 14.
---
24th Street Theatre:  1117 West 24th St., Los Angeles (213/745-6516) www.facebook.com/24thST  The Night Buster Keaton Dreamed Me, dreamy and daffy. Two orphan girls fend for themselves in a fire scarred apartment.  So far they have managed to elude Child Protective Services but now a next door neighbor may be on to them. Or…are they being filmed for a movie like the ones their mother used to take them to. When Buster Keaton mysteriously appears on the eye of the girls birthday, their boundaries are really stretched.  A surrealistic play about personal loss and the power of the imagination.  March 28-May 31.
Theatre 68:  5112 Lankershim Bl., North Hollywood (818/760-0408) www.lawtf.org  Los Angeles Women's Theatre Festival marks 27 years of producing over 500 multicultural and multidisciplinary solo performers from around the globe.  The overall theme will be 2020 Vision.   Champagne Gala and Awards Ceremony, March 26. Event will honor five women of exceptional achievement and contribution to the world of theatre plus performances. Performances March 27-29.
Theatre of Note:  1517 N. Cahuenga Bl., Hollywood.  (323/856-8611) www.theatreofnote.com
Thousand Oaks Civic Arts Plaza Kavli Theatre: 2100 Thousand Oaks Boulevard,  Thousand Oaks (800/745-3000) www.startheatricals.com  The buoyant and infectious feel good musical, Mamma Mia! tells the story of a young woman's search for her birth father.  You can dance, you can jive and your'll have the timne of your life when 5 star stages this massively popular musical featuring the hits of the Swedish pop group ABBA.  March 27-April 5.
Theatre West:  3333 Cahuenga Bl. West, Los Angeles (323/851-7977)  www.theatrewest.org  Comedy spy thriller Our Man in Santiago by Emmy nominee Mark Wilding inspired by a true story of a spectacularly botched U.S. attempt to overthrow Chile's democratically elected leader in this new political farce.  March 11-April 5.
Wallis Annenberg Center for the Performing Arts (The Wallis): 9390 N. Santa Monica Bl., Beverly Hills (310/746-4000)  www.thewallis.org  ALL PRODUCTIONS, PRESENTATIONS, PUBLIC GATHERINGS AND EDUCATIONAL PROGRAMS HAVE BEEN CANCELLED THROUGH MARCH 31. A benefit staged reading of Al Pacino in The Basic Training of Pavlo Hummel, March 8. The U.S. premiere of Romantics Anonymous, a new musical experience. Based on the film Les Emotifs Anonymes, it tells the unusual love story of Angelique, maker of beautiful chocolates carefully infused with all the emotion that seems to overwhelm her in daily life and Jean-Rene who runs a chocolate factory that is running out of steam, rather like his own existence.  Both seek help from the usual sources but when Angelique takes a job at the struggling chocolate factory, a fragile love affair unfolds. March 17-29. Heidi Duckler Dance,  April 15-18.

---
Walt Disney Concert Hall: 151 S. Grand Ave., Los Angeles (213/972-7288) www.wdch.com The Frank Gehry designed home to the Los Angeles Philharmonic embodies the unique energy and creative spirit of both the City of Angels and its world-class orchestra under the direction of  maestro Gustavo Dudamel and features the works of the world's musical greats featuring Classical, World Music, Jazz, Songbook and the Master Chorale. The Philharmonic is also committed to the presentation of music of our time as well as offering its exhilarating Green Umbrella concerts which presents the Los Angeles Philharmonic New Music Group devoted exclusively to compositions on the cutting edge of the repertoire and attract leading composers and performers of contemporary music. Chamber music is another integral part of this world-class orchestra's repertoire.
Los Angeles Master Chorale
Guided and self-guided tours of the concert hall are available to the public (213/972-4399).
---
Wells Fargo Theatre:  Autry Museum of the American West, 4700 Western Heritage Way, Los Angeles (323/667-2000)  www.NativeVoicesattheAutry.org    Native Voices at the Autry continues its vital role as the country's only equity theatre company dedicated exclusively to developing the work of Native American playwrights.
Wende Museum of the Cold War: 10808 Culver Bl., Culver City  info@wendemuseum.org   Free concerts but RSVP at their website.
Will Geer's Theatricum Botanicum: 1419 N. Topanga Canyon Blvd, Topanga (310/455–3723)  www.theatricum.com  Something for every taste in theatre!
Zepher Theatre:  7456 Melrose Ave., West Hollywood www.delshores.com  In This Side of Crazy, the most prolific singer in gospel music history is being honored by Gospel Music Network.  The glitch is that Ditty has promised a reunion of her three adult daughters who were once national sensations but who have been estranged for more than 25 years and are dealing with extreme past and present circumstances.  But the show must go on. Thru March 8.