—————————————————————————–
The Los Angeles Music Center:  135 N. Grand, Los Angeles (213/972-4400) www.musiccenter.org   ALL PERFORMANCES HAVE BEEN CANCELLED DUE TO THE CORONAVIRUS.  The new season will begin April 29, 2021 with To Kill a Mockingbird followed by Come From Away, June 9-20, The Prom, July 6-Aug. 8, Ain't Too Proud, Aug. 11-22.
The Music Center's digital series, For the Love of L.A. celebrates the creativity of Los Angeles and supports L.A. based artists representing the disciplines of music, dance, visual culture and more. Beginning Feb. 2, the second season of artwork from more than 15 additional artists have been named to the program.   Music is a part of the identity of the first three artists whose original soundtracks and visual storytelling offer an artistic lens in discussing socioeconomic issues affecting Angelenos.  Additional artists and their artwork will continue weekly through April 20 representing the experience of gender marginalized people.
CenterTheatreGroup.org/DigitalStage  Center Theatre Group is launching the Digital Stage. Inaugural episode of Not a Moment, but a Movement features Angelica Cheri's play Crowndation; I Will Not Lie to David paired with the visual art of Kenyatta A.C. Hinkle and the music of Jessica La Real in a unique event that amplified all three artists available on demand beginning Jan. 21.   A special sneak peek of Not a Moment but a Movement launches with a panel "The Forum: Amplifying the Roots of the Movement"  followed by an early streaming of the program, Jan. 18.  Additional special video draws on 21 artists and arts leaders to recite Martin Luther King Jr's legendary speech. Live from the Kirk Douglas Theatre a series of new multicamera, virtually produced readings and productions recorded at the Douglas will launch with readings of CTG Creative Collective member Luis Alfaro's acclaimed three play series of Chicano adaptations of classic plays, The Greek Trilogy of Luis Alfaro  available on demand until January 20, 2021 The power of storytelling has never been more vital.  A new multi-media digital platform to tell important stories in new and innovative ways is being launched.  From streamed performances on demand to interactive shared experiences and educational workshop series. The collection of curated offerings includes staged readings and production filmed live from the Kirk Douglas Theatre, new commissions from renowned theatre artists, events from our Broadway partners, beautifully live-captured productions from Matthew Bourne/NewAdventures and The Stratford Festival, and much more.  Includes staged readings, scenes from the vault, special events and more. Friends Members enjoy Free access.

Additionally: The Music Center's digital series, For the Love of L.A. celebrates the creativity for Los Angeles and supports L.A. based artists representing the disciplines of music, dance, visual culture and more.  Thirty five artists with a platform to express their views of Los-Angeles that are relevant and reflective of the current time through video, photography and creative writing.  The new art is featured each week on both the Music Center's social channels  and the Music Center Offstage, the organization's virtual platform offering newly curated programming including the commission and presentation of original artwork.

---
Bob Baker Marionette Theater: 1345 W. 1st Street, Los Angeles (213/250-9995) www.bobbakermarionettes.com Marionettes from all over the globe entertain in an in-the-round performance of waltzing rag dolls and madcap musical instruments, also special holiday shows.  Tuesdays thru Fridays 10:30 AM, Saturdays and Sundays 2:30 PM.  Presenting Hooray L.A. along with a series of evening programs celebrating the hidden histories of Los Angeles.  Closed.
Dorothy Chandler Pavilion: Los Angeles Music Center, 135 North Grand Ave., Los Angeles.  The Los Angeles  opera conducted by James Conlon.
Dugan's Backyard Playhouse: Tom.dugan@outlook.com  Woodland Hills
Global Brain Health Institute: www.UnRavelledPlay.com Art, music and science intersect in UnRavelled, a new drama by Jake Broder.  Based on true events and incorporating research and interviews conducted by Broder as a Hellman visiting artists, the play explores the fascinating connection between the work of Canadian painter Anne Adams and French composer Maurice Ravel, both of whom suffered from the same rate brain disease.  Feb. 25 at 4:00 p.m. through March 31. Free.
International City Theatre: www.InternationalCityTheatre.org  Special filmed version of A Christmas Carol starring Jefferson Mays will begin streaming Nov. 28 and remain available for replay on demand through Jan 3, 2021.  Tickets are $50.00 .  The streaming video event will benefit International City Theatre as well as other theaters across the country that have been devastated by the pandemic with a portion of all ticket sales going back to the presenting theaters.

Kiki & David Gindler Performing Arts Center: 110 East Broadway, Glendale (818/506-1983) www.Antaeus.org   

Kirk Douglas Theatre: 9820 Washington Bl. Culver City (213/628-2772) www.centertheatregroup.com   ALL PERFORMANCES HAVE BEEN CANCELLED DUE TO THE CORONAVIRUS.  See listing information at Center Theatre Group.
---
LA Theater Works: www.latw.org Digital Season state of the art audio recordings of nine plays:  Life on Paper asks "How much is one life worth?"  When a billionaire dies in a plane crash, a forensic economist butts heads with a small town actuary over the exact value of one man's life, by Kenneth Lin, available Dec. 16; Extinction by Hanie Rayson, concerns a zoologist in Australia who receives funding to save an endangered species from the very company that threatens its existence, Jan. 27, 2021; Bump by Chiara Atik, based on a true story, this hilarious comedy spans time and space in an effort to grapple with the mystery and miracle of maternity, March 10; A Weekend with Pablo Picasso, written and performed by Herbert Siguenza, April 26; For Us All by Jeane Sakata and No-NoBoy by Ken Narasaki, May 5: A Good Day at Auschwitz by Stephen Tobolowsky, June 2; The Murder on the Links adapted from the Agatha Christie novel by Kate McAll, June 30. Digital season per household $150.0o.
Laguna Playhouse: 606606 Laguna Canyon Dr., Laguna Beach (949/497-27870) www.lagunaplayhouse.com   lagunaplayhouse.com or 949/497-2787.
La Jolla Playhouse: 2910 La Jolla Village Dr., La Jolla (858/550-1010)  www.LaJollaPlayhouse.org  www.secondcity.com   
Lankershim Arts Center: 5108 Lankershim Bl., North Hollywood (323/944-2165) www.coeurage.org/slaughtercity  Coeurage Theatre Company, L.A's Pay What You Want theatre company.

Lex Theatre:(Celebration Theatre)  6760 Lexington Ave., Hollywood (323/957-1884)  www.celebrationtheatre.com Courage Theatre Company, LA's Pay What You Want theatre company.
Lily Tomlin/Jane Wagner Cultural Arts Center:  1125 N McCadden Place, Hollywood (323/860-73000) www.lalgbtcenter.org/theatre
 Long Beach Performing Arts Center – International City Theatre  & Terrace Theatre: 300 East Ocean Bl., Long Beach  (562/436-4610)  www.internationalcitytheatre.org 

Los Angeles Theatre Center:  514 Spring St., Los Angeles www.thelatc.org 
Los Angeles Women's Theatre: (818/760-0408)  www.evenbrite.com/e/lawtfs-end-of-the-year-fundraiser-tickets-131657337641
Los Angeles Theater Works:  681 Venice Bl., Venice www.latw.org/black-voices  Free streaming plays: Life on Paper asks how much is one life worth?, available now. Extinction tells of a zoologist in Australia get gets funidng to save an endangered species from the very company that threatens its existence. Available Jan. 31.   Bump, a hilarious tory spans time and space in an effort to grapple with the mystery and miracle of maternity.  Available March 10.   A Weekend with Pablo Picasso, a one man tour de force based on Picasso's writings, Available April 26.  Next season will feature:  Ayad Akhtar's Junk, Agatha Christie's Murder on the Links, Pearl Cleage's Flyin' West, Charles Fuller's A Soldier's Play,  Eugene O'Neill's Mourning Becomes Electra, Terrence Rattigan's The Winslow Boy, and Tom Stoppard's Rosencrantz and Guildenstern Are Dead.
Magicopolis: Abracadabra Theatre, 1418 4th St., Santa Monica (310/451-2241). Fast paced, colorful, magic and illusion shows for the whole family in a theater setting. Ongoing.
Mark Taper Forum: Los Angeles Music Center, 135 N. Grand Ave., downtown Los Angeles (213/628-2772) www.taperahmanson.com  ALL PERFORMANCES HAVE BEEN CANCELLED DUE TO THE CORONAVIRUS. See Center Theatre Group listing.
Center theatre group offers free tickets for theatergoers 25 years old and younger, available for the First Review of all Center Theatre Group Productions at the Mark Taper Forum and Kirk Douglas Theatre.  Tickets  free at the box office.  A $5 ticket handling fee for phone or online reservations.
---
Microsolft Theatre: 777 Chick Hearn Court, Los Angeles (213/763-6030) www.microsofttheater.com   Check their website for information on upcoming events.
Morgan Wixson Theatre: 2627 Pico Bl., Santa Monica (310/828-7519) www.morganwixson.org

Musco Center for the Arts:  Chapman University, 415 North Glassell, Orange (844/626-8726)   www.muscocenter.org 
New Vic:  33 W. Victoria St., Santa Barbara (805/965-5400) www.etcsb.org   
Odyssey Theatre:  2055 S. Sepulveda Bl., West Los Angeles (310/477-2055) www.OdysseyTheatre.com 
Pantages Theatre: 6233 Hollywood Bl., Hollywood (800/982-2787)  www.HollywoodPantages.com 

Pasadena Playhouse:  39 South El Molino Ave., Pasadena (626/356-7529)  www.pasadenaplayhouse.org 

Renberg Theatre: 1125 N. McCadden Place, Hollywood (323/860-7300)  http://www.lagbtcenter.org/theatre
Renee &  Henry Segerstrom Concert Hall and Samueli Theater: 600 Town Center Dr., Costa Mesa (714/740-556 -2121 or 714/556-2787 or 714/755-5799) www.scfta.org or www.pacificsymphony.org  Home of Pacific  Symphony.
Robey Theatre Company:  www.theRobeytheatrecompany.org/our-events  Online reading of Othello featuring Ben Guillory in the title role. Feb. 28.  Register in advance.
Royce Hall:  UCLA campus, 10745 Dickson Court, Westwood (310/825-2101)  www.cap.ucla.edu
…………………………………………………………………………………………………………………………….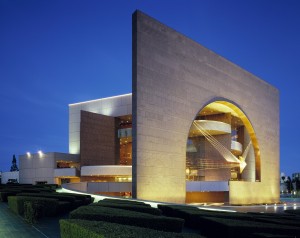 Free public tours of the center Wednesdays and Saturdays at 10:30 a.m. Telephone first.
Segerstrom Center for the Arts: 600 Town Center Drive, Costa Mesa, www.SCFTA.org  (714/556-2787)

Segerstrom Center for the Arts has announced that Broadway shows will be back on the Segertrom Hall stage starting in the fall of 2021.  The Broadway series will include new productions of My Fair Lady, Mean Girls, Tootsie, Pretty Woman: The Musical and Hadestown.
"""""""""""""""""""""""""""""""""""""""""""""""""""""""""""""""""""""""""""""""'
Skylight Theatre:  1816 1/2 N. Vermont Ave., Los Angeles (213/761-7061) www.BoxOffice@SkylightTix.com  Stories that tackle the world we're in and with Skylight Live (new short plays are performed online every Thursday.) All plays deal with our unprecedented times.  Free
Staples Center and Microsoft Theater: 1111 S. Figueroa, Los Angeles (213/ 742-7100) www.staplescenter.com/events  www.microsofttheater.com  Check for all upcoming concerts, family shows and special events.

The Braid:  www.the-braid.org 
---
Theatre 40: Reuben Cordova Theatre, Beverly Hills High school campus, 241 S. Moreno Drive, Beverly Hills (310/364-0535) www.theatre40.org
Thousand Oaks Civic Arts Plaza Kavli Theatre: 2100 Thousand Oaks Boulevard,  Thousand Oaks (800/745-3000) www.startheatricals.com 
UCLA Center for the Art of Performance:  Presenting Piano  Sonata by Phillip Glass performed by Maki Namekawa on Jan. 10, 2021 at 3:00 pm PST .  www.cap.ucla.edu/landing/capconnect  Piano Sonata by Phillip Glass performed by Maki Namekawa, Jan. 10, 2021. 3:00 p.m.. CAP UCLA Online channel. Charles Lloyd's Kindred Spirits, Jan. 16. 7:00 p.m. A Thousand Ways (Part One:  A Phone Call) by 600 Highwaymen, Jan. 24, …$25 per person.
Ventura Fairgrounds: www.holidaysinyourcar.com
Wallis Annenberg Center for the Performing Arts (The Wallis): 9390 N. Santa Monica Bl., Beverly Hills (310/746-4000)  www.thewallis.org   The Wallis presents  TicketsattheWallis.org ALL PRODUCTIONS, PRESENTATIONS, PUBLIC GATHERINGS AND EDUCATIONAL PROGRAMS HAVE BEEN CANCELLED Check out The Sorting Room Sessions through Jan. 25, 2001, 8 00 p.m. Coming up: singer/songwriter Shelea, Jan 23 and Raising the Barre…Films.Dance premieres Kaduna, Jan. 25.

---
Walt Disney Concert Hall: 151 S. Grand Ave., Los Angeles (213/972-7288) www.wdch.com The Frank Gehry designed home to the Los Angeles Philharmonic embodies the unique energy and creative spirit of both the City of Angels and its world-class orchestra under the direction of  maestro Gustavo Dudamel and features the works of the world's musical greats featuring Classical, World Music, Jazz, Songbook and the Master Chorale. The Philharmonic is also committed to the presentation of music of our time as well as offering its exhilarating Green Umbrella concerts which presents the Los Angeles Philharmonic New Music Group devoted exclusively to compositions on the cutting edge of the repertoire and attract leading composers and performers of contemporary music. Chamber music is another integral part of this world-class orchestra's repertoire.  ALL PRODUCTIONS HAVE BEEN CANCELLED.
Los Angeles Master Chorale: Holiday Karaoke, Dec. 17, 7:00 pm.  Featuring newly recorded content, including three new virtual choirs and archival favorites from seasons past.  Free digital concert.

Guided and self-guided tours of the concert hall are available to the public (213/972-4399).
---
Whitefire Theatre: https:/www.tickettailor.com/events/whitefiretheatre.463074  Where Do We Go From Here? A Pandemic Cabaret streams live on Jan. 16, 1921. The deadly disease is forcing us to reflect on the most basic questions concerning life and mortality. The song cycle spans a number of genres from pop to blues to tango and more. Purchase tickets.
Will Geer's Theatricum Botanicum: 1419 N. Topanga Canyon Blvd, Topanga (310/455–3723)  www.theatricum.com  Something for every taste in theatre!
Woolly Mammoth Theatre Company: Streaming digitally Jan 24-Feb 21, 2021.   Presenting Hi, Are You Single?, Jan. 24-Feb. 21, 2021.  Virtual tickets are $20 and can be reserved online beginning Jan 7, 2021 at www.woollymammoth.net      This show asks us to examine sexuality through the lens of a queer man with a disability who is struggling to make meaning out of intimate interactions. The audience is guided through the gay dating scene with a provocative take on intimacy, rejection and judgement.