———————————————————————–
CHECK VACCINATION/MASKING POLICIES BEFORE GOING
Ahmanson Theatre:  Los Angeles Music Center, 135 N. Grand Ave., downtown Los Angeles (213/628-2772) www.taperahmanson.com    This is OKLAHOMA!  as you have never seen or heard it before — re imagined for the 21st century and now the Tony Award winner for the Best Revival of a Musical.  Funny and sexy, provocative and probing, this acclaimed production tells a story of a community banding together against an outsider and the frontier life that shaped America.   Upending the sunny romance of a farmer and a cowpoke, this Oklahoma allows the classic musical and our country to be seen in a whole new light. Without changing a word of text, this visionary 21st century re-imagining allows the classic musical to be seen in a whole new light. Among its themes are hotly contested conversations about gun violence, Native American land rights, climate change, xenophobia and toxic masculinity.  Sept. 13-Oct. 16.
Upcoming:   U.S premiere of West End Hit 2:22 — A Ghost Story; the Broadway revival of 1776; the Pulitzer- winning classic A Soldier's Play,  the return of the Tony Award winning Ain't too Proud and  a magical production of The Secret Garden
———————————————————————–
Actors Company LA: 916 N. Formosa Ave., Los Angeles www.iamatheatre.com    The troupe Capitol Comedy  presents Two Cheers For Democracy, sending up the first  18 months of the Biden administration and more with comedy sketches, song parodies, mock commercials and fake news updates.  Personalities across the political  spectrum are ripe for comic dissection.  Opens Aug. 28.
A Noise Within:  3352 E Foothill Bl., Pasadena (626/353-3100)  www.anoisewithin.org  Peter Hall's musical adaptation of George Orwell's Animal Farm is funny and devastating.  Revolt is afoot at Manor Farm, when downtrodden beasts of burden rise up against the cruel farmer But self-ruled animal utopia gives way to the temptations of power and privilege in the fast moving musical adaption of George Orwell's savage satire.  Sept. 3-Oct. 2. August Wilson's American Century Cycle with Radio Golf, a decade by decade exploration of the Black experience in 20th century America.  Harmond Wilks, Pittsburgh's first Black mayoral candidate finds himself on the verge of the business breakthrough of a lifetime.  The arrival of an unexpected visitor with surprising news forces Hammond to choose between  his personal aspirations and his integrity. Oct. 16-Nov. 13.
Ambassador Auditorium: 131  S. St. John Ave., Pasadena (626/793-7172) boxoffice@pasadenasymphony-pops.org   Pasadena Symphony season.  All concert goers must fully vaccinated to keep everyone safe.  Classics Series will feature  the music of Mozart, Ngwenyama, Saint-Sans, & Rossini, Oct. 22;  Tchaikovsky, Sibelius, Lina Gonzales, Alexandra Conunova, Nov. 12; Holiday Candlelight, Dec. 17.
Atwater Village Theatre: 3269 Casitas Ave., Los Angeles (310/307-3753) www.EchoTheaterCompany.com         The world premiere of Jessica Goldberg's darkly comic Babe about cultural evolution and the selves we thought we knew.  Sept. 17-Oct. 24.  IAMA Theatre Company New Works Festival presents staged readings of six new plays over the course of two weekends in this annual series:  First Comes the Egg, Sept. 16; Help!, Sept. 17;  Oladele or The Forgotten Song, Sept. 18; Alien of Extraordinary Ability, Sept. 23; Cannabis Passover, Sept. 24; Arrowhead, Sept. 25.  Mother Sisters, a docu-play based on interviews conducted with eight aunts by the playwright Makaela Vogel.  Looking back over their varied and fascinating lives, these women affirm the strength and transformative power of their bond as sisters and female travelers of the late 20th century.  Oct. 5-27.
Big Tent Podcast & Live: Under the big tent at St. Andrews church parking lot, 830  W.Bonita Ave, Claremont (909/734-6565)   http://opheliasjump.org 
Bob Baker Marionette Theater:  4949 York Bl,  Los Angeles (213/250-9995) www.bobbakermarionettetheater.com 
BroadStage: 1310 11th St., Santa Monica (310/434-3200)  www.broadstage.org   Upcoming:  Mark Morris Dance Group performs The Look of Love to the music of Burt Bacharach Oct 20-23; Being Future Being by Emily Johnson /Catalyst, Sept. 8-10, Herb Alpert & Lani Hall perform A Christmas Wish, Dec. 17.
Broadwater Black Box:  6322 Santa Monica Bl.,  Hollywood http://hollywoodfringe.org.projects/6450
Chance Theatre: 5522 E La Palma Ave., Anaheim  (888/455-4212) www.ChanceTheater.com   
Coeurage Ensemble: Shakespeare Center of Los Angeles, 1238 W. 1st St., Los Angeles  www.coeurage.org  Rent, loosely based on Puccini's La Boheme, Jonathan Larson's Rent follows a year in the life of a group of impoverished young artists and musicians struggling to survive and create in New York's lower east side under the shadow of HIV/AIDS. This is  LA's Pay
What You Want performance company.  Dates to be announced.
Crypto.com Arena: (formerly the Staples Center) 1111 S. Figueroa, Los Angeles (213/ 742-7100)  www.cryptoarena.com  Check for all upcoming concerts, family shows and special events.  Tickets on sale now.
Davidson/Valentini Theatre:  Los Angeles LGBT Center,  1125 N. McCadden Place, Hollywood  (323/455-4585)  www.hollywoodfringe.org/projects/7408 

Dorothy Chandler Pavilion: Los Angeles Music Center, 135 North Grand Ave., Los Angeles. (213/972-8001)
The Los Angeles  opera presents Lucia di Lammermoor where marriage, madness and murder collide, a new co-production  with the Metropolitan Opera.  Mourning her mother, tormented by her brother and sold off into marriage to save her family's finances, Lucia finds her sanity slipping as her wedding day approaches — and soon she sees the unthinkable as her only way out.   Tickets start at $27.00.  Six performances only Sept. 17-Oct. 9.
Upcoming: Get Out, Oct. 29-31; Alcina, Nov. 2-5; Javier Camarena, March 31-April 2;  In Our Daughter's Eyes, April 13-17; The Brightness of Light, June 18. The audience will be required to show proof of vaccination and must wear masks during the entire performance.. See special  free Christmas Holiday special event  under  Los Angeles Music Center. Check to see all special requirements because of COVID-19.
Dorie Theatre@  The Complex:  6476 Santa Monica Bl., Hollywood daddyissuestheplay.com  West coast premiere of the off-Broadway hit production Daddy Issues.  How far will a gay guy go to please his overbearing Jewish parents? Mr and Mrs Moscowitz are in denial about their son 's gay lifestyle, disapprove of his career choice and question his flair for decoration.  To get his family to stop kvetching the son needs a son.  Come and find out what happens next.  Oct. 14-Nov. 13.
Dugan's Backyard Playhouse: dbtickets@gmail.com Woodland Hills. (address provided when reservations are made).
Five Point Amphitheatre:  14800  Chinon, Irvine (714/755 5799) www.pacificsymphony.org/summerfest   Pacific Symphony Summerfest presents  Tchaikovsky Spectacular capped by fireworks, Sept. 4.
Fountain Theatre: Outdoor stage.  5060 Fountain Ave., Los Angeles. (323/663-1525)  www.fountaintheatre.com    If I Forget by  Tony Award winning playwright Steven Levenson (Dear Evan Hansen) a powerful, funny and complex tale that explores the lasting impact of the Holocaust on a Jewish family at the beginning of the 21st century.  Back by popular demand, extended to Oct. 28-Dec. 18.
Fremont Centre Theatre:  1000 Fremont Ave., South Pasadena http://youngstarstheatre.org/tickets
Geffen Playhouse: 10886 Le Conte Ave., Los Angeles  310/208-2028 www.geffenplayhouse.org  The theatre announced six productions that will make up the 2022-2023 season including  Matthew Lopez's Tony award winning The Inheritance to Katori Hall's The Mountaintop.
Getty Villa Outdoor Classical Theatre: 17985 Pacific Coast Hwy, Pacific Palisades  www.getty.edu  The Deaf West Theatre debuts with a fresh take on Sophocles's Oedipus, featuring a bilingual production in American Sign Language and spoken English. In this visually rich and innovative re-imagining of Sophocles's classic play, Oedipus unfolds as a murder mystery, a political thriller and a psychological whodunit.   Throughout the fabled story of patricide and family complexities, King Oedipus is confronted not only with legacy and destiny but also culture and language.  This re imagined production will  center American Sign Language and incorporate present day technology, bringing new artistic facets to a classic piece of Greek literature.  Sept. 7-Oct. 1 with previews Sept. 1-3.  Tickets available online or by calling 310/440-7300.
Greystone Estate and Gardens:  905  Loma Dr., Beverly Hills (310/364-3606) http://theatre40.org
Greenway Court Theatre: 544  N. Fairfax Ave., Los Angeles (323/673- 0544)  bit.ly/NightMusic2022
Hollywood Bowl: www.hollywoodbowl.com The Los Angeles Philharmonic Association 2022 summer season  begins its second century.  Internationally renowned pianist Lang Lang draws on iconic melodies from the magical world of Walt Disney in newly re-imagined versions written especially for him, Sept. 15.    Popular scheduled dates include: The Roots, Gregory Porter, Tower of Power, Terri Lyne Carrington, Femi Kuti, Cory Wong, Christian Scott, Tunde Adjuah, Jose James, Gerald Clayton, Azar Lawrence, Gordon Goodwin and more. including , Movie Night Sept. 4 and Sing A Long Sound of Music, Sept. 17.
Hudson Guild Theatre: 6539 Santa Monica Bl., Hollywood www.deathdefyingescape.com
Huntington Beach Library Theater: 711 Talbert Ave., Huntington Beach  (888/264-1788)  www:playhouseinfo.com  The Secret Comedy of Women celebrates the joys of the journey from girlhood to womanhood.  An immersive theatrical experience that rejoices in the challenges of being a woman — from boys to bras to menopause — this two-woman show explores the universal female experience through comedy, songs, dances, stories and moments of discovery that all women share.  Sept. 14-Oct. 16.
International City Theatre:  330 East Seaside Way, Long Beach (562/436-4610)  www.internationalcitytheatre.org    Valley Song is hope-filled coming of age story by South African master playwright  Athol Fugard.  This poignant and hope-filled coming of age story transcends politics focusing on a young girl seeking the courage to embrace the future while her grandfather searches for the wisdom to let go of the past.  Aug. 24-Sept. 11.
James Bridges Theatre: UCLA campus,Los Angeles Theatre Works (LATW) (323/538-3142) Boxoffice@latw.org    
Jerry Moss Plaza:  Los Angeles Music Center, 135 N. Grand Ave., downtown Los Angeles (213/972-0711)  www.musiccenter.org  Summer SoundWaves presents some of L.A.s most popular Latin music artists for three concerts perfect for the whole family: La Marisoul y Son California and Jackie Mendez, July 9; Arturo O'Farrill and the Afro Latin Jazz Ensemble featuring Telmary, July 30; Janney Marin, better known as Chiquis, Aug. 20. Free concert for all Angelenos headlined by Grammy and Latin Grammy winning band Ozomatli, Sept. 3, 8:00 p.m.
Kirk Douglas Theatre: 9820 Washington Bl. Culver City (213/628-2772) www.centertheatregroup.com    L.A Writers Workshop Festival with an all-women cohort of 10 writers taking place over two weekends, Sept. 9-11 and 16-18.
A 2022 Pulitzer Finalist, Kristin Wong, returns from February 12 to March 12, 2023 in a co-production with East West Players in Kristina Wong, Sweatshop Overlord.
---
LA Theater Works: www.latw.org
Laguna Playhouse: 606606 Laguna Canyon Dr., Laguna Beach (949/497-27870) www.lagunaplayhouse.com   lagunaplayhouse.com or 949/497-2787.
La Jolla Playhouse: 2910 La Jolla Village Dr., La Jolla (858/550-1010)  www.LaJollaPlayhouse.org  www.secondcity.com   2.
Loft Ensemble: 11031 Camarillo St., North Hollywood, (818/452-3153) www.loftensemble.org   
 Long Beach Performing Arts Center – International City Theatre  & Terrace Theatre: 300 East Ocean Bl., Long Beach  (562/436-4610)  www.internationalcitytheatre.org 

Los Angeles Theatre Center:  514 Spring St., Los Angeles (213/489-74020)  http://therobeytheatrecompany.org    Queer actor/theatermaker/poet Jesus I. Valles takes audiences on a lyrical journey in (Un)Documents.  Oct. 14- Nov. 20.  The Robey Theatre Company presents the world premiere of Man's Favor Devil's Plan.  Los Angeles, 1938…Mr. Avery's Hotel, a microcosm of a nation that has been steep in a vicious hypocritical quagmire so pervasive that it's become a reflection of the consciousness of a country.   The owner is a victim of his own diabolical abuse and in denial of the consequences.  Oct. 22-Nov. 5.
James Bridges Theatre: UCLA campus, 235 Charles E. Young Dr. E.,   Los Angeles Theatre Works (LATW) (323/538-3142) Boxoffice@latw.org     
Mark Taper Forum: Los Angeles Music Center, 135 N. Grand Ave., downtown Los Angeles (213/628-2772) www.taperahmanson.com
Saturday Night Live star Cecily Strong will perform Jane Wagner's one-woman show The Search for Signs of Intelligent Life in the Universe.  Interweaving the seemingly disparate lives of a punk rock rebel, a socialite, a feminist and a deceptively insightful observer, among many others, the Drama Desk winning Unique Theatrical Experience this show earned Lily Tomlin a Tony Award for Best actress in a Play.  Sept. 21-Oct. 23.
Upcoming : Broadway hit, Clyde's by Pulitzer Prize winning playwright Lynn Nottage and director Kate Whoriskey, Nov. 15- Dec. 18. Cecily Strong in The Search for Signs of Intelligence in the Universe,  A Transparent Musical and Fake It Until You Make It.   Three decades after its 1993 World premiere at the Taper, Anna Deavere  Smith's "Twilight: Los Angeles, 1992" returns to L.A. as part of Center Theatre Group's 2022-2023 season.  Originally performed solo by Smith, the show has been re-imagined for a cast of five performers.  The show offers us another opportunity to reflect on what is still required to meet our  Commitments to Change that were devised and agreed to as a response to the 1992 protests. Also: The Search for Signs of Intelligent Life in the Universe, Clyde's, A Transparent Musical and Fake It Until You Make It.
---
Matrix Theater:  7657 Melrose Ave., Los Angeles www.brownpapertickets.com/event/5219775 
Microsolft Theatre: 777 Chick Hearn Court, Los Angeles (213/763-6030) www.microsofttheater.com   Check their website for information on upcoming events.
Morgan Wixson Theatre: 2627 Pico Bl., Santa Monica (310/828-7519) www.morganwixson.org,     Andrew Lippa's  The Wild Party takes audiences on a non-stop emotional journey to the fraught and seemingly fantastic 1920s.  Sizzling jazz, emotional anthems and contemporary music combine to pull audiences into a world of careless, conflicted characters pushed to their limits.  Sept. 17-Oct. 9.
Musco Center for the Arts:  Chapman University, 415 North Glassell, Orange (844/626-8726)   www.muscocenter.org    Film Coco with the Chapman Orchestra, Sept. 30; George Takei, actor, author and activist, Nov.2; Dakha Brakha, direct from Ukraine, Oct. 5 Naturallly, a band without a band, Sept. 29.
Odyssey Theatre:  2055 S. Sepulveda Bl., West Los Angeles (310/477-2055) odysseytheatre.com   A Day in the Death of Joe Egg, named one of the 100 Most Significant Plays of the Twentieth Century by Britain's National Theatre, this is a highly theatrical, very funny but ultimately devastating tragic comedy.  Married couple use irreverent humor as a way to cope with the daily struggle of caring for their 10 year old, severely brain damaged daughter whom they affectionately nicknamed Joe Egg.  The result is an immensely moving and profound play about love and marriage.  Oct. 5-Nov. 21.  Richard Eyre's stunning new adaptation of Ghosts by Henrik Ibsen, illuminating his masterpiece seen as scandalous when it was first performed in 1892.  A widow tries to start her life anew after the death of her philandering husband.  She must confront the ghosts of the past and the weight of her own secrets. She is determined that her son will not follow in his father's footsteps but when he returns from France she discovers she must be too late.  Sept. 8-Oct. 23.
………………………………………………………………………………..
Ophelia's Jump Productions:  2009 Porterfield Way, Suite H, Upland  http://opheliasjump.org (909/734-6565). 

Pacific Amphitheatre: OC Fair & Event Center, Costa Mesa, ocfair.com.
Pasadena City Hall Centennial Square: (626/793-7172) PasadenaSymphony.Pops.org  Centennial Square, 100 N. Garfield Ave., Pasadena   Moonlight Sonata Gala, an evening of enchantment and romance kicking off with an elegant courtyard reception followed by a lux dinner, live auction and program filled with music and dancing under a starry night sky.  Sept. 24..
Renberg Theatre: 1125 N. McCadden Place,Hollywood (323/860-7300) www.lalgbtcenter.org/theatre
Royce Hall:  UCLA campus, 10745 Dickson Court, Westwood (310/825-2101)  www.cap.ucla.edu   Upcoming:  600 Highwaymen presents A Thousand Ways (Part Three): An Assembly.  The story brings together an audience of 16 strangers to construct a uniquely intimate theatrical experience.  Using a shared script, it traces how we consider one another individually and collectively after so much time apart.  Oct. 1-2, 22-23; NEA Jazz Master, Grammy Award winner and Tony Award nominee Branford Marsalis and his acclaimed quartet take the stage.  He is one of the most influential and revered figures in contemporary music, and is equally at home performing concertos with symphony orchestras or sitting in with members of the Grateful Dead, but the core of his musical universe remains the Branford Marsalis Quartet celebrated for their original compositions as well as their uncompromising interpretations of jazz standards and popular classics.  Oct 16.; Multiple Grammy -award winning Antonio Sanchez & Bad Hombre  and collaborators, Nov. 3;   Tigran Hamasyan, one of the most distinctive pianists of his generation Nov. 12; Bill T. Jones/Arnie Zane Company presents What Problem? exploring the tension between belonging to a community and the isolation that many feel during divisive political times.  Nov. 19; Cellist Seth Parker Woods presents Difficult Grace, a collaboration between Woods and choreographer   , in a multimedia tour de force, Dec. 4 (Glorya Kaufman Dance Theater)  Israel MGalvan & Nino de Eiche, perform perform Mellisa Doble, a blending of passion and technique, Jan. 21 2023; Cecile McLorin Salvant, three time Grammy award winner is a composer, singer and visual artist who unearths the connections between vaudeville, blues, global folk traditions, theater, jazz and baroque music. Jan. 26.  MVF Band, moving across genres the quartet is known for cross-pollinating folk idioms with progressive arrangements and original compositions, Feb. 23.
Santa Monica Playhouse:  1211 4th St., Santa Monica (310/394-9779 ext 1) theatre@santamonicaplayhouse.com The 7th annual Binge Free Festival offers three weeks of free shows beginning October 15 includes Finding My Light, Oct. 15; Schmaltzy and Princie: Diary of a Not So Great Daddy's Girl, Oct. 20; (Im)Perfekt, Oct. 21; Women of Shakespeare, Oct 22; Salvaje!, Oct. 22; How to Live Like a Millionaire When You are a Million Short, Oct. 23; Pain In My Asperger's, Oct. 23; Truth Be Told, Oct 25;  Fly Me To…L.A – A BFF International Selection Oct. 27, 28, 29; Parentified — A BFF Premiere Event,  Oct. 28; Imagination Nation Super Station, Oct. 29; Being Richard Greene, Oct. 29; Forest of Love, Oct. 30; A Halloween Surprise, Oct.31; Tales of Modern Motherhood, Nov. 1; Conversation 'Bout the Girls, Nov. 3; Chemo Barbie – My Lady Bits' Journey Through Cancer, Nov. 4; MATTY: An Evening with Christy Matthewson, Nov. 5th  & 6th; Inner Freedom – A Writing Workshop, Nov. 6; tHis Is Very IMPORTANT, Nov. 6.
……………………………………………………………………………………………..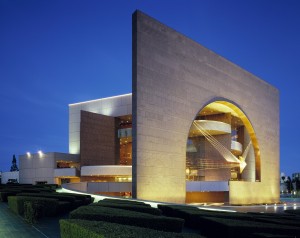 Segerstrom Center for the Arts: 600 Town Center Drive, Costa Mesa, www.SCFTA.org  (714/556-2787)
Nine Broadway shows are scheduled beginning in September 2022 including: Hamilton, the story of America then, told by America now.  Features a score that blends hip-hop, jazz, R&B and Broadway.  Hamilton has taken the story of American founding father Alexander Hamilton and created a revolutionary moment in theatre,  Sept. 28-Oct. 16.
Bernadette Peters will dazzle audiences in the Segerstrom Concert Hall Sept. 29l.    Upcoming:   Moulin Rouge! The Musical, Harper Lee's To Kill a Mockingbird, Disney's Frozen, Hairspray, SIX, and Tina — The Tina Turner Musical. Additionally, the return of classics featured in the Curtain Call series include: Chicago and The Book of Mormon. 
"""""""""""""""""""""""""""""""""""""""""""""""""""""""""""""""
Skylight Theatre:  1816 1/2 N. Vermont Ave., Los Angeles (213/761-7061) www.BoxOffice@SkylightTix.com  
The Soraya: 18111 Nordhoff St., Northridge  (818/677-3000) www.thesoraya.org

---
Theatre 40: Reuben Cordova Theatre, 241 S. Moreno Dr., Beverly Hills  (310/364-0535) www.theatre40.org   Bonus time… featuring the World Premiere of A Clean Brush by Norm Foster, who has been called "the Neil Simon of Canada."  The story of two house painters, Dick and Mello, who land a job painting a room in the basement of a recently widowed woman's home. The house painters think this is just another job until a nosy neighbor stops by and plants doubts in the painter's minds as to what really happened to the widow's clumsy spouse. Thursday, Fridays and Saturdays at 7:30 p.m. & Sundays at 2:00 p.m., Sept.22-Oct.23. In Basement Folly, a couple ponders what to do when they discover that an unknown person is living in their basement. This unique couple have to decide what to do.  Lots of "what ifs?" are discussed. Monday, Tuesday & Wednesdays at 8:00 & Sundays at 7:00 p.m.  Oct. 3-26.
Theatre 40 Appreciation Seminars on Monday nights at 7:00 p.m. The series of rehearsed play readings will be presented on Zoom wit the exception of the final play in the series.  A Christmas Truce will be presented on stage at Theatre 40 on Nov. 7.   To access the Zoom link go to https//theatre40.org click on "On Stage" and then on "Theatre 40 Monday Night Seminars." Admission is free but donations gratefully accepted.
Upcoming:  In Basement Folly, a couple ponders what to do when they discover that an unknown person is living in their basement. This unique couple have to decide what to do.  Lots of "what ifs?" are discussed. Oct. 3-26.  Guess Who's Coming to Dinner? concerns a progressive white couple's proud liberal sensibilities which are put to the test when their daughter brings her black fiance home to meet them in this relevant stage adaptation of the iconic film.  Nov. 17-Dec. 18.
—————————————————————————–
Theatre West:  3333 Cahuenga Bl. West, Los Angeles (818/761-2203)  www.theatrewest.org   Westfest 2022 presents two full weekends of shows, a different presentation each week, to introduce new audiences and the old to the richly varied work of the city's longest running, continuously operating professional company.  Performances are Fridays, Saturdays and Sundays,, Oct. 7-16.
The Other Space @ Actors Company:  916 -A N. Formosa Ave., West Hollywood https://onstage411.com/ayano  Premiere of Ayano, the story of a woman who came to Los Angeles from Japan with a dream that she shared with many young women who come here from around the world…the dream of becoming a successful actress in Hollywood. With her charm and delicate beauty, she embodied a fantasy that many Western men project onto Asian women, that of an object of desire.  She starts off with a bang, gets married and just five years later everything has turned upside down. Can they pull through these times of intense challenge?  July 8-Aug. 7.
The Pico: 10508 W. Pico Bl., Los Angeles  http://onstage411.com/ganesh 

Thousand Oaks Civic Arts Plaza Kavli Theatre: 2100 Thousand Oaks Boulevard,  Thousand Oaks (800/745-3000) www.startheatricals.com 
Two Roads Theater:  4348  Tujunga Ave., Studio City http://divorcebrownpapertickets.com  The world premiere comedy A Funny Thing Happened to the Way to Divorce features three couples, each intent of getting divorced, find themselves sharing the same meeting room waiting for the same divorce mediator.  While waiting they share their stories of love that went wrong.  Their tales are by turns hilarious and heartbreaking.  What will happen when the mediator arrives?  July 9-Sept. 11.
UCLA Little Theater:  Macgowan Hall 245 Charles E. Young Drive, Los Angeles http://www/tft.ucla.edu/facilities/little-theater 
Wallis Annenberg Center for the Performing Arts (The Wallis): 9390 N. Santa Monica Bl., Beverly Hills (310/746-4000)  www.thewallis.org
Partnering with Writers Bloc, An Evening with Anthony Doerr,  Sept. 29. Invincible: The Musical featuring songs of Pat Benetar and Neil Giraldo. This is a re imagining of the timeless story of Shakespeare's Romeo and Juliet for the 21st century through an intricate weaving of the four time Grammy Award winners and 2022 Rock& Roll Hall of Fame inductees legendary catalog and inspired new songs.  This new musical explores how love and equality battle for survival in times of great  transformation and imagines peace in a divided world.  Opens Nov. 22.  Upcoming: Ballet Hispanico, Broadway aficionado Stephanie J. Block with Seth Rudetsky, Shanghai Sonatas, My Lord What a Night, Havana Nights featuring the Mambo Kings and more.
---
Walt Disney Concert Hall: 151 S. Grand Ave., Los Angeles (213/972-7288) www.wdch.com  Tristan und Isolde is an immense operatic poem by Richard Wagner, a tale of love and death.  Peter Sellars will direct the performances and Gustavo Dudamel will conduct the Los Angeles Philharmonic. The opera will be presented in its entirety  in two cycles of three performances each Dec. 9-11 and Dec. 15-17.                                   The Frank Gehry designed home to the Los Angeles Philharmonic embodies the unique energy and creative spirit of both the City of Angels and its world-class orchestra under the direction of  maestro Gustavo Dudamel and features the works of the world's musical greats featuring Classical, World Music, Jazz, Songbook and the Master Chorale.   The season features programs that reflect on the profundity of our cultural moments by examining themes of life, death and transcendence in music. Throughout the season Dudamel conducts a dozen wide-ranging programs.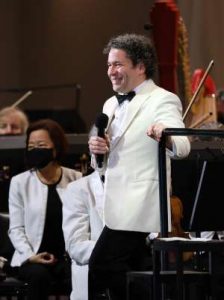 This season Dudamel will conduct 10 programs including opening the season with an evening of John Williams music for films, concerts that are part of the Pan American Music Initiative, world premieres of work Ellen Reid and Gabriella Smith, Mahler's Symphony No. 1 paired with Oritz, a 10-day Rachmaninoff marathon featuring Yuja Wang playing all four piano concertos and the Rhapsody on a Theme of Paganini, holiday performances of The Nutcracker, a concert hall presentation of Wagner's Tristan un Isolde and a Mozart program featuring Mitsujko Uchida. Recently added: Cafe Tacvba Un Segundo, Concierto Acustico, Oct. 21-22.          Above photo: Gustavo Dudamel

---
Wende Museum: 10808 Culver Bl., Culver City  info@wendemuseum.org    Returning for its third season, Music at the Wende is a free concert series in which esteemed musical organizations present programs inspired by the Wende's collection. Programs will take place the first Friday of the month through June. All concerts are free.  RSVPs open four weeks prior to each event.  Limit 2 tickets per RSVP.
Whitefire Theatre:  13500 Ventura Bl., Sherman Oaks   www.whitefire.stagey.net/projects7577 

Will Geer's Theatricum Botanicum: 1419 N. Topanga Canyon Blvd, Topanga (310/455–3723)  www.theatricum.com   Academy Award winning writer Ernest Thompson has deconstructed his script for The West Side Waltz in the world premiere of his new revised music and heart filled comedy set during the tumultuous '80s. The West Side Waltz features Theatricum artistic director Ellen Geer, her sister Melora Marshall and daughter Willow Geer who take on the roles of an aging concert pianist, her violin playing spinster neighbor and would be actress on New York's Upper West Side.  June 25-Oct. 1. Trouble the Water, was inspired by the little known larger than life true story of Robert Smalls, the first African American hero of the Civil War.  July 9-October 2.  Bring a picnic dinner to enjoy before the outdoor show.
Theatricum's Under the Oaks salon series presents four musical evenings under the stars on Thursdays in September at 8:00 p.m.
Zephyr Theatre:  7456 Melrose Ave., Los Angeles onstage411.com/tables The Skeptic's Guide to the Afterlife, offering answers to the questions one may have about life and death.  Once you've seen the show, you will certainly feel less apprehensive about what lies ahead.  June 4, 19 & 21.