---
Ahmanson Theatre: Los Angeles Music Center, 135 N. Grand Ave., downtown Los  Angeles (213/628-2777) www.taperahmanson.com  The Golden Anniversary season continues five decades of extraordinary theatre bursting with award wining new plays, musicals, beloved classics.  The world premiere of Soft Power, a contemporary comedy, explodes into a musical fantasia in the first collaboration between two of America's great theatre artists David Henry Hwang and Jeanine Tesori.  Soft Power rewinds our recent political history and plays it back through a Chinese lens; a future, beloved East-meets-West musical.  May 3-June 10.
Free teen youth summit, Re-imagine Your American Dream, including performance of Soft Power at the Music Center Annex and Ahmanson Theatre, May 4, 4:30-10:30 pm.   The summit explores how much cultural influence teens have on the American Dream.  The event includes a talk with playwright David Henry Hwang, dinner and three workshops.
Upcoming:  Ain't Too Proud — The Life and Times of The Temptations features an iconic score made up of the Temptations'  legendary songs.  This new musical follows The Temptations extraordinary journey from the streets of Detroit to the Rock & Roll Hall of Fame. A tale of friendship and betrayal amid the civil unrest that tore America apart, their moving and personal story still resonates five decades later.  Aug. 21-Sept. 30.  Multi award winning  Dear Evan Hansen, a personal  and contemporary musical about life and the way we live, Oct. 17-Nov. 25. Come From Away takes the audience into the heart of the remarkable true story of 7,000 stranded passengers and the small town in Newfoundland that welcomed them, on 9/11 when the world stopped, Nov. 28-Jan. 6, 2019.
---
Ambassador Auditorium:  131 south St. John Ave., Pasadena (626/793-7172) www.pasadenasymphony-pops.org
A Noise Within:  3352 East Foothill Bl., Pasadena (626/356-3100) www.anoisewithin.org Presenting William Shakespeare's Henry V, streamlining the story into a dynamic a thrill ride infused with modern relevance.  The play concerns going to war and the propulsive energy that leads us to conflict.  It provides an in-depth look at the politics of war and our thirst for conflict.  Feb. 4-April 6. Upcoming: The hilarious Noises Off, pays tribute to the art of theatre-making itself as chaos reigns onstage and off.  Michael Frayn's joyfully out of control British farce features an under-rehearsed and over-worked cast and crew with an penchant for drama more personal than professional, readying themselves for the world premiere of a new play.  April 21-May 20.
Atwater Village Theatre: 3269 Casitas Ave., Atwater Village (323/882-6912) www.openfirst.org .  Forever Bound concerns a rare book dealers desperate scheme to avoid bankruptcy which goes shockingly awry in this darkly funny literary thriller with a surprise twist, May 11-June 16.   Forever Bound.. Are We All Savages? A rare book dealer's desperate scheme to avoid bankruptcy goes shockingly awry in this darkly funny literary thriller with a surprise twist.  May 9-June 11.  IAMA Theatre Company presents Cult of Love, a black comedy that explores the sin of pride through one family's feverish clash over who is right and who is crazy. The Dahl family, raised as strict Christians and overachievers, gather at Christmas.  Their initially joyful reunion quickly reveals an American family riddled with competition, xenophobia and mental illness, May 18-June 24.
Barnum Hall:  Santa Monica High School, 600 Olympic Bl., Santa Monica  www.smsymphony.org/concerts Santa Monica Symphony Orchestra free concerts:  73rd Season Spring Concert, March 24 and Memorial Weekend Concert, May 27.
Beverly O'Neil Theatre: 300 E. Ocean Bl.,  Long Beach (562/470-7464) www.longbeachopera.org 

Bob Baker Marionette Theater: 1345 W. 1st Street, Los Angeles (213/250-9995) www.bobbakermarionettes.com Marionettes from all over the globe entertain in an in-the-round performance of waltzing rag dolls and madcap musical instruments, also special holiday shows.  Tuesdays thru Fridays 10:30 AM, Saturdays and Sundays 2:30 PM.  Presenting Hooray L.A. along with a series of evening programs celebrating the hidden histories of Los Angeles.
Bootleg Theater:  2220  Beverly Bl., Los Angeles (213/389-3856) www.bootlegtheater.org  At The Willows funeral home, Mark is being groomed to take over the family business in The Willows.  But an unexpected reunion with the one that got away could derail those carefully laid plans in this moving new play about family, loss and love.  April 12-May 5.  Antigone, or We Are Rebels Asking For The Storm opens May 12.
Brand Park:  1601 W Mountain Ave., Glendale www.deanproductionstheatre.com  The Importance of Being Earnest is the most popular of the comedies written by Oscar Wilde (1854-1900).  Set, for this particular production, in 1920s London, England, it has been celebrated on several counts for its satirical dissection of English mores, hypocrisy and class snobbery, for its crisp, witty banter.  FREE. This is an outdoor presentation.  Audience is encouraged to bring lawn chairs or blankets.  Picnickers and families are welcome.  Free parking is available.  Reservations are required.  Donations are accepted.  April 13, 14, 18, 19, 20, 21, 26, 27, 28.
Broad Stage: 1310 11th St., Santa Monica (310/434-3200) www.thebroadstage.com    Bedlam, the acclaimed New York based theatre company, takes a fresh look at two plays with four actors playing 49 characters in Shakespeare and Shaw's most famous creations, side by side, Hamlet and Saint Joan in repertory, April 5-15.  Dance Theater of Harlem presents Brahms Variations, April 20-21.

 Cabrillo Music Theatre: Thousand Oaks Civic Arts Plaza, 2100 Thousand Oaks Bl., Thousand Oaks (805/449-2787)  www.cabrillomusictheatre.com 

Celebration Theatre @Lex Theatre: 6760 Lexington Ave., Los Angeles (323/957-1884) www.celebrationtheatre.com  Cabaret opens May.
Chromolume Theatre at the Attic: 5429 W. Washington Bl., Los Angeles (323/205-1617)  www.crtheatre.com   Upcoming:  Jane Eyre, based on Charlotte Bronte's classic novel, the romantic tale of secrets and lies that secrets create, July 13-Aug. 5.  Passion, a one act musical the plot concerns a young soldier and the changes in him brought about by his obsessive love of his Colonel's ailing cousin, Nov. 2-25.
Chance Theatre:  5522 E La Palma Ave., Anaheim (888/455-4212)  www.ChanceTheater.com    Good People, a dramatic comedy, finds a struggling single mother coming to terms with the reality that her South Boston neighborhood offers the same lack of opportunity it always has.   The play explores the struggles, shifting loyalties and unshakable hope that comes with having next to nothing in America.  April 20-May 20.  Elevada, May 4-June 3; Big Fish, June 29-July 29; The Other Place, Sept. 22-Oct. 22;
Colony Theatre: 555 N. Third St., Burbank (855/448-7469) www.Playhouseinfo.com   My Son the Waiter: A Jewish Tragedy  stars actor/comedian Brad Zimmerman in his autobiographical solo show, one part standup, one part theatrical and all parts uproarious,  April 19-June 10.
————————————————————————————-
Davidson/Valentini Theatre: LGBT Center, 1125 N. McCadden Place, Hollywood (323/860-7300) www.lalgbtcenter.org/theatre E
Doheny Mansion:  Pompeian Room, 10 Chester Place, Los Angeles (213/477-2929)  www.DaCamera.org    Check website for concerts in this splendid setting.
Dorothy Chandler Pavilion: Los Angeles Music Center, 135 North Grand Ave., Los Angeles.
Eclectic Company Theatre:  5312 Laurel Canyon Bl., Valley Village (818/508-3003)  www.eclecticcompanytheatre.org    Shakespeare Salons held the last Tuesday of every month. Participants perform their favorite Shakespearean piece or alternatively, a piece inspired by Shakespeare.  Shakespearean monologues, scenes, poems, songs, remembrances and personal interpretations of all kinds are welcome.  To perform, fill out the form on the Eclectic Company Theatre website.
Edgemar Center for the Arts: 2437 Main St., Santa Monica,(310/392-7327) www.edgemarcenter,org    It's the first Yahrtzeit (anniversary of the death) of family patriarch Manny Schwartz.  The clan has gathered for dinner prior for the unveiling of the deceased's tombstone scheduled for the following day. The Schwartzes are not producing heirs to carry on the family name it seems.  Will traditional Jewish ritual draw the family together or will a web of secrets and deceptions be indicative that the world has seen The Last Schwartz ? May 19-July 1.
Fountain Theatre:  5060 Fountain Ave., Los Angeles (323/663-1525)  www.fountaintheatre.com   A silent father, an ancient tradition and an unexpectedly important game of baseball forge bonds of lifelong friendship between two Jewish boys from "five blocks away and a world apart" in Aaron Posner's award winning adaption of Chaim Potok's award winning novel The Chosen, a funny, poignant, timely.  Thru May 7.
Garry Marshall Theatre: 4252 W. Riverside Dr., Burbank, 4252 W. Riverside Drive, Burbank (818/955-8101) www.GarryMarshallTheatre.org A delightful re-imagining of The Adventures of Pinocchio.  The cricket is killed, a blue poltergeist haunts us all, the legendary Dogfish monster preys on our greatest fears and a little wooden puppet struggles to discover what it means to be real.  Wood Boy Dog Fish is a visual feast that combines masks, physical performance, special effects and illusions.  May 12-June 24.
Geffen Playhouse & Audrey Skirball Theatre:  10886  Le Conte Ave., Westwood,  (310/208-5454)  www.geffenplayhouse.org    Significant Other follows a single young professional man with a close group of female friends who slowly drift away as they each get married while he searches for his own Mr. Right.  April 3-May 6. A single mother discovers that her 10 year ld daughter is a tennis phenom.  When a young dedicated coach takes Carlin under his wing, her meteoric rise takes shape and this threesome struggles over what is best when building up a champion in Our Very Own Carlin McCollough.
Getty Villa Theater: 17985 Pacific Coast Hwy, Pacific Palisades  (310/440-7300) http://www.getty.edu/museum/programs/performances/theater_lab.htmlmes   Chicago based performance artists, the Q Brothers explore madness, the soul, love and the art of discourse itself remixing Plato's Phaedrus in the form of a hip-hop mixtape in The Madness of Love Mixtape. Perhaps there is a way, through bridging the two brothers' respective musical styles, that we can find a way to bridge their world views, redefine some terms in the process and see eye to eye in the current climate that seems obsessed  with picking sides.  April 27-29.
Grove Theatre Center (GTC): 1100 West Clark Ave., Burbank.  (571/232-8894) www.blackbirdplay.com
Hudson Theatre: 6539 Santa Monica B., Hollywood (323/960-4443) https://dime.io/events/buzzworks-sex  Sex, a comedy written by the woman who knew the subject best, Mae West. This is the story of an entrepreneur who also is a prostitute and is the most successful sex worker in Montreal.   That city becomes too hot for her when a society matron attempts to frame her for a crime she did not commit. She skips town and acquires lovers along the way,  two of whom fall in love with her.  She has her arms full.  Sometimes sex is the answer.  Sometimes it's the question.    May 11-June 17.

James Bridges Theater: UCLA Campus, Melnitz  Hall, 235 Charles E. Young Drive,  Westwood (310/827-0889)  www.LATW.org  "The Play's the Thing" radio theater series.  Disgraced, Ayad Akhtar's controversial Pulitzer Prize and Obie Award-winning drama tells the story of a brilliant and successful Pakistani-American attorney who has turned his back on his childhood faith in order to thrive in America.  On the surface, he has it all but his charmed life turns tumultuous as guests ideals of culture, marriage, career and family collide.  April 19-22.  Upcoming:  The west coast premiere of Spill.  What is the true human and environmental cost of oil?  The powerful work goes beyond the headlines to tell vivid personal stories from all sides following the  explosion of the oil rig Deepwater Horizon in 2010. Spill explores the rich culture of Louisiana's Gulf Coast and the resilient nature of its inhabitants in the face of natural destruction and tragedy.  Features Jane Kaczmarek.  May 17-20.
Kavli Theatre: Thousand Oaks Civic Arts Plaza, 2100 Thousand Oaks Boulevard, Thousand Oaks (800/745-3000)
Kiki & David Gindler Performing Arts Center: 110 East Broadway, Glendale (818/506-1983) www.Antaeus.org 
Kirk Douglas Theatre: 9820 Washington Bl. Culver City (213/628-2772) www.centertheatregroup.com  Upcoming: Block Party remounts productions from Celebration Theatre's  Die, Mommie, Die!, May 10-20; Critical Mass Performance Group's Ameryka, April 19-29 and Playwrights' Arena's Bloodletting, March 29-April 8.
---
LA Arboretum: (626/793-7172) info@pasadenasymphony-pops.org Sierra Summer Pops Series features: That's Entertainment: Gershwin to Sondheim, June 23; Summer of Love: Michael Feinstein Sings the Hits of the  60s, July 21; Classical Mystery Tour: A Tribute to the Beatles, Aug. 4; Bernstein at 100, Aug. 17; Broadway at the Movies, Sept. 8.
Laguna Playhouse:  606 Laguna Canyon Rd., Laguna Beach (949/497-2787) ww.lagunaplayhouse.com     The world premiere of Nathan Gunn Flying Solo, written and directed by Hershey Felder.  America's leading baritone Nathan Gunn sings selections from classic American musicals, contemporary songs and a little bit of opera fun in his personal story. People magazine called him the Sexiest Man Alive.  April 4-22.  Explore the phenomenon of the legendary pop culture icon, Mae West, one of America's most enduring and controversial pop culture icons, in this sparkling romantic comedy with music about a guy, a gal, and their mutual admiration for one voluptuous blonde in Dirty Blonde, April 26-29
La Jolla Playhouse: 2910 La Jolla Village Dr., La Jolla (858/550-1010)  www.LaJollaPlayhouse.org  www.secondcity.com     World premieres upcoming:  Escape to Margaritaville, At the Old Place.
La Mirada Theatre: 14900 La Mirada Bl., La Mirada (562/944-9801) www.lamiradatheatre.com   Prepare yourself for some enchanted evening with Rodgers & Hammerstaihn's epic musical romance, South Pacific.  In addition to an extraordinary score it is also a deeply felt drama.  Its portrayal of Americans stationed in a foreign culture in wartime is as relevant today as when it  first    thrilled audiences in 1949.  April 20-May 13.
Leo S. Bing Theater: Los Angeles Museum of Art, 5905 Wilshire Bl., Los Angeles. (213/485-6873). Free chamber music series. Sundays at 4 p.m.
Lex Theatre: 6760 Lexington Ave., Hollywood (323/957-1884)  www.celebrationtheatre.com   Celebration Theatre presents the Los Angeles intimate theatre premiere of Priscilla Queen of the Desert The Musical.  Based on the Oscar-winning film, it is a hilarious, outrageous and fabulous musical road trip featuring some the most classic dance songs of all time.  Set in Australia, Priscilla follows three drag queens as they drive across the outback in a run down old bus searching for love and fulfillment and end up discovering what true friendship really means.   Extended thru May 6.
Long Beach Performing Arts Center – International City Theatre: 300 East Ocean Bl., Long Beach  (562/436-4610)  www.internationalcitytheatre.org    Against the backdrop of Uganda's civil war, the union of the daughter of an American missionary and a local teenage girl is disrupted by violence in Cardboard Piano. This haunting drama confronts the religious and cultural roots of intolerance as well as the human capacity for hatred, forgiveness and love.  May 2-20.

Los Angeles Theatre Center's Robey Theatre:  514 S. Spring St., Los Angeles ((213/489-7402) www.robeytheatrecompany.org   

Lounge Theatre: 6201 Santa Monica Bl., Hollywood (800/838-3006) www.iamatheatre.com   At a celebratory dinner the past intrudes upon the present, boundaries between public and private lives decay binging the darkest part of each family member into the light in The Intimacy Effect.  April 13-May 6.  

Magicopolis: Abracadabra Theatre, 1418 4th St., Santa Monica (310/451-2241). Fast paced, colorful, magic and illusion shows for the whole family in a theater setting. Ongoing.
---
Mark Taper Forum: Los Angeles Music Center, 135 N. Grand Ave., downtown Los Angeles (213/628-2772) www.taperahmanson.com  
————————————————————————————- McCadden Place Theatre: 1157 N. McCadden place, Los Angeles (800/838-3006)
Microsolft Theatre: 777 Chick Hearn Court, Los Angeles (213/763-6030) www.microsofttheater.com  The first ever U.S national tour of The Sistine Chapel Choir, the oldest choir in the world and the Pope's personal choir, July 23.   Check their website for information on upcoming events.
Morgan Wixson Theatre: 2627 Pico Bl., Santa Monica (310/828-7519) www.morganwixson.org      Little Women  follows the adventures of the March sisters — budding author Jo, practical Meg, sweet Beth and romantic Amy, who  are coming of age during the Civil War under the care of their doting mother.  A  touching tale of young love, achieving dreams and the power of family, this song filled adaptation is designed for the entire family, March 17-April 14.
Nate Holden Performing Arts Center: 4718 W Washington Bl, Los Angeles (323/964-9766) www.ebonyrep.org  
New Vic:  33 W Victoria St., Santa Barbara (805/965-5400) www.etcsb.org Ensemble Theatre Company in a co-production with the English Theatre Frankfurt, presents a witty and provocative new thriller, The Invisible Hand.
Odyssey Theatre:  2055 S. Sepulveda Bl., West Los Angeles (310/477-2055) www.OdysseyTheatre.com    Ferociously funny Bad Jews, a comedy about family, faith and legacy.  A beloved grandfather has died and a treasured family heirloom with religious significance is up for grabs — but who is the most deserving?  April 21-June 17.
Old Globe: 1363 Old Globe Way, Balboa Park, San Diego (619/23-GLOBE) www.TheOldGlobe.org  The  world premiere of Jose Cruz Gonzalez's American Mariachi, a heartwarming comedy with live music. A caretaker decides to form an all-girl mariachi band to break the monotony of her daily routine.  A heartwarming world premiere comedy about  family, progress and the freedom to dream big.  March 23-April 29. 

Pantages Theatre: 6233 Hollywood Bl., Hollywood (800/982-2787)  www.HollywoodPantages.com  

Pasadena Civic Auditorium:  300 East Green St., Pasadena (626/4549-7360) www.ticketmaster.com/PantoPasadena 
Pasadena Playhouse:  39 S. El Molino Ave., Pasadena  (626/356-7529) www.PasadenaPlayhouse.org  
Pico Playhouse:  105008 W. Pico Bl., Los Angeles (323/821-2449)  www.wcjt.org
Renberg Theatre: Los Angeles LGBT Center, 1125 N McCadden Place, Hollywood (323/860-7300)  www.lagbtcenter.org 

————————————————————————————-
Renee &  Henry Segerstrom Concert Hall and Samueli Theater: 600 Town Center Dr., Costa Mesa (714/740-2000 or 714/556-2787 or 714/755-5799) www.scfta.org or www.pacificsymphony.org  Home of Pacific  Symphony.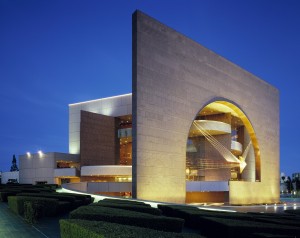 Free public tours of the center Wednesdays and Saturdays at 10:30 a.m. Telephone first.
———————————————————————————-
Road on Lankershim:  5108 Lankershim Bl., North Hollywood   (818/761-8838) www.RoadTheatre.org   A family deals in different ways with the recent tragedy concerning their daughter, a navy corpsman in the Iraq War. On Christmas Eve, unannounced, an Iraqi refugee arrives at their door.  As the family fights over whether or not to keep Nasser's "gift", tempers fly and secrets are revealed.  Through the Eye of a Needle, an intriguing family dramedy.  Thru May 26.

Road on Magnolia: 10747 Magnolia Bl., North Hollywood (818/761-8838) www.RoadTheatre.org  
Royce Hall:  UCLA campus, Westwood (310/825-2101) ww.cap.ucla.edu   Upcoming:  Joan Baez's Fare Thee Well...Tour 2018, Nov. 10.
Rubicon Theatre: 1006 E. Main St., Ventura (805/667-2900) The Baby Dance: Mixed is a compelling and urgent play about race, class and wanting the perfect child.  In the story an affluent mixed race couple in Los Angeles have everything except a baby. An African-American couple living in an overcrowded trailer in modern day Louisiana are too poor to keep their soon to be born child.  Through an adoption attorney the two couples broker a deal.  However, circumstances arise that affect their decision and the situation spins out of control.  May 5-20.
---
Saban Theatre:  8440 Wilshire Bl., Beverly Hills (866/448-7849)  www.souldoctorontour.com   One of the most charismatic figures from the Peace and Free-Love era is celebrated in the Broadway musical Soul Doctor which tells the story of the father of popular Jewish music, Shlomo Carlebach. A modern-day troubadour Carlebach ignites the spirit of millions with his soul-stirring melodies, engrossing storytelling and boundless love.  May 3-13.
Santa Monica Playhouse:  1211 4th St., Santa Monica (310/394-9779 ext. 1)  www.santamonicaplayhouse.org   Magic Monday returns for a summer full of magic.  Every Monday evening from May 7 -Sept. 3 will see a new and different lineup of world-class, award-winning magicians and outstanding variety acts hosted by Albie Selznick, Magic Castle member. www.MagicMondayLA.com
Second City Hollywood Studio Theatre:  Trump in Space, winner of
the 2017 Hollywood Fringe Festival Encore! Producer's Award returns Friday nights, Jan. 12-April 27, 2018.  A musical battle of good vs bad and ideals vs opportunism.  This original musical is an epic space adventure filled with all the sci-fi tropes we love and all the politics we love to hate.  Four hundred years in the future, the fallout of the Trump administration has left humans stranded without a planet.
Secret Rose Theatre:  11246 Magnolia Bl., North Hollywood (323/960-7784)
Skylight Theatre: 1816 1/2 N. Vermont Ave., Los Angeles (213/761-7061) www.skylighttheatrecompany.com    The Madres, set in  Buenos Aires, takes historical facts and weaves them into a climatic story.  Three generations of women in a single family face state terrorism and each other as they ask us all "What would you do? " Audiences have been seeking out the staff in Skylight Alley to talk about the actors, the writers and the music. Closes April 29.
South Coast Repertory: 655 Town Center Dr., Costa Mesa (714/708-5555) www.scr.org    SHREW!, a wickedly funny spin on the classic Shakespeare's battle of the sexes, The Taming of the Shrew, March 24-April 21. The world premiere of Little Black Shadows, a compelling testament of the power of the human spirit, set in pre-Civil War Georgia where child slaves spend long days on the plantation silently serving adolescent twins in the big plantation house, April 8-29.  Pacific Playwrights Festival, seven bold new plays over three days, April 20-22.  The Sisters Rosensweig, Wendy Wassertein's witty, award-winning comedy, set in the early 1990s, is centered on three sisters, each extraordinary in her own way.  …a successful banker, a globe-trotting journalist and an irrepressible radio host.  This smart, funny and enthralling play looks at the quest for love, acceptance and self-fulfillment, May 5-June12
Staples Center: 1111 S. Figueroa, Los Angeles (213/ 742-7100) www.staplescenter.com/events   Check website for all upcoming sports events, concerts and special events.
Stella Adler Theatre: 6773 Hollywood Bl., 2nd floor, Hollywood (805/496-2982) www.corbinkush.eventbrite.com
The Actors Company at The Other Space:  916A N. Formosa Ave., West Hollywood (323/960-7712) www.Plays411.com/radiant 
The Autry: Griffith Park, 4700 Western Heritage Way (323/667-2000) www.TheAutry.org  Native Voices at the Autry is the only Equity theatre company devoted exclusively to developing  and producing new works for the stage by Native American, Alaska Native and First Nations playwrights.
The Blue Door: 9617 Venice Bl., Culver City www.creoutreach.org/lostinthelight  The Inaugural production of this unique theatre company, Lost in the Light challenges  conventional expectations about the capabilities of individuals who live without sight, who struggle with movement or who have difficulties understanding the complexities of social interactions. The play centers on a blind headstrong student who has always taken her sighted family's hyper-vigilance in stride alongside their overwhelming  love and support. At the dawn of her budding journalism career she learns about a rare opportunity to gain her vision through an experimental surgery.  Along with her family, she grapples with the conflicting notions of seeing for the very first time or continuing to live in darkness. What will happen if she gains her vision but then finds herself lost in the light. April 13-May 12.
The Braid:  2912 Colorado Ave., #102, Santa Monica (310/315-1400)  www.jewishwomenstheatre.org
---
 Theatre 40: Reuben Cordova Theatre, Beverly Hills High school campus,
241 S. Moreno Drive, Beverly Hills (310/364-0535) www.theatre40.org England, 1897….  Charlotte Payne-Townshend, wealthy Irish Heiress, meets George Bernard Shaw, the financially challenged but famous Irish playwright and political activist in the hilarious Engaging Shaw.  But there is Beatrice Webb, another woman with strong feelings for Shaw.  Which one will get her man.  March 15-April 15. Upcoming:  Lost & Found: A Guilt Trip Through Show Business, which played to a capacity audience in January, returns for a series of four Sunday night performances beginning May 20th.  It's the show business memoir of Steven Shaw.  Not to be missed….Tom Dugan returns as Wiesenthal, a Holocaust survivor and the world's most renowned hunter of Nazi war criminals.  In this play Wiesenthal is about  to retire and recounts for an audience the stories of his most famous cases of bringing wrongdoers to justice.  May 22-June 13. Upcoming:  Mr. Pim Passes By, a delightful comedy about what happens when Mr. Pim, who has much trouble with names, drops in one day and announces that the former husband of the lady of the house, thought to be deceased, is alive.  Since the lady is married now, she is a bigamist.  Confusion continues but the lady uses it to get what she wants. May 17-June 17.
---
Theatre of Note:  1517 N. Cahuenga Bl., Hollywood.  (323/856-8611) www.theatreofnote.com  For The Love Of (or, the roller derby play) asks how much you are willing to sacrifice — or lose — to follow your heart features an all-female cast and all female design team.   April 24-May 26.
Theatre West: 3333 Cahuenga B., West, Los Angeles (323/851-7977) www.theatrewest.org  Storybook Theatre's award-winning musical The Ugly Duckling,  thru April 28.
Theatricum Botanicum:  1419 Topanga Canyon Bl., (310/455-3723) www.theatricum.com  Celebrate Mother's Day with the 20th annual MOMentum Place, an uncommon afternoon of dance and performance delights especially for mothers,  A fantastic world of aerial and circus performers, dancers and musicians in this rustic outdoor amphitheater.   For an extra treat, enjoy a scrumptious brunch in the rustic gardens before the performance or bring your own picnic.  May 20th.
Thousand Oaks Civic Arts Plaza Kavli Theatre: 2100 Thousand Oaks Boulevard,  Thousand Oaks (800/745-3000) www.5startheatricals.com  The Hunchback of Notre Dame, based on Victor Hugo's classic novel, with dramatic spectacle and songs that soar with music by Alan Menken and lyrics by Stephen Schwartz.  The show is based on the Walt Disney Animation Studios film of the same name. April 20-29.  Upcoming:  Beauty and the Beast,
Twenty Fourth (24th) Street Theatre: 1117 West 24th St., Los Angeles (213/745-6516) www.24thstreet.org  World premiere of ICE, a bilingual, , humorous musical journey in search of what it means to be "American."  Two men arrive in the U.S with big dreams but no documents. April 7-June 30.

Ventura Music Festival: (805/648-3146) www.venturamusicfestival.org  Various venues across the city with top tier music for two weekends of multi-genre music, dance performances and world-class culture.  Includes American Gypsy Jazz, Pink Martini, Trio Celeste, Perla Ratalia and Malashock Dance, and more, weekends, July 12-22.
Wallis Annenberg Center for the Performing Arts (The Wallis): 9390 N. Santa Monica Bl., Beverly Hills (310/746-4000)  www.thewallis.org   Two time Tony Award winner Chita Rivera performs alongside Sirius XM Radio host Seth Rudetsky as pianist and host.  A dynamic evening of hilarity and show stopping songs one night only, May 10.  L.A. Dance Project, April 5-7: Acclaimed South African choreographer Dada Masilo's  reinterpretation of Giselle,  April 12-14; 185 Wilshire: A Love Story, an original musical following the lives of young adults with disabilities as they navigate finding and falling in love, learning to trust and establishing independence..  The musical tells the universal story about how a journey to find companionship often leads us to find our true selves,  May 31-June 3.  Body Traffic, May 31-June 2. Eugene O'Neill's Long Days Journey Into Night starring Jeremy Irons and Lesley Manville, June 8-July 1.
---
Walt Disney Concert Hall: 151 S. Grand Ave., Los Angeles (213/972-7288) www.wdch.com The Frank Gehry designed home to the Los Angeles Philharmonic embodies the unique energy and creative spirit of both the City of Angels and its world-class orchestra under the direction of  maestro Gustavo Dudamel and features the works of the world's musical greats featuring Classical, World Music, Jazz, Songbook and the Master Chorale. The Philharmonic is also committed to the presentation of music of our time as well as offering its exhilarating Green Umbrella concerts which presents the Los Angeles Philharmonic New Music Group devoted exclusively to compositions on the cutting edge of the repertoire and attract leading composers and performers of contemporary music. Chamber music is another integral part of this world-class orchestra's repertoire.
The Cal Phil presents Maestro Victor Vener conducting Made in America, June 24; Phantom Meets Puccini, July 8; Symphonic Dances, July 29; Beethoven Celebrates Bernstein's 100th Birthday, Aug. 12; John Williams Greets Our Orchestra, Aug. 19.
Los Angeles Master Chorale presents Reid & Riley, May 13; Brahms Requiem, June 9. 

Guided and self-guided tours of the concert hall are available to the public (213/972-4399).
---
Wells Fargo Theatre:  Autry Museum of the American West, 4700 Western Heritage Way, Los Angeles (323/667-2000)  www.NativeVoicesattheAutry.org    Native Voices at the Autry continues its vital role as the country's only equity theatre company dedicated exclusively to developing the work of Native American playwrights.
Whitfire Theatre: 13500 Ventura Bl., Sherman Oaks (800/838-3006)  www.brownpapertickets.com   Threat, a powerful and a timely look at the psychology behind gun violence and what can or can't be done to stop it. Threat is a story of a psychotherapist who tries to control a bipolar, brilliant and dangerous maniac in order to save innocent lives but finally is forced to make a bold choice between honoring her oath and protecting others.  It asks the question of whether a psychotherapist treating a troubled student could have prevented the carnage we have seen time and time again at schools across America.  Full of suspense and catharsis, Threat is a tense exploration of narcissism, risk and self-realization.  March 29-May 4.