---
Ahmanson Theatre: Los Angeles Music Center, 135 N. Grand Ave., downtown Los Angeles (213/628-2777) www.taperahmanson.com  The Golden Anniversary season continues five decades of extraordinary theatre bursting with award wining new plays, musicals, beloved classics.  Multi award winning  Dear Evan Hansen, a personal  and contemporary musical about life and the way we live.  It is the winner of six 2017 Tony Awards including Best Musical with book by Steven Levenson and score by Grammy, Tony and Academy Award winners Benj Pasek & Justin Paul and direction by four time Tony award nominee Michael Greif. A digital lottery will begin accepting entries 48 hours prior to each performance and entries will be accepted until 9 a.m. local time the day before the performance.  Oct. 17-Nov. 25.
Upcoming:   Come From Away takes the audience into the heart of the remarkable true story of 7,000 stranded passengers and the small town in Newfoundland that welcomed them, on 9/11 when the world stopped, Nov. 28-Jan. 6, 2019.
---
A Noise Within:  3352 East Foothill Bl., Pasadena
(626/356-3100) www.anoisewithin.org The acclaimed classical repertory theatre presents A Christmas Carol, a time honored tale of forgiveness, Dec. 1-23. This season, this classical theatre will offer a Relaxed Performance of the show on Dec. 8 providing an inviting environment for those living the ASD, ADD and Disorders of Social Interaction and Communication.  All 2018-19 offerings feature characters who are outliers — people who have blazed their own trail but nevertheless struggle for acknowledgement and acceptance.  Let Me In is not about physical space but about the deeply human passion to be understood for who we are.  These include Othello, The Glass Menagerie and Argonautika.

Atwater Village Theatre: 3269 Casitas Ave., Atwater Village (323/882-6912) www.openfirst.org
Barnum Hall:  Santa Monica High School, 600 Olympic Bl., Santa Monica  www.smsymphony.org/concerts Santa Monica Symphony Orchestra free concerts:
Bob Baker Marionette Theater: 1345 W. 1st Street, Los Angeles (213/250-9995) www.bobbakermarionettes.com Marionettes from all over the globe entertain in an in-the-round performance of waltzing rag dolls and madcap musical instruments, also special holiday shows.  Tuesdays thru Fridays 10:30 AM, Saturdays and Sundays 2:30 PM.  Presenting Hooray L.A. along with a series of evening programs celebrating the hidden histories of Los Angeles.
Broad Stage: 1310 11th St., Santa Monica (310/434-3200) www.thebroadstage.com     All Is Calm: The Christmas Truce of 1914 recounts an astounding moment in history when Allied and German soldiers laid down their arms to celebrate Christmas together, sharing food and drink, playing soccer, singing carols and burying each others dead.  In some places along the Western Front the truce lasted a single night and in others it endured until New Years Day.  This dramatic re-telling weaves together firsthand accounts by 30 WWI soldiers with music including patriotic tunes, trench songs and Christmas carols.  Dec. 22.
 Cabrillo Music Theatre: Thousand Oaks Civic Arts Plaza, 2100 Thousand Oaks Bl., Thousand Oaks (805/449-2787)  www.cabrillomusictheatre.com 

Celebration Theatre @Lex Theatre: 6760 Lexington Ave., Los Angeles (323/957-1884) www.celebrationtheatre.com
Chromolume Theatre at the Attic: 5429 W. Washington Bl., Los Angeles (323/205-1617)  www.crtheatre.com
Chance Theatre:  5522 E La Palma Ave., Anaheim (888/455-4212)  www.ChanceTheater.com   Lizzie, The Musical, the bloody legend of American's axe-wielding double-murderess, Lizzie Borden, comes to the stage in a rock musical. Feb. 1-March 3.  Upcoming:  Skylight...on a bitterly cold London evening a schoolteacher receives an unexpected visit from her former lover whose wife recently died. As the evening progresses, the two attempt to rekindle their once passionate relationship only to find themselves locked in a dangerous battle of opposing ideologies and mutual desires, April 19-May 19. Tigers Be Still, this ferociously funny play centers around a woman who recently earned a degree in art therapy only to find herself moving back in with her family where she has plenty to deal with, May 3-June 2.
Colony Theatre: 555 N. Third St., Burbank (855/448-7469) www.Playhouseinfo.com 
—————————————————————————Davidson/Valentini Theatre: LGBT Center, 1125 N. McCadden Pl., Hollywood (323/860-7300).  www.lalgbtcenter.org/theatre. 
Doheny Mansion:  Pompeian Room, 10 Chester Place, Los Angeles (213/477-2929)  www.DaCamera.org    Check website for concerts in this splendid setting.
Dorothy Chandler Pavilion: Los Angeles Music Center, 135 North Grand Ave., Los Angeles.  The opera season, headed by Placido Domingo and conducted by James Conlon continues with  a revival of Hansel and Gretel.  This spooky adventure comes to life with 12-foot creatures, fantastical sets and elaborate special effects.  Diva extraordinaire Susan Graham stars as the uproariously wicked witch, Nov. 17-Dec. 15.  The company premiere of Mozart's La Clemenza de Tito (The Clemency of Titus), March 2-24, 2019.  A production of Penella's El Gato Montes: The Wildcat, March 27-May 4.  The final presentation is a revival of La Traviata June 1-22.
Eclectic Company Theatre:  5312 Laurel Canyon Bl., Valley Village (818/508-3003)  www.eclecticcompanytheatre.org    Shakespeare Salons held the last Tuesday of every month. Participants perform their favorite Shakespearean piece or alternatively, a piece inspired by Shakespeare.  Shakespearean monologues, scenes, poems, songs, remembrances and personal interpretations of all kinds are welcome.  To perform, fill out the form on the Eclectic Company Theatre website.
Edgemar Center for the Arts: 2437 Main St., Santa Monica,(310/392-7327) www.edgemarcenter,org
Fountain Theatre:  5060 Fountain Ave., Los Angeles (323/663-1525)  www.fountaintheatre.com    Two disabled characters and two caretakers make up the cast of Cost of Living, a gripping and surprisingly funny play, Oct. 20-Dec. 16.
Freud Playhouse: UCLA campus, Macgowan Hall, 245 Charles E. Young Dr., East, Westwood (866-811-4111) www.reprise2.org
Geffen Playhouse & Audrey Skirball Theatre:  10886  Le Conte Ave., Westwood,  (310/208-5454)  www.geffenplayhouse.org   In Charles Dickens's A Christmas Carol Tony Award winner Jefferson Mays brings new life to the greatest ghost story ever told.  While the heart of A Christmas Carol is evergreen, May's fresh perspective on the rest of the characters will create a wildly theatrical and original experience.  Oct 30-Dec. 2.
Greystone Mansion:  Greystone Park, 905 Loma Vista Drive, Beverly Hills       (310/364-3606) www.theatre-40.org  The Manor – Murder and Madness at Greystone returns.  The play now in its 17th year is a fictionalization based on real events with the actual historical characters given new names.  The show is presented in the grand and glorious architectural landmark in which the events of 89 years ago actually took place.  Audience members are led from room to room in the beautifully restored  Greystone Mansion as different scenes of the narrative are portrayed leading up to a shocking and apparent murder and suicide. January 10-27, 2019.
James Bridges Theater: UCLA Campus, Melnitz  Hall, 235 Charles E. Young Drive,  Westwood (310/827-0889)  www.LATW.org  "The Play's the Thing" radio theater series:  Upcoming: The Good Negro, Jan. 25-27, 2019; A Room With A View, March 1-3; Oslo, April 12-14; Die Mommie Die, May 17-19; Hedda Gabler, June 28-30.
Kiki & David Gindler Performing Arts Center: 110 East Broadway, Glendale (818/506-1983) www.Antaeus.org   An epic drama about a Southern family in crisis.  In a small Alabama town circa 1900, members of a decaying family battle society and one another for their continued place of prominence and authority amid changing times and the encroachment of outside forces in The Little Foxes, Oct. 25-Dec. 10.

Kirk Douglas Theatre: 9820 Washington Bl. Culver City (213/628-2772) www.centertheatregroup.com 
---
Laguna Playhouse: 606606 Laguna Canyon Dr., Laguna Beach (949/497-27870) www.lagunaplayhouse.comUpcoming: The modern version of the classic fairy tale, Beauty and the Beast: A Christmas Rose, offers an interactive experience where the audience is encouraged to cheer for Belle, boo for Gus and sing along with popular songs…a delight for children of all ages.  Dec. 5-30.
La Jolla Playhouse: 2910 La Jolla Village Dr., La Jolla (858/550-1010)  www.LaJollaPlayhouse.org  www.secondcity.com    World premieres upcoming:  Escape to Margaritaville, At the Old Place.
La Mirada Theatre: 14900 La Mirada Bl., La Mirada (562/944-9801) www.lamiradatheatre.com   
Lankershim Arts Center: 5108 Lankershim Bl., North Hollywood (323/944-2165) www.coeurage.org/slaughtercity  Coeurage Theatre Company, L.A's Pay What You Want theatre company.

LGBT Center's Renberg Theatre: 1125 N. McCadden Place, Hollywood (323/860-7300)  www.lalgbtcenter.org/theatre
Leo S. Bing Theater: Los Angeles Museum of Art, 5905 Wilshire Bl., Los Angeles. (213/485-6873). Free chamber music series. Sundays at 4 p.m.
Lex Theatre:(Celebration Theatre)  6760 Lexington Ave., Hollywood (323/957-1884)  www.celebrationtheatre.com  Courage Theatre Company, LA's Pay What You Want theatre company,  presents Vendetta Chrome in which Vendetta, a late bloomer at a Victorian girls' school must save her friends and family from a legacy of trouble — and its all in the dance moves, with spirited movement sequences which take on a female and non binary cast through the lightness and the darkness of today's feminist rage.  Nov. 23-Dec. 15.
Long Beach Performing Arts Center – International City Theatre  & Terrace Theatre: 300 East Ocean Bl., Long Beach  (562/436-4610)  www.internationalcitytheatre.org  The Long Beach Ballet presents The Nutcracker featuring special guest performances and additional treats the entire family will love, Dec. 15, 16, 21. 22. & 23.

Lounge Theatre: 6201 Santa Monica Bl., Hollywood (800/838-3006) www.iamatheatre.com
Magicopolis: Abracadabra Theatre, 1418 4th St., Santa Monica (310/451-2241). Fast paced, colorful, magic and illusion shows for the whole family in a theater setting. Ongoing.
---
Mark Taper Forum: Los Angeles Music Center, 135 N.
Grand Ave., downtown Los Angeles (213/628-2772) www.taperahmanson.com   The fight to maintain dignity, identity, family and faith are at the heart of this American story deeply rooted in the once-fertile farmland that is now known as the Silicon Valley.  Valley of the Heart tells the story of the Yamaguchis and the Montanos, two immigrant families struggling to provide a future for their American-born children after the Great Depression on the farmland the two families share. The families oldest children secretly fall in love only to have the emotional stakes further heightened when the attack on Pearl Harbor thrown these Mexican and Japanese American families into uncertainty.  Allegiances are tested, heroes are made and the two young lovers must find a way to stay loyal both to their families, their country and each other.  Oct. 30- Dec. 9.  Photo:  Lakin Valdez and Melanie Ari Mah in Valley of the Heart.  Photo: Craig Schwartz.
Center theatre group is offering free tickets for theatergoers 25 years old and younger.  They are available for the First Review of all Center Theatre Group Productions at the Mark Taper Forum and Kirk Douglas Theatre.  Tickets will be free at the box office.  There will be a $5 ticket handling fee required for phone or online reservations.
————————————————————————————-
Matrix Theatre:  7657 Melrose Ave., Los Angeles (323/960-4412) www.plays411.com/brooklyn 
McCadden Place Theatre: 1157 N. McCadden place, Los Angeles (800/838-3006)
Microsolft Theatre: 777 Chick Hearn Court, Los Angeles (213/763-6030) www.microsofttheater.com     Check their website for information on upcoming events.
Morgan Wixson Theatre: 2627 Pico Bl., Santa Monica (310/828-7519) www.morganwixson.org Youth musical 42nd Street celebrates Broadway, Times Square and all the people who make the magic of musical theatre. Performers are 9-18 years old from all over Los Angeles. Sold out last year. Nov. 10-Dec. 15.
Musco Center for the Arts:  Chapman University, 415 North Glassell, Orange (844/626-8726)   www.muscocenter.org  Upcoming: Violinist Sarah Chang, Nov. 18; Michael Feinstein Holiday Show, Dec. 14;  A Southern California Christmas, Dec. 16.
Nate Holden Performing Arts Center: 4718 W Washington Bl, Los Angeles (323/964-9766) www.ebonyrep.org  
New Vic:  33 W Victoria St., Santa Barbara (805/965-5400) www.etcsb.org     The Legend of Georgia McBride about an Elvis impersonator who inadvertently becomes a drag star, an uplifting music and dance filled comedy for the holidays (adult language),  Dec. 6-23. Upcoming: The American classic Pulitzer Prize and Tony Award winning play, Death of a Salesman, Feb. 7-Feb. 24, 2019. In Everything is Illuminated, a young Jewish-American writer, travels to Ukraine to seek out the woman who saved his grandfather from the Nazis. He hires a randy young Ukrainian tour guide who takes him on a hilarious road trip in search of the woman's village as they confront haunting memories along the way, April 11-28. A socially awkward young man asks his neighbor, a sidelined Broadway dancer, to teach him enough dance moves so he can survive an appearance at an awards dinner in Dancing Lessons, a touching romantic comedy, June 13-30.
Odyssey Theatre:  2055 S. Sepulveda Bl., West Los Angeles (310/477-2055) www.OdysseyTheatre.com
Pantages Theatre: 6233 Hollywood Bl., Hollywood (800/982-2787)  www.HollywoodPantages.com  

Pasadena Civic Auditorium: 300 E. Green St., Pasadena, (626/449-7362)  www.thepasadenacivic.com  The Wonderful Wizard of Oz, a holiday version of America's favorite modern fairy tale in the style of a traditional British Family Panto, Dec. 15-30.
Pasadena Playhouse:  39 S. El Molino Ave., Pasadena  (626/356-7529) www.PasadenaPlayhouse.org   It's A Wonderful Life: A Live Radio Play, Dec. 12-23; Bob Baker's Nutcracker features over 100 handcrafted puppets to take the entire family on an adventure through the wizardry of strings and into the enchanted world of the fantastic,  at the Carrie Hamilton Theatre, Nov. 24-Dec. 31.  Ragtime: The Musical by Terrence McNally tells the story of three families at the turn of the 20th century in pursuit of the American dream.  The award-winning score uses ragtime rhythms to paint a portrait of the people who built this country with the hopes for a brighter tomorrow.  Feb. 5-March 3, 2019.
Pico Playhouse:  105008 W. Pico Bl., Los Angeles (323/821-2449)  www.wcjt.org   
Renberg Theatre: 1125 N. McCadden Place,  Hollywood(323/860-7300)  www.lalgbtcenter.org/theatre 
—————————————————————————
Renee &  Henry Segerstrom Concert Hall and Samueli Theater: 600 Town Center Dr., Costa Mesa (714/740-2000 or 714/556-2787 or 714/755-5799) www.scfta.org or www.pacificsymphony.org  Home of Pacific  Symphony.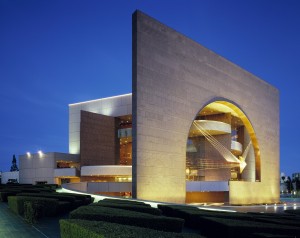 Free public tours of the center Wednesdays and Saturdays at 10:30 a.m. Telephone first.
———————————————————————————-
Road on Lankershim:  5108 Lankershim Bl., North Hollywood   (818/761-8838) www.RoadTheatre.org   Death House, a startling piece of theatre that explores justice, redemption and the power of human connection. On the night of a death-house chaplain must hand over the reigns to the confident young pastor set to replace him, the men encounter an enigmatic inmate who challenges their convictions and changes their lives forever,  January 2019; At the Table is a comedy that begs the question: what happens when those with privilege are pushed to the periphery and a marginalized minority suddenly finds its voice amplified?  May 2019.

Road on Magnolia: 10747 Magnolia Bl., North Hollywood (818/761-8838) www.RoadTheatre.org  Friends with Guns asks can instant kinship between two liberal married couples survive a closet full of guns, March 2019.

Royce Hall:  UCLA campus, Westwood (310/825-2101) ww.cap.ucla.edu    Banjo royalty Bela Fleck and Abigail Washburn, Dec. 6.Upcoming:  Viet Thanh Nguyen & Luis Alberto Urrea in Conversation, Jan. 17, 2019; Jesmyn Ward & Mitchell Jackson in Conversation, Feb. 7.
Rubicon Theatre: 1006 E. Main St., Ventura (805/667-2900) www.rubicontheatre.org  Two piano version of Rodgers and Hammerstein's soaring epic South Pacific.  The musical is set on an exotic island during World War II and follows two love stories about seeming opposites brought together by the circumstances of war and torn apart by prejudice and fear, Dec. 5-23. The Broadway Concert Series offers an opportunity for audiences to enjoy the talents and personal stories and insights of some of the best and brightest concert and cabaret stars of the West End, Broadway and the West Coast.  Red Hot Mama: The Sophie Tucker Songbook starring Sharon McNight, Jan. 19-20, 2019. Two talented married couples perform Side by Side, a newly conceived concert about the trials, tribulations and joys of friendship, love and marriage expressed in solos, duets and quartets, March 2-3. Lady Macbeth Sings the Blues starring Amanda McBroom, a potpourri of favorite songs from various productions, June 8-9.
---
Saban Theatre:  8440 Wilshire Bl., Beverly Hills (866/448-7849)  www.souldoctorontour.com  
Santa Monica Playhouse:  1211 4th St., Santa Monica (310/394-9779 ext. 1)  www.santamonicaplayhouse.org      Three couples from different generations meet and find they have way too much in common in The Marriage Zone.  The comedy explores the dynamics of the relationships between men and women, with lots of love and laughs,  Sept. 15-Nov. 17.  BINGE FREE FESTIVAL, a full month of free performances, workshops, readings, music and poetry.  Advance reservations required, Oct. 15-Nov. 12.
Skylight Theatre: 1816 1/2 N. Vermont Ave., Los Angeles (213/761-7061) www.skylighttheatrecompany.com  

Skylight Theater: 1816 N. Vermont Ave., Hollywood  Just in time for Halloween, in Bride of Blood King Solomon confronts Asmodeus, The Demon of Wrath, while investigating a mystic puzzle.  Opens Oct 18.
South Coast Repertory: 655 Town Center Dr., Costa Mesa (714/708-5555) www.scr.org   A Christmas Carol...19th century London comes to life when your family joins the SCR family for the holidays.  Recapture the spirit of an old fashioned Christmas with this timeless Dickens classic and all your favorite characters.  Nov. 24-Dec. 24.
Staples Center: 1111 S. Figueroa, Los Angeles (213/ 742-7100) www.staplescenter.com/events  The wonderful Stevie Wonder returns for his 22nd Annual House Full of Toys Benefit Concert, Dec. 9.  The show will benefit children, people with disabilities and families in need.  Concertgoers are asked to bring an unwrapped toy or gift of joy.  Check website for all additional upcoming sports events, concerts and special events.
Stella Adler Theatre: 6773 Hollywood Bl., 2nd floor, Hollywood (805/496-2982) www.corbinkush.eventbrite.com
The 11:11: 1107 Kings Rd., West Hollywood (323/378-6969)  www. FamousThePlay.com
The Actors Company at The Other Space:  916A N. Formosa Ave., West Hollywood (323/960-7712)  www.hff18.org/5180
The Autry: Griffith Park, 4700 Western Heritage Way (323/667-2000) www.TheAutry.org The 8th annual short play festival presents Food! featuring seven short plays by Native American Playwrights, Nov. 11.  Native Voices at the Autry is the only Equity theatre company devoted exclusively to developing  and producing new works for the stage by Native American, Alaska Native and First Nations playwrights.
The Blue Door:  9617  Venice Bl., Culver City (310/425-8215) www.creoutreach.org The Boys Next Door, a comedy-drama centering on a caring social worker who supervises four disabled men living together in an apartment while learning to face their daily challenges together.   We are reminded that the handicapped, like the rest of us, want only to love and laugh and find some meaning and purpose in the time they are allotted on this earth.  The show explores friendship, love and loss in ways universal to all of us and provides CRE Outreach the opportunity to produce a published work and cast it from within three of its Theatre Arts as Therapy programs.   Oct. 12-Nov. 10.
The Complex Hollywood: The Flight Theatre, 6476 Santa Monica Bl, Los Angeles www.thebigeventlive.com  Three shows in rep, loosely connected and focus on major moments in U.S. political history: Sunny Afternoon, King Dick and meantime at Hojo's, deal poignantly with the aftermath of the Kennedy assassination, a chance encounter between Elvis and President Nixon and the Watergate break-in respectively.   The plays examine seminal moments in our not too distant past and their eerie similarities to today's political landscape. The Big Event on Sundays will feature all three shows performed back to back to back. Oct. 19-Nov. 18
The Pico:  10508 W. Pico Bl., Los Angeles (800/838-3006)  18MinutesOfFame.brownpapertickets.com If you like show business stories with great musical number and insider anecdotes about the giants of the biz, this show is for you…. 18 Minutes of Fame: A Musical Journey with Barbara Minkus.  This show is a revamp and reboot of I'm Not Famous before heading to its opening off-Broadway in New York at The Triad in November. Oct. 14 and 21.
The Road on Magnolia: 10747 Magnolia Bl., North Hollywood (818-761-8838) www.roadtheatre.org   What happens to a human after being abused, forgotten, and living in a cage for years?  Follow six souls who spend the day singing, sleeping and wrestling their past with the present.  how to trust, how to love and be loved and how to finally feel free in  The Rescued, Sept. 21- Nov. 11.
The Soraya:  18111 Nordhoff St., Northridge  (818/677-3000) www.thesoraya@csun.edu  The Phantom of the Opera comes to life onstage with Richard Kaufman conducting the New West Symphony paired with the 1925 horror classic The Phantom of the Opera on screen, Nov. 3;   Los Angeles Chamber Orchestra, Nov. 16; Direct from Buenos Aires, Tangueros del Sur, Nov. 17;  Canadian Brass, Dec. 11.
---
Theatre 40: Reuben Cordova Theatre, Beverly Hills High school campus,241 S. Moreno Drive, Beverly Hills (310/364-0535) www.theatre40.org   William Inge's classic comedy, Bus  Stop, is filled with sentimental characters  and a slow but pleasant slice of life story-line.  About 25 miles west of Kansas City, a freak snowstorm has halted the progress of a bus and travelers have a late night, weather-enforced layover in a local diner where romantic or quasi-romantic relationships ensue, Nov. 15-Dec. 16. Down to My Last Egg, a comedic take about a woman who hears her last egg screaming to be fertilized, Nov. 18, 19, 25 & 26.
Upcoming: It Is Done, a haunting, moody, critically acclaimed thriller, Jan. 17-Feb. 17, 2019. The Sound of Murder includes an illicit affair and a plan for murder, March 14-April 14.  A Bad Year for Tomatoes, an uproarious comedy about the best laid plans, May 16-June 16.
---
Theatre of Note:  1517 N. Cahuenga Bl., Hollywood.  (323/856-8611) www.theatreofnote.com  www.theatrewest.org  The world premiere of Cleo, Theo & Wu. Lucy is a modern Angeleno gal trying to be her best self. Careening through time and place Cleo, Theo & Wu take her on a heroine's journey with the remarkable women who were so much more than the power hungry, sex-obsessed obstacles that history books would have you believe. Oct. 26- Dec. 8. Upcoming:  Special is the  World Premiere comedy that commemorates the 40th Anniversary of the worst variety show in TV history with a behind the scenes imagined look of how The Star Wars Holiday Special came to be.  Dec. 13-Jan. 13, 2019.
……………………………………………………………………………………………….
Thousand Oaks Civic Arts Plaza Kavli Theatre: 2100 Thousand Oaks Boulevard,  Thousand Oaks (800/745-3000) www.5startheatricals.com 
Wallis Annenberg Center for the Performing Arts (The Wallis): 9390 N. Santa Monica Bl., Beverly Hills (310/746-4000)  www.thewallis.org     Third Coast Hubbard Street Dance Chicago & Third Percussion, Jan. 10-12, 2019; Love, Actually, an expanded, multi-media theatrical celebration of the soundtrack to Love Actually, the beloved holiday rom-com performed by an eclectic mix of artists, Dec. 4-31;  An Inspector Calls, award winning mystery from the National Theatre of Great Britain's Landmark production, Jan. 22-Feb. 10;  Witness Uganda, a documentary musical, Feb. 5-24; Ate9 Dance Company, Feb. 15-16, 2019; The Old Man and the Old Moon, a new musical folktale, March 2-17. Iyamoto is Black Enough, a contemporary band performs a riveting piece of the mixed race winner of Miss Universe Japan 2015; March 14-15; Music at the Wallis includes  Los Angeles Master Chorale's presents Judy Collins in A Love Letter to Stephen Sondheim, March 22, 2019. Malpaso Dance Company, Cuba's hottest contemporary dance company, March 28-30.  Hershey Felder returns with A Paris Love Story, featuring Jacob Jonas The Company, mixes  contemporary ballet, breakdance and acrobatic movement, an intimate studio show comprised entirely of world premiere works, May 10-11, 2019; the music of Claude Debussy,  May 24-June 9.
---
Walt Disney Concert Hall: 151 S. Grand Ave., Los Angeles (213/972-7288) www.wdch.com The Frank Gehry designed home to the Los Angeles Philharmonic embodies the unique energy and creative spirit of both the City of Angels and its world-class orchestra under the direction of  maestro Gustavo Dudamel and features the works of the world's musical greats featuring Classical, World Music, Jazz, Songbook and the Master Chorale. The Philharmonic is also committed to the presentation of music of our time as well as offering its exhilarating Green Umbrella concerts which presents the Los Angeles Philharmonic New Music Group devoted exclusively to compositions on the cutting edge of the repertoire and attract leading composers and performers of contemporary music. Chamber music is another integral part of this world-class orchestra's repertoire.
Guided and self-guided tours of the concert hall are available to the public (213/972-4399).
---
Wells Fargo Theatre:  Autry Museum of the American West, 4700 Western Heritage Way, Los Angeles (323/667-2000)  www.NativeVoicesattheAutry.org    Native Voices at the Autry continues its vital role as the country's only equity theatre company dedicated exclusively to developing the work of Native American playwrights.
Wende Museum of the Cold War:10808 Culver Bl., Culver City  info@wendemuseum.org   Free concerts but RSVP at their website.
Whitfire Theatre: 13500 Ventura Bl., Sherman Oaks (800/838-3006)  www.brownpapertickets.com   Forever Brooklyn, a solo musical comedy about a young man growing up in Brooklyn in the 1950s who emerges in the 1960s as Mel King, The King of Brooklyn entertaining his family and friends by telling jokes and stories and as it turns out he actually has a flair for performing and ultimately is booked for an appearance on The Tonight Show, Jan. 5-Feb. 9, 2019. 

Zepher Theatre: 7456  Melrose Ave., Los Angeles  www.blackonemanshow.brownpapertickets.com