---
Josh Grisetti and Rob McClure with the cast of Something  Rotten!                                                                                                                                                                          Photo: Jeremy Daniel
Ahmanson Theatre: Los Angeles Music Center, 135 N. Grand Ave., downtown Los  Angeles (213/628-2777) www.taperahmanson.com  The Golden Anniversary season continues five decades of extraordinary theatre bursting with award wining new plays, musicals, beloved classics.  Something Rotten, a hilarious new musical comedy tells the story of  brothers Nick and Nigel, two playwrights stuck in the shadow of that Renaissance rockstar Will Shakespeare.   When a soothsayer foretells the next big thing in theatre involves singing , dancing and acting at the same time, the brothers set out to write the world's first musical.  With the most singing, the most dancing and the most gut-busting laughs on Broadway, it's something wonderful for everyone. Nov. 21-Dec. 31.
---
Ambassador Auditorium:  131 south St. John Ave., Pasadena (626/793-7172) www.pasadenasymphony-pops.org  Pasadena Symphony
Atwater Village Theatre: 3269 Casitas Ave., Atwater Village (323/882-6912) www.openfirst.org   Open Fist revives the hilarious production of  the Shakespeare musical deLEARious where tragedy meets hilarity and King Lear gets a happy ending in a madcap musical romp, Nov. 3-Dec. 16.  Independent Shakespeare Co presents Letters From Home examining Kalean Ung's examination of her own life through the stories her father, an acclaimed composer, told her of arriving in America in the 1960s as a young music student and his subsequent quest to rescue family members, Nov. 10, 11, 17 & 18. First Look Festival presents staged readings of five new plays, Oct. 17-Dec. 6. A Christmas Carol With Charles Dickens, a solo performance by David Melville as Charles Dickens playing nearly every character in the story,  Dec. 7-23. The One Day Plays...six plays are conceived, written, rehearsed and performed for a live audience within a 24 hour period Feb. 11, 2018. IAMA theatre company presents The Seven Deadly Plays with readings of six plays all produced and premiered over the past decade from Leslye Headland's viciously funny seven play cycle exploring ancient sins in the context of contemporary culture, March 10-25.  World premiere of An Undivided Heart, part thriller and part spiritual mystery.  How far will powerful men and institutions go to keep their secrets and who pays for price when they do, March 17-April 22, 2018.
Barnum Hall:  Santa Monica High School, 600 Olympic Bl., Santa Monica  www.smsymphony.org/concerts Santa Monica Symphony Orchestra free concerts: 73rd season premiere features the music of Lyadov, Prokofiev and Shostakovich, Oct. 22, Winter Holiday concert, Dec. 3;  Martin Luther King Weekend Concert (held at SGI Auditorium, 525 Wilshire Bl., Santa Monica), Jan. 13, 2018; 73rd Season Spring Concert, March 24 and Memorial Weekend Concert, May 27.

Bob Baker Marionette Theater: 1345 W. 1st Street, Los Angeles (213/250-9995) www.bobbakermarionettes.com Marionettes from all over the globe entertain in an in-the-round performance of waltzing rag dolls and madcap musical instruments, also special holiday shows.  Tuesdays thru Fridays 10:30 AM, Saturdays and Sundays 2:30 PM.  Presenting Hooray L.A. along with a series of evening programs celebrating the hidden histories of Los Angeles.
Broad Stage: 1310 11th St., Santa Monica (310/434-3200) www.thebroadstage.com     In the overwhelming quiet of the woods, six runaways from city life embark on a silent retreat.  As these strangers confront internal demons both profound and absurd, their vows of silence collide with the achingly human need to connect.  Filled with awkward and insightful humor Small Mouth Sounds is a unique and compassionate new play that asks how we address life's biggest questions when words fail us.   Jan. 11-28, 2018. Celebrity Opera series:  Jonas Kaufmann, tenor, Jan. 15; Elina Garanca, mezzo-soprano, March 3; Angela Gheorghiu & Vittorio Grigolo, May 1.

 Cabrillo Music Theatre: Thousand Oaks Civic Arts Plaza, 2100 Thousand Oaks Bl., Thousand Oaks (805/449-2787)  www.cabrillomusictheatre.com 

Cathedral of Our Lady of the Angels: 555W. Temple St., Los Angeles (866-811-4111) www.thelatc.org/ The 15th annual La Virgen de Guadalupe, Dios Inantzin, a Los Angeles holiday tradition starring renowned opera singer Suzanna Guzman as the Virgin and featuring more than 109 actors, singers and indigenous Aztec dancers as well as children and seniors from the community. The story of Juan Diego, a simple peasant to whom the Virgin Mary appeared on four occasions in 1531.  Adapted for the stage from the mid-16th century text . Performed in Spanish with English subtitles.  Free but reservations are necessary.
Celebration Theatre @Lex Theatre: 6760 Lexington Ave., Los Angeles (323/957-1884) www.celebrationtheatre.com   Upcoming:  Priscilla Queen of the Desert, opens February 2018; Cabaret opens May 2018.
Chromolume Theatre at the Attic: 5429 W. Washington Bl., Los Angeles (323/205-1617)  www.crtheatre.com  Stephen Sondheim's Pacific Overtures, set in 1853, follows the difficult Westernization of Japan told from the point of view of the Japanese.  The story focuses on the lives of two friends caught in the change. The score is considered to be one of Sondheim's most ambitious and sophisticated efforts.  Dec. 1-17.
Chance Theatre:  5522 E La Palma Ave., Anaheim (888/455-4212)  www.ChanceTheater.com  The 14th annual production of the irreverent, raunchy and pitch-black dark holiday satire…The Eight Reindeer Monologues including lots of bad language, inappropriate behavior and adult themes, Dec. 8-23.  Based on the popular children's book, The Secret Garden follows the story of Mary, a young British girl born and raised in colonial India.  When the 11-year-old parents die, she is sent to Yorkshire to live with a reclusive uncle, his invalid son and a host of ghosts, spirits and lost souls inhabiting Mary's new home.  With the help of the spirits, Mary and a young gardener uncover the mystery of the manor's magical garden, bringing life to the neglected estate as Mary's own personality blossoms alongside the flowers.  Filled with amazing music, elegant choreography and a heartwarming story of forgiveness and renewal… a holiday musical for all ages Nov. 24-Dec. 23.
Colony Theatre: 555 N. Third St., Burbank (855/448-7469) ww.Playhouseinfo.com     Donna Mills is featured in Driving Miss Daisy which takes place in the 1940s though 1970s at the height of the Civil Rights movement.  The play delicately explores racial tensions when a warm friendship evolves between an elderly Jewish woman and her black chauffeur.  It won the 1988 Pulitzer Prize for Drama.  Nov. 2-Dec. 10.
——————————————————————————————
Davidson/Valentini Theatre: LGBT Center, 1125 N. McCadden Place, Hollywood (323/860-7300) www.lalgbtcenter.org/theatre E
Doheny Mansion:  Pompeian Room, 10 Chester Place, Los Angeles (213/477-2929)  www.DaCamera.org    Check website for concerts in this splendid setting.
Dorothy Chandler Pavilion: Los Angeles Music Center, 135 North Grand Ave., Los Angeles. musiccenter.org/holidaycelebration  58th Annual L.A. County Celebration,  a free three hour extravaganza celebrates the season with choirs, music ensembles and dance companies from the many neighborhoods and cultures of Los Angeles.  Dec. 24 from 3-6pm.
Eclectic Company Theatre:  5312 Laurel Canyon Bl., Valley Village (818/508-3003)  www.eclecticcompanytheatre.org    Shakespeare Salons held the last Tuesday of every month. Participants perform their favorite Shakespearean piece or alternatively, a piece inspired by Shakespeare.  Shakespearean monologues, scenes, poems, songs, remembrances and personal interpretations of all kinds are welcome.  To perform, fill out the form on the Eclectic Company Theatre website.
Edgemar Center for the Arts: 2437 Main St., Santa Monica,(310/392-7327) www.edgemarcenter,org    
Electric Lodge: 1416 Electric Ave., Venice (818/760-0408) www.lawtf.org
Fountain Theatre:  5060 Fountain Ave., Los Angeles (323/663-1525)  www.fountaintheatre.com   A silent father, an ancient tradition and an unexpectedly important game of baseball forge bonds of lifelong friendship between two Jewish boys from "five blocks away and a world apart" in Aaron Posner's award winning adaption of Chaim Potok's award winning novel The Chosen, a funny, poignant, timely and timeless father and son story about recognition and acceptance of "the other."  Jan. 20-March 4, 2018.
Geffen Playhouse & Audrey Skirball Theatre:  10886  Le Conte Ave., Westwood,  (310/208-5454)  www.geffenplayhouse.org      A celebration of life, love and the human spirit , A Piece of My Mind takes the audience on Eric Barr's journey from near death to recovery and reinvention, Dec. 16.  At once humorous and heartrending, Ironbound spans 22 years to tell the story of a Polish immigrant getting by on a cleaning job, aggressive pragmatism and sheer will. In this wry drama playwright Martyna Majok points out that sometimes survival is the only measure of success.  Jan. 3-March 4, 2018.
Greenway Court Theatre: 544 N. Fairfax Ave., Los Angeles (323/944-2165) www.greenwaycourtheatre.org/emilie  
Greystone Mansion: 905 Loma Vista Drive, Beverly Hills (310/364-3606) www.theatre40.org  The Manor, a fictionalization based on a true story of murder and madness in the Greystone Mansion with the actual historical characters given new names..  Guests follow actors though The Manor and witness the true events inside this spectacular landmark where they actually took place.   A unique evening of entertainment back for a record 16th sell-out year. Jan. 11-Feb. 4, 2018.
Grove Theatre Center (GTC): 1100 West Clark Ave., Burbank.  (571/232-8894) www.blackbirdplay.com
Hudson Theatre: 6539 Santa Monica B., Hollywood (323/960-4443) www.2centstheatre.com  
James Bridges Theater: UCLA Campus, Melnitz  Hall, 235 Charles E. Young Drive,  Westwood (310/827-0889)  www.LATW.org  "The Play's the Thing" radio theater series. The Goodbye Girl, Neil Simon's romantic comedy, Jan. 25-28, 2018; World premiere of Daniel Derond, a stage adaptation of George Elliot's novel, March 15-18.
Kavli Theatre: Thousand Oaks Civic Arts Plaza, 2100 Thousand Oaks Boulevard, Thousand Oaks (800/745-3000) www.5startheatricals.com
Kiki & David Gindler Performing Arts Center: 110 East Broadway, Glendale (818/506-1983) www.Antaeus.org  Les Liaisons Dangereuses, set among the decadent ruling class of pre-revolutionary France, this Olivier Award-winning play is a seductive and unsettling tale of sec and revenge in an all too recognizable world where love is a blood sport, played for glory and malice and men have all — almost all — the power.  Oct. 19-Dec. 10.  The Hothouse, a wild, impudent and blistering funny look at a government run mental institution in which the wardens may be madder than the inmates, Jan. 25-March 11, 2018.
Kirk Douglas Theatre: 9820 Washington Bl. Culver City (213/628-2772) www.centertheatregroup.com  Spamilton celebrates and satirizes the Broadway blockbuster with its versatile cast of five. On the first four Fridays, Nov. 17, 24 and Dec. 1 and 8, the post show karaoke will focus on Hamilton but also offer an array of other Broadway classics.  Snacks will be provided and there is a cash bar.  Admission is free to ticket holders only.  Nov. 5-Jan. 7, 2018.
——————————————————————————-
Laguna Playhouse:  606 Laguna Canyon Rd., Laguna Beach (949/497-2787) ww.lagunaplayhouse.com     Aladdin and His Winter Wish, a Lythgoe Family Panto holiday event.  An updated version of the classic Arabian Nights tale, in the style of a traditional British family Panto, this is a singing, swinging and soaring adventure that features family friendly magic with a comedic twist, dancing and contemporary music that appeals to everyone from ages 2-102.  Dec. 8-31. Bring in the New Year with Comedienne Rita Rudner: Laugh, Drink and Leave, Dec. 31.  Upcoming:  I Am My Own Wife starring John Tufts,  a remarkable piece of theatre and a true story.  Not long after the fall of the Berlin Wall playwright Doug Wright began a conversation with Charlotte von Mahisdorf, an elegant 65 year old German transvestite who, against all odds, navigated a path between the Nazi's and East German Secret Police — in a pair of high heels.  Wright uses more than 30 characters — all played by a single actor– to piece together Charlotte's controversial life.  A profound story of survival and inspiration, Jan. 10-28, 2018.
La Jolla Playhouse: 2910 La Jolla Village Dr., La Jolla (858/550-1010)  www.LaJollaPlayhouse.org  www.secondcity.com     Donna Summer Project extended through Dec. 24.   World premieres upcoming:  Escape to Margaritaville, At the Old Place.
—————————————————————————-
La Mirada Theatre: 14900 La Mirada Bl., La Mirada (562/944-9801) www.lamiradatheatre.com   A thrilling and up to date production of a classic show that is now more relevant than ever.  Sexy, melodic and unforgettable Cabaret, Jan. 19-Feb. 11, 2018.
Leo S. Bing Theater: Los Angeles Museum of Art, 5905 Wilshire Bl., Los Angeles. (213/485-6873). Free chamber music series. Sundays at 4 p.m.
Long Beach Performing Arts Center – International City Theatre: 300 East Ocean Bl., Long Beach  (562/436-4610)  www.internationalcitytheatre.org   Daddy Long Legs, an intimate musical set in suffragette-era New England where a spirited orphan girl is sent to a prestigious college by a mysterious benefactor.  Based on the classic novel that inspired the 1955 movie. Feb. 23-March 11, 2018. 

Los Angeles Theatre Center's Robey Theatre:  514 S. Spring St., Los Angeles ((213/489-7402) www.robeytheatrecompany.org   The Latino Theatre Company's  2017  Encuentro de las Americas presents an international festival featuring Latinx and Latin American companies and artists from across the hemisphere.  Thirteen productions will run in repertory in five spaces, Oct. 29-Nov. 19. (866/811-4111).  The Latina Christmas Special, bursting with laughs, music and escandalo, try these three hilarious touching and surprisingly personal Christmas stories of holidays past told by three acclaimed Latina comedians, Dec. 1-Jan. 7, 2018.

Lounge Theatre: 6201 Santa Monica Bl., Hollywood (917/407-3346) www.iamatheatre.com  

Magicopolis: Abracadabra Theatre, 1418 4th St., Santa Monica (310/451-2241). Fast paced, colorful, magic and illusion shows for the whole family in a theater setting. Ongoing.
---
Mark Taper Forum: Los Angeles Music Center, 135 N. Grand Ave., downtown Los Angeles (213/628-2772) www.taperahmanson.com    Water By the Spoonful, Jan. 31-March 11, 2018.
——————————————————————————————
McCadden Place Theatre: 1157 N. McCadden place, Los Angeles (800/838-3006) www.thefinalgirl.brtowsnpapertickets.com The Final Girl, an action-Horror Peepshow, perfect for the Halloween season.  Oct. 13-Nov. 4.
Microsolft Theatre: 777 Chick Hearn Court, Los Angeles (213/763-6030) www.microsofttheater.com   Check their website for information on upcoming events.
Morgan Wixson Theatre: 2627 Pico Bl., Santa Monica (310/828-7519) www.morganwixson.org    A Winter's Tale, a musical adaptation of Charles Dickens A Christmas Carol uses pop, rock, calypso and even an Irish jig to recreate the classic tale of Scrooge and Tiny Tim at Christmas time.  Thru Dec. 16.

Nate Holden Performing Arts Center: 4718 W Washington Bl, Los Angeles (323/964-9766) www.ebonyrep.org  
Odyssey Theatre:  2055 S. Sepulveda Bl., West Los Angeles (310/477-2055) www.OdysseyTheatre.com  Forever Flamenco presents A Night in Triana IV, Dec. 3.  Ashes to Ashes features liberal Sara and right winger Jefferson who are polar opposites about everything except their love and devotion for their two newly deceased filthy rich best friends.  The two are forced to spend the next 16 days, 21 hours and 32 minutes together, scattering ashes across Europe. The audience is in for a bumpy and funny ride, Dec. 9- Jan. 14, 2018. Freud's Last Session is set on the day England enters World War II.  Legendary psychoanalyst Dr. Sigmund Freud invites the young rising Oxford don C. S. Lewis to his home.  There they engage in a brain teasing battle of wits on the subject of love, sex and the existence of God only weeks before Freud took his own life,  Jan. 13-March 4, 2018. The second annual mini-festival Dance! at the Odyssey 2018, Jan. 12-13; Birds Eye View and Prometheus: Contemplation, the first, a play musing on flight that shifts the point of view of    the body in space as if it was caught during the timing of a flight. The second, an action tableau that illustrates the human capacity to make, forge grow and build, Jan 20-21;  Rosewood blurs the lines between hip-hop and contemporary dance with a world revealing the complex mind start of a young faith filled artist determined to keep up with the trends of his generation without losing her unique identity, Jan. 26-Feb. 4.  Rift by L.S. Contemporary Dance Company.
Old Globe: 1363 Old Globe Way, Balboa Park, San Diego (619/23-GLOBE) www.TheOldGlobe.org 

———————————————————————————-
Pantages Theatre: 6233 Hollywood Bl., Hollywood (800/982-2787)  www.HollywoodPantages.com   Hamilton, the story of America's Founding Father Alexander Hamilton, an immigrant from the West Indies who became George Washington's right hand man during the Revolutionary War and was the new nation's first Treasury Secretary.  Featuring a score than blends hip-hop, jazz, blues, rap, R&B and Broadway, Hamilton is the story of America then as told by America now.  Tickets range from $85-$225 with a select number of premium seats available for all performances and increased pricing during the holidays. It is advised that all purchases be made through an authorized Hollywood Pantages Theatre ticket source: either the Hollywood Pantages Theatre box office or Ticketmaster.com.
Upcoming: An American in Paris,  Finding Neverland, Hedwig and the Angry inch, Rodgers & Hammerstein's The King and I and back by popular demand, The Book of Mormon.
——————————————————————————————
Pasadena Playhouse:  39 S. El Molino Ave., Pasadena  (626/356-7529) www.PasadenaPlayhouse.org   King Charles III by Mike Bartlett, as in Shakespeare, Bartlett using both blank verse and prose, speculates on what happens after the Queen is dead.  After a lifetime of wanting and waiting, Prince Charles ascends to the throne.  The characters are a mix of some the audience might expect and some they won't.  Nov. 8-Dec. 3.  Upcoming: The original 1947 radio play of  Miracle on 34th Street, on its 70th anniversary.  It tells the story of a department store Santa who claims he's the real thing which takes him all the way to the Supreme Court. This story was very popular as a radio play when America used their ears and their imaginations to completely realize the story.  Now, 70 years later, the eyes of the audience get to watch what went into producing the performance live, which its original listeners never got to see.  Dec. 14-23.
Pico Playhouse:  105008 W. Pico Bl., Los Angeles (323/821-2449)  www.wcjt.org  A couple (played by Bridget Flanery and Ross Benjamin) connects through a personal ad while lying though their teeth about themselves in New York Water. Eventually they meet and since both feel stifled by New York they decide to move elsewhere. Their American odyssey takes them to the Midwest and then to Hollywood where she ascends to dizzying heights while he remains steeped in mediocrity.  After Hollywood, where do you go next? A production of the West Coast Jewish Theatre.   Oct. 19-Dec. 17.
Renberg Theatre: Los Angeles LGBT Center, 1125 N McCadden Place, Hollywood (323/860-7300)  www.lagbtcenter.org 

————————————————————————————-
Renee &  Henry Segerstrom Concert Hall and Samueli Theater: 600 Town Center Dr., Costa Mesa (714/740-2000 or 714/556-2787 or 714/755-5799) www.scfta.org or www.pacificsymphony.org  Home of Pacific  Symphony.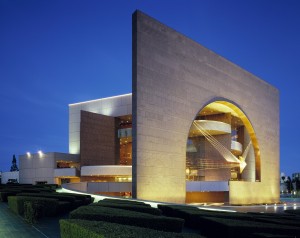 Pacific Symphony's POPS series features Pink Martini, part big band, part classical ensemble, part salsa troupe and all fun.  They find their musical inspiration from cultures around the world easily jumping  from genres like pop, jazz and classical to establish its own unique blend of music.  March 23-24, 2018.
Free public tours of the center Wednesdays and Saturdays at 10:30 a.m. Telephone first.
———————————————————————————-
Road on Lankershim:  5108 Lankershim Bl., North Hollywood   (818/761-8838) www.RoadTheatre.org  

Royce Hall:  UCLA campus, Westwood (310/825-2101) www.cap.ucla.edu 
The cast of A Christmas Carol at the Rubicon Theatre.
Rubicon Theatre: 1006 E. Main St., Ventura (805/667-2900) www.rubicontheatre.org     The Theme for the upcoming season will be "Stories That Matter," focusing on stories that embrace diversity and focus on our shared humanity.  Charles Dickens's A Christmas Carol kicks off its 20th Anniversary Season featuring Broadway, TV and film veterans Peter Van Norden and Emmy Award winner Joe Spano reprising their roles as Scrooge and Marley in this innovative telling of the timeless tale of transformation and redemption,  This imaginative version of Dickens novella offers a revealing portrait of the yearning, lost child inside the cold hearted miserly man.   Dec. 6-23.

---
Santa Monica Playhouse:  1211 4th St., Santa Monica (310/394-9779 ext. 1)  www.santamonicaplayhouse.org  I'm Not Famous …A Musical Journey with Barbara Minkus:  Barbara may not be famous, but you have seen her — a lot.  On stage, on screen and especially on television.  However she never became famous although she's had  what most performers would consider an enviable career. Because she started out as, and remains, an accomplished singer, her show business memoir is a musical one.  Nov. 5, 12, 19, and 26.  A Very Merry MagicMania adds a little magic to your holidays.  Celebrate the season with this festival of 35 different magic and variety acts over the course of nine shows and two weekends with each show being different and featuring award winning magicians and variety acts from The Magic Castle, American's Got Talent and Penn and Teller's Fool Us, www.MagicManiaLA.com, Dec. 14-23.
Secret Rose Theatre:  11246 Magnolia Bl., North Hollywood (323/960-7784)
Skylight Theatre: 1816 1/2 N. Vermont Ave., Los Angeles (213/761-7061) www.skylighttheatrecompany.com/on-stage/rotterdam  New Year's. Rotterdam, 2017.  Alice finally found the courage to email her parents and tell them she is lesbian.  But before hitting send, her girlfriend reveals that she has always identified as male, and now wants to start living as one.  " No, Alice, I don't want to become a man, I just want to stop trying to be a woman." The 2017 Olivier Award Winner and LA Times Critics Choice.
South Coast Repertory: 655 Town Center Dr., Costa Mesa (714/708-5555) www.scr.org   The traditional A Christmas Carol, Nov. 24-Dec. 24.   Sugar Plum Fairy, filled with ambition, rivalry and pre-teen angst, Sandra Tsing Loh's play is a hilarious tale of life's crushing blows, a comic assault on Christmas sentiment.  Dec. 3-24. Shakespeare in Love tells the story of young Shakespeare with writer's block owing two demanding producers a new comedy.  Enter his inspiration who will stop at nothing to be in his play. A joyous celebration of theatre.  Jan. 13-Feb. 10, 2018.

Staples Center: 1111 S. Figueroa, Los Angeles (213/ 742-7100) www.staplescenter.com/events   Check website for all upcoming sports events, concerts and special events.
Stella Adler Theatre: 6773 Hollywood Bl., 2nd floor, Hollywood (805/496-2982) www.corbinkush.eventbrite.com
The Actors Company at The Other Space:  916A N. Formosa Ave., West Hollywood (323/960-7712) www.Plays411.com/radiant  The Radiant, a story of scientist Marie Curie after the death of her partner in marriage and science, Pierre Curie, in a horrific accident.  She share the Nobel Prize in physics with her husband and colleague in 1903, becoming the first female awardee.  Following her husband's death she is alone with two children to raise, while continuing her vital and pioneering scientific work.  She finds herself increasingly drawn to her lab partner, the younger, married Paul Gangevin. When the tabloids publish the news of the affair she becomes the focus of a scandal that threatens her life and career and the safety of her children.  Oct. 27-Nov. 19.
The Autry: Griffith Park, 4700 Western Heritage Way (323/667-2000) www.TheAutry.org  Native Voices at the Autry is the only Equity theatre company devoted exclusively to developing  and producing new works for the stage by Native American, Alaska Native and First Nations playwrights.
The Road on Magnolia: 10747 Magnolia Bl., N. Hollywood. Inside the NoHo Senior Arts Colony, North Hollywood,  (866/811-4111)    www.RoadTheatre.org 
One night only to benefit the Road Theatre, a reading form Stephen Tobolowsky's new book, My Adventures With God, a fascinating and strangely profound memoir.  A Good Day  At Auschwitz is a true story of Abe, a man Stephen met at his synagogue.  Abe was a fellow of great humor and heart who not only survived three years at Auschwitz but fell in love there.  Abe's life speaks to the resilience of the human spirit, renewal and hope — even when there seems to be none.  Actor Alan Mandell and Stephen will read the story live.  Dec. 10.
The Secret Rose Theatre: 11246 Magnolia Bl.,  North Hollywood (323/960-7784)
———————————————————————————–
Theatre 40: Reuben Cordova Theatre, Beverly Hills High school campus, 241 S.
Moreno Drive, Beverly Hills (310/364-0535) www.theatre40.org    The wit of Oscar Wilde meets the cunning of Sir Arthur Conan Doyle when Wilde brings his dear friend Lillie Langtry to Baker Street in Sherlock Holmes and the Case of the Jersey Lily.  England's greatest actress and national treasure is the target of blackmail in a sec scandal that threatens to bring down the British Monarchy.  Holmes and Watson are called to the rescue. A wonderful new mystery/comedy that is filled with intrigue, comedic shenanigans and fascinating characters , Nov. 16-Dec. 17.
---
Theatre of Note:  1517 N. Cahuenga Bl., Hollywood.  (323/856-8611) www.theatreofnote.com    The world premiere of Hello Stranger, a story of a man who has mixed feelings about returning to his hometown in the Inland Empire after having been away fro many years.  He is there to attend his 30 year high school reunion but finds he is drawn to stay after encountering a strange girl in the yard of the house he grew up in with his mother. The man embarks on a journey through his past, dreams and memories to uncover dark secrets about his mother and the town.  The play takes place during the Day of the Dead Festival.  Oct. 19-Nov. 18.
Theatre West: 3333Cahuenga B., West, Los Angeles (323/851-7977) www.theatrewest.org  Storybook Theatre's award-winning musical The Ugly Duckling, Oct 14-March 3, 2018.
Think Tank Gallery:  935 Maple Ave., downtown Los Angeles www.thinktank.gallery/ Caught is set inside and integrated into a real art show at Think Tank Gallery. The unique presentation is fully immersive where the audience members find themselves in a labyrinthine exploration of troth, art, social justice and cultural appropriation where nothing is as it first appears. Oct. 27- Dec. 10.
Twenty Fourth (24th) Street Theatre: 1117 West 24th St., Los Angeles (213/745-6516) www.24thstreet.org  World premiere of ICE, a bilingual, , humorous musical journey in search of what it means to be "American."  Two men arrive in the U.S with big dreams but no documents. March 10-April 29.

Union Center of the Arts David Henry Hwang Theater: 120 Judge John Aiso St., Los Angeles (213/625-7000) www.eastwestplayers.org  East West Players and The Roibey Theater Company announce the revival of Philip Kan Gotanda's Yohen featuring Danny Glover and June Angela.  In Japanese pottery, the term yohen refers to unpredictable changes that take place in the kiln.  An interracial couple struggles to maintain their 37 year marriage after the husband retires from the US Army.  The dramatic change in routine prompts questions about life, love and aging as the couple attempts to repair what's broken and decide what is worth saving. Oct. 26-Nov. 19.
Valley Performing Arts Center: 18111 Nordhoff St., Northridge (818/677-3000)  www.ValleyPerformingArtsCenter.org   Hansel & Gretel: a wickedly delicious musical treat. An all-ages rock musical, Dec. 3.  A Michael Feinstein Holiday Celebration performs in a Holiday Celebration including classic standards as well as from his album A Michael Feinstein Christmas on Dec. 8.
Wallis Annenberg Center for the Performing Arts: 9390 N. Santa Monica Bl., Beverly Hills (310/746-4000)  www.thewallis.org   The Heart of Robin Hood, the classic tale of the world's most infamous outlaw goes rogue.  A heart pounding, eyue popping new adventure from Iceland's innovative theater company Vesturport and The Wallis.  Robin Hood and his unmerry gang of cutthroats steal from the rich but it never occurs to them to give back. A brilliant retelling of the Robin Hood tale from British writer David Farr. Opens Dec. 1.  Upcoming:   Violinist Sarah Chang and pianist Julio Elizalde, Jan. 6, 2018.  Celebrity Opera Series opens with Jonas Kaufmann on Jan. 15;  Washington Dance Theatre Jan. 11-13;  Last Thoughts: Schubert's Final Works...pianist Ory Shihor with text by Hershey Felder, Jan. 20;  Arturo Sandoval Jazz Weekend, Jan. 25-28;  Stephen Schwartz & Friends for an eveneing of convfersation and music with composers, lyricists and artists he has inspired and mentored, Feb. 9;  Berlin Philharmonic Wind Quentet with Stephen Hough at the piano, Feb. 10;  Dada Masilo's Giselle, April 12-14; L.A. Dance Project,   April 5-7, 2018; Body Traffic, May 31-June 2. Eugene O'Neill's Long Days Journey Into Night starring Jeremy Irons and Lesley Manville, June 8-July 1, 2018.

---
Walt Disney Concert Hall: 151 S. Grand Ave., Los Angeles (213/972-7288) www.wdch.com The Frank Gehry designed home to the Los Angeles Philharmonic embodies the unique energy and creative spirit of both the City of Angels and its world-class orchestra under the direction of  maestro Gustavo Dudamel and features the works of the world's musical greats featuring Classical, World Music, Jazz, Songbook and the Master Chorale. The Philharmonic is also committed to the presentation of music of our time as well as offering its exhilarating Green Umbrella concerts which presents the Los Angeles Philharmonic New Music Group devoted exclusively to compositions on the cutting edge of the repertoire and attract leading composers and performers of contemporary music. Chamber music is another integral part of this world-class orchestra's repertoire.
Los Angeles Master Chorale presents holiday music celebrating:  Day of the Dead, Oct. 29;  Festival of Carols with Eric Whitacre, , Dec. 2 & 9; Bach's The Six Motets, Dec. 10;  Handel's Messiah, Dec. 17; Messiah Sing-Along, Dec. 18.
Guided and self-guided tours of the concert hall are available to the public (213/972-4399).
---
Wells Fargo Theatre:  Autry National Center, 4700 Western Heritage Way, Los Angeles (323/667-2000)  www.NativeVoicesattheAutry.org  Native Voices at the Autry continues its vital role as the country's only equity theatre company dedicated exclusively to developing the work of Native American playwrights.
Whitfire Theatre: 13500 Ventura Bl., Sherman Oaks (800/838-3006)  www.brownpapertickets.com/event/3053655