---
Ahmanson Theatre: Los Angeles Music Center, 135 N. Grand Ave., downtown Los  Angeles (213/628-2777) www.taperahmanson.com  The Golden Anniversary season continues five decades of extraordinary theatre bursting with award wining new plays, musicals, beloved classics.  An exciting presentation of the ever popular Jersey Boys, the rags to riches story of Frankie Valli and The Four Seasons.  Jersey Boys is the winner of the 2006 Best Musical Tony Award, the 2006 Grammy Award for Best Musical Show Album, the 2009 Olivier Award for Best New Musical and the 2010 Helpmann Award for Best Musical (Australia). May 18-June 24.
Upcoming:  Tony and Olivier Award-winning best play The Curious Incident of the Dog in the Night-Time, the longest running play on Broadway in the past 10 years. The play tells the story of a an exceptional 15 year old boy, although brilliant is ill equipped to interpret everyday life.  When he falls under suspicion for killing his neighbor's dog, he sets out to identify the true culprit leading to an earth-shattering discovery and a journey that will change his life forever.   Aug. 2-Sept. 10.
---
Atwater Village Theatre: 3269 Casitas Ave., Atwater Village (323/251-8825)
Actors Co-op David Schall Theatre: 1760 N. Gower St.,Hollywood (323/462-8460) www.ActorsCo-op.org A hilarious musical murder mystery farce mixing diamonds, mistaken identities and a body in a wheelchair, in this all singing, all dancing killer musical comedy, Lucky Stiff, May 12-June 18.
Actors Company Let Live Theater: 916 N. Formosa Ave., Hollywood (323/455-4585) http://www.hff17.com/4764  Trump in Space, A Hollywood Fringe Festival selection. With book and lyrics by Gillian Bellinger and Landon Kirksey and music by Tony Gonzalez and Sam Johnides, the show takes us forward 400 years after the stripping away of EPA regulations when the earth has blown up.  Two human factions survive and are on the hunt for Polaris 4, a planet capable of sustaining human life.  One faction lives by the motto "opportunity at any cost," ruled by The Executive, his chief representative in space, Captain Natasha Trump.  Competing with her to reach the planet is a resistance called The Separatists, President Gary Hart, Natasha's ex-lover.  June 3-16.
Barnum Hall:  Santa Monica High School, 600 Olympic Bl., Santa Monica Santa Monica Symphony Orchestra.
Bob Baker Marionette Theater: 1345 W. 1st Street, Los Angeles (213/250-9995) www.bobbakermarionettes.com Marionettes from all over the globe entertain in an in-the-round performance of waltzing rag dolls and madcap musical instruments, also special holiday shows.  Tuesdays thru Fridays 10:30 AM, Saturdays and Sundays 2:30 PM.  Presenting Hooray L.A. along with a series of evening programs celebrating the hidden histories of Los Angeles beginning April 1.
Broad Stage: 1310 11th St., Santa Monica (310/434-3200) www.thebroadstage.com        Born For This: The Musical concerns Detroit natives BeBe and CeCe Winans  who experience the ultimate culture shock when invited to join Jim and Tammy Faye Bakker's Praise the Lord TV Show. July 11-Aug. 6.

Celebration Theatre @Lex Theatre: 6760 Lexington Ave., Los Angeles (323/957-1884) www.celebrationtheatre.com
Chromolume Theatre at The Attic:  5429  W. Washington Bl, Los Angeles (323/205-1617) www.crtheatre.com:
Coast Playhouse:  8325 Santa Monica Bl., West Hollywood
(323/960-7787) www.plays411.com/elevator  The hit play Elevator, written and directed by filmmaker and playwright Michael Leoni, returns to LA for a special limited engagement.  When seven strangers — a CEO woman, business man, office temp, hot girl, musician, maintenance man and Goth girl — get stuck in an elevator, it is only a matter of time before the truth comes out.  When forced together, given nothing but four walls and each other, these archetypes prove to be anything but typical. Their preconceived notions, stereotypes and judgements are challenged at every turn, as one by one they shed their masks and reveal their truths.  Elevator is a comedic and emotional ride into the human psyche and asks the fundamental question, who are you behind closed doors?  Extended thru June 30.
Colony Theatre: 555 N. Third St., Burbank (855/448-7469) ww.Playhouseinfo.com   ICONversations, a musical journey with vocal artist Reign Morton as he sings the songs that have stood the test of time from musical artists such as Frank Sinatra, Marvin Gaye, Bob Marley, Prince, Whitney Houston, Donny Hathaway and Michael Jackson.  A musical love letter to his father via creative storytelling and music, July 20-23.
Upcoming at the Colony:  Magic Mania which includes performances by 25 different masters of the "dark arts." Aug. 17-20.  I Enjoy Being a Girl…On Broadway, humorous, uplifting and inspiring, brings writer, performer and dancer Mark C. Reis for a solo show, Sept. 14-17. Sondheim's A Little Night Music will be performed in a concert reading by actors and singers from the Broadway and Los Angeles musical world, Sept. 21-24.  An Evening with Fritz Coleman shares his hilarious, insightful take on growing up and growing older, Oct. 9-22.
———————————————————————————————
Davidson/Valentini Theatre: LGBT Center, 1125 N. McCadden Place, Hollywood (323/860-7300) www.lalgbtcenter.org/theatre  Scottish playwright David Harrower's drama, Blackbird, won the 2007 Laurence Olivier Award for Best New Play and had a critically acclaimed run on Broadway last year.  Inspired in  part by the crimes of sex offender Toby Studebaker (though  in no way a literal dramatization of actual events) the play depicts a young woman meeting a middle-aged man 15 years after being sexually abused by him when she was 12 years old.   Extended to July 2.
Doheny Mansion:  Pompeian Room, 10 Chester Place, Los Angeles (213/477-2929)  www.DaCamera.org    Check website for concerts in this splendid setting.
Dorothy Chandler Pavilion: Los Angeles Music Center, 135 North Grand Ave., The Los Angeles Opera  (213/477-2929) www.LosAngelesOpera.com Placido Domingo and James  Conlon join forces in the upcoming season's operatic icons:  Macbeth, Akhnaten, The Abduction from the Serglio, Salome, The Tales of Hoffman, Tosca, Wonderful Town.
Eclectic Company Theatre:  5312 Laurel Canyon Bl., Valley Village (818/508-3003)  www.eclecticcompanytheatre.org    Shakespeare Salons held the last Tuesday of every month. Participants perform their favorite Shakespearean piece or alternatively, a piece inspired by Shakespeare.  Shakespearean monologues, scenes, poems, songs, remembrances and personal interpretations of all kinds are welcome.  To perform, fill out the form on the Eclectic Company Theatre website.
Edgemar Center for the Arts: 2437 Main St., Santa Monica,(310/392-7327) www.edgemarcenter,org    Danny and the Deep Blue Sea, a story of a romance between an unlikely couple in a rough Bronx neighborhood. He is a self loathing young man who resorts more to violence than reason; she is a divorced, guilt ridden young woman whose troubled teenage son is now being cared for by her parents.  As their initial reserve begins to melt the possibility of a genuine relationship begins to emerge — the first for both of them.  July 1- Sept. 10.
Electric Lodge: 1416 Electric Ave., Venice (818/760-0408) www.lawtf.org
Fountain Theatre:  5060 Fountain Ave., Los Angeles (323/663-1525)  www.fountaintheatre.com
Geffen Playhouse:  10886  Le Conte Ave., Westwood,  (310/208-5454)  www.geffenplayhouse.org Constellations, the story of a beekeeper and a quantum physicist.  What are their odds of falling in love.  With infinite moments that can change the trajectory of life, it's anyone's  guess how cosmic collision is possible. Thru July 23. Bestselling book series spotlights Letters from a Nut, a brand new show based on the bestselling book series of prank letters and their responses from Ted L. Nancy (aka Barry Marder) debuts June 23-July 30. One night only, Jay Leno returns for a show to benefit No Limits for deaf children in A Special Evening with Jay Leno and Friends, June 26.
Grand Performances: 300-350 S. Grand Ave., Los Angeles (parking: 3515 S. Olive St. — public transportation available)   www.grandperformances.org Always free all summer long, a variety of performances Fridays, Saturdays and Sundays.  Check website for specifics.

Greystone Mansion: Greystone Park, 905 Loma Vista Driver, Beverly Hills (310/364-3606) www.theatre40.org  The Manor, a fictionalization based on real events with the actual historical characters given new names. The  Manor depicts momentous changes in the fortunes of the fabulously wealthy MacAlister Family (the fictional surrogates of the oil-rich Doheny Family.) Family patriarch and mining tycoon Charles makes an illegal if well intention-ed loan to Senator Albert Winston (a stand in for Secretary of the Interior Albert Fall).  Both men face imminent disgrace and worse in the oncoming Teapot Dome bribery scandal which will engulf the Warren Harding administration.  A scion of the MacAlister family faces violent death.  Who is to blame? Katherine Bates is the playwright and one of the featured actors. July 30-Aug. 30.
Hudson Theatre: 6539 Santa Monica B., Los Angeles (323/960-4443) www.2centstheatre.com   In Dogfight, three young Marines set out for one final boys' night of partying and debauchery.  But when they meet an awkward and idealistic waitress she rewrites the rules of the game and teaches the power of love and compassion.  June 2-25. Hollywood Diary, a hilarious fashionable comedy set in the heyday of cinema and silver screen intrigue. A fictional encounter at the filming of Hush Hush Sweet Charlotte between famous Hollywood gossip columnist Hedda Hopper interviewing all time star Mary Astor about her big return to the big screen but wanting to know the details of Mary's scandalous, tell all, revealing  diary. So shocking her contents were that brought together the major heads of the movie studios accompanied by their lawyers to convince Astor that it would be better for the movie industry and for her not to introduce the diary in court.  The interview goes not as planned.  Runs as part  of the Hollywood Fringe Festival.  June 12-25.
James Bridges Theater: UCLA Campus, Melnitz  Hall, 235 Charles E. Young Drive,  Westwood (310/827-0889)  www.LATW.org  "The Play's the Thing" radio theater series.
Kirk Douglas Theatre: 9820 Washington Bl. Culver City (213/628-2772) www.centertheatregroup.com World premiere of Lauren Yee's new play, King of the Yees, a joyride across cultural, national and familial borders that explores what it means to truly be a Yee. July 9-Aug. 6.

Upcoming:  Spamilton celebrates and satirizes the Broadway blockbuster with its versatile cast of five.  Nov. 5-Dec. 31.
——————————————————————————-
Laguna Playhouse:  606 Laguna Canyon Rd., Laguna Beach (949/497-2787) ww.lagunaplayhouse.com  Hairspray, the effervescent musical features big, bold heroine Tracy Turnblad who twists, ponys and mashed potatoes her way to Baltimore stardom while fighting for integration on a local TV dance show, an uplifting story for all ages,  July 9-30. Upcoming: A Night With Janis Joplin, Aug. 16-Sept. 10; The Graduate, Oct. 4-22; I am My Own Wife, Jan. 10-28, 2018.

———————————————————————————-
La Jolla Playhouse: 2910 La Jolla Village Dr., La Jolla (858/550-1010)  www.LaJollaPlayhouse.org  www.secondcity.com  Four world premieres upcoming:  Escape to Margaritaville, Untitled Donna Summer Project, At the Old Place, Wild Goose Dreams.
—————————————————————————-
La Mirada Theatre: 14900 La Mirada Bl., La Mirada (562/944-9801) www.lamiradatheatre.com   David Gaines stars in his  Ovation award winning role as Don Quixote in Man of La Mancha. June 2-25.

Leo S. Bing Theater: Los Angeles Museum of Art, 5905 Wilshire Bl., Los Angeles. (213/485-6873). Free chamber music series. Sundays at 4 p.m.
Long Beach Performing Arts Center – International City Theatre: 300 East Ocean Bl., Long Beach  (562/436-4610)  www.internationalcitytheatre.org   
Los Angeles Theatre Center's Robey Theatre:  514 S. Spring St., Los Angeles ((213/489-7402) www.robeytheatrecompany.org 
Lounge Theatre: 6201 Santa Monica Bl., Hollywood (917/407-3346  Thanksgiving..a new comedy at the Hollywood Fringe Festival, June 3-23.
Magicopolis: Abracadabra Theatre, 1418 4th St., Santa Monica (310/451-2241). Fast paced, colorful, magic and illusion shows for the whole family in a theater setting. Ongoing.
—————————————————————————————-
Mark Taper Forum: Los Angeles Music Center, 135 N. Grand Ave., downtown Los Angeles (213/628-2772) www.taperahmanson.com  Manhattan Theatre Club's acclaimed production of Heisenberg by Tony Award and two-time Olivier Award winner Simon Stephens will be on stage June 28-Aug. 6. Amidst the bustle of a crowded London train station Georgie spots Alex, a much older man, and plants a kiss on his neck.  This electric encounter thrusts these two strangers in to fascinating and life-changing game as Heisenberg brings to blazing, theatrical life the uncertain and often comical sparring match that is human connection.
Microsolft Theatre: 777 Chick Hearn Court, Los Angeles (213/763-6030) www.microsofttheater.com  Puerto Rican singer and one of the biggest Latin urban acts, Nicky Jam, returns with his show, El Ganador, Aug. 12.
Morgan Wixson Theatre: 2627 Pico Bl., Santa Monica (310/828-7519) www.morganwixson.org   Seussica! is a fantastical, magical, musical extravaganza.  Tony winners Lynn Ahrens & Stephen Flaherty have lovingly brought to life all of our favorite Dr. Seuss characters, June 24-July 29.
Nate Holden Performing Arts Center: 4718 W Washington Bl, Los Angeles (323/964-9766) www.ebonyrep.org
Old Globe: 1363 Old Globe Way, Balboa Park, San Diego (619/23-GLOBE) www.TheOldGlobe.org   Globe Gala Evening of Illusions with performance by Jane Krakowski, star of Broadway 30 Rock and Unbreakable Kimmy Schmidt, Sept. 23. Moliere's The Imaginary Invalid, May 27-July 2. Free Monday Night Film Screenings presented in conjunction with the 2017 Summer Shakespeare Festival June 26-Aug. 28. 

Old Zoo:  Griffith Park, Los Angeles (818/710-6306) www.iscla.org   This summer the Free Shakespeare Festival opens the season with the wild and wonderful Measure for Measure.  The plot twists come fast and furious in this production that is equal parts screwball romantic comedy and deliciously dark social satire. June 24-July 22.  In Two Gentlemen of Verona, regimen change is coming to a decadent Vienna: the Duke's gone AWOL and in his place sits a joyless man determined to take back the city.  His first order of business is executing a man whose only crime is love. This dark comedy is one of Shakespeare's most modern plays, full of eccentric characters and wild surprises.  July 29-Sept. 3
Pacific Amphitheatre: 88 Fair Drive, Costa Mesa (714/755-5799) www.pacificsymphony.org  SummerFest series starts July 4 with a patriotic celebration featuring he music of Bruce Springsteen and culminating in a magnificent fireworks display.  Kenny Loggins belts out his classic hits, July 12.  The B-52s will be joined by the Pacific Symphony, July 12. This year's movie under the stars spotlights John Williams classic score to Jurassic Park as the blockbuster movie is shown on the big screen, Aug. 19.  The series concludes Sept. 9  with the Tchaikovsky Spectacular bursting with fireworks for the 1812 Overture, Sept. 9.
———————————————————————————-
Pantages Theatre: 6233 Hollywood Bl., Hollywood (800/982-2787)  www.HollywoodPantages.com    Upcoming:  Hamilton, the story of America's Founding Father Alexander Hamilton, an immigrant from the West Indies who became George Washington's right hand man during the Revolutionary War and was the new nation's first Treasury Secretary.  Featuring a score than blends hip-hop, jazz, blues, rap, R&B and Broadway, Hamilton is the story of America then as told by America now.  Tickets range from $85-$225 with a select number of premium seats available for all performances and increased pricing during the holidays. It is advised that all purchases be made through an authorized Hollywood Pantages Theatre ticket source: either the Hollywood Pantages Theatre box office or Ticketmaster.com.
An American in Paris,  Finding Neverland, Hedwig and the Angry inch, Rodgers & Hammerstein's The King and I and back by popular demand, The Book of Mormon.
——————————————————————————————
Pacific Amphitheatre: OC Fair & Event Center, Costa Mesa (714/755-5799)  www.PacificSymphony.org Pacific Symphony Summerfest makes its grand debut at OC Fair;s Pacific Amphitheatre — kicking off a whole new era on sensational summer music in the great outdoors.  Inaugural year features: Bruce Springsteen with fireworks, July 4; Kenny Loggins, July 12; Jurassic Park — the movie — will be shown on the big screen with score performed live, Aug. 19.  Tchaikovsky Spectacular with cannons and fireworks for the 1812 Overture, Sept. 9 in a farewell to summer.
Pasadena Playhouse:  39 S. El Molino Ave., Pasadena  (626/356-7529) www.PasadenaPlayhouse.org  Jeanne Sakata's Hold These Truths, May 30-June 26,  centers on issues of democracy, constitutional laws and what it means be be an American.
Renberg Theatre: Los Angeles LGBT Center, 1125 N McCadden Place, Hollywood (323/860-7300)  www.lagbtcenter.org  One night only concert by Tony Award winning singer/songwriter/actor Levi Kreis in his show Broadway at the Keys will feature him at the piano delivering renditions of songs from Broadway hits.  Aug 19.

————————————————————————————-
Renee &  Henry Segerstrom Concert Hall and Samueli Theater: 600 Town Center Dr., Costa Mesa (714/740-2000 or 714/556-2787 or 714/755-5799) www.scfta.org or www.pacificsymphony.org  Home of Pacific  Symphony.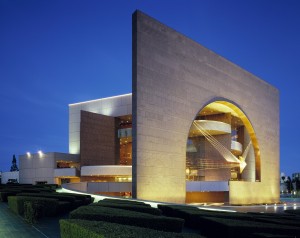 Free public tours of the center Wednesdays and Saturdays at 10:30 a.m. Telephone first.
———————————————————————————-
Road on Lankershim:  5108 Lankershim Bl., North Hollywood   (818/761-8838) www.RoadTheatre.org   The Lyons, a scathingly funny look at a family in crisis, falling apart just when they need to pull together.  The matriarch, in a heroic effort to keep the family united while her husband is dying of cancer has called their grown children together to say good bye around his hospital bed.  In the ensuing maelstrom of kvetching, guilt giving and recriminations, they discover that despite being a family, each of them is utterly isolated.  Afraid of closeness and afraid of solitude, the Lyons are unexpectedly propelled into foreign territory — human connection.  May 7-July 1.

Royce Hall:  UCLA campus, Westwood (310/825-2101) www.cap.ucla.edu
Rubicon Theatre: 1006 E. Main St., Ventura (805/667-2900) www.rubicontheatre.org     The Theme for the upcoming season will be "Stories That Matter," focusing on stories that embrace diversity and focus on our shared humanity. The Other Mozart, the story of Wolfgang's talented sister. Thru June 18.

---
Sacred Fools Theatre Mainstage: 1076 Lillian Way, Hollywood((323/455-4585) www.hffl7.com/4661 The Harmony Boys bring Christmas 1962 with them for a special four performance run in the 2017 Hollywood Fringe Festival.  They present their annual yuletide fundraising concert to benefit their charity "Force Feed the World" in which they shove food and their personal, cultural and religious beliefs down the throats of the less fortunate during the holiday season.  A Harmony Boys Christmas is a singing, dancing musical comedy extravaganza brimming with heartfelt but provocative satire, at once evoking nostalgia for our nation's past while dissecting its many shortcoming of the present day.  June 8, 16, 21 & 24.
Santa Monica Playhouse:  1211 4th St., Santa Monica (310/394-9779 ext. 1)  www.santamonicaplayhouse.org  I'm Not Famous, a musical show business memoir. This Musical Journey with Barbara Minkus is a show business story with great musical numbers and insider anecdotes about the giants of the biz.  Extended through July 22.
Skirball Cultural Center: 2701 N. Sepulveda Bl., Los Angeles (310/440-4500) www.skirball.org  Free Thursday sunset concerts coincide with the Skirball's latest exhibition, Paul Simon: Words & Music, on view through September 3. The new season draws inspiration from Paul Simon's pioneering efforts to bring world music to pp audiences while building bridges across cultures.  The lineup of boundary-pushing artists ranges from contemporary American folk musicians and the leading lady of Afro-Cuban jazz to bluesy Caribbean roots pioneers, an Anglo-Nigerian electropop ensemble and a multi-generational Afro-Venezuelan song, drum and dance collective. July 27-Aug. 31.
South Coast Repertory: 655 Town Center Dr., Costa Mesa (714/708-5555) www.scr.org  Upcoming:  Once tells the story of a Dublin street musician about to abandon his dream when a beautiful woman takes a sudden interest in his haunting love songs.  Winner of eight Tony Awards and a Grammy Award for Best musical Theatre Album, Sept. 2-30. Curve of Departure, a warm and surprisingly funny family drama, Sept. 24-Oct. 15. Gem of the Ocean, by August Wilson, a mystical story of liberty, justice and redemption, Oct. 14-Nov. 11.  For young audiences, Ella Enchanted: The Musical, delightful music and plenty of girl power in this modern and musical Cinderella story, Oct. 27-Nov. 12.  The traditional A Christmas Carol, Nov. 24-Dec. 24.   Sugar Plum Fairy, filled with ambition, rivalry and pre-teen angst, Sandra Tsing Loh's play is a hilarious tale of life's crushing blows, a comic assault on Christmas sentiment.  Dec. 3-24.

Staples Center: 1111 S. Figueroa, Los Angeles (213/ 742-7100) www.staplescenter.com/events  Rock and Roll Hall of Famers Daryl Hall & John Oats partnering with Tears for Fears tour wraps up in Los Angeles July 28.  Check website for all upcoming sports events, concerts and special events.
The Actors Gang Theatre:  9070 Venice Bl., Culver City (310/838-4264) www.theactorsgang.com 

The Autry: Griffith Park, 4700 Western Heritage Way (323/667-2000) www.TheAutry.org  Native Voices at the Autry is the only Equity theatre company devoted exclusively to developing  and producing new works for the stage by Native American, Alaska Native and First Nations playwrights.
The Road on Magnolia: 10747 Magnolia Bl., N. Hollywood. Inside the NoHo Senior Arts Colony (866/811-4111) www.RoadTheatre.org  Upcoming: White Guy on the Bus concerns a wealthy white businessman and a struggling black single mom who ride the same bus week after week.  As they get to know one another, the threads that tie them together gradually unravel in a complex web of moral ambiguity, revenge and racial biases, winter, 2016.
———————————————————————————–
Theatre 40: Reuben Cordova Theatre, Beverly Hills High school campus, 241 S. Moreno Drive, Beverly Hills (310/364-0535) www.theatre40.org Sequence.  a suspenseful new play about amen who has been named Time Magazine's Luckiest Man Alive.  For 20 years he has successfully bet double or nothing on the Super Bowl coin toss.  And he's getting ready to risk millions on the 21st when he is confronted by a young woman who claims to have figured out his mathematical secret. Two narratives intertwine like a fragment of DNA to examine the interplay between logic and metaphysics, science and faith, luck and probability.  Belief systems clash, ideas mutate and order springs from chaos.  July 20-Aug. 20.
Upcoming: In Vino Veritas two middle aged couples under the influence of a tribal truth serum, share an unpredictable and hilarious night of unbridled honesty and stretches the bounds of their friendship forever, Sept. 1-Oct 15.  The wit of Oscar Wilde meets the cunning of Sir Arthur Conan Doyle when Wilde brings his dear friend Lillie Langtry to Baker Street in Sherlock Holmes and the Case of the Jersey Lily, Nov. 16-Dec. 17.
---
Theatre of Note:  1517 N. Cahuenga B., Hollywood.  (323/856-8611) www.theatreofnote.com 
Theatre West:  3333 Cahuenga Bl. West, Los Angeles (323/81-7977) www.theatrewest.org The world premiere of Family Only, a comedy.  A young couple have just bought their first home and are throwing a housewarming party for family only.  But instead of sharing their joy but instead of offering good wishes and validation the family is coming to them with their own needs.  Can this family possibly have a good time at this "joyful" celebration?  What happens will impact the family for a long time to come.  Feb. 10-March 19. Before his life as an adult could begin, Barry left school and moved back home to care for his aging parents.  When they died, he never left — literally.  He became obsessed with holding onto every single possession and treasured item that might help keep alive the memory of his parents and his prior life in The Man Who Saved Everything, April 28-June 4.
Thousand Oaks Civic Arts Plaza – Scherr Forum Theatre and Cabrillo Music Theatre: 2100 Thousand Oaks Bl., Thousand Oaks (805/449-2787)  www.cabrillomusictheatre.com 

Veterans Memorial Building:  4117 Overland Ave., Culver City www.lawtf.org  Los Angeles Women's Theatre Festival presents Defining Moments, one night only, July 30, 7:00p.m.  The evening is hosted by Karen A. Clark, singer-songwriter-poet.  Four of LAWTF's encore performers will be featured: Carla Delaney in Voices, Wendy Hammers in I Survived Cancer and All I got Was this Lousy President, Clarinda Ross in Spit Like a Big Girl and Rachae Thomas in Pieces of Carra Remix.
Wallis Annenberg Center for the Performing Arts: 9390 N. Santa Monica Bl., Beverly Hills (310/746-4000)  www.thewallis.org   An era-spanning drama of identity, love, and sexuality, a stylish, witty and affecting play that alternates between two very distinct time periods and the lives of three characters whose fate is destined by their eras in The Pride, June 8-July 9. Upcoming: An Evening With Alan Alda, June 12.  Dorrance Dance honors tap dance's unique and powerful history  in a new and dynamic context Oct. 12-14.  Bodytraffic, May 31-June 2. Pianist Jonathan Bliss, Oct. 8.  Harlem Quartet: Game-Changers, Oct. 15.  Kyle Riabko: Richard Rodgers Re-imagined, Nov. 10-11.  Violinist Sarah Chang and pianist Julio Elizalde, Jan. 6, 2018.

---
Walt Disney Concert Hall: 151 S. Grand Ave., Los Angeles (213/972-7288) www.wdch.com The Frank Gehry designed home to the Los Angeles Philharmonic embodies the unique energy and creative spirit of both the City of Angels and its world-class orchestra under the direction of  maestro Gustavo Dudamel and features the works of the world's musical greats featuring Classical, World Music, Jazz, Songbook and the Master Chorale. The Philharmonic is also committed to the presentation of music of our time as well as offering its exhilarating Green Umbrella concerts which presents the Los Angeles Philharmonic New Music Group devoted exclusively to compositions on the cutting edge of the repertoire and attract leading composers and performers of contemporary music. Chamber music is another integral part of this world-class orchestra's repertoire.
California Philharmonic kicks off its 14th consecutive summer season  with Wagner at the Movies on June 25 followed by Rodgers, Hammerstein and the Organ on July 9, An Afternoon in Old Vienna with Judith Hill on July 30, Shakespeare in Love on August 13 and World's Best Marches, August 20.  Each concert begins at 2:00 pm and is preceded by the ever-popular intimate Talks with the Maestro lecture series at 1:00 pm.
Guided and self-guided tours of the concert hall are available to the public (213/972-4399).
---
Wells Fargo Theatre:  Autry National Center, 4700 Western Heritage Way, Los Angeles (323/667-2000)  www.NativeVoicesattheAutry.org  Native Voices at the Autry continues its vital role as the country's only equity theatre company dedicated exclusively to developing the work of Native American playwrights.
Will Geer's Theatricum Botanicum: Topanga Canyon (310/455-3723)  www.theatricum.com  In a beautiful, rustic outdoor setting, Theatricum Botanicum rises up and speaks out with a summer line-up of socially conscious classic and contemporary plays, music and performance.  This season offers five main-stage productions in rotating repertory as well as a host of satellite events, June through October. The plays range from Renaissance Italy to ancient Greece to 1950s and modern-day America dealing with our inability to reach out and embrace those who might be different from us.  The plays include:  Shakespeare's The Merchant of Venice and Midsummer Night's Dream, George Orwell's Animal Farm, Jon Robin Baitz's Other Desert Cities and Alice Childress's Trouble in Mind.
Special 4th of July Celebration…Family Barn Dance and Barbe q, July 4. Upcoming for Halloween Botanicum is transformed into a haunted BOO-tanicum.
Zepher Theatre: 7456 Melrose Ave., Los Angeles (323/451-2813) www.Plays411.com/ballyards  Ball Yard probes America's fascination with sports, July 29-Aug. 27.