---
Sarah Steele and Cassie Beck in  The Humans.  Photo:  Brigitte LaCombe
Ahmanson Theatre: Los Angeles Music Center, 135 N. Grand Ave., downtown Los  Angeles (213/628-2777) www.taperahmanson.com  The Golden Anniversary season continues five decades of extraordinary theatre bursting with award wining new plays, musicals, beloved classics.  The Best Play of the Year…The Humans… Stephen Karam's uproarious, hopeful and heartbreaking play that takes place over the course of a family dinner on Thanksgiving. Breaking with tradition, Erik Blake has brought his Pennsylvania family to celebrate and give thanks at his daughter's apartment in Lower Manhattan.  As darkness falls outside the ramshackle pre-war  duplex and eerie things start to go bump in the night the Blake clan's deepest fears and greatest follies are laid bare.  Our modern age of anxiety is keenly observed with humor and compassion in this new American classic that won the 2016 Tony Award for Best Play, June 19-July 29.
Upcoming:  The Life and Times of The Temptations features an iconic score made up of the Temptations'  legendary songs.  This new musical follows The Temptations extraordinary journey from the streets of Detroit to the Rock & Roll Hall of Fame. A tale of friendship and betrayal amid the civil unrest that tore America apart, their moving and personal story still resonates five decades later.  Aug. 21-Sept. 30.  Multi award winning  Dear Evan Hansen, a personal  and contemporary musical about life and the way we live, Oct. 17-Nov. 25. Come From Away takes the audience into the heart of the remarkable true story of 7,000 stranded passengers and the small town in Newfoundland that welcomed them, on 9/11 when the world stopped, Nov. 28-Jan. 6, 2019.
---
Ambassador Auditorium:  131 south St. John Ave., Pasadena (626/793-7172) www.pasadenasymphony-pops.org
A Noise Within:  3352 East Foothill Bl., Pasadena (626/356-3100) www.anoisewithin.org Presenting William Shakespeare's Henry V, streamlining the story into a dynamic a thrill ride infused with modern relevance.  The play concerns going to war and the propulsive energy that leads us to conflict.  It provides an in-depth look at the politics of war and our thirst for conflict.  Feb. 4-April 6. Upcoming: The hilarious Noises Off, pays tribute to the art of theatre-making itself as chaos reigns onstage and off.  Michael Frayn's joyfully out of control British farce features an under-rehearsed and over-worked cast and crew with an penchant for drama more personal than professional, readying themselves for the world premiere of a new play.  April 21-May 20.
Atwater Village Theatre: 3269 Casitas Ave., Atwater Village (323/882-6912) www.openfirst.org .  Forever Bound concerns a rare book dealers desperate scheme to avoid bankruptcy which goes shockingly awry in this darkly funny literary thriller with a surprise twist, May 11-June 16.   Forever Bound.. Are We All Savages? A rare book dealer's desperate scheme to avoid bankruptcy goes shockingly awry in this darkly funny literary thriller with a surprise twist.  May 9-June 11.  IAMA Theatre Company presents Cult of Love, a black comedy that explores the sin of pride through one family's feverish clash over who is right and who is crazy. The Dahl family, raised as strict Christians and overachievers, gather at Christmas.  Their initially joyful reunion quickly reveals an American family riddled with competition, xenophobia and mental illness, May 18-June 24. Cry It Out,an insightful comedy/drama concerning  the bonding over two women's shared "new mom" experiences, July 14-Aug. 19.
Barnum Hall:  Santa Monica High School, 600 Olympic Bl., Santa Monica  www.smsymphony.org/concerts Santa Monica Symphony Orchestra free concerts:
Beverly O'Neil Theatre: 300 E. Ocean Bl.,  Long Beach (562/470-7464) www.longbeachopera.org 

Bob Baker Marionette Theater: 1345 W. 1st Street, Los Angeles (213/250-9995) www.bobbakermarionettes.com Marionettes from all over the globe entertain in an in-the-round performance of waltzing rag dolls and madcap musical instruments, also special holiday shows.  Tuesdays thru Fridays 10:30 AM, Saturdays and Sundays 2:30 PM.  Presenting Hooray L.A. along with a series of evening programs celebrating the hidden histories of Los Angeles.
Bootleg Theater:  2220  Beverly Bl., Los Angeles (213/389-3856) www.bootlegtheater.org  .  Antigone, or We Are Rebels Asking For The Storm opens May 12.
Broad Stage: 1310 11th St., Santa Monica (310/434-3200) www.thebroadstage.com    Barak Ballet presents a program of two world premieres: Cypher and Desert Transport as well as the return of E/SPACE,  June 29-30.

 Cabrillo Music Theatre: Thousand Oaks Civic Arts Plaza, 2100 Thousand Oaks Bl., Thousand Oaks (805/449-2787)  www.cabrillomusictheatre.com 

Celebration Theatre @Lex Theatre: 6760 Lexington Ave., Los Angeles (323/957-1884) www.celebrationtheatre.com  Cabaret takes place in The Kit Kat Klub, the seediest, sexiest nightclub in Berlin where life is downright dangerous.  Celebration Theatre presents Kander & Ebb's dark, eerily relevant masterpiece like you've never seen it before.  June 1-July 15.
Chromolume Theatre at the Attic: 5429 W. Washington Bl., Los Angeles (323/205-1617)  www.crtheatre.com   Upcoming:  Jane Eyre, based on Charlotte Bronte's classic novel, the romantic tale of secrets and lies that secrets create, July 13-Aug. 5.  Passion, a one act musical the plot concerns a young soldier and the changes in him brought about by his obsessive love of his Colonel's ailing cousin, Nov. 2-25.
Chance Theatre:  5522 E La Palma Ave., Anaheim (888/455-4212)  www.ChanceTheater.com     Elevada, May 4-June 3; Big Fish, June 29-July 29; The Other Place, Sept. 22-Oct. 2.
Colony Theatre: 555 Southern California GuideN. Third St., Burbank (855/448-7469) www.Playhouseinfo.com   My Son the Waiter: A Jewish Tragedy  stars actor/comedian Brad Zimmerman in his autobiographical solo show, one part standup, one part theatrical and all parts uproarious.  An extraordinary evening of laughs.  April 19-June 10.
————————————————————————————-
Davidson/Valentini Theatre: LGBT Center, 1125 N. McCadden Place, Hollywood (323/860-7300) www.lalgbtcenter.org/theatre E
Doheny Mansion:  Pompeian Room, 10 Chester Place, Los Angeles (213/477-2929)  www.DaCamera.org    Check website for concerts in this splendid setting.
Dorothy Chandler Pavilion: Los Angeles Music Center, 135 North Grand Ave., Los Angeles.
Eclectic Company Theatre:  5312 Laurel Canyon Bl., Valley Village (818/508-3003)  www.eclecticcompanytheatre.org    Shakespeare Salons held the last Tuesday of every month. Participants perform their favorite Shakespearean piece or alternatively, a piece inspired by Shakespeare.  Shakespearean monologues, scenes, poems, songs, remembrances and personal interpretations of all kinds are welcome.  To perform, fill out the form on the Eclectic Company Theatre website.
Edgemar Center for the Arts: 2437 Main St., Santa Monica,(310/392-7327) www.edgemarcenter,org      Although this show centers on a Jewish family, what takes place could happen with any family of any religion as they gather due to a death in the family.  It's the first Yahrtzeit (anniversary of the death) of family patriarch Manny Schwartz.  The clan has gathered for dinner prior for the unveiling of the deceased's tombstone scheduled for the following day. The Schwartzes are not producing heirs to carry on the family name it seems.  Will traditional Jewish ritual draw the family together or will a web of secrets and deceptions be indicative that the world has seen The Last Schwartz . May 19-July 1.  The Swords of Sorrow — Burai II, a tale of a samurai ghost.  Women warriors wield weapons in the climatic scene as obligations of honor and duty are fulfilled with the blades of flashing swords in this action packed story set in 19th Century feudal Japan.  July 6-22.
Ford Theatre: 2580 Cahuenga Bl. East, Hollywood (323/461-3673)   www.fordtheatres.org The refurbished outdoor theatre offers comfortable seating, picnic areas, food and drink and an eclectic entertainment menu. The 2018 season features Dance, Film, Jazz & Soul Pop, Rock & Folk, Opera & Theatre, Ritmos Latinos, and Multidisciplinary offerings. Thru October.
Fountain Theatre:  5060 Fountain Ave., Los Angeles (323/663-1525)  www.fountaintheatre.com   Arrival & Departure, a modern-day, re-imagined deaf stage adaptation of the classic 1945 British film Brief Encounter. A deaf man and hard of hearing woman, married to different people, meet accidentally in a train station. A friendship develops, escalating into a passionate love affair that neither permits to consummate.  An unforgettable love story.  July 14-Sept. 30.
Garry Marshall Theatre: 4252 W. Riverside Dr., Burbank, 4252 W. Riverside Drive, Burbank (818/955-8101) www.GarryMarshallTheatre.org A delightful re-imagining of The Adventures of Pinocchio.  The cricket is killed, a blue poltergeist haunts us all, the legendary Dogfish monster preys on our greatest fears and a little wooden puppet struggles to discover what it means to be real.  Wood Boy Dog Fish is a visual feast that combines masks, physical performance, special effects and illusions.  May 12-June 24.
Geffen Playhouse & Audrey Skirball Theatre:  10886  Le Conte Ave., Westwood,  (310/208-5454)  www.geffenplayhouse.org   
Grove Theatre Center (GTC): 1100 West Clark Ave., Burbank.  (571/232-8894) www.blackbirdplay.com
Hudson Theatre: 6539 Santa Monica B., Hollywood (323/960-4443) https://dime.io/events/buzzworks-sex  Sex, a comedy written by the woman who knew the subject best, Mae West. This is the story of an entrepreneur who also is a prostitute and is the most successful sex worker in Montreal.   That city becomes too hot for her when a society matron attempts to frame her for a crime she did not commit. She skips town and acquires lovers along the way,  two of whom fall in love with her.  She has her arms full.  Sometimes sex is the answer.  Sometimes it's the question.    May 11-June 17.

James Bridges Theater: UCLA Campus, Melnitz  Hall, 235 Charles E. Young Drive,  Westwood (310/827-0889)  www.LATW.org  "The Play's the Thing" radio theater series.  I Love Lucy: A Funny Thing Happened on the way to the sitcom.  The hilarious true story behind America's most beloved TV comedy,July 12-15.
Kavli Theatre: Thousand Oaks Civic Arts Plaza, 2100 Thousand Oaks Boulevard, Thousand Oaks (800/745-3000)
Kiki & David Gindler Performing Arts Center: 110 East Broadway, Glendale (818/506-1983) www.Antaeus.org The premiere of Three Days in the Country.
Kirk Douglas Theatre: 9820 Washington Bl. Culver City (213/628-2772) www.centertheatregroup.com   World premiere of Mutt House: The Musical, a furry tale of fun for animal lovers where an animal lover working in an animal shelter has the ability to truly understand the animals.  July 15-Aug. 5.
---
LA Arboretum: (626/793-7172) info@pasadenasymphony-pops.org Sierra Summer Pops Series features: That's Entertainment: Gershwin to Sondheim, June 23; Summer of Love: Michael Feinstein Sings the Hits of the  60s, July 21; Classical Mystery Tour: A Tribute to the Beatles, Aug. 4; Bernstein at 100, Aug. 17; Broadway at the Movies, Sept. 8.
Laguna Playhouse:  606 Laguna Canyon Rd., Laguna Beach (949/497-2787) ww.lagunaplayhouse.com  A spin-off of Lorraine Hansberry's groundbreaking drama A Raisin in the Sun, this razor-sharp satire examines race and real estate in a fictional Chicago neighborhood.  Smart and funny, this Tony and Pulitzer Prize winning play, Clybourne Park,  features the evolution of a house, acting as the focus of reactions to the shifting racial landscape of a community.  June 10-24.  Tony nominated Broadway musical  Million Dollar Quartet tells the story of legendary music icons Presley, Cash, Lewis and Perkins as they come together on December 4, at the famous Sun Studios.  Features 21 timeless hits and tells a tale of broken promises, secrets, betrayal and celebrations.  Recommended for audiences 10 and older.  July 5- 29.
La Jolla Playhouse: 2910 La Jolla Village Dr., La Jolla (858/550-1010)  www.LaJollaPlayhouse.org  www.secondcity.com     World premieres upcoming:  Escape to Margaritaville, At the Old Place.
La Mirada Theatre: 14900 La Mirada Bl., La Mirada (562/944-9801) www.lamiradatheatre.com    Disney's Newsies, book by Harvey Feirstein,  a smash hit, crowd pleasing musical that ignites the stage, June 2-24.
Lankershim Arts Center: 5108 Lankershim Bl., North Hollywood (323/944-2165) www.coeurage.org/slaughtercity  Coeurage Theatre Company, L.A's Pay What You Want theatre company has announced the first production of its ninth season.   Slaughter City follows the lives of a group of workers laboring at a slaughterhouse.  Tensions rise as the work gets tougher and more dangerous, their wages are cut, and their benefits reduced.   The play was inspired by a number of labor related incidents including the Triangle Shirtwaist Factory fire of 1911 and the 1993 strike at Fischer's meat packing plant in Kentucky. June 22-July 14.
Leo S. Bing Theater: Los Angeles Museum of Art, 5905 Wilshire Bl., Los Angeles. (213/485-6873). Free chamber music series. Sundays at 4 p.m.
Lex Theatre: 6760 Lexington Ave., Hollywood (323/957-1884)  www.celebrationtheatre.com
Long Beach Performing Arts Center – International City Theatre: 300 East Ocean Bl., Long Beach  (562/436-4610)  www.internationalcitytheatre.org  The Best of 20 —  celebrating Andreas Mitisek's 20 years  as conductor, director and producer of the Long Beach Opera, June 2.

Los Angeles Theatre Center's Robey Theatre:  514 S. Spring St., Los Angeles ((213/489-7402) www.robeytheatrecompany.org   

Lounge Theatre: 6201 Santa Monica Bl., Hollywood (800/838-3006) www.iamatheatre.com    The world premiere of Mayakovsky and Stalin, a dramatic character study incorporating historical footage and photos to explore two distantly connected relationships…Soviet dictator Joseph Stalin and his wife Nadya and Soviet poet Vladimir Mayakovsky and his married lover and muse Lilyana Brik, July 21-Aug. 19.

Magicopolis: Abracadabra Theatre, 1418 4th St., Santa Monica (310/451-2241). Fast paced, colorful, magic and illusion shows for the whole family in a theater setting. Ongoing.
---
Mark Taper Forum: Los Angeles Music Center, 135 N. Grand Ave., downtown Los Angeles (213/628-2772) www.taperahmanson.com  
————————————————————————————- McCadden Place Theatre: 1157 N. McCadden place, Los Angeles (800/838-3006)
Microsolft Theatre: 777 Chick Hearn Court, Los Angeles (213/763-6030) www.microsofttheater.com  The first ever U.S national tour of The Sistine Chapel Choir, the oldest choir in the world and the Pope's personal choir, July 23.   Check their website for information on upcoming events.
Morgan Wixson Theatre: 2627 Pico Bl., Santa Monica (310/828-7519) www.morganwixson.org    
Nate Holden Performing Arts Center: 4718 W Washington Bl, Los Angeles (323/964-9766) www.ebonyrep.org  
New Vic:  33 W Victoria St., Santa Barbara (805/965-5400) www.etcsb.org The Ensemble Theatre Comapny presents a musical about the extraordinary life of an extraordinary woman.  Infused with jazz and blues, Cookin' At The Cookery: The Music and Times of Alberta Hunter, accompanied by a live, on-stage band.  June 9-24.
Odyssey Theatre:  2055 S. Sepulveda Bl., West Los Angeles (310/477-2055) www.OdysseyTheatre.com    Ferociously funny Bad Jews, a comedy about family, faith and legacy.  A beloved grandfather has died and a treasured family heirloom with religious significance is up for grabs — but who is the most deserving?  April 21-June 17.  The world premiere of Lysistrata Unbound, a newly imagined, dramatic version of Aristophones's Lysistrata.  An aristocratic Athenian matron is crushed by fateful events and gradually transformed into the most celebrated anti-war activist of the ancient world, starring two time Emmy nominated and SAG Award winning Brenda Strong, June 9-Aug. 4. The West Coast premiere of Bearing Witness, an autobiographical father-son story of war trauma, the Holocaust and healing process by Thomas Bird.  In the play,  Bird travels to Mauthausen concentration camp to honor the memory of his father, an Army doctor who cared for survivors upon the camp's liberation.  June 1-17.
Old Globe: 1363 Old Globe Way, Balboa Park, San Diego (619/23-GLOBE) www.TheOldGlobe.org  The Summer Shakespeare Festival presents The Tempest starring Kate Burton as Prospera, June 17-July 22.   Free Monday Night Film Screenings, July 9, 16, 30 and Aug. 27.   Upcoming:  Dr. Seuss's The Lorax, July 2-Aug. 12.  Neil Simon's Barefoot in the Park, July 28-Aug. 26; Much Ado About Nothing runs Aug. 12-Sept. 16.

Pacific Amphitheater: Orange County Fairgrounds, 100 Fair Drive, Costa Mesa  (714/755-5799) www.boxoffice@pacificsymphony.org  Brass Transit: Music of Chicago, July 4;  E.T. The Extra-Terrestrial: In Concert, Aug. 18;  Tchaikovsky Spectacular with fireworks, Sept. 8.
Pantages Theatre: 6233 Hollywood Bl., Hollywood (800/982-2787)  www.HollywoodPantages.com  

Pasadena Civic Auditorium:  300 East Green St., Pasadena (626/4549-7360) www.ticketmaster.com/PantoPasadena 
Pasadena Playhouse:  39 S. El Molino Ave., Pasadena  (626/356-7529) www.PasadenaPlayhouse.org   A family friendly adaptation of The Jungle Book, this version re-imagines Kipling's classic stories and brings to life the known and loved characters while also introducing some of the other colorful inhabitants of Kipling's books, and even today's urban jungle, July 17- 29.
Pico Playhouse:  105008 W. Pico Bl., Los Angeles (323/821-2449)  www.wcjt.org
Renberg Theatre: Los Angeles LGBT Center, 1125 N McCadden Place, Hollywood (323/860-7300)  www.lagbtcenter.org 

————————————————————————————-
Renee &  Henry Segerstrom Concert Hall and Samueli Theater: 600 Town Center Dr., Costa Mesa (714/740-2000 or 714/556-2787 or 714/755-5799) www.scfta.org or www.pacificsymphony.org  Home of Pacific  Symphony.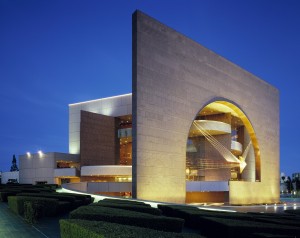 Free public tours of the center Wednesdays and Saturdays at 10:30 a.m. Telephone first.
———————————————————————————-
Road on Lankershim:  5108 Lankershim Bl., North Hollywood   (818/761-8838) www.RoadTheatre.org  

Road on Magnolia: 10747 Magnolia Bl., North Hollywood (818/761-8838) www.RoadTheatre.org  Ray's swum his way to the eve of the Olympic trials. If he makes the team he"ll get a deal with Speedo, and then he'll never need a real job.  When someone stash of performance enhancing drugs is found in the locker room fridge, threatening the entire team's Olympic fate, Ray has to crush the rumors or risk losing everything.  A sharp and stylish play about swimming, survival of the fittest and the American dream of a level playing field or of leveling the field yourself in Red Speedo.  May 11-July 1.

Royce Hall:  UCLA campus, Westwood (310/825-2101) ww.cap.ucla.edu   Upcoming:  Joan Baez's Fare Thee Well...Tour 2018, Nov. 10.  David Sedaris, bestselling author and humorist, Nov. 16.
Rubicon Theatre: 1006 E. Main St., Ventura (805/667-2900)

---
Saban Theatre:  8440 Wilshire Bl., Beverly Hills (866/448-7849)  www.souldoctorontour.com  
Santa Monica Playhouse:  1211 4th St., Santa Monica (310/394-9779 ext. 1)  www.santamonicaplayhouse.org     Aleichem Sholom: The Wit and Wisdom of Sholom Aleichem.  The world premiere production musical is dedicated to the life and works of the famed Yiddish author.  Spend an evening with the world's greatest Yiddish humorist and discover that the people haven't changed that much from his century to ours.  May 19-June 24.  Magic Monday returns for a summer full of magic.  Every Monday evening from May 7 -Sept. 3 will see a new and different lineup of world-class, award-winning magicians and outstanding variety acts hosted by Albie Selznick, Magic Castle member. www.MagicMondayLA.com
Skylight Theatre: 1816 1/2 N. Vermont Ave., Los Angeles (213/761-7061) www.skylighttheatrecompany.com    Hostage, based on true events.  Worlds collide in this human drama about the backlash one family must endure when it has the courage to make the political very, very personal.  A mother deals with he aftermath of traveling to Tehran to gain the release of her son, a marine held captive during the Iran hostage crisis. May 19-June 24.
South Coast Repertory: 655 Town Center Dr., Costa Mesa (714/708-5555) www.scr.org   The Sisters Rosensweig, Wendy Wassertein's witty, award-winning comedy, set in the early 1990s, is centered on three sisters, each extraordinary in her own way.  …a successful banker, a globe-trotting journalist and an irrepressible radio host.  This smart, funny and enthralling play looks at the quest for love, acceptance and self-fulfillment, May 5-June 12.
Staples Center: 1111 S. Figueroa, Los Angeles (213/ 742-7100) www.staplescenter.com/events   Check website for all upcoming sports events, concerts and special events.
Stephanie Feury Studio Theatre: 5636 Melrose Ave., Hollywood (323/455-4585) www.HFF18.org/5078  The Hollywood Fringe Festival presents three one-act plays by John Doble, Three Blind Dates: See How They Run!  The plays… 1. a navy vet meets a woman with convictions about everything from cannibalism to the crucifixion; 2. East meets West as a beautiful Russian woman encounters a Fox-News-loving cable man; 3. in a coffee house, a lonely man meets a femme fatale, June 2-23.
Stella Adler Theatre: 6773 Hollywood Bl., 2nd floor, Hollywood (805/496-2982) www.corbinkush.eventbrite.com
The Actors Company at The Other Space:  916A N. Formosa Ave., West Hollywood (323/960-7712) www.Plays411.com/radiant 
The Autry: Griffith Park, 4700 Western Heritage Way (323/667-2000) www.TheAutry.org  Native Voices at the Autry is the only Equity theatre company devoted exclusively to developing  and producing new works for the stage by Native American, Alaska Native and First Nations playwrights.
The Blue Door: 9617 Venice Bl., Culver City www.creoutreach.org/lostinthelight  The Inaugural production of this unique theatre company, Lost in the Light challenges  conventional expectations about the capabilities of individuals who live without sight, who struggle with movement or who have difficulties understanding the complexities of social interactions. The play centers on a blind headstrong student who has always taken her sighted family's hyper-vigilance in stride alongside their overwhelming  love and support. At the dawn of her budding journalism career she learns about a rare opportunity to gain her vision through an experimental surgery.  Along with her family, she grapples with the conflicting notions of seeing for the very first time or continuing to live in darkness. What will happen if she gains her vision but then finds herself lost in the light. April 13-May 12.
---
 Theatre 40: Reuben Cordova Theatre, Beverly Hills High school campus,241 S. Moreno Drive, Beverly Hills (310/364-0535) www.theatre40.org   The year is 1938 and aspiring reporter Mary Hayes, is struggling to break into the male-dominated world of journalism.  Jeff Kincaid may be the hottest reporter in the city but his job is on the line and Mary could well be the one to replace him.   This Screwball Comedy crackles with wit and humor, July 19-Aug. 19. Upcoming:   On December 14, 2012, Adam Lanza walked into Sandy Hook Elementary School and killed 26 innocent souls before taking his own life.  These 26 innocent deaths, like pebbles thrown into a pond, created ripples and vibrations that were felt far beyond the initial rings.  26 Pebbles is the story of those vibrations. an exploration of gun violence and a small town shaken by a horrific event.  Powerful and emotion and yet a much more uplifting night at the theatre than one might presume, Sept. 20-Oct. 14.   William Inge's classic comedy, Bus  Stop, is filled with sentimental characters  and a slow but pleasant slice of life story-line.  About 25 miles west of Kansas City, a freak snowstorm has halted the progress of a bus and travelers have a late night, weather-enforced layover in a local diner where romantic or quasi-romantic relationships ensue, Nov. 15-Dec. 16.
---
Theatre of Note:  1517 N. Cahuenga Bl., Hollywood.  (323/856-8611) www.theatreofnote.com  www.theatrewest.org 
Theatricum Botanicum:  1419 Topanga Canyon Bl., (310/455-3723) www.theatricum.com  Celebrate Mother's Day with the 20th annual MOMentum Place, an uncommon afternoon of dance and performance delights especially for mothers,  A fantastic world of aerial and circus performers, dancers and musicians in this rustic outdoor amphitheater.   For an extra treat, enjoy a scrumptious brunch in the rustic gardens before the performance or bring your own picnic.  May 20th.  Playing in repertory:  An allegory for today's tumultuous times, Shakespeare's searing tragedy, Coriolanus, is a cautionary tale of political manipulation and revenge.  Rome, a city where the one-percenters rule, is led by a populist general who has nothing but contempt for the common people and is unable to reconcile his disdain for the citizens with his love of country, June 2-Sept. 23.   Midsummer Night's Dream, the signature production and audience favorite.The most magical outdoor setting in Los Angeles is transformed into an enchanted forest inhabited by lovers both fairy and human.   Arthur Miller's timeless and timely tale of truth on trial, The Crucible;  Haiti, William DuBois's historical drama about the overthrow of the colonial Haitian government. June 3-Sept. 3.
Thousand Oaks Civic Arts Plaza Kavli Theatre: 2100 Thousand Oaks Boulevard,  Thousand Oaks (800/745-3000) www.5startheatricals.com  Upcoming:  Beauty and the Beast,
Twenty Fourth (24th) Street Theatre: 1117 West 24th St., Los Angeles (213/745-6516) www.24thstreet.org  World premiere of ICE, a bilingual, , humorous musical journey in search of what it means to be "American."  Two men arrive in the U.S with big dreams but no documents. April 7-June 30.

Ventura Music Festival: (805/648-3146) www.venturamusicfestival.org  Various venues across the city with top tier music for two weekends of multi-genre music, dance performances and world-class culture.  Includes American Gypsy Jazz, Pink Martini, Trio Celeste, Perla Ratalia and Malashock Dance, and more, weekends, July 12-22.
Wallis Annenberg Center for the Performing Arts (The Wallis): 9390 N. Santa Monica Bl., Beverly Hills (310/746-4000)  www.thewallis.org   185 Wilshire: A Love Story, an original musical following the lives of young adults with disabilities as they navigate finding and falling in love, learning to trust and establishing independence..  The musical tells the universal story about how a journey to find companionship often leads us to find our true selves,  May 31-June 3.  Body Traffic, May 31-June 2.  Eugene O'Neill's Long Days Journey Into Night starring Jeremy Irons and Lesley Manville. This Pulitzer-prize winning masterpiece captures one fateful summer's day in the life of a family haunted by the past but unable to face the truth of the present.  Considered one of the most powerful American plays of the 20th century, the production recently played in London and New York, June 8-July 1.
---
Walt Disney Concert Hall: 151 S. Grand Ave., Los Angeles (213/972-7288) www.wdch.com The Frank Gehry designed home to the Los Angeles Philharmonic embodies the unique energy and creative spirit of both the City of Angels and its world-class orchestra under the direction of  maestro Gustavo Dudamel and features the works of the world's musical greats featuring Classical, World Music, Jazz, Songbook and the Master Chorale. The Philharmonic is also committed to the presentation of music of our time as well as offering its exhilarating Green Umbrella concerts which presents the Los Angeles Philharmonic New Music Group devoted exclusively to compositions on the cutting edge of the repertoire and attract leading composers and performers of contemporary music. Chamber music is another integral part of this world-class orchestra's repertoire.
The Cal Phil presents Maestro Victor Vener conducting Made in America, June 24; Phantom Meets Puccini, July 8; Symphonic Dances, July 29; Beethoven Celebrates Bernstein's 100th Birthday, Aug. 12; John Williams Greets Our Orchestra, Aug. 19.
Los Angeles Master Chorale presents Brahms Requiem, June 9. 

Guided and self-guided tours of the concert hall are available to the public (213/972-4399).
---
Wells Fargo Theatre:  Autry Museum of the American West, 4700 Western Heritage Way, Los Angeles (323/667-2000)  www.NativeVoicesattheAutry.org    Native Voices at the Autry continues its vital role as the country's only equity theatre company dedicated exclusively to developing the work of Native American playwrights.
Whitfire Theatre: 13500 Ventura Bl., Sherman Oaks (800/838-3006)  www.brownpapertickets.com