---
Ahmanson Theatre: Los Angeles Music Center, 135 N. Grand Ave., downtown Los  Angeles (213/628-2777) www.taperahmanson.com  The Golden Anniversary season continues five decades of extraordinary theatre bursting with award wining new plays, musicals, beloved classics.  Bright Star, inspired by a real event, this original musical tells a sweeping tale of love and redemption set against the rich backdrop of the American South in the '20s and '40s.  The story unfolds as a rich tapestry of deep emotion, beautiful melodies and enthralling performances.  Winner of  the 2016 Outer Critics Circle Awards for Best Musical and Best Score and Drama Desk Award for Outstanding Music.  It also received five 2016 Tony Awards nominations including Best Musical, Best Score, Best Book, Best Lead Actress in a Musical and Best Orchestrations.  Oct. 11-Nov. 19.
---
Ambassador Auditorium:  131 south St. John Ave., Pasadena (626/793-7172) www.pasadenasymphony-pops.org  Pasadena Symphony opens 2017-2018 classics season with Tchaikovsky's Symphony No. 4 and a world premiere by James Lee III, Ichabod! The Protest Is Over, inspired by the 500th anniversary of the Protestant Reformation sparked by Martin Luther.  Oct. 14.
Atwater Village Theatre: 3269 Casitas Ave., Atwater Village (323/882-6912) www.openfirst.org  Open Fist Theatre Company presents the world premiere of Walking to Buchenwald. On a trip to Europe two couples learn what it means to be American in a world that no longer admires the US.  Guinea pigs playing cricket, dead bodies that talk and an unexpected trip to to a concentration camp lead to shocking yet poignant conclusions.  Sept. 9-Oct. 14. The Echo Theatre Company presents the world premiere of Fixed, the story of Miracles Malacanang, a ladyboy masseuse working in the infamous Malacanang Massage Parlor in Los Angeles's historic Filipino-town.  When Miracles' forbidden love affair sparks tensions between the city's hottest political family, two families must come together to understand the power of desire, identity and honor, Sept. 17-Oct 22. Open Fist revives the hilarious production of  the Shakespeare musical deLEARious where tragedy meets hilarity and King Lear gets a happy ending in a madcap musical romp, Nov. 3-Dec. 16.  Independent Shakespeare Co presents Letters From Home examining Kalean Ung's examination of her own life through the stories her father, an acclaimed composer, told her of arriving in America in the 1960s as a young music student and his subsequent quest to rescue family members, Nov. 10, 11, 17 & 18. First Look Festival presents staged readings of five new plays, Oct. 17-Dec. 6.
Barnum Hall:  Santa Monica High School, 600 Olympic Bl., Santa Monica  www.smsymphony.org/concerts Santa Monica Symphony Orchestra free concerts: 73rd season premiere, Oct. 22, Winter Holiday concert, Dec. 3;  Martin Luther King Weekend Concert (held at SGI Auditorium, 525 Wilshire Bl., Santa Monica), Jan. 13, 2018; 73rd Season Spring Concert, March 24 and Memorial Weekend Concert, May 27.

Bob Baker Marionette Theater: 1345 W. 1st Street, Los Angeles (213/250-9995) www.bobbakermarionettes.com Marionettes from all over the globe entertain in an in-the-round performance of waltzing rag dolls and madcap musical instruments, also special holiday shows.  Tuesdays thru Fridays 10:30 AM, Saturdays and Sundays 2:30 PM.  Presenting Hooray L.A. along with a series of evening programs celebrating the hidden histories of Los Angeles.
Brand Park:  1601 W. Mountain Ave., Glendale www.deanproductionstheatre.com  The Comedic Tragedy of Macbeth, a new take on a classic play with text by William Shakespeare.  An outdoor presentation.  Audience members are encouraged to bring lawn chairs or blankets.  Picnickers and families are welcome.  Free parking at the park.  Free admission but reservations are required and donations are accepted.  Oct. 6, 7, 11, 12, 13, 14, 19, 20, and 21.  All performances begin at 7:30p.m.
Broad Stage: 1310 11th St., Santa Monica (310/434-3200) www.thebroadstage.com       Trial By Jury: A Case of Deportation, a one of a kind interactive event, part of the ongoing series, a participatory  theatre program examining the conflicting mandates of contemporary immigration policy and the precepts of constitutional freedoms.  Oct. 23.

 Cabrillo Music Theatre: Thousand Oaks Civic Arts Plaza, 2100 Thousand Oaks Bl., Thousand Oaks (805/449-2787)  www.cabrillomusictheatre.com 

Caminito Theatre: Los Angeles City College, 855 N. Vermont Ave., Los Angeles (323/663-1525) www,FountainTheater.com Set in Greenwich Village in 1964, and based on a true story, Freddy fuses theater, music, dance and video to capture the explosive spirit of a passionate artist and a turbulent era.  A naive young woman falls under the spell of Fred Herko, a brilliant ballet dancer and a fiery denizen of Andy Warhol's Factory.  Sept. 27-Oct 14.
Cathedral of Our Lady of the Angels: 555W. Temple St., Los Angeles (866-811-4111) www.thelatc.org/ The 15th annual La Virgen de Guadalupe, Dios Inantzin, a Los Angeles holiday tradition starring renowned opera singer Suzanna Guzman as the Virgin and featuring more than 1090 actors, singers and indigenous Aztec dancers as well as children and seniors from the community. The story of Juan Diego, a simple peasant to whom the Virgin Mary appeared on four occasions in 1531.  Adapted for the stage from the mid-16th century text . Performed in Spanish with English subtitles.  Free but reservations are necessary.
Celebration Theatre @Lex Theatre: 6760 Lexington Ave., Los Angeles (323/957-1884) www.celebrationtheatre.com   The "Fall into Laughter" series features So Long, Boulder City, stars Jimmy Fowlie as Emma Stone's Mia Dolan in her one woman show within a movie that played to barely-sold houses, Oct. 2-Nov. 6.  The title, Tilda Swinton Answers An Ad On Craigslist says it all.  When a gay wallflower places an ad for a new roommate, Tilda Swinton shows up at this door and insists on moving in to study for her next big movie role. Oct 4-25. A gay couple about to get married but the night before becomes a drunken riot because their friend Gerry has arrived, furious that their invitation says "please refrain from wearing Bright Color or Bold Patterns."  Oct. 22-25.  Upcoming:  Priscilla Queen of the Desert, opens February 2018; Cabaret opens May 2018.
Chance Theatre:  5522 E La Palma Ave., Anaheim (888/455-4212)  www.ChanceTheater.com  in a word concerns the two year anniversary of Fiona's son's disappearance and she still cant come to terms with reality.   This is a emotional and comedic look at how tragedy can distort of speech and reality, ordinary words and turns of phrase take on new meanings.  Surreal, funny and potent, in a word explores the complexity of language and how it can impact the ways we see and feel about the world around us.   Sept. 8-Oct. 8. In Tribes, the only deaf child in a family that could hear, was raised inside the family's fiercely idiosyncratic and politically incorrect cocoon.  Thought his family attempts to raise him like a normal child, Billy adapts brilliantly to his family's unconventional ways without truly feeling what is is like to be heard.  It is not until he meets a young woman on the brink of deafness that he is finally introduced to the deaf community his family sheltered him from his entire life.  Sept. 21-Oct. 22.
Colony Theatre: 555 N. Third St., Burbank (855/448-7469) ww.Playhouseinfo.com     Everyone's favorite weatherman offers An Evening with Fritz Coleman sharing his hilarious, insightful take on growing up and growing older, Oct. 9-22.  Donna Mills is featured in Driving Miss Daisy which takes place in the 1940s though 1970s at the height of the Civil Rights movement.  The play delicately explores racial tensions when a warm friendship evolves between an elderly Jewish woman and her black chauffeur.  It won the 1988 Pulitzer Prize for Drama.  11/2-12/10.
———————————————————————————————
Davidson/Valentini Theatre: LGBT Center, 1125 N. McCadden Place, Hollywood (323/860-7300) www.lalgbtcenter.org/theatre E
Doheny Mansion:  Pompeian Room, 10 Chester Place, Los Angeles (213/477-2929)  www.DaCamera.org    Check website for concerts in this splendid setting.
Dorothy Chandler Pavilion: Los Angeles Music Center, 135 North Grand Ave., Los Angeles. musiccenter.org/holidaycelebration  58th Annual L.A. County Celebration,  a free three hour extravaganza celebrates the season with choirs, music ensembles and dance companies from the many neighborhoods and cultures of Los Angeles.  Dec. 24 from 3-6pm.
Eclectic Company Theatre:  5312 Laurel Canyon Bl., Valley Village (818/508-3003)  www.eclecticcompanytheatre.org    Shakespeare Salons held the last Tuesday of every month. Participants perform their favorite Shakespearean piece or alternatively, a piece inspired by Shakespeare.  Shakespearean monologues, scenes, poems, songs, remembrances and personal interpretations of all kinds are welcome.  To perform, fill out the form on the Eclectic Company Theatre website.
Edgemar Center for the Arts: 2437 Main St., Santa Monica,(310/392-7327) www.edgemarcenter,org    
Electric Lodge: 1416 Electric Ave., Venice (818/760-0408) www.lawtf.org
Ford Theatre: 2580 Cahuenga Bl. East, Hollywood (323/461-3673)  www.fordtheatres.org  This outdoor 1,200 seat theatre creates an intimate concert experience,  each summer hosting a diverse roster of events.
Fountain Theatre:  5060 Fountain Ave., Los Angeles (323/663-1525)  www.fountaintheatre.com  Three years after Hurricane Katrina, the unhealed worlds of New Orleans's Lower 9th Ward continue to fester.  In this powerful, funny and moving mother-daughter story, a 14 year old runaway embarks on a journey to pick through the wreckage of what used to be her life in Runaway Home. Sept. 16-Nov. 5. The Fountain Theatre at the Caminito Theatre, Los Angeles City College, 855 N. Vermont Ave., Los Angeles presents the world premiere of Freddy, set in Greenwich Village in 1964 and based on a true story, Freddy fuses theater, music, dance and video to capture the explosive spirit of a passionate artist and a turbulent era, Sept. 27-Oct. 14.   Forever Flamenco, Oct. 22.  A silent father, an ancient tradition and an unexpectedly important game of baseball forge bonds of lifelong friendship between two Jewish boys from "five blocks away and a world apart" in Aaron Posner's award winning adaption of Chaim Potok's award winning novel The Chosen, a funny, poignant, timely and timeless father and son story about recognition and acceptance of "the other."  Jan. 20-March 4, 2018.
Geffen Playhouse Audrey Skirball Theatre:  10886  Le Conte Ave., Westwood,  (310/208-5454)  www.geffenplayhouse.org   The first play of the season with the very unlikely title of A Funny Thing Happened on the Way to the Gynecologic Oncology Unit at Memorial Sloan Kettering Cancer Center of New York City. Sitting bedside at the hospital has never been so entertaining.  While their ailing mothers share a hospital room, Karla and Don discover truth in the old cliche that opposites attract…and repel…and attract.  Sept. 5-Oct. 8.  Rita Wilson, joined by guest songwriters performing and telling the stories behind their songs, brings her vocal and songwriting talents in Liner Notes, performed in a cabaret setting.  Sept. 7-17.  When a reclusive librarian discovers a 113-year overdue book in the night slit, curiosity compels him to pursue the borrower.  His search for answers leads to a worldwide, whirlwind journey, where he discovers instead the great mysteries of humanity.  Glen Berger's Underneath the Lintel reminds us that the joy is in the journey itself, Oct. 10-Nov. 19.
Greenway Court Theatre: 544 N. Fairfax Ave., Los Angeles (323/944-2165) www.greenwaycourtheatre.org/emilie  
Grove Theatre Center (GTC): 1100 West Clark Ave., Burbank.  (571/232-8894) www.blackbirdplay.com
Hudson Theatre: 6539 Santa Monica B., Hollywood (323/960-4443) www.2centstheatre.com  
James Bridges Theater: UCLA Campus, Melnitz  Hall, 235 Charles E. Young Drive,  Westwood (310/827-0889)  www.LATW.org  "The Play's the Thing" radio theater series.  Set in Washington, D.C. on the brink of U.S. involvement in World War II. Lillian Hellman's Watch on the Rhine, a suspenseful drama, is a timely reminder to keep our eyes open, to remain vigilant and involved. As clouds of war gather in Europe, a leader in the German resistance and his family arrive in Washington and stay at the home of his wife's wealthy mother who like most Americans at that time, is unaware of the storm brewing in Europe.  Oct.12-15.  Upcoming:  the West Coast premiere of Between Riverside and Crazy..in the Pulitzer Prize winning drama a celebration of the glorious contradictions that make up human nature, this rowdy, dark comedy looks at the slippery nature of justice and the grit it takes to finally move on, Nov. 16-19.
Kavli Theatre: Thousand Oaks Civic Arts Plaza, 2100 Thousand Oaks Boulevard, Thousand Oaks (800/745-3000) www.5startheatricals.com  Joseph and the Amazing Technicolor Dreamcoat, an popular musical for all ages about the Biblical character of Joseph that put the Andrew Lloyd Webber & Tim Rice team on the map, Oct. 13-22.
Kiki & David Gindler Performing Arts Center: 110 East Broadway, Glendale (818/506-1983) www.Antaeus.org  Les Liaisons Dangereuses, set among the decadent ruling class of pre-revolutionary France, this Olivier Award-winning play is a seductive and unsettling tale of sec and revenge in an all too recognizable world where love is a blood sport, played for glory and malice and men have all — almost all — the power.  Oct. 19-Dec. 10.  The Hothouse, a wild, impudent and blistering funny look at a government run mental institution in which the wardens may be madder than the inmates, Jan. 25-March 11, 2018.
Kirk Douglas Theatre: 9820 Washington Bl. Culver City (213/628-2772) www.centertheatregroup.com  Big Night is the night of the Oscars and a working actor turned Oscar nominee knows that his life is about to change — he just doesn't know how profoundly.  His transgender nephew has plans for his speech, his young agent has plans for his future, his unstoppable mother has plans for the catering and his partner is nowhere to be found.  Master satirist Paul Rudnick blends a deep humanity with a honed sense of hilarity in this powerful and funny play about family and fame, the personal and the political, and the drive to stand up and speak out.  Sept. 10-Oct. 8. Spamilton celebrates and satirizes the Broadway blockbuster with its versatile cast of five.  Nov. 5-Dec. 31.
——————————————————————————-
Laguna Playhouse:  606 Laguna Canyon Rd., Laguna Beach (949/497-2787) ww.lagunaplayhouse.com     Be part of the courtroom action in this classic drama in which 12 jurors decide the fate of a young man accused of murder.  What will the verdict be?  Find out in this suspenseful thriller that pits passionate jurors against one another in a timely, timeless and bold examination of the American justice system  in Twelve Angry Men. Oct. 8-22.
La Jolla Playhouse: 2910 La Jolla Village Dr., La Jolla (858/550-1010)  www.LaJollaPlayhouse.org  www.secondcity.com     World premieres upcoming:  Escape to Margaritaville, Untitled Donna Summer Project, At the Old Place.
—————————————————————————-
La Mirada Theatre: 14900 La Mirada Bl., La Mirada (562/944-9801) www.lamiradatheatre.com  Multiple Grammy Award-Winner Tony Bennett, one night only, Oct 12.  Angela Ingersoll is Judy Garland in End of the Rainbow,  Oct. 27-Nov. 12.
Leo S. Bing Theater: Los Angeles Museum of Art, 5905 Wilshire Bl., Los Angeles. (213/485-6873). Free chamber music series. Sundays at 4 p.m.
Long Beach Performing Arts Center – International City Theatre: 300 East Ocean Bl., Long Beach  (562/436-4610)  www.internationalcitytheatre.org   Home, Samm-Art Williams' brilliantly inventive, lyrically expressive play deals joyfully with the coming of age of a young black man from rural South Carolina.  Oct. 20-Nov. 5.  Home, produced by the  Negro Ensemble Company, Samm-Art Williams's brilliantly inventive, lyrically expressive play deals joyfully with the coming of age of a young black man from rural South Carolina.  Tony and Drama Desk Award nominations for Best Play.  Oct. 18-Nov. 5.
Los Angeles Theatre Center's Robey Theatre:  514 S. Spring St., Los Angeles ((213/489-7402) www.robeytheatrecompany.org   The Latino Theatre Company's  2017  Encuentro de las Americas presents an international festival featuring Latinx and Latin American companies and artists from across the hemisphere.  Thirteen productions will run in repertory in five spaces, Oct. 29-Nov. 19. (866/811-4111).  The Latina Christmas Special, bursting with laughs, music and escandalo, try these three hilarious touching and surprisingly personal Christmas stories of holidays past told by three acclaimed Latina comedians, Dec. 1-Jan 7.

Lounge Theatre: 6201 Santa Monica Bl., Hollywood (917/407-3346) www.iamatheatre.com   Two world premieres running in repertory: Sinner's Laundry a sci-fi comedy that explores the divinity in all of us and the power of redemption in the darkest of times. In Redline a father's moment of rage results in a terrible accident  splintering the relationship with his family forever.  Years later his estranged son tests the limits of forgiveness when he commits his own unspeakable tragedy. Oct. 20-Nov. 19.

Magicopolis: Abracadabra Theatre, 1418 4th St., Santa Monica (310/451-2241). Fast paced, colorful, magic and illusion shows for the whole family in a theater setting. Ongoing.
---
Mark Taper Forum: Los Angeles Music Center, 135 N. Grand Ave., downtown Los Angeles (213/628-2772) www.taperahmanson.com    The fabulous Phylicia Rashad returns to the Taper in Tarell Alvin McCraney's piercing new play,  Head of Passes. Family and friends are gathering to celebrate a birthday under the leaky roof of her home.  But an unwanted birthday party and unrelenting rains are only the first challenges in this contemporary parable inspired by the Book of Job in which unexpected events turn the reunion into the ultimate test of faith and love. Sept. 13-Oct. 22.
Community Events: Music Center Annex Building, 601 W. Temple St., Los Angeles.  The first Head of Passes Community Conversation is set for Oct. 13, 6-7:30pm with What We Pass On: Trauma and Resilience.  How Do We Keep Faith in Dark Times, Oct. 19, 6-7:30pm
——————————————————————————————
McCadden Place Theatre: 1157 N. McCadden place, Los Angeles (800/838-3006) www.thefinalgirl.brtowsnpapertickets.com The Final Girl, an action-Horror Peepshow, perfect for the Halloween season.  Oct. 13-Nov. 4.
Microsolft Theatre: 777 Chick Hearn Court, Los Angeles (213/763-6030) www.microsofttheater.com   Check their website for information on upcoming events.
Morgan Wixson Theatre: 2627 Pico Bl., Santa Monica (310/828-7519) www.morganwixson.org    (Title of Show) concerns two struggling writers who hear about a new musical theatre festival although the deadline for submissions is a mere three weeks away.  With nothing to lose, the pair decides to enter a script but the big question is what to write about. Frequently hilarious, occasionally heartbreaking and thoroughly inspiring this is a love letter to musical theatre and to the joy of collaboration and creativity.  Thru Oct. 15.
Nate Holden Performing Arts Center: 4718 W Washington Bl, Los Angeles (323/964-9766) www.ebonyrep.org  Motown legend Thelma Houston presents My Motown Memories & More! taking the audience on a musical  and inspirational journey that chronicles her illustrious career.  Sharing intimate stories and behind the scenes adventures against a tapestry of more than 20 classic Motown hits.  Oct. 15.
Odyssey Theatre:  2055 S. Sepulveda Bl., West Los Angeles (310/477-2055) www.OdysseyTheatre.com   Arsenic and Old Lace, a classic comedy in which two murderous aunts see their killing as an act of charity.  Good, macabre fun, Aug. 19-Oct. 8. Please Excuse My Dear Aunt Sally, a funny, sad, lyrical and highly original coming of age story featuring an iPhone belonging to a troubled teenager as the narrator, offering a fresh and unique perspective on human interaction and relationships. Sept. 16-Oct. 8.  Conor McPherson's visceral version of Strindberg's The Dance of Death, a biting black comedy. On an isolated island, military captain Edgar and his wife Alice, a former actress, live a bitter life, their marriage soured by hatred.  As their 25th anniversary approaches, the two face off in a fierce battle of wills.  When Alice's cousin arrives, he is quickly ensnared in the couple's wicked game.  A deliciously dark, relentlessly brutal and fiercely funny funny look at love everlasting.  Sept. 23-Nov. 19.  The Red Dress,  set in Berlin and based on a  true story, explores the intersection of politics and art during the years between the Treaty of Versailles and the rise of Fascism, Oct. 28-Nov. 19.
Old Globe: 1363 Old Globe Way, Balboa Park, San Diego (619/23-GLOBE) www.TheOldGlobe.org  The world premiere musical Benny & Joon, based on the beloved 1993 MGM motion picture of the same name. With unforgettable characters and a beguiling and tuneful score, the show explores what happens when we step out of our comfort zones and take a leap toward love. Sept. 7-Oct. 22.

———————————————————————————-
Pantages Theatre: 6233 Hollywood Bl., Hollywood (800/982-2787)  www.HollywoodPantages.com    Upcoming:  Hamilton, the story of America's Founding Father Alexander Hamilton, an immigrant from the West Indies who became George Washington's right hand man during the Revolutionary War and was the new nation's first Treasury Secretary.  Featuring a score than blends hip-hop, jazz, blues, rap, R&B and Broadway, Hamilton is the story of America then as told by America now.  Tickets range from $85-$225 with a select number of premium seats available for all performances and increased pricing during the holidays. It is advised that all purchases be made through an authorized Hollywood Pantages Theatre ticket source: either the Hollywood Pantages Theatre box office or Ticketmaster.com.
Upcoming: An American in Paris,  Finding Neverland, Hedwig and the Angry inch, Rodgers & Hammerstein's The King and I and back by popular demand, The Book of Mormon.
——————————————————————————————
Pasadena Playhouse:  39 S. El Molino Ave., Pasadena  (626/356-7529) www.PasadenaPlayhouse.org   King Charles III by Mike Bartlett, as in Shakespeare, Bartlett using both blank verse and prose, speculates on what happens after the Queen is dead.  After a lifetime of wanting and waiting, Prince Charles ascends to the throne.  The characters are a mix of some the audience might expect and some they won't.  Nov. 8-Dec. 3.
Pico Playhouse:  105008 W. Pico Bl., Los Angeles (323/821-2449)  www.wcjt.org  A couple connects through a personal ad while lying though their teeth about themselves in New York Water. Eventually they meet and since both feel stifled by New York they decide to move elsewhere. Their American odyssey takes them to the Midwest and then to Hollywood where she ascends to dizzying heights while he remains steeped in mediocrity.  After Hollywood, where do you go next?  Oct. 19-Dec. 17.
Renberg Theatre: Los Angeles LGBT Center, 1125 N McCadden Place, Hollywood (323/860-7300)  www.lagbtcenter.org 

————————————————————————————-
Renee &  Henry Segerstrom Concert Hall and Samueli Theater: 600 Town Center Dr., Costa Mesa (714/740-2000 or 714/556-2787 or 714/755-5799) www.scfta.org or www.pacificsymphony.org  Home of Pacific  Symphony.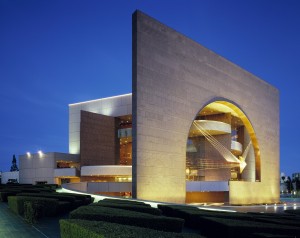 Pacific Symphony's POPS series features Pink Martini, part big band, part classical ensemble, part salsa troupe and all fun.  They find their musical inspiration from cultures around the world easily jumping  from genres like pop, jazz and classical to establish its own unique blend of music.  March 23-24, 2018.
Free public tours of the center Wednesdays and Saturdays at 10:30 a.m. Telephone first.
———————————————————————————-
Road on Lankershim:  5108 Lankershim Bl., North Hollywood   (818/761-8838) www.RoadTheatre.org  

Royce Hall:  UCLA campus, Westwood (310/825-2101) www.cap.ucla.edu
Rubicon Theatre: 1006 E. Main St., Ventura (805/667-2900) www.rubicontheatre.org     The Theme for the upcoming season will be "Stories That Matter," focusing on stories that embrace diversity and focus on our shared humanity.  Taking Sides by Academy Award Winner Sir Ronald Harwood, a compelling tale that explores what happens when art and politics collide. This provocative and gripping drama set in 1946,  is based on the true story of German conductor and composer Wilhelm Furtwangler who remained in Germany after Hitler's rise to power and was later accused of being a Nazi sympathizer. The play explores  the terrible collision between art, power, politics and personal responsibility.  Oct. 25-Nov. 12.

---
Santa Monica Playhouse:  1211 4th St., Santa Monica (310/394-9779 ext. 1)  www.santamonicaplayhouse.org  I'm Not Famous …A Musical Journey with Barbara Minkus:  Barbara may not be famous, but you have seen her — a lot.  On stage, on screen and especially on television.  However she never became famous although she's had  what most performers would consider an enviable career. Because she started out as, and remains, an accomplished singer, her show business memoir is a musical one.  Nov. 5, 12, 19, and 26.  A Very Merry MagicMania adds a little magic to your holidays.  Celebrate the season with this festival of 35 different magic and variety acts over the course of nine shows and two weekends with each show being different and featuring award winning magicians and variety acts from The Magic Castle, American's Got Talent and Penn and Teller's Fool Us, www.MagicManiaLA.com, Dec. 14-23.
Secret Rose Theatre:  11246 Magnolia Bl., North Hollywood (323/960-7784)
Secret warehouse location:  Address and entry information provided following ticket purchase (213/596-9468) www.rogueartists.org/ Mature themes, adult language and theatrical violence; not recommended for audience members who are not comfortable with walking, ducking, navigating small spaces, standing for periods of time, loud noises, moments of complete darkness or being alone. Sounds like quite an adventure. In  Kaidan Project: Walls Grow Thin, someone receives a letter from their childhood friend who is haunted by a mysterious event  in their shared past and she needs help.  Oct. 5-31.
Sierra Madre Playhouse: 87 W Sierra Madre Bl., Sierra Madre (626/355-4318) www.sierramadreplayhouse.org
Skylight Theatre: 1816 1/2 N. Vermont Ave., Los Angeles (866/811-4111) www.australiantheatrecompany.org World premiere of Grey Nomad, a funny, engaging comedy about two retired couples who have dedicated their lives to RVing around Australia. It's a comic road show that captures the unique sense of camaraderie and almost supernatural devotion to a lifestyle of perpetual circumnavigation led by the free range baby boomers of Australia who call themselves "grey nomads." Sept. 11-Oct. 8.
South Coast Repertory: 655 Town Center Dr., Costa Mesa (714/708-5555) www.scr.org  Upcoming:  Curve of Departure, a warm and surprisingly funny family drama, Sept. 24-Oct. 15. Gem of the Ocean, by August Wilson, a mystical story of liberty, justice and redemption, Oct. 14-Nov. 11.  For young audiences, Ella Enchanted: The Musical, delightful music and plenty of girl power in this modern and musical Cinderella story, Oct. 27-Nov. 12.  The traditional A Christmas Carol, Nov. 24-Dec. 24.   Sugar Plum Fairy, filled with ambition, rivalry and pre-teen angst, Sandra Tsing Loh's play is a hilarious tale of life's crushing blows, a comic assault on Christmas sentiment.  Dec. 3-24.

Staples Center: 1111 S. Figueroa, Los Angeles (213/ 742-7100) www.staplescenter.com/events   Check website for all upcoming sports events, concerts and special events.
Stella Adler Theatre: 6773 Hollywood Bl., 2nd floor, Hollywood (805/496-2982) www.corbinkush.eventbrite.com It's 1963, at Plains University in Iowa.  Kappa Lamda Nu is historically a Black sorority.  The sisters are referred to as The Daughters of the Kush.  Kathy is the sorority's lone white Jewish pledge.  She has been raised by Black adoptive parents and is eager to pledge her mother's sorority.   When she meets with a violent mishap, the Daughters suddenly find themselves under investigation.  An unusual  look at the social lives of young Black collegiate women at a pivotal moment in American history.  Oct. 13-29.
The Actors Company at The Other Space:  916A N. Formosa Ave., West Hollywood (323/960-7712) www.Plays411.com/radiant  The Radiant, a story of scientist Marie Curie after the death of her partner in marriage and science, Pierre Curie, in a horrific accident.  She share the Nobel Prize in physics with her husband and colleague in 1903, becoming the first female awardee.  Following her husband's death she is alone with two children to raise, while continuing her vital and pioneering scientific work.  She finds herself increasingly drawn to her lab partner, the younger, married Paul Gangevin. When the tabloids publish the news of the affair she becomes the focus of a scandal that threatens her life and career and the safety of her children.  Oct. 27-Nov. 19.
The Autry: Griffith Park, 4700 Western Heritage Way (323/667-2000) www.TheAutry.org  Native Voices at the Autry is the only Equity theatre company devoted exclusively to developing  and producing new works for the stage by Native American, Alaska Native and First Nations playwrights.
The Road on Magnolia: 10747 Magnolia Bl., N. Hollywood. Inside the NoHo Senior Arts Colony, North Hollywood,  (866/811-4111)    www.RoadTheatre.org  World premiere of Stupid Kid.  After 14 years in prison for a crime he swears he did not commit, Chick returns home to find his flat-broke family under the thumb of his dangerous Unclemike.  A rollicking Gothic Western tale of a family isolated by shame, Stupid Kid explores power, guilt and the limits of maternal love. Sept. 22-Nov. 12.

The Secret Rose Theatre: 11246 Magnolia Bl.,  North Hollywood (323/960-7784)
———————————————————————————–
Theatre 40: Reuben Cordova Theatre, Beverly Hills High school campus, 241 S. Moreno Drive, Beverly Hills (310/364-0535) www.theatre40.org  In Vino Veritas two middle aged couples under the influence of a tribal truth serum, share an unpredictable and hilarious night of unbridled honesty and stretches the bounds of their friendship forever. Legends say the mysterious Peruvian wine made from the blue dart tree frog say the wine is a truth elixir.  They all have a drink and the truth comes out in all directions with both secrets revealed and feelings exposed. Sept. 1-Oct 15.
Upcoming:  The wit of Oscar Wilde meets the cunning of Sir Arthur Conan Doyle when Wilde brings his dear friend Lillie Langtry to Baker Street in Sherlock Holmes and the Case of the Jersey Lily.  England's greatest actress and national treasure is the target of blackmail in a sec scandal that threatens to bring down the British Monarchy.    Holmes and Watson are called to the rescue. Nov. 16-Dec. 17.
---
Theatre of Note:  1517 N. Cahuenga B., Hollywood.  (323/856-8611) www.theatreofnote.com    The world premiere of Hello Stranger, a story of a man who has mixed feelings about returning to his hometown in the Inland Empire after having been away fro many years.  He is there to attend his 30 year high school reunion but finds he is drawn to stay after encountering a strange girl in the yard of the house he grew up in with his mother. The man embarks on a journey through his past, dreams and memories to uncover dark secrets about his mother and the town.  The play takes place during the Day of the Dead Festival.  Oct. 19-Nov. 18.
Theatre West: 3333Cahuenga B., West, Los Angeles (323/851-7977) www.theatrewest.org  In The Face Behind the Face a performing artist confronts the ups and downs and struggles of his life and career and is led to the conclusion that his voice and his music are the keys to his success.  Vocalist and actor Anthony Gruppuso will performs in 19 musical numbers including songs from Broadway, canon, pop standards, lesser known gems and some brand new material.  Oct. 1-29.
Think Tank Gallery:  935 Maple Ave., downtown Los Angeles www.thinktank.gallery/ Caught is set inside and integrated into a real art show at Think Tank Gallery. The unique presentation is fully immersive where the audience members find themselves in a labyrinthine exploration of troth, art, social justice and cultural appropriation where nothing is as it first appears. Oct. 27- Dec. 10.
Twenty Fourth (24th) Street Theatre: 1117 West 24th St., Los Angeles (213/745-6516) www.24thstreet.org  La Razon Blindada (Armored Reason), a sublimely witty and provocative play by Argentine playwright Aristides Vargas (in Spanish with English supertitles). Two political prisoners  committed to solitary confinement are allowed to interact with one another for one hour a week.  As they entertain each other with stories of Don Quixote and his squire, we witness the power of theater to transport them and us into the realm of the imagination, despite repressive conditions.  Los Angeles Times Critic's Choice.  Sept. 9-Oct. 15.

Union Center of the Arts David Henry Hwang Theater: 120 Judge John Aiso St., Los Angeles (213/625-7000) www.eastwestplayers.org  East West Players and The Roibey Theater Company announce the revival of Philip Kan Gotanda's Yohen featuring Danny Glover and June Angela.  In Japanese pottery, the term yohen refers to unpredictable changes that take place in the kiln.  An interracial couple struggles to maintain their 37 year marriage after the husband retires from the US Army.  The dramatic change in routine prompts questions about life, love and aging as the couple attempts to repair what's broken and decide what is worth saving. Oct. 26-Nov. 19.
Wallis Annenberg Center for the Performing Arts: 9390 N. Santa Monica Bl., Beverly Hills (310/746-4000)  www.thewallis.org    Dorrance Dance honors tap dance's unique and powerful history  in a new and dynamic context, pushing tap dance's tradition, rhythmically, aesthetically and conceptually into the 21st century.  New fully extended version of Myelination with original live music plus the Bessie Award-winning Three to One and revival of the whimsical Jungle Blues,  Oct. 12-14.    Pianist Jonathan Bliss will play Beethoven's fiery "Tempest" and Schumann's Fantasie in C Major, Mozart's Sonata in A Minor and Leon Kirchner's Interlude II, Oct. 8. Emmy Award winner, Joe Morton in Turn Me Loose, a play about activist and comic genius Dick Gregory, Oct. 13-Nov. 12.  Feathers of Fire: A Persian Epic uses shadow puppetry to create stunning "live animation" on a cinema-size screen, the action packed tale follows a pair of star crossed lovers whose shared love triumphs against all odds.  Each performance will be followed by a live 20-minute behind the scenes presentation exploring the technique of shadow puppetry, Oct. 20-29.  Upcoming: L.A. Dance Project, Nov. 2-4;  and April 5-7, 2018; LulHarlem Quartet: Game-Changers brings a new attitude to classical music, one that is fresh, bracing and intelligent. Their eclectic musical tastes mix classical, jazz and chamber music,   Oct. 15. Washington Dance Theatre Jan. 11-13;  Dada Masilo's Giselle, April 12-14; Body Traffic, May 31-June 2.   Kyle Riabko: Richard Rodgers Re-imagined, Nov. 10-11.  Violinist Sarah Chang and pianist Julio Elizalde, Jan. 6, 2018.

---
Walt Disney Concert Hall: 151 S. Grand Ave., Los Angeles (213/972-7288) www.wdch.com The Frank Gehry designed home to the Los Angeles Philharmonic embodies the unique energy and creative spirit of both the City of Angels and its world-class orchestra under the direction of  maestro Gustavo Dudamel and features the works of the world's musical greats featuring Classical, World Music, Jazz, Songbook and the Master Chorale. The Philharmonic is also committed to the presentation of music of our time as well as offering its exhilarating Green Umbrella concerts which presents the Los Angeles Philharmonic New Music Group devoted exclusively to compositions on the cutting edge of the repertoire and attract leading composers and performers of contemporary music. Chamber music is another integral part of this world-class orchestra's repertoire.
Guided and self-guided tours of the concert hall are available to the public (213/972-4399).
---
Wells Fargo Theatre:  Autry National Center, 4700 Western Heritage Way, Los Angeles (323/667-2000)  www.NativeVoicesattheAutry.org  Native Voices at the Autry continues its vital role as the country's only equity theatre company dedicated exclusively to developing the work of Native American playwrights.
Whitfire Theatre: 13500 Ventura Bl., Sherman Oaks (800/838-3006)  www.brownpapertickets.com/event/3053655  Five time nominee and winner of the 2017 Hollywood Fringe Festival Solo Performance and more awards, Under The Jello Mold is Jennie Fahn's solo show bout how she dealt with her very colorful character of a mother during what turned out to be the final act of her mother's life.  Jerrie's mother was a force to be reckoned with — a former dancer never content to merely rehash her past, there was always a story to be embellished, always a name to drop, and always a lesson to teach.  Told in anecdotes, characters, and song the show is full of laughs and a lot of heart.  Sept. 9-Nov. 12.
Will Geer's Theatricum Botanicum: Topanga Canyon (310/455-3723)  www.theatricum.com  In a beautiful, rustic outdoor setting, Theatricum Botanicum rises up and speaks out with a summer line-up of socially conscious classic and contemporary plays, music and performance.  This season offers five main-stage productions in rotating repertory as well as a host of satellite events, June through October.  Inara George returns for her annual concert that benefits the theater's artistic and educational programming with special guests included in the program, Oct 8. The plays range from Renaissance Italy to ancient Greece to 1950s and modern-day America dealing with our inability to reach out and embrace those who might be different from us.  The plays include:  Shakespeare's The Merchant of Venice and Midsummer Night's Dream, George Orwell's Animal Farm, Jon Robin Baitz's Other Desert Cities and Alice Childress's Trouble in Mind, a scathingly funny backstage drama about interracial politics by African American playwright Alice Childress follows an integrated theater company in rehearsal for a "progressive" anti-lynching drama.   The play within a play, entitled Chaos in Belleville marks the first opportunity for gifted African American actress Wiletta Mayer to play a leading lady  on Broadway.  But what compromises must she make to succeed, July 29-Sept. 30. The Theatricum Botanicum's salon series offers music and performance outdoors under the California oaks in its intimate S.Mark Taper Foundation Pavilion.